Vice President Concludes Successful Trip to Kazakhstan
Vice President Vo Thi Anh Xuan and a delegation of Vietnam left Kazakhstan, ending their official visit to the country.
Vice President Vo Thi Anh Xuan and a delegation of Vietnam left Kazakhstan on October 14, concluding their trip to Kazakhstan to attend the 6th Summit of the Conference on Interaction and Confidence Building Measures in Asia (CICA6) and bilateral activities in the country, VNA reportd.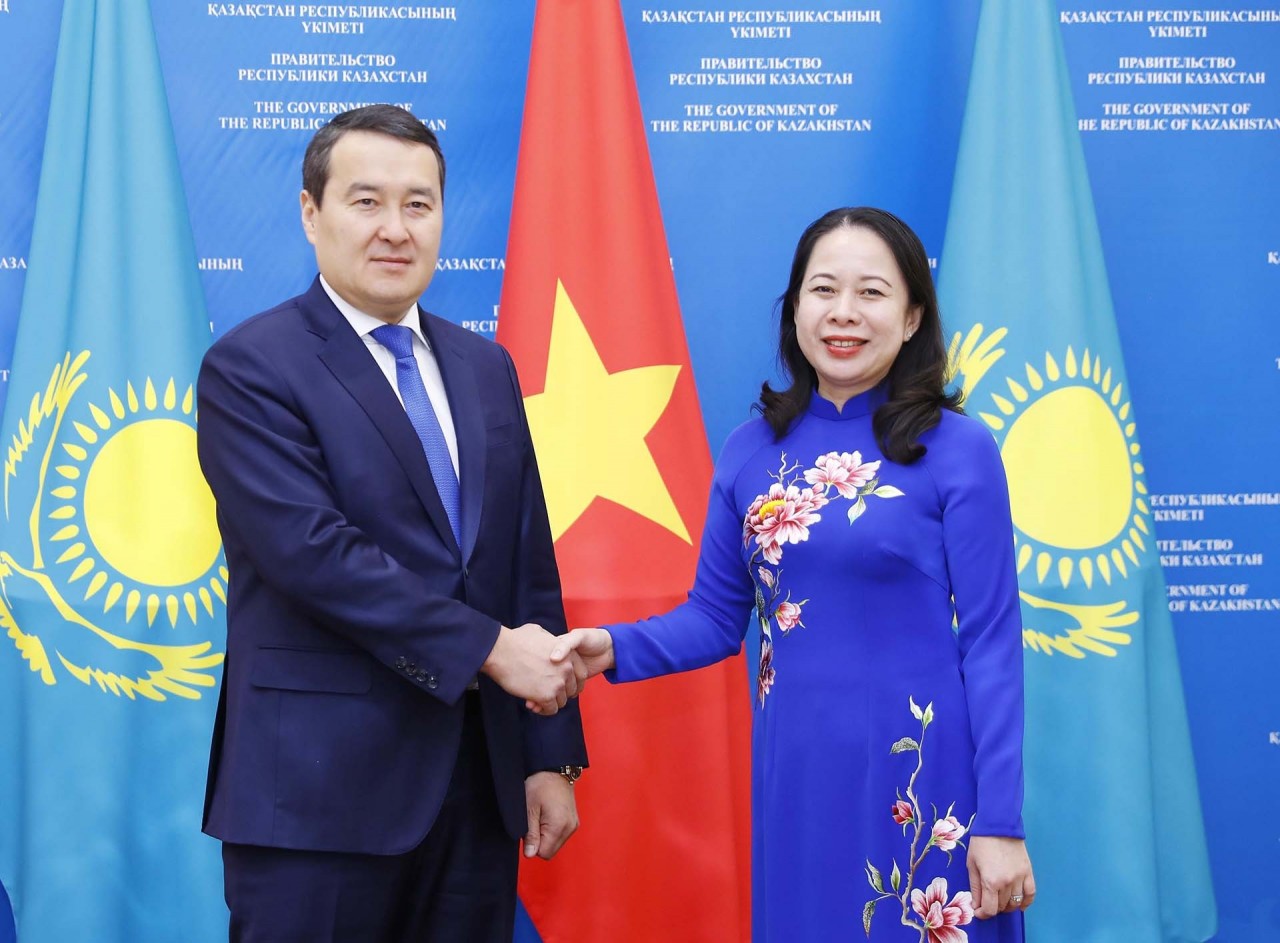 Vice President Vo Thi Anh Xuan and Prime Minister of Kazakhstan Alikhan Smailov. Photo: VNA
Earlier the same day, the Vice President met with Prime Minister of Kazakhstan Alikhan Smailov, who said Kazakhstan wishes to promote cooperation with Vietnam in all spheres, contributing to consolidating mutual trust and respect.
He also thanked Vietnam for its participation and contributions to the success of CICA6.
For her part, Xuan affirmed that Vietnam always attaches importance to the traditional friendship with Kazakhstan, highlighting positive developments of the bilateral political and diplomatic ties over the past time.
She suggested the two sides step up delegation exchange and continue their mutual support at multilateral forums and international organisations, especially the United Nations and CICA.
Host and guest noted with pleasure the progress in economic and trade cooperation between the two countries, especially since the free trade agreement between Vietnam and the Eurasian Economic Union took effect in 2016.
They agreed to review and upgrade the signed bilateral agreements, soon negotiate and amend some contents of the above-said FTA to further facilitate trade and investment, and promote collaboration in agriculture.
Both expressed their belief that the opening of direct flights between the two countries will help to boost cooperation in potential areas, especially logistics, tourism, and education-training.
PM Smailov also suggested railway and sea route connectivity between the two countries, making Kazakhstan an entrepot for Vietnamese goods to Europe.
On this occasion, Xuan conveyed wishes, regards and invitation of Prime Minister Pham Minh Chinh to his Kazakhstan counterpart to visit Vietnam at an appropriate time.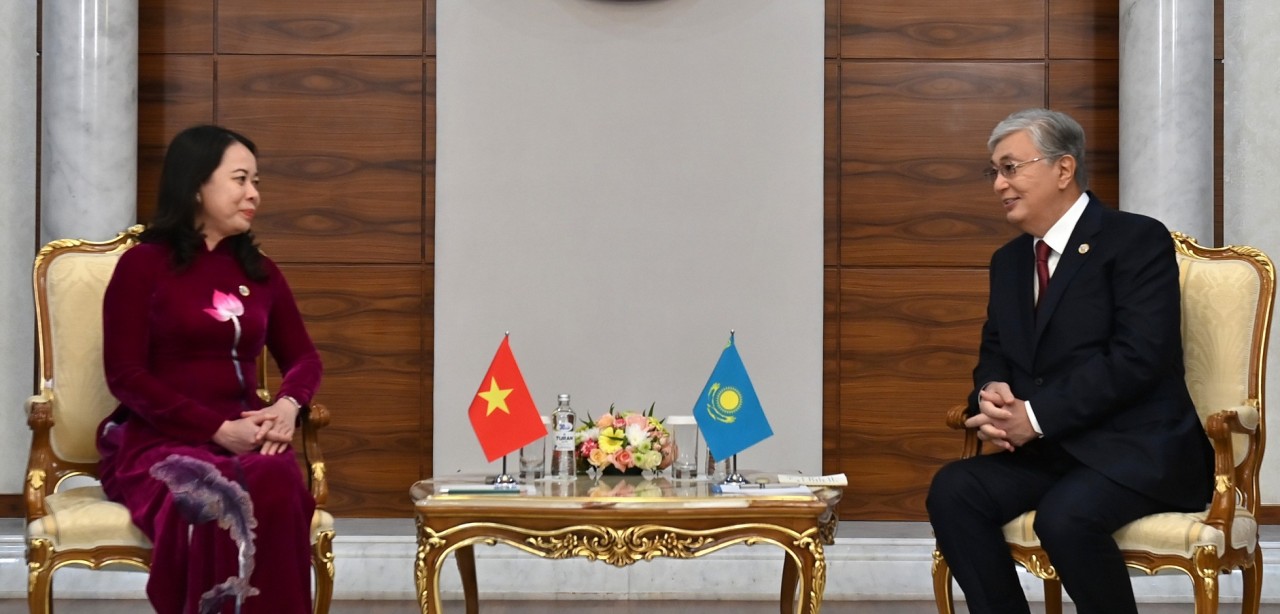 On the sidelines of the VI CICA Summit being held in Astana, President of Kazakhstan Kassym-Jomart Tokayev has held a meeting with Vice President Vo Thi Anh Xuan. Source: Akorda
Welcoming the Vietnamese leader, Kazakh President Kassym-Jomart Tokaev highly valued Vietnam's role and significant contributions within the CICA framework. He affirmed that Kazakhstan treasures the bilateral friendship and views Vietnam as an important partner in the Asia-Pacific region.
Vice President Xuan expressed her delight that her visit coincides with the 30th founding anniversary of bilateral diplomatic ties. She affirmed Vietnam always attaches importance to the traditional friendship with Kazakhstan, agreeing to increase delegation exchanges via all channels and at all levels.
The two leaders shared the view that there remains much room for bilateral economic partnerships, especially in such potential fields as tourism, logistics, agriculture, and construction.
They agreed to further capitalise on advantages generated by the free trade agreement between Vietnam and the Eurasian Economic Union (EAEU), of which Kazakhstan is a member, and officially open a direct air route. They also concurred to raise the two-way trade turnover to USD 1.5 billion by 2030.
Vice President Xuan had delivered a speech at the plenary session of the CICA6 on October 13, and engaged in bilateral meetings with some heads of delegations on the sidelines of the event.
CICA is an inter-governmental forum initiated by Kazakhstan in 1992. It now has 28 member states, namely Afghanistan, Egypt, India, Azerbaijan, Bahrain, Bangladesh, Cambodia, the Republic of Korea, Iraq, Iran, Israel, Jordan, Kazakhstan, Kuwait, Kyrgyzstan, Mongolia, Russia, Pakistan, Palestine, Qatar, Sri Lanka, Tajikistan, Thailand, Turkey, China, UAE, Uzbekistan and Vietnam. Kuwait was admitted at CICA 6.
Since its entry to CICA in 2020, Vietnam has made active and responsible contributions to promoting dialogues, building trust within the framework of CICA and strengthened cooperation with member countries.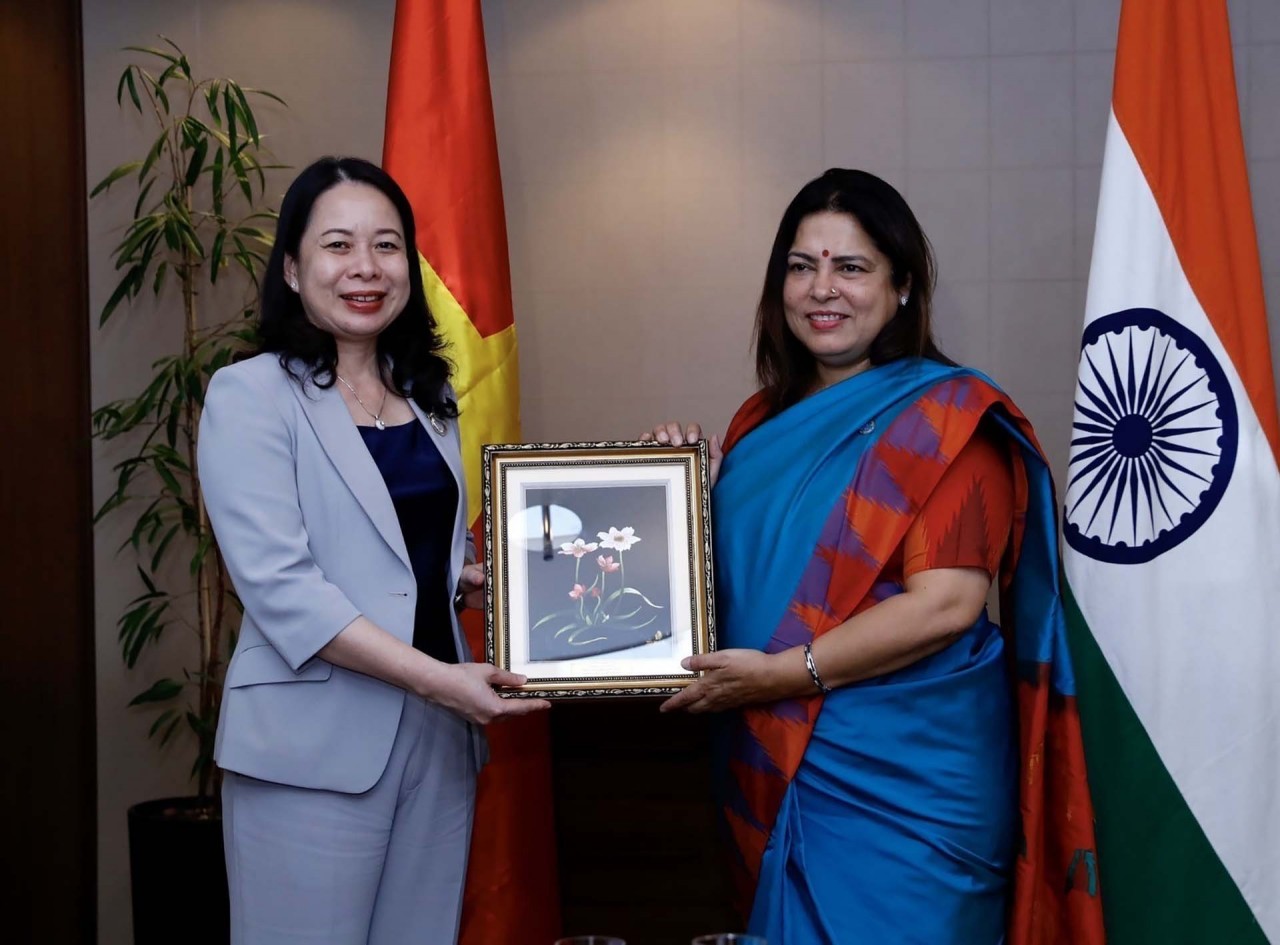 Vice President Vo Thi Anh Xuan at her meeting with Meenakashi Lekhi, Indian Minister of State for External Affairs and for Culture. Photo: VNA
Within the trip, Vice President Vo Thi Anh Xuan, leaders of the government of Kazakhstan and senior leaders of the two countries, also witnessed an announcement ceremony of Vietjet regarding the routes connecting Almaty city of Kazakhstan and Nha Trang city – the tourism capital in central Vietnam.
With flying time per leg of more than nine hours, the routes will commence in this October with two flights per week, according to Vietjet.
Almaty city is the largest economic centre and also a popular tourist destination in Kazakhstan. Visitors can experience the serenity of the plains as well as the majesty of the mountains, cities with modern architecture and bustling streets or immerse themselves in cultural spaces, unique art and beautiful nature.
Meanwhile, with a mild climate and year-round sunshine, Nha Trang has long been a favourite destination among Asian – European tourists for the tropical golden sunshine, beautiful beaches and a unique culinary system of tropical Asia.
Before visiting Kazakhstan, the Vietnamese Vice President had official visit to Croatia to intensify bilateral relations in multiple fields.
Since the diplomatic relationship was set up in 1994, this is the first high-ranking visit to Croatia by a senior leader of Vietnam.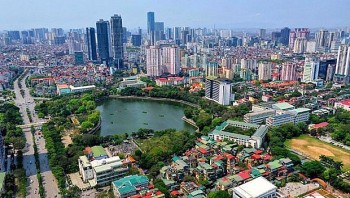 National
Vietnam News Today (Jan. 29): Quang Ninh: Cross-border trading with China resumed after Tet; Hanoi in the world's top three culinary destinations: Tripadvisor; Intertwined opportunities, challenges for Vietnam's economy in 2023; Supermarkets, traditonal markets gradually resume normal operations amid abundant supply.