6th CICA Summit: Vietnamese Vice President Meets with Foreign Leaders
Vietnamese Vice President Vo Thi Anh Xuan led a delegation to Kazakhstan and attend the Sixth CICA Summit in Astana from October 12 to 14.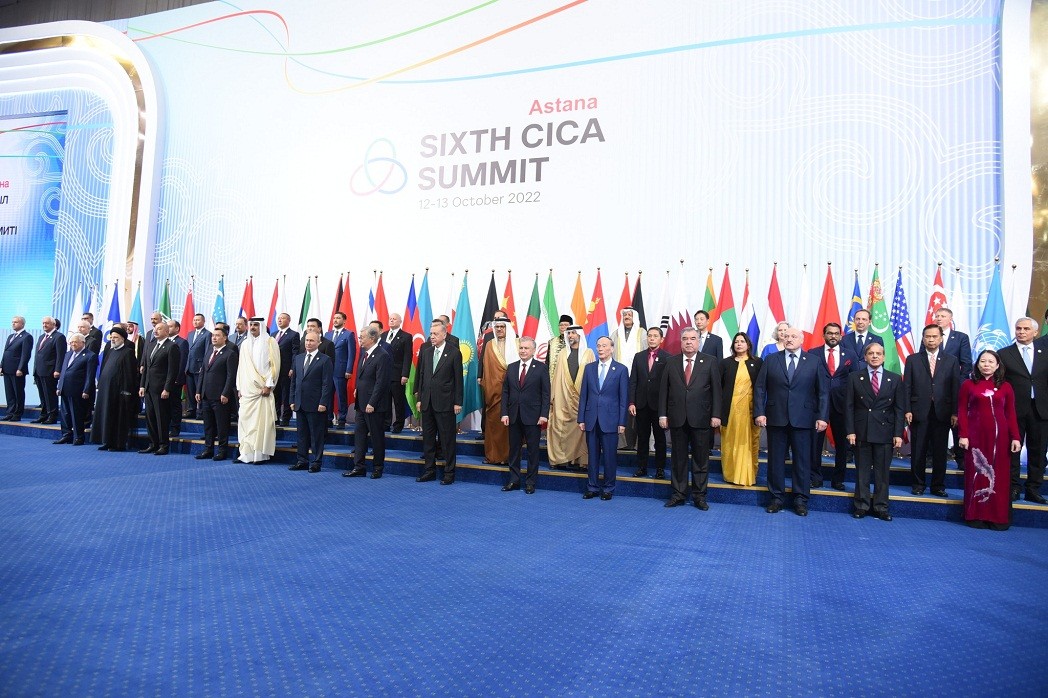 Vietnamese Vice President Vo Thi Anh Xuan in a group photo with leaders of the participating countries in 6th CICA Summit, Astana, Kazakhstan.
Vietnamese Vice President Vo Thi Anh Xuan met with the leaders of Russia, China, Turkey, Qatar, Pakistan and Uzbekistan, as part of her trip to attend the 6th Summit of the Conference on Interaction and Confidence Building Measures in Asia (CICA) in Kazakhstan's Astana capital, VNA reported.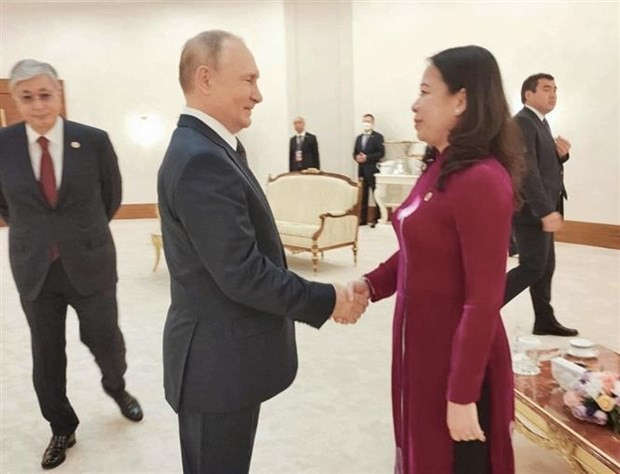 Vice President Vo Thi Anh Xuan meets with Russian President Vladimir Putin. Photo: VNA
In a conversation with Russian President Vladimir Putin, Xuan affirmed that Vietnam attaches importance to its comprehensive strategic partnership with Russia.
She wished both countries would maintain and enhance effective cooperation, and continue working closely to tackle difficulties in bilateral economic, trade, and investment ties.
Putin stressed that Russia always considers Vietnam a top-important partner in its foreign policy and agreed to deepen ties between the two nations in a practical and effective manner.
Meeting Chinese Vice President Wang Qishan, Xuan said Vietnam consistently considers the consolidation and development of the comprehensive strategic cooperative partnership with China a top priority in its foreign policy of independence, self-reliance, multilateralisation, and diversification of ties.
Vietnam always wishes to constantly promote the relationship between the two Parties and countries with higher political trust, more practical cooperation, and a solid foundation for friendship, she said.
Wang, for his part, consented to continue with the exchange of delegations at all levels in the near future.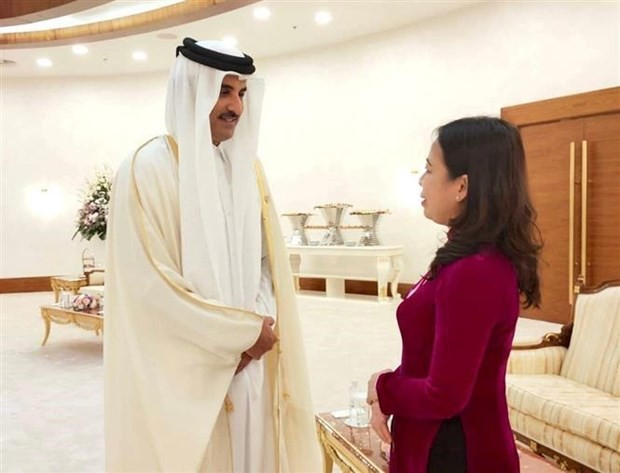 Vice President Vo Thi Anh Xuan meets with Emir of Qatar Tamim bin Hamad Al Thani. Photo: VNA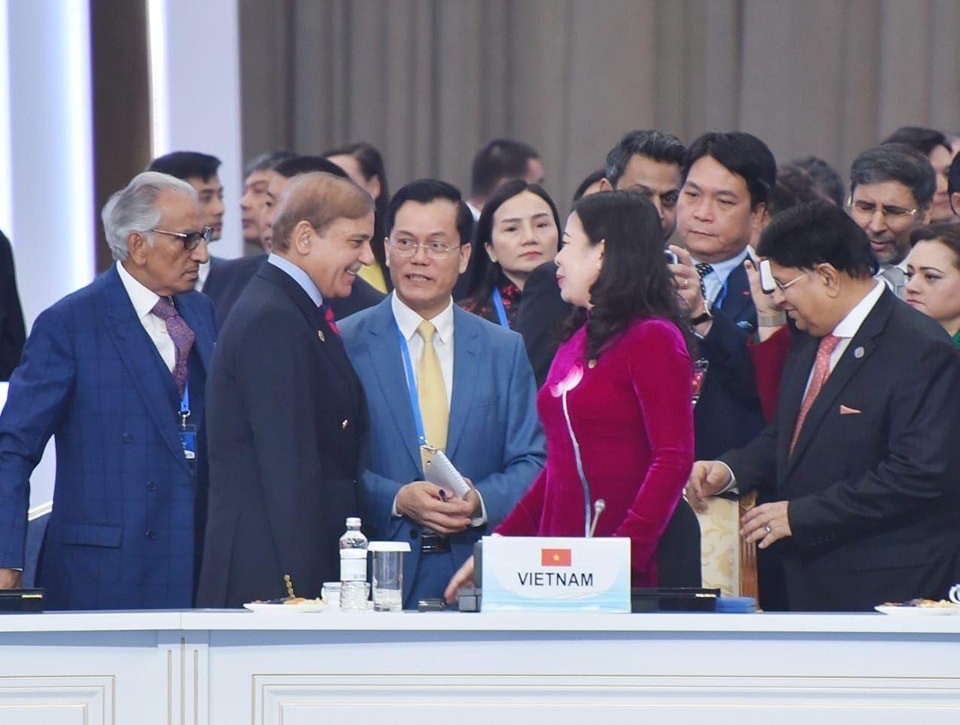 Prime Minister of Pakistan Muhammad Shehbaz Sharif meets Vietnamese Vice President Nguyen Thi Anh Xuan at Independence Palace Astana, Kazakhstan during the 6th CICA Summit. Source: Government of Pakistan
Talking with Emir of Qatar Tamim bin Hamad Al Thani and Prime Minister of Pakistan Shehbaz Sharif, Xuan expressed hope for practical cooperation activities toward the 50th anniversary of Vietnam-Pakistan diplomatic ties and the 30th anniversary of Vietnam-Qatar diplomatic ties next year.
Leaders of Qatar and Pakistan said they wish to visit Vietnam soon, adding that there is a huge room to further expand bilateral links, especially in economy, trade, and investment.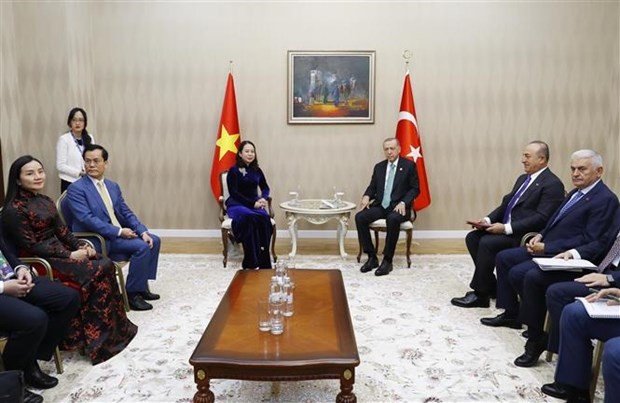 Vice President Vo Thi Anh Xuan and Turkish President Recep Tayyip Erdogan at the meeting in Astana on October 13. Photo: VNA
At the meeting with Vice President Xuan, Turkish President Recep Tayyip Erdogan stressed that Turkey considers Vietnam as the most important partner in the Association of Southeast Asian Nations (ASEAN), and wants to enhance bilateral cooperation and coordinate with Vietnam at international forums and organizations, especially within the United Nations framework.
He underlined Turkey's support for Vietnam and ASEAN's stance on the peaceful settlement of disputes on the basis of international law. He also agreed that both sides should work closely to develop connections in the economy, trade, investment, tourism, infrastructure development, transport, and maritime economy on par with the potential and importance of the two countries' relations.
Describing Turkey as one of the leading trade and investment partners of Vietnam in the Middle East, Vice President Xuan called on both sides to continue coordination and mutual support at multilateral forums and international organizations while working to successfully hold people-to-people and cultural exchanges to mark the 45th founding anniversary of diplomatic ties in 2023.
She also asked for close coordination to tackle bottlenecks and further facilitate exports to each other's markets.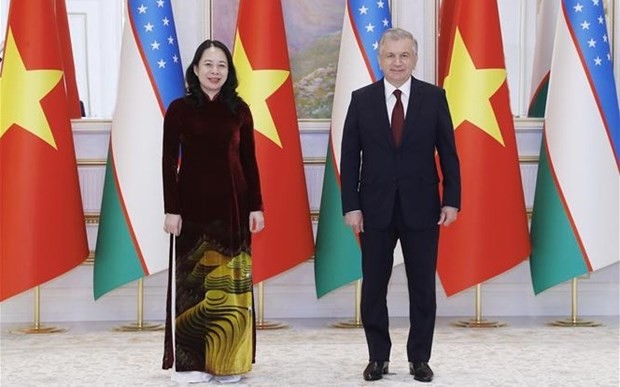 Vice President Vo Thi Anh Xuan and Uzbek President Shavkat Mirziyoyev in Astana on October 13. Photo: VNA
Talking with Uzbek President Shavkat Mirziyoyev, Vice President Xuan highlighted that Vietnam always treasures the two countries' traditional friendship and hopes to step up bilateral cooperation in all aspects.
She proposed the two nations further strengthen their political ties through all-level delegation exchanges, and maintain mutual support at international and regional forums.
The Uzbek leader said Vietnam is an important traditional friend and a trustworthy partner of his country in Asia, adding that he is impressed with Vietnam's considerable achievements in economic development, social security ensuring, poverty reduction, and international integration over the last three decades since the Doi moi (Reform) period began.
The two leaders held that it is necessary to further promote economic, trade, and investment ties so that the relations match with the faithful and sincere political ties between the two countries.
They also agreed to organize the 8th meeting of the Inter-Governmental Committee early; consider the establishment of partnerships in producing rice, textile-garment, cotton, electronic components, and household appliances; and consider the launching of a direct air route to facilitate transport, people-to-people exchange, and tourism cooperation.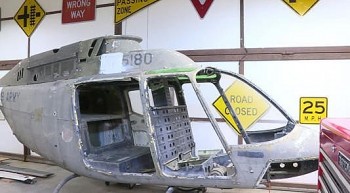 World
A piece of military history related to Vietnam is coming to life with a special project in a small Barton County townm in the US