Vice President welcomes US Second Lady Jill Biden
Vietnam Vice President Nguyen Thi Doan hosted a reception for Dr. Jill Biden, spouse of the US Vice President, in Hanoi on Sunday.
(VNF)- Vietnam Vice President Nguyen Thi Doan hosted a reception for Dr. Jill Biden, spouse of the US Vice President, in Hanoi on Sunday.
Vice President Doan welcomed Dr. Biden's visit which took place just after the official visit to the US by Vietnam Party General Secretary Nguyen Phu Trong.
Her visit also marks the 20th anniversary of normalisation of Vietnam-US diplomatic ties.
The US Second Lady arrived in Hanoi on Sunday and took part in many social activities, as part of her visit to Vietnam to promote women's empowerment.
Her visit is the second stop on her four-country business trip to Asia, which lasts from July 16 to 23, to engage government and civil society partners in issues pertaining to economic empowerment and educational opportunities for women and girls, the White House said in a press release on Saturday.
The four countries include South Korea, Japan, Laos, and Vietnam.
At the Sunday meeting in Hanoi, Vice President Doan heartily hailed the positive, practical progress in the Vietnam-US ties that have been achieved so far, especially since they forged a comprehensive partnership in July 2013.
Vice President Nguyen Thi Doan (right) hosted a reception for the spouse of the US Vice President, Jill Biden. Photo: VNA.
The Vice President also highly appreciated the U.S.'s cooperation in education, tackling war consequences including removing bombs and mines left from the war, detoxifying Agent Orange/Dioxin infected sites, and providing assistance to Vietnamese people with disabilities.
She suggested Vietnam and the U.S. beef up exchanges and collaboration in promoting women's role and gender equality, as well as the maintenance of peace, stability, security, cooperation and development in the region and beyond.
Dr. Biden said the Vietnamese Party chief's recent visit to the U.S. serves as a foundation to tighten the Vietnam-US relations in the time to come.
The U.S. Second Lady thanked Vietnam for assisting the US government in searching for US soldiers reported missing in action during the Vietnam War, which ended in 1975.
She also reiterated that she will work to support Vietnam in such fields as education, humanitarian aids, and tackling post-war consequences.
Dr. Biden said she hopes the two sides will strengthen cooperation in the fields, while underscoring the vital role of gender equality and education in both countries' development strategies.
Prior to the meeting, Dr. Biden attended an event organised by the US Embassy in Hanoi to give away helmets to Vietnamese school children, along with other activities./.
by VNF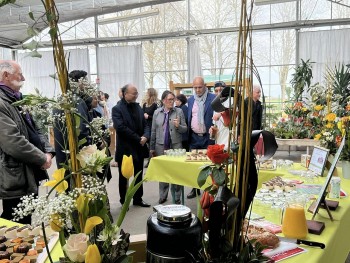 Overseas Vietnamese
Vietnamese Ambassador to France Dinh Toan Thang recently paid a working visit to Saintes, a city in southwestern France, to promote cooperation between the city and Vietnamese localities and attended the Vietnamese Culture Day, VNA reported.