Vietnam – a dream holiday destination for tourists
Vietnam is a dream destination for many tourists because of the rich culture of its ethnic groups and its captivating historical sites.
Samly Singhanath
Vietnam is a dream destination for many tourists because of the rich culture of its ethnic groups and its captivating historical sites.
Today, Vietnam not only attracts tourists from around the world but also from member states of the Association of Southeast Asian Nations (ASEAN), including Laos.
Twenty Lao media personnel travelled to Vietnam earlier this month to visit tourist attractions in various provinces and learn about Vietnam's heritage.
This was the first time I visited Vietnam on an official assignment. However, I'd travelled to Da Nang and Thua Thien-Hue six years ago on a leisure tour organised by my office.
The Lao group visited landmarks in Hanoi, Quang Binh, Thua Thien-Hue and Ho Chi Minh City. Vietnamese government agencies took good care of us and I went all day without feeling tired because all the places were so fascinating. I was happy and had good dreams while sleeping well at night.
Our tour started with a visit to the traditional Bat Trang village in Hanoi, located along the Red River.
A lot of people from the surrounding regions and abroad come to the village to buy ceramic products. There are many shops displaying items of different shapes and styles and the prices are quite reasonable.
"I want to buy something like many other people but unfortunately I don't have much money. Next time, I should bring a lot of money with me," a member of our group said.
In addition to items of daily use such as pots, cups and plates, people in our group bought souvenirs such as necklaces for their relatives and friends. We then went to the Thang Long Imperial Citadel, which was recognised as a United Nations Educational, Scientific and Cultural Organization (UNESCO) World Heritage Site in 2010. The site is important for its architecture, history and urban planning. As a key centre of the nation for more than 1,000 years, the site is a crucial part of Vietnam's history.
The tour guide helped us learn more about Vietnam's heritage and about the need to protect and preserve the values enshrined in heritage.
After three nights in Hanoi, we went to Noi Bai Airport for a flight to Quang Binh province in the centre of Vietnam. This is a coastal province famous for its white sandy beaches, and a UNESCO World Heritage Site – Phong Nha-Ke Bang National Park, which has possibly the biggest cave in the world (Son Doong cave).
Recognised as a UNESCO World Heritage Site in 2003 for its ancient karst formations and in 2015 for its biopersity, Phong Nha-Ke Bang National Park is part of Asia's oldest karst mountains dating back 400 million years.
VNF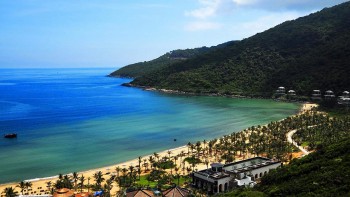 Travel
Nothing is more perfect than immersing yourself in the sun and the cool waves of these beautiful beaches in Vietnam for your summer holiday.