Vietnam and Singapore Strengthen Trade and Investment Cooperation
The State visit to Singapore from February 24-26 of President Nguyen Xuan Phuc is expected to strengthen Vietnam-Singapore relations.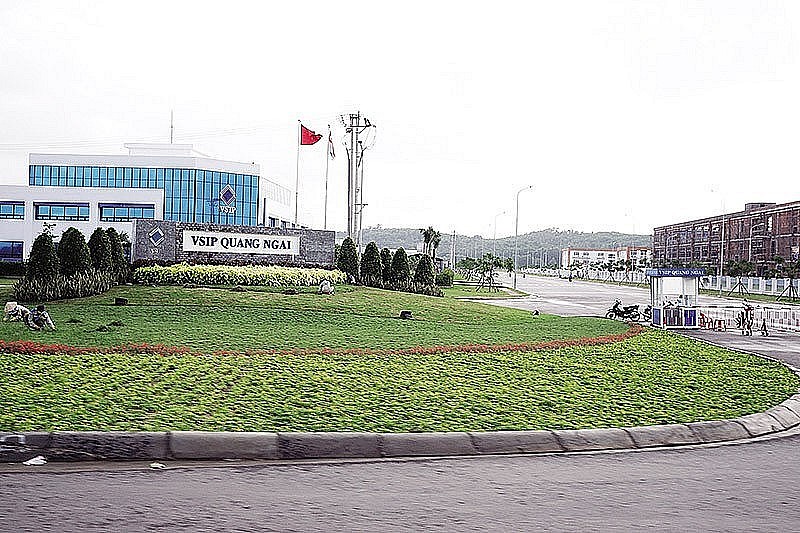 Singaporean investors have built a series of housing and apartment projects, especially the Vietnam-Singapore industrial parks (VSIP). Photo: Bao Dau Tu
Over the years, the Vietnam-Singapore Strategic Partnership has positively developed alongside the complementary economies of both nations. With its unique geographical position, Singapore has become the world's trade transit station. Vietnam is an emerging producer and exporter with many competitive products. However, bilateral trade is still not commensurate.
Therefore, the State visit to Singapore from February 24-26 by President Nguyen Xuan Phuc is expected to strengthen the relationship between the two countries, especially in the context of a series of free trade agreements (FTA) with the participation of Vietnam and Singapore.
Small market, big potential
Although the Covid-19 pandemic has affected economies including Vietnam and Singapore, the total trade turnover between the two countries has reached US$8.3 billion in 2021, an increase of 23.3% over the previous year. Especially, in the first month of the new year 2022, the total import-export turnover between the two countries reached US$783.9 million, up 6.8% over the same period in 2021.
As of February 2022, Singapore invested in Vietnam with 2,860 valid projects, with a total registered capital of US$66 billion. This is Vietnam's largest investor in ASEAN, ranking 2nd out of 140 countries and territories investing in Vietnam.
The average investment scale of a project is over US$23 million, higher than the average investment of US$11.9 million/project. In 2021, Singapore leads with a total investment of over US$10.7 billion, accounting for 34.4% of total investment capital in Vietnam.
Nguyen Thi Thu Thuy, deputy director at the Export Promotion Center of Trade Promotion Agency (Ministry of Industry and Trade), said that Singapore is a small market but a large free trade port, with almost no restrictions on imports.
Currently, more than 99% of imports into Singapore are tax-free, except for some items such as cars, gasoline, alcohol, and tobacco. This is also home to many large multinational, commercial, and logistics companies in Southeast Asia and the world.
However, this market demands high-quality goods. Although the geographical distance between Singapore and Vietnam is not far, not many Vietnamese agricultural products, food, and consumer goods can penetrate Singapore.
According to Tran Thu Quynh, Vietnam trade counselor in Singapore, currently, up to 21 of the world's top 25 logistics service providers are based in Singapore. This is also a major international air transit hub, an important gateway to Asia and Southeast Asia particularly.
Moreover, the Singapore seaport system is currently connected to 600 ports in 123 countries, through 200 shipping routes. About 5% of goods are consumed in Singapore, the remaining 95% will continue to be transported to many locations around the world through the supply chain.
"However, during the Covid-19 pandemic, Vietnamese businesses can penetrate the Singapore market through e-commerce platforms. This is the easiest access channel for Vietnamese businesses, a low-cost form of digital transformation training for businesses," Tran Thu Quynh said.
Taking advantage of the FTAs
According to the Vietnam Trade Office in Singapore, this market has active e-commerce platforms such as Shopee, Lazada, Amazon.sg, Qoo10, Ezbuy, eBay. Most e-commerce platforms allow packaging and consolidation of services from abroad except Amazon.sg and specialized food platforms.
The cost to be paid to e-commerce exchanges is 7.5% of the transaction value, excluding shipping costs. Singaporean consumers will go directly to these platforms to find products that meet their needs.
The Singapore market is suitable for small and medium-sized enterprises to experiment with cross-border trade.
Therefore, Vietnamese enterprises can set up their own companies in Singapore or find importers to do the procedures and put goods into the retail/e-commerce system.
Ngo Chung Khanh, deputy director-general of the Multilateral Trade Policy Department (Ministry of Industry and Trade), said that Vietnam's FTA with the EU removes tariff lines from 3-7 years from the effective date, longer than the 3-year period of the FTA between Singapore and the EU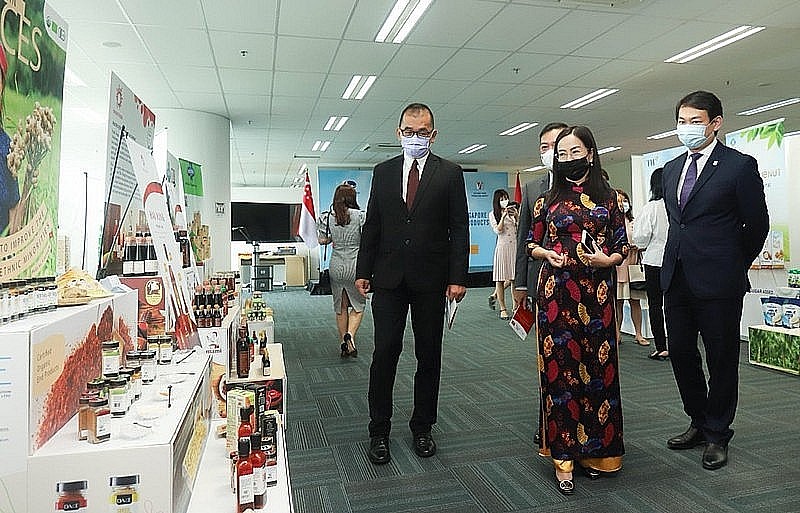 Introducing Vietnamese goods in Singapore. Photo: hanoimoi
For the Vietnam-UK FTA, it is similar to the Singapore-UK FTA because neither the EU nor the UK apply tariff quotas and the rule of accumulation with processed foods from Vietnam.
Vietnamese and Singaporean enterprises can cooperate in using tariff quotas on processed food products that the EU and UK have granted to Singapore; cooperate to create value chains by original equipment manufacturing to expand exports to many other countries. Businesses of the two countries can cooperate to create a commercial presence, process food for export.
Minister of Industry and Trade Nguyen Hong Dien hoped that the two countries would continue to cooperate to further tighten economic-trade relations, contributing to the "Strategic Partnership" relationship between Vietnam and Singapore.
To strengthen economic and trade relations between the two countries, Minister Nguyen Hong Dien proposed to cooperate in digital economy; trade cooperation through Singapore platforms.
The Minister also talked about taking advantage of the FTAs that the two countries participate in; which encourages businesses to invest in electronics, telecommunications, furniture, agricultural and aquatic products processing to boost exports to CPTPP and RCEP countries.