Vietnam, ASEAN + 3 Eye Stronger Economic Cooperation
Vietnam and ASEAN +3 (Japan, the Republic of Korea, and India) are seeking to step up economic co-operation towards boosting economic recovery and development, whilst repelling impacts of the Covid-19 pandemic.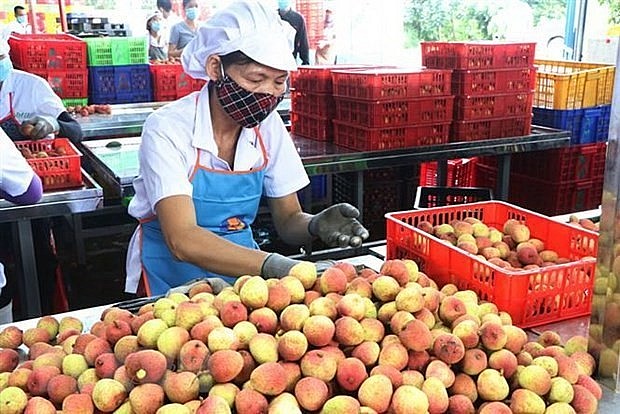 A worker sorts lychees for export. Photo: VNA
This message was emphasised by delegates during a meeting on January 17 in Hanoi held among Ambassadors of ASEAN +3 countries organised by the Vietnam - ASEAN Economic Cooperation Development Association (VASEAN), VOV reported.
VASEAN Vice Chairman Bui Tuong Lan highlighted efforts made by VASEAN member enterprises in stabilizing production and business activities despite challenges caused by the pandemic.
The association has coordinated with embassies and businesses of ASEAN +3 countries to organise online seminars, trade connections, and exhibitions featuring numerous prestigious and quality brands in order to create development momentum.
In particular, VASEAN has proposed promoting trade, investment, and co-operation in cultural communication to unite with the embassies of ASEAN +3 countries in organising a range of programmes to step up communication. This includes a focus regarding culture and practices of other countries in order to create a healthy and effective playground for enterprises.
"In the coming time, VASEAN will work with each embassy to jointly organize exchange and cooperation programmes aimed at boosting economic development in ASEAN and ASEAN +3 regions and deepening mutual understanding among nations for a region of stability, peace and development," Lan said.
Addressing the event, Deputy Minister of Planning and Investment Tran Quoc Phuong hailed the nation's active participation in ASEAN economic integration over the past three decades. The Deputy Minister added that the nation has worked together with ASEAN member states to build an important foundation for the ASEAN Economic Community (AEC) to be officially established in 2015.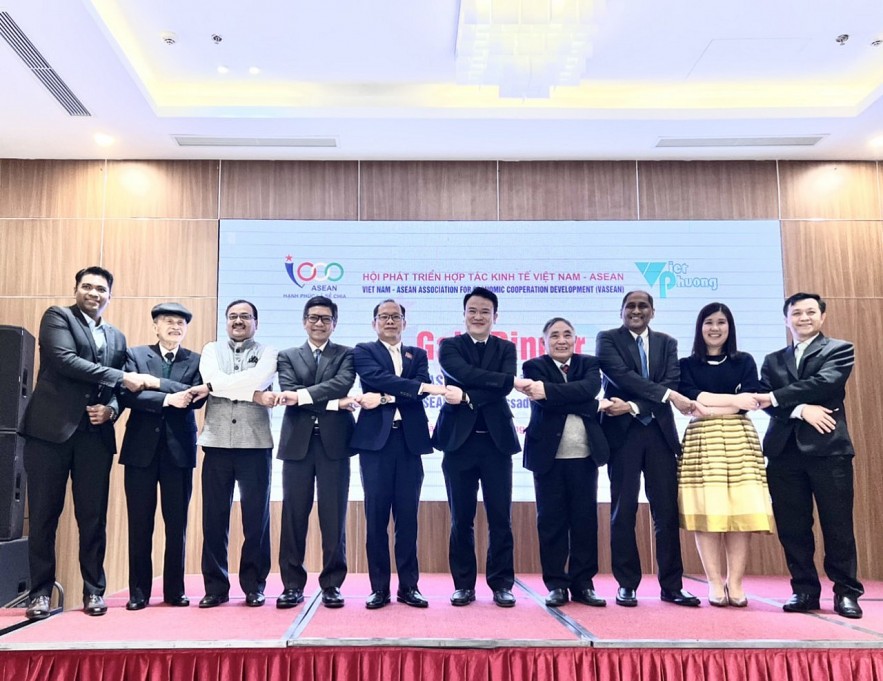 Delegates to the gala dinner. Photo: mekongsean.vn
At present, ASEAN has become one of the country's leading trade and investment partners, an important driving force for the nation in maintaining its economic growth over the course of several years.
AEC creates a chain link between ASEAN businesses, thereby contributing to the growth and common prosperity of the region.
Furthermore, the partnership between Vietnam and Japan, the Republic of Korea, and India has also reaped various important achievements. The three countries have effectively supported and co-operated with the nation across a variety of fields, duly contributing to promoting the Vietnamese economy's rapid and sustainable development.
Appreciating the efforts of VASEAN in bolstering economic co-operation between Vietnam and ASEAN member states, along with the ASEAN +3, embassies of ASEAN +3 countries said they will continue to accompany the Association to support businesses. They will aim to strengthen co-operation and economic development of countries moving forward, especially in the context of the complicated development of the Covid-19 pandemic.
Delegates said that the Covid-19 pandemic has caused plenty of difficulties to economic and business activities of countries globally. However, economic co-operation between the nation and the bloc is still growing and is seen as a bright spot in the country's overall economic picture, as well as of the region in general. ASEAN has always been an important trading partner for the nation, they said, adding that trade relations between the country and the ASEAN market area have continuously developed over the years and recorded remarkable achievements.
Most notably, in 2020, due to the negative effects of the Covid-19 pandemic, Vietnamese imports and exports with ASEAN reached US$53.6 billion, a drop of 6.8% compared to 2019.
However, 2021 saw trade recover and regain momentum, with two-way trade turnover between the nation and ASEAN over the final 10 months of 2021 hitting US$56.6 billion, representing an increase of 30% over the same period from the previous year, higher than the country's average import-export growth rate with the world at 22.6%.
Besides trade, according to the Ministry of Planning and Investment, 2021 saw the ASEAN +3 region remain as the leading investors in terms of total FDI into the nation, with the involvement of the Republic of Korea, Japan, and Singapore.
Boasting a dynamic business environment, the country is still regarded as a good destination for foreign investment from ASEAN and other locations both this year and moving ahead to subsequent years.
ASEAN trade recovery may be impacted by Omicron variant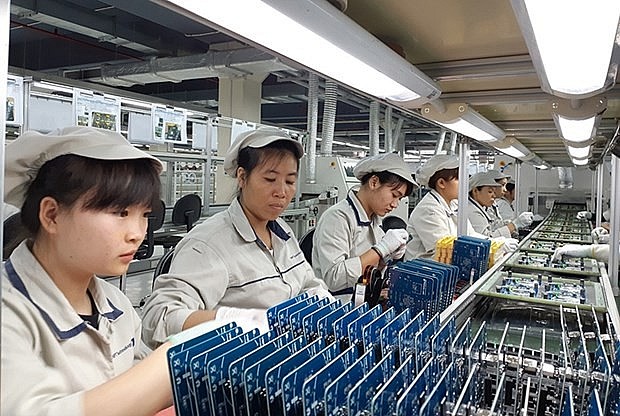 Trade between Vietnam and ASEAN over the final 10 months of 2021 hitting US$56.6 billion. Photo: VNA
The emergence of the Omicron Covid-19 variant could impact the recovery of trade in goods and services in ASEAN economies, said Sithanonxay Suvannaphakdy, researcher at the ISEAS–Yusof Ishak Institute of Singapore.
He said even before Omicron's appearance on the scene, there were already downside risks of economic recovery. These included supply chain disruptions — longer port delays, higher shipping costs, shortages of semiconductors — rising consumer prices and the ongoing outbreak of Covid-19 in ASEAN economies and their key trading partners. The outbreak of the Omicron variant could further reduce demand for goods and services from within and outside the region in 2022.
According to him, the Omicron variant could reduce intra- and extra-ASEAN trade in goods and services, at least in the short term, due to greater international travel restrictions and more frequent lockdowns, he said, adding higher travel restrictions impact trade flows by making it hard for business partners in different countries to meet in person to transact deals. In-person meetings remain essential to facilitate trade, although a large proportion of the labour force has managed to transition to working from home and firms continue to maintain business relationships.
As of December 1, seven out of 10 ASEAN countries, namely Singapore, Malaysia, Indonesia, Myanmar, the Philippines, Thailand and Vietnam, have already tightened their entry and quarantine rules due to concerns over the Omicron variant. ASEAN's key trading partners such as Japan, India and the Republic of Korea have also tightened their border controls. Although ASEAN countries and their trading partners have allowed business travel to resume, international travel costs, which include airfare, quarantine and testing requirements, are high. Micro and small enterprises, which engage in relatively smaller amounts of cross-border trade, may not be able to bear such costs.
Sithanonxay Suvannaphakdy said actual trade effects will depend on the ability of firms to adapt to the digital trade era, sustain business relationships without in-person meetings, and substitute foreign suppliers with domestic ones, according to VietnamPlus./.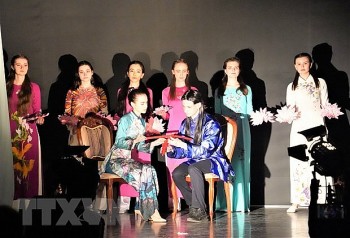 Overseas Vietnamese
Two exchange programmes were held in Russia, attracting manyemany and students of Vietnamese studies from leading universities in Russia.