Vietnam Attends 12th Meeting Of ASEAN-Australia Joint Cooperation Committee
Ambassador Nguyen Hai Bang attended the 12th meeting of the ASEAN-Australia Joint Cooperation Committee on April 8.
Ambassador Nguyen Hai Bang, Permanent Representative of Viet Nam to ASEAN, has attended the 12th meeting of the ASEAN-Australia Joint Cooperation Committee, an annual meeting to evaluate the implementation of cooperation activities and programmes within the framework of the two sides' comprehensive strategic partnership.
At the virtual meeting on April 8, participating countries lauded positive results posted in the first two years of implementing the ASEAN-Australia Plan of Action for 2020-2024. All 127 action lines of the plan have been conducted, as vietnamplus reported.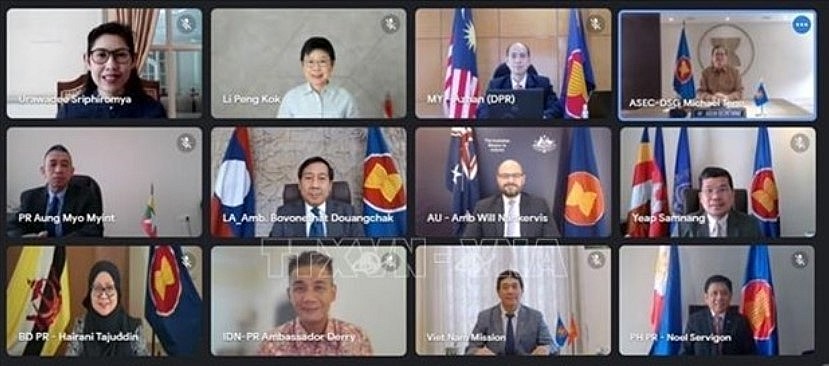 At the meeting (Photo: VNA)
Australia affirmed its support for the bloc's central role in the maintenance of peace, security, stability, and development in the region; and for its community-building efforts.
Australia also pledged to actively cooperate with ASEAN through mechanisms led by the group.
For their part, as nhandan reported, ASEAN countries highly appreciated Australia's commitment and timely assistance in COVID-19 prevention and control over the past time. They welcomed the 124-million-AUD ASEAN Futures Initiative, which support projects that address complex challenges.
The two sides committed to deepening their comprehensive strategic partnership, focusing on substantive and in-depth cooperation in such areas as maritime security, cyber security, transnational crime, trade and investment, connectivity, smart cities, education, health security, sustainable development, and sub-regions development.
"ASEAN is at the centre of the Indo-Pacific. And we back this, both through our words and our actions," Australia Prime Minister Scott Morrison affirmed his country's support for ASEAN's centrality in the Indo-Pacific region while addressing the first ASEAN - Australia Summit, held virtually on October 27, 2021. PM Morrison noted the partnership establishment underscores Australia's commitment to ASEAN's central role in the Indo-Pacific and positions their partnership for the future, and that a strong, united, and resilient ASEAN is vital to the region's success and supports Australia's own security and prosperity, as vietnamplus reported.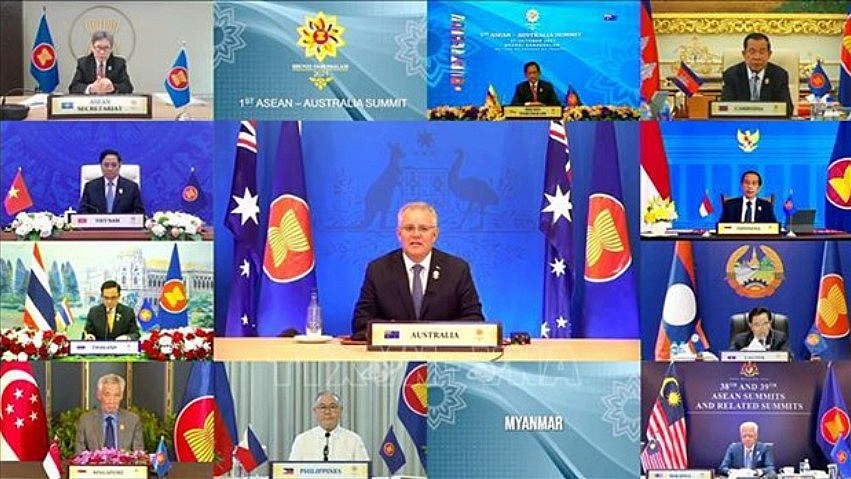 Australian Prime Minister Scott Morrison (centre) and ASEAN leaders at the virtual summit on October 27 (Photo: AFP/VNA)
According to asean.org, Plan of Action (POA) guides implementation of the goals and objectives of the ASEAN Australia Strategic Partnership, including Leaders' commitments from ASEAN-Australia Summits, the Joint ASEAN-Australia Leaders' Statement on the 40th Anniversary of ASEAN Australia Dialogue Relations Towards a Strategic Partnership for Mutual Benefit (2014) and the Joint Statement of the ASEAN-Australia Special Summit: The Sydney Declaration (2018).
POA builds on the strong history of cooperation and partnership between ASEAN and Australia since 1974 and the elevation to a Strategic Partnership in 2014. It reaffirms that ASEAN and Australia are partners with a vital stake in a dynamic region undergoing major changes. It outlines priority actions to intensify our engagement to shape a peaceful, prosperous and rules-based region with ASEAN at its centre. To enhance the ASEAN-Australia Strategic Partnership, the POA promotes cooperation in support of the ASEAN community building and integration process, including the ASEAN Community Vision 2025, as well as to address emerging regional and global challenges over the next five years.
ASEAN and Australia hereby endeavor to pursue cooperation in the following priority areas through the corresponding activities, in conformity with their obligations under international law and in accordance with their respective domestic laws, regulations, and policies on the basis of equal benefit and opportunity for all parties.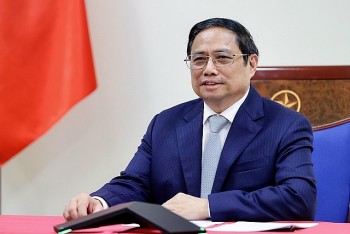 Friendship
Prime Minister Pham Minh Chinh and his French counterpart Elisabeth Borne compared notes on ways further strengthen the Vietnam-France strategic partnership, especially in economy, trade and investment during their telephone conversation on November 28.