Vietnam – Attraction and Dynamism: Photo Exhibition Introduces Vietnamese Culture In Mexico
A photo exhibition themed "Vietnam – Attraction and Dynamism" is underway in Mexico City, featuring a strong and beautiful nation of Vietnam.
The event took place as part of activities being held to celebrate the 50th anniversary of the establishment of diplomatic relations between both sides.
Opening the event, which is part of the activities to celebrate the 50th anniversary of the Vietnam-Mexico diplomatic relations, Mariana Flores Mayen from the General Coordination of Advisors and International Affairs of the Government of Mexico City said that the 30 photos displayed at the exhibition give visitors a deeper insight into the natural beauty, culture, people of Vietnam as well as the country's socio-economic development achievements.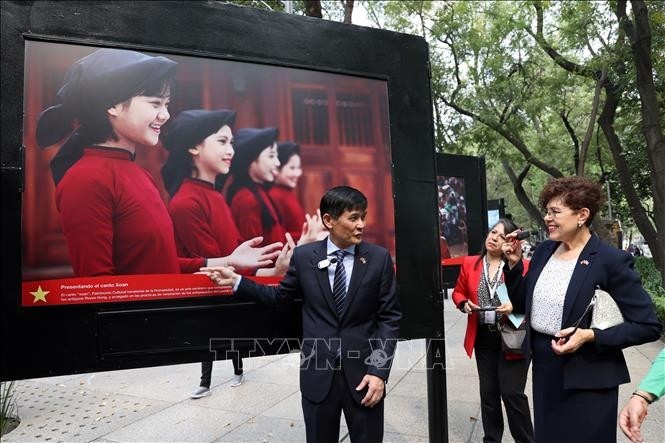 Vietnamese Ambassador to Mexico Nguyen Hoanh Nam introduces visitors to photos featuring the beauty of Vietnamese people. Photo: VNA
She revealed that the occasion is expected to attract roughly 500,000 visitors from November 9 to December 5.
For his part, Jose Manuel Gonzales, director of the Mexican Capital Historical Center, stated that he was really impressed by the artworks displayed at the exhibition, adding that the function has helped visitors to explore the inner beauty and character of Vietnamese people.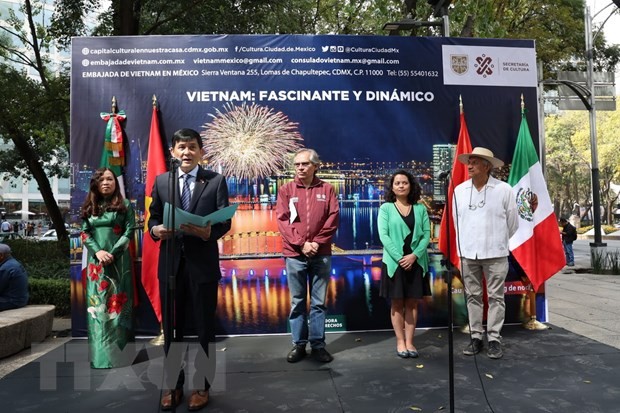 Ambassador Nguyen Hoanh Nam addresses the opening of the exhibition (Photo: VNA)
Meanwhile, Vietnamese Ambassador to Mexico Nguyen Hoanh Nam expressed his hope that along with elevating the nation's image and its people, the exhibition will provide people of both countries with further opportunities to strengthen mutual understanding, thereby deepening the solidarity and friendship that exists between the two countries moving forward.
Earlier in late October, the Vietnamese Embassy in Mexico also joined the ASEAN Bazaar Culinary and Cultural Festival in Mexico City to promote ASEAN's numerous landscapes, culture, and people.