Vietnam Business & Weather Briefing (May 27): USD Exchange Rate Up, Gold Price Recovers
Vietnam Business & Weather Briefing (May 27): Gold price increase, rain is likely to come back to the north
Business Briefing
Gold rate: VND 68,5 million/tael
Reference exchange rate: VND 23,109/USD
Aviation news: Vietjet, Boeing reach agreement on a 200-aircraft contract
Export news: Vietnamese export increases in both quantity, quality
Weather Forecast
From May 27 to the night of May 28, rain in the North is likely to increase, mostly in the northwest.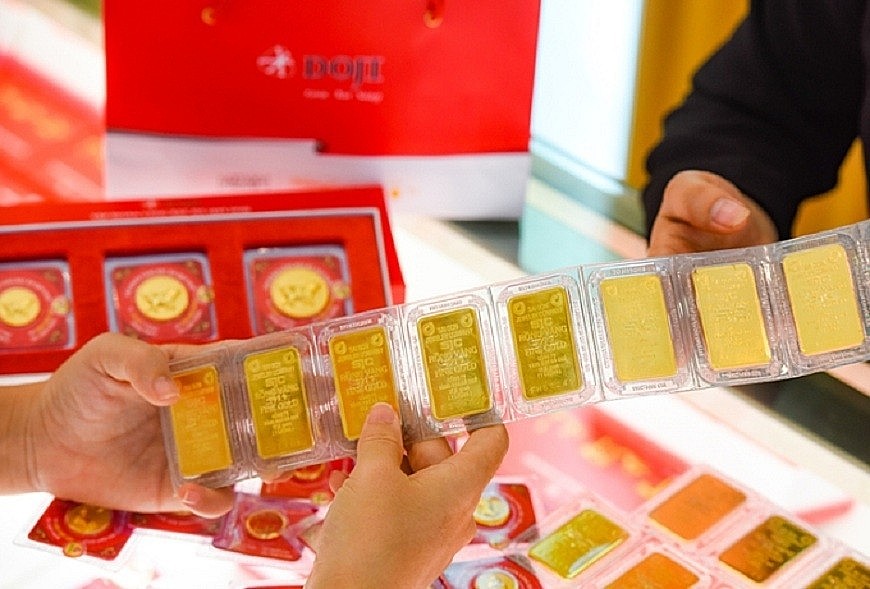 Photo: Quan Doi Nhan Dan
Business Briefing
Gold rate
As of 2:30 pm on May 27, SJC 9999 gold price increased by VND 200,000 in both buying and selling transactions compared to last month.
Buy
Sell
SJC Hanoi
VND 68,5 million/tael
VND 69,52 million/tael
SJC Ho Chi Minh City
VND 69,52 million/tael
VND 69,5 million/tael
Doji Hanoi
VND 68,4 million/tael
VND 69,35 million/tael
Doji Ho Chi Minh City
VND 68,4 million/tael
VND 69,35 million/tael
Reference exchange rate
The State Bank of Vietnam set the daily reference exchange rate for the US dollar at VND 23,109/USD on May 27, up VND 4 from the previous day. With the current trading band of /-3 percent, the ceiling rate applied to commercial banks during the day is VND 23,802/USD, and the floor rate is VND 22,415/USD.Gold price today 27/5 on the international market recovered after falling quite strongly before. A weakening USD is a supportive factor for precious metals.
The opening-hour rates at commercial banks stayed stable. At 8:30 am, Vietcombank listed the buying rate at VND 23,030/ USD, and the selling rate at VND 23,340/ USD, unchanged from the rates at the end of May 26.
BIDV also kept both rates unchanged at VND 23,070/ USD (buying) and VND 23,350/ USD (selling). During the week from May 23-27, the daily reference exchange rate was adjusted down on the first two days but then turned around to follow an upward trend. It ended the week up VND 8 from the rate at the week's beginning.
Photo: VietJet
Aviation news: Vietjet, Boeing reach agreement on a 200-aircraft contract
Chairman of the National Assembly Vuong Dinh Hue has congratulated Vietjet Air and Boeing on their agreement on the restructuring and continuation of the contract to purchase 200 Boeing 737 aircraft, at the meeting with Boeing's Senior Vice President Michael Arthur. The agreement was reached during Prime Minister Pham Minh Chinh's official visit to the US and United Nations for the ASEAN-US Special Summit held in Washington D.C.
Vietjet's contract with Boeing is one of the significant deals contributing to the countries' bilateral trade balance and has been forged through three US Presidencies with important strides following diplomatic and economic development milestones between the two countries in recent years.
In 2016, Vietjet Air ordered 100 Boeing aircraft in the witness of US President Barack Obama during his visit to Vietnam. The deal gained global attention on the impressive innovation of Vietnam's economy as it was the first time a private airline entered such a huge order with Boeing. The sides agreed to raise the total number of aircraft in the order to 200 three years later, under the witness of then US President Donald Trump during his trip to Hanoi.
Besides the aircraft order, Vietjet also signed the long-term engine support with CFM International, the joint venture of General Electric, including engine supply and technical services. The huge aircraft order attracted attention not only for tens-of-billion-US-dollar value scale but also for its progressive meaning to the two companies and the two economies.
This year, Vietjet and Boeing have agreed on the continuation of the agreement after a hiatus due to unexpected events with the Boeing 737 Max and the COVID-19 pandemic. Accordingly, Vietjet will receive Boeing's new generation of 737 aircraft with the new delivery schedule in line with the Vietnamese airline's development and business strategy.
With the direction to become a global airline since its establishment, Vietjet not only provides flying opportunities for millions of people who have never boarded a flight, but also contributes to the development of the local economy, promoting changes in the world economy, new management policies and service providers to improve operating standards in Vietnam. Vietjet's order is expected to bring 200,000 jobs to the US labor market, worth 35 billion USD, including 24.2 billion USD worth of aircraft orders and 10.8 billion USD worth of engine engineering services. The achieved results not only boost growth for Vietnam's aviation industry and economy but also attract more domestic and foreign investors, including large corporations such as Boeing and also the US economy, the largest economy in the world.
Export news: Vietnamese export increases in both quantity, quality
Taking advantage of free trade agreements and flexibly adapting to world unstable development, Vietnam's spearhead economies such as fisheries, garment and textiles, and wood products are accelerating exports to increase turnover. According to statistics of the Vietnam Customs, as of May 15, export turnover reached 135 billion USD, up 15.5 percent year-on-year.
The Vietnam Textile and Apparel Association (VITAS) forecasts that the sector could enjoy an export turnover of 42-43.5 billion USD this year. Than Duc Viet, General Director of Garment 10 Corporation, said that the corporation has received enough orders for its traditional products throughout the third quarter of 2022 and its customers are confident in the flexibility and adaptability of Vietnamese enterprises.
The wood processing sector is also full of orders till the fourth quarter of 2022. Vice President of the Ho Chi Minh City Handicraft and Woodworking Association (HAWA) Nguyen Chanh Phuong said that if the average export turnover is about 1.5 billion USD per month as it is now, the industry's target of around 16.5 billion USD in export value by the end of 2022 is completely feasible. The fisheries sector enjoyed a record export value in the first five months of this year with 3.65 billion USD, up nearly 47 percent from the same period of last year.
Talking about opportunities to boost exports of the wood industry, Nguyen Thi Thu Trang, Director of the Centre for WTO and Integration under the Vietnam Chamber of Commerce and Industry, said Vietnam's wood processing and export industry is enjoying an important advantage from free trade agreements (FTAs). The FTAs help businesses increase their competitiveness and market share in not only traditional markets such as China, Japan, and the Republic of Korea, but also in markets that are not familiar with Vietnamese furniture such as ASEAN or Oceania.
Customers in these regions belong to many diverse segments, including those that are not too choosy, and have high demand for many wood products of Vietnam. This opens up more opportunities for producers and exporters, especially small and medium-sized enterprises. VITAS President Vu Duc Giang stated that currently, most fashion brands in the US, Japan, Europe, and even China are more demanding on garment products. Enterprises that want to join the global playing ground should renew themselves, be more transparent in production as well as ensure products are clearly traceable, and ensure green development factors, he added.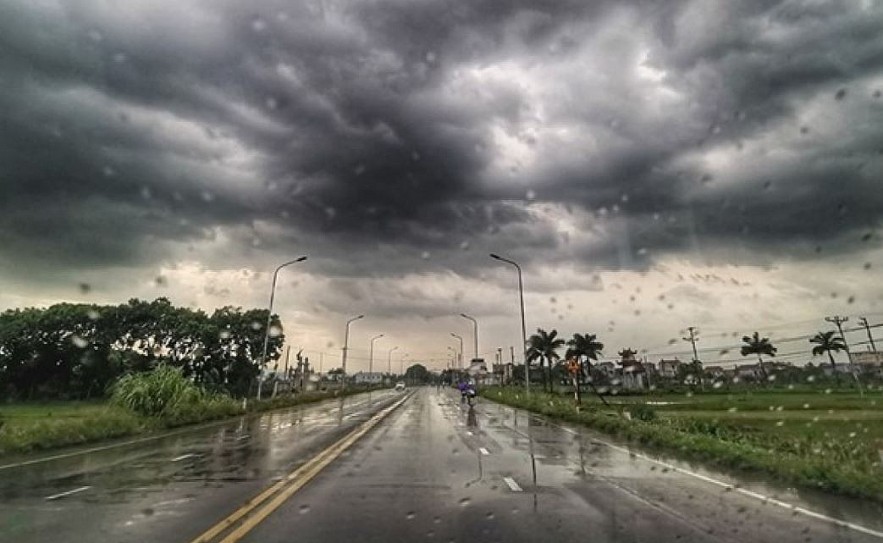 Photo: VNA
Weather Forecast
May 27-30: From May 27 to the night of May 28, rain in the North is likely to increase, mostly in the northwest. Particularly, Lao Cai, Ha Giang, Yen Bai, Tuyen Quang, and Bac Kan will have moderate to heavy rain.
Thunderstorms in the Central Highlands and the South are likely to last until about May 30. During thunderstorms, there is a possibility of tornadoes, lightning, hail, and strong winds.