Vietnam, Cambodia Resolved to Further Enhance Relations
Vietnamese Prime Minister Pham Minh Chinh and his Cambodian counterpart Samdech Techo Hun Sen have affirmed their resolve to further consolidate and develop the good neighbourliness, traditional friendship, and comprehensive, sustainable, and long-term cooperation between the two countries.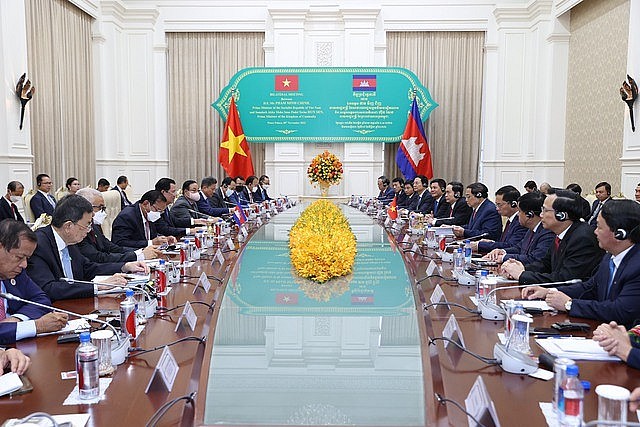 At the talks between Vietnamese Prime Minister Pham Minh Chinh and his Cambodian counterpart Samdech Techo Hun Sen. Photo: VGP
At their talks held in Phnom Penh on November 8, PM Chinh, now on an official visit to Cambodia, highly valued the contributions and encouraging outcomes by Cambodia as the Chair of ASEAN in 2022, saying he believes the country will successfully organise the 40th and 41st ASEAN Summits and related summits in the next few days, VietnamPlus reported.
Welcoming his guest, PM Hun Sen said the visit holds great significance in 2022 as the countries are celebrating the 55th anniversary of their diplomatic ties.
The two leaders agreed to bolster defense and security cooperation, stressing the principle of not allowing hostile forces to use their territories to harm another country's security and interests.
They would also deploy existing agreements and mechanisms to maintain political stability, security, order and social safety, as also prevent transnational crimes like human and drug trafficking.
PM Chinh thanked Cambodian authorities for working closely with Vietnam to successfully rescue many Vietnamese citizens lured to Cambodia for illegal work.
Both leaders agreed that bilateral commerce and investments were a highlight of bilateral relations, with two-way trade turnover reaching topping $9.5 billion in 2021, an 80% increase over 2020. Trade turnover in the first 9 months of this year reached $8.45 billion, a 16.7% increase year-on-year.
The two leaders concurred in the continuation of joint efforts to search for and repatriate remains of Vietnam's volunteer soldiers and experts who laid down in Cambodia, and to step up the repatriation of remains of soldiers of the Kampuchean United Front for National Salvation from Vietnam.
They agreed to boost connecting the two economies in terms of infrastructure as well as regulations and policies, and underlined the importance of cross-border trade and cooperation in economic development in border areas and border gate zones.
In terms of border affairs, they agreed to respect and fully implement the border-related agreements signed between the two countries, continue to step up negotiations, make joint efforts to seek proper solutions to the remaining 16% of land border on which demarcation and marker planting haven't finished.
The two were unanimous in continuing to promote partnerships in education - training, transport, agriculture - forestry - fisheries, information and communications, finance - banking, culture, tourism, people-to-people exchange, and sports.
PM Chinh affirmed Vietnam's readiness to further share experience with and assist Cambodia to successfully organise the 32nd Southeast Asian Games (SEA Games) in 2023.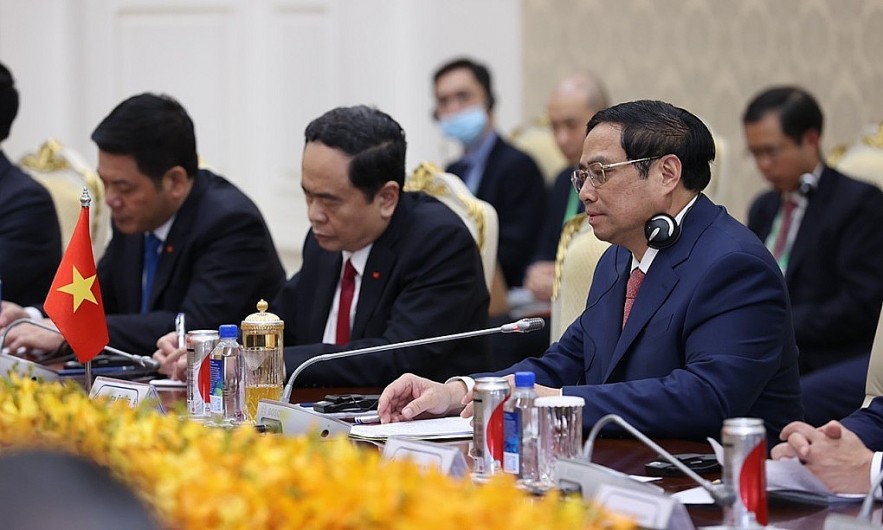 Prime Minister Pham Minh Chinh at the talks. Photo: VNA
He also appreciated and called for Cambodia's continued attention to and favorable conditions for the Vietnamese-origin community to live and work stably and legally in the country, integrate into the local society, and actively contribute to local socio-economic development.
At the talks, the two Government leaders also discussed some regional and international issues of shared concern.
Vietnam and Cambodia support relevant parties in fully abiding by the Declaration on the Conduct of Parties in the South China Sea (Bien Dong Sea) (DOC), as well as hastening the process to formulate the Code of Conduct for the South China Sea (COC), the two leaders affirmed.
On this occasion, PM Chinh invited his counterpart to pay an official visit to Vietnam at an early date, and PM Hun Sen accepted the invitation with pleasure.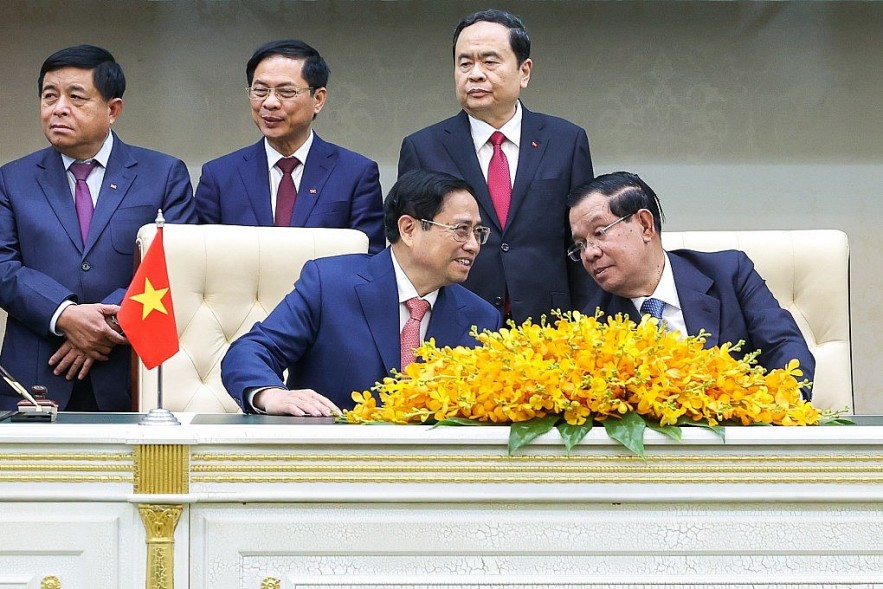 Vietnamese Prime Minister Pham Minh Chinh and his Cambodian counterpart Samdech Techo Hun Sen witnessed the signing of 11 cooperation documents. Photo: VGP
Following the talks, the two leaders witnessed the signing of 11 documents between the two countries.
While in Cambodia, PM Chinh also met Cambodian Senate President Samdech Say Chhum in Phnom Penh, during which the Vietnamese leader asked the Cambodian Senate to continue to support the promotion of the friendship and comprehensive cooperation between the two countries, and pay attention to assisting Cambodian of Vietnamese origin in stabilizing their lives and integrating into the host society, according to Nhan dan (People) newspaper.
He also proposed that the Senate help create a legal framework for Vietnamese firms' long-term investment and business in Cambodia for the practical interests of the people of both countries.
Chinh had a meeting with the President of the Cambodian National Assembly Samdech Heng Samrin, and paid a call to King of Cambodia Norodom Sihamoni in Phnom Penh the same day./.