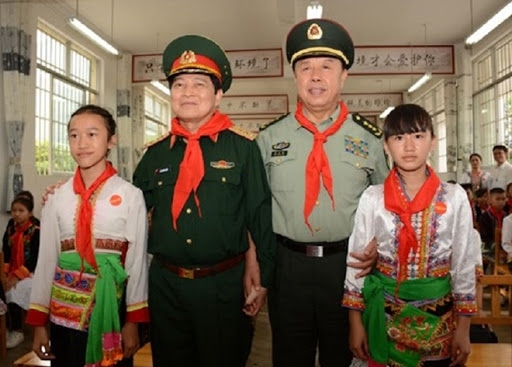 At the 4th Vietnam-China Border Defense Friendship Exchange in Yunnan Province, China. Source: PSNews
Senior leaders of Vietnam, China, the leadership of the two defense ministries, and authorities of the provinces along the shared borderline of China and Vietnam will attend the event, according to PANO.
This is an important political event, which will help boost people-to-people exchanges, twinning relations between localities along the shared borderline of Vietnam and China, and their cooperation in economic activities, sharing experiences in production, and enhancing the two countries' relationship.
Through the activities during the annual exchange, the border guard forces of the two countries will have opportunities to promote their close-knit ties, enhance coordination in dealing with law violations in the border areas.
Major Le Quang Dao, Deputy Commander and Chief of Staff of the Vietnam Border Guard Command and his entourage checked the preparations on March 29 for the upcoming exchange.
After checking, General Dao asked relevant units from the Vietnam Border Guard Command and the Quang Ninh provincial Border Guard Command to work closely with local authorities to make good preparations in logistical and accommodation services for guests and related services before April 10.
He also requested relevant bodies to make preparations in line with the exchange's agenda to ensure its success. He reminded medical personnel of the border guard force to exercise COVID-19 prevention and control measures before and during the exchange.
The same day, Major General Dao worked with the Quang Ninh provincial Border Guard Command and the leadership of Binh Lieu district, during which he expressed his deep thanks to the local Party committees and authorities for their support for the border guard force to complete their assignments.
He believed that with thorough preparations, the exchange will take place successfully./.
Hannah Nguyen