Vietnam, China Maintain Peace, Stability on Shared Land Border
The border joint patrol is one of the activities demonstrating the bilateral friendship and collaboration.
Border guards stationed in Vietnam's northernmost province of Ha Giang and officers from a border checkpoint in China's Yunnan province held a joint patrol on September 16, VNA reported Friday.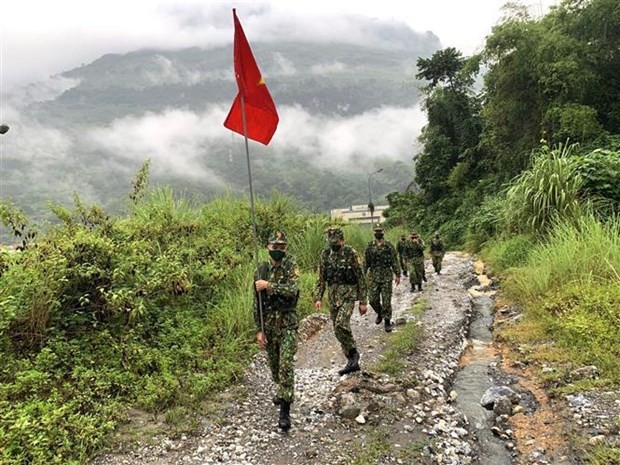 Vietnamese border guards in the joint patrol on September 16. Photo: VNA
The guards from the Thanh Thuy International Border Gate in Ha Giang and the Tianbao checkpoint in Yunnan's Malipo county patrolled the border from Marker 261/2 to Marker 260+500.
They also exchanged information about imports - exports, exit - entry, and the Covid-19 situation, and discussed measures to prevent illegal border crossings.
They agreed to further improve law enforcement effectiveness along the border, examine border demarcations to detect any signs of violation, and increase communications to improve border residents' awareness of and adherence to the law.
The two sides concurred that when the pandemic is brought under control and normal status is resumed, they will continue organising more joint border patrols, frequently share information and experience, and work together to develop economic activities, guarantee political security, social order and safety, and fight cross-border crimes, thereby helping build a Vietnam - China border of peace, friendship, cooperation and development.
Vietnam and China share a border of almost 1,450 km, including 1,065.6 km on land and 383.9 km over water. It traverses seven Vietnamese provinces (Dien Bien, Lai Chau, Lao Cai, Ha Giang, Cao Bang, Lang Son, and Quang Ninh) and China's Yunnan province and Guangxi Zhuang Autonomous Region.
Vietnamese and Chinese border guards exchanged and agreed upon contents of joint patrol. VNA/VNS Photo Minh Tam
In April, Minister of National Defence General Phan Van Giang and his Chinese counterpart Sen. Lieut. Gen. Wei Fenghe co-chaired activities of the seventh Vietnam-China Border Defence Friendship Exchange in Quang Hoa district of Vietnam's Cao Bang province and Longzhou county of China's Guangxi province.
The two sides agreed to continue promoting the exchange of delegations at all levels, especially high-level ones; effectively implementing existing exchange and cooperation mechanisms, such as the Defence Strategy Dialogue at the deputy ministerial level and the Border Defence Friendship Exchange; as well as cooperation between armies, armed forces, academies and schools; and continue to coordinate with and support each other at multilateral military and defence forums.
It is also necessary to closely coordinate and strictly implement the three legal documents on the land border, strictly protect the border, prevent crimes and illegal entry and exit activities, and prevent the coronavirus from spreading across the border, they stressed.
For existing problems between the two countries, they frankly discussed and agreed to solve them from a strategic height, for the common interests of the two countries, by peaceful means and on the basis of international law.
With many advantages for economic, trade, and investment ties, China has continually been the largest and most important trading partner of Vietnam.
Despite impacts of the pandemic, bilateral trade still topped USD 100 billion in 2020 and 2021. It surpassed USD 117 billion in the first eight months of 2022, up 10.8% year on year, according to the General Department of Vietnam Customs.