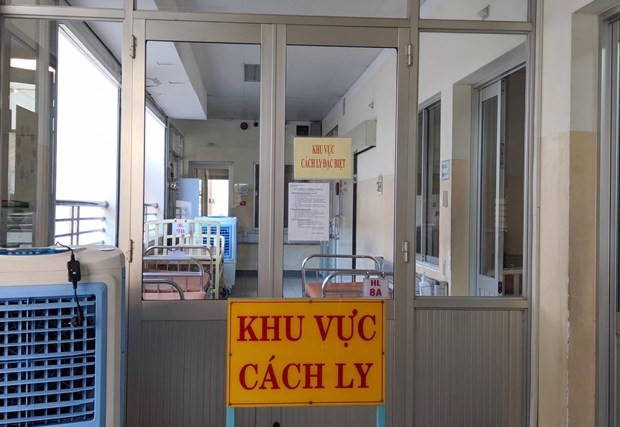 The isolation ward for nCoV patients at the Hospital for Tropical Diseases in Ho Chi Minh City (Photo: VNA)
The latest confirmed case was a 30-year-old man in the northern province of Vinh Phuc, and returned to Vietnam from China's Wuhan in January on a Southern China flight, the same flight with four other Vietnamese previously tested positive for the novel virus.
He is being isolated and receiving treatment at the National Hospital for Tropical Diseases in Dong Anh district, Hanoi. He is now in stable condition.
On February 1, Vietnam declared a public health emergency over the coronavirus epidemic and said it would halt all flights to and from mainland China.
On February 2, companies in Vietnam were asked to suspend receiving Chinese workers who return from infected areas in China after the Lunar New Year holiday, following an urgent notice issued by the Ministry of Labour, Invalids and Social Affairs.
Those who have already arrived in Vietnam must be quarantined and monitored for 14 days, the notice says.
Industrial parks, processing and economic zones across the country must also halt granting new working permits to foreigners from infected areas.
The outbreak has prompted authorities to grant a week off starting on February 3 to 4 million students in Hanoi and Ho Chi Minh City from kindergarten to high school grades.
Besides the country's two largest cities, 15 cities and provinces across the country have announced plans to extend the Tet break for students by at least two days, including Vinh Phuc, Thanh Hoa and Khanh Hoa, which have confirmed infection cases.
Dozens of universities and colleges have also postponed and rescheduled their classes.
Several Hanoi universities have advised Chinese students not to return amidst the coronavirus outbreak.
Hanoi University has extended its Lunar New Year holidays until February 10, and until February 17 for Chinese students, and told them they should not return to Vietnam now.
There are 490 Chinese students studying at the school, of whom 22 had stayed back in Vietnam for the festival. They are being monitored, headmaster Nguyen Van Trao said.
The University of Languages and International Studies has extended the holidays until February 10, with Chinese students being advised to stay put in China until further notice.
There are 40 Chinese students at the school, of whom one had stayed back./.
VNF