Vietnam makes world's first mask with Covid-killing ability
According to research by from German, American and Indian laboratories, Vietnam's Wakamono masks are capable of killing 99% of some viruses, including nCoV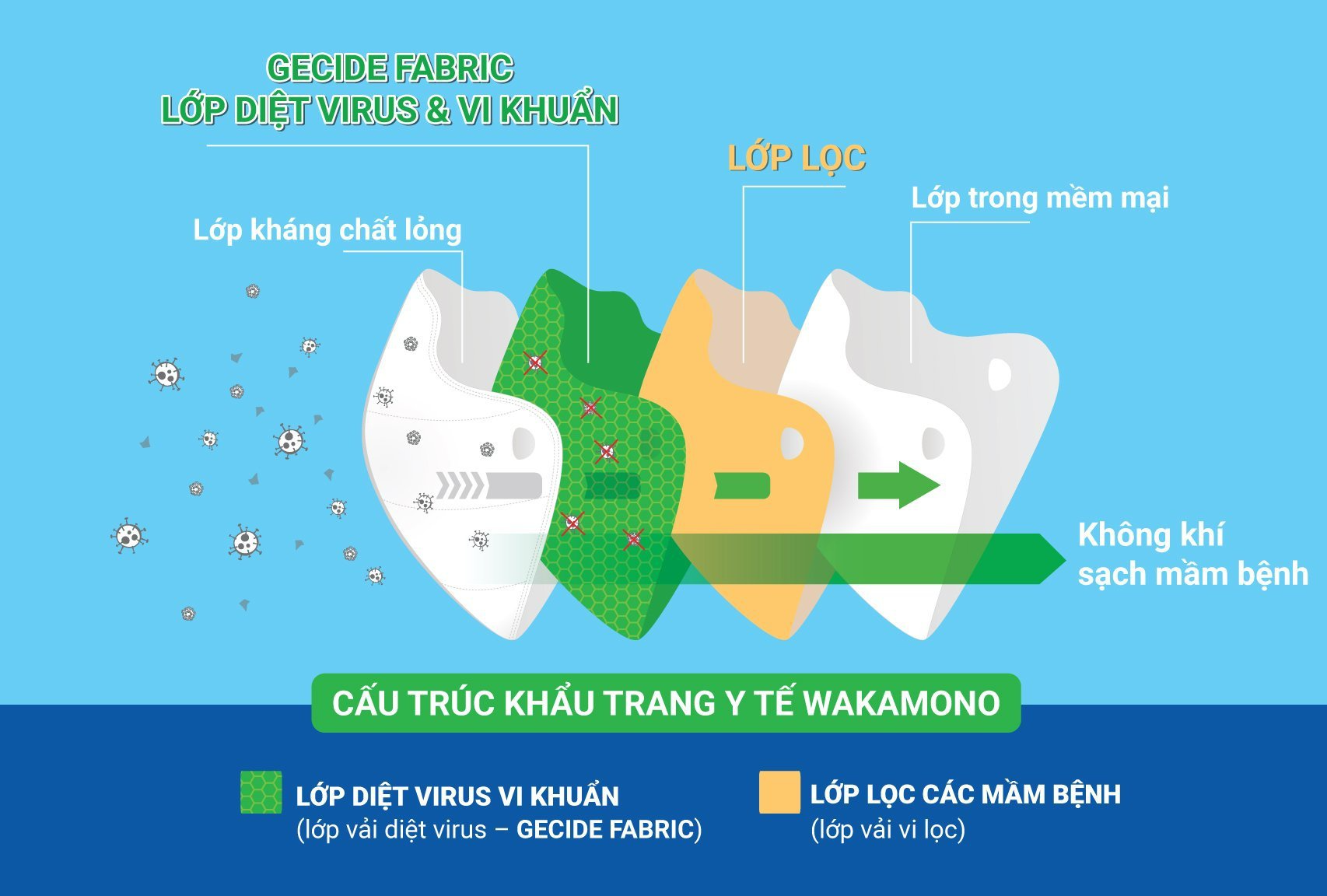 'Made in Vietnam' mask. Photo: Thanhnien
With the application of the world's leading technology, Vietnamese company Wakamono have invented a mask capable of killing coronavirus.
Externally no different from regular medical masks, Wakamono masks have the added ability to kill viruses immediately upon contact, which pass through the virus-killing fabric (Nano Gecide) of the mask.
Results from reputable laboratories abroad show that the Nano Gecide fabric in Wakamono masks helps kill 99% of viruses, including nCoV, within 30 seconds of contact. This mask is recognized by the European CE. Wakamono is the world's first mask capable of killing nCoV.
Vietnam is proud to be a leader in successfully inventing new technologies in the fight against the global pandemic. Wakamono Joint Stock Company has said it is committed accompanying the Ministry of Health and thealth sector in pandemic prevention.
The mask was 100% researched, invented and mastered by Vietnamese people from raw material production to finished products, manufactured in Vietnam and registered for protection in the United States.
On the afternoon of June 8, Wakamono Joint Stock Company donated 100,000 Wakamono masks to officials and employees of the Ministry of Health and the Steering Committee for Covid-19 Prevention and Control.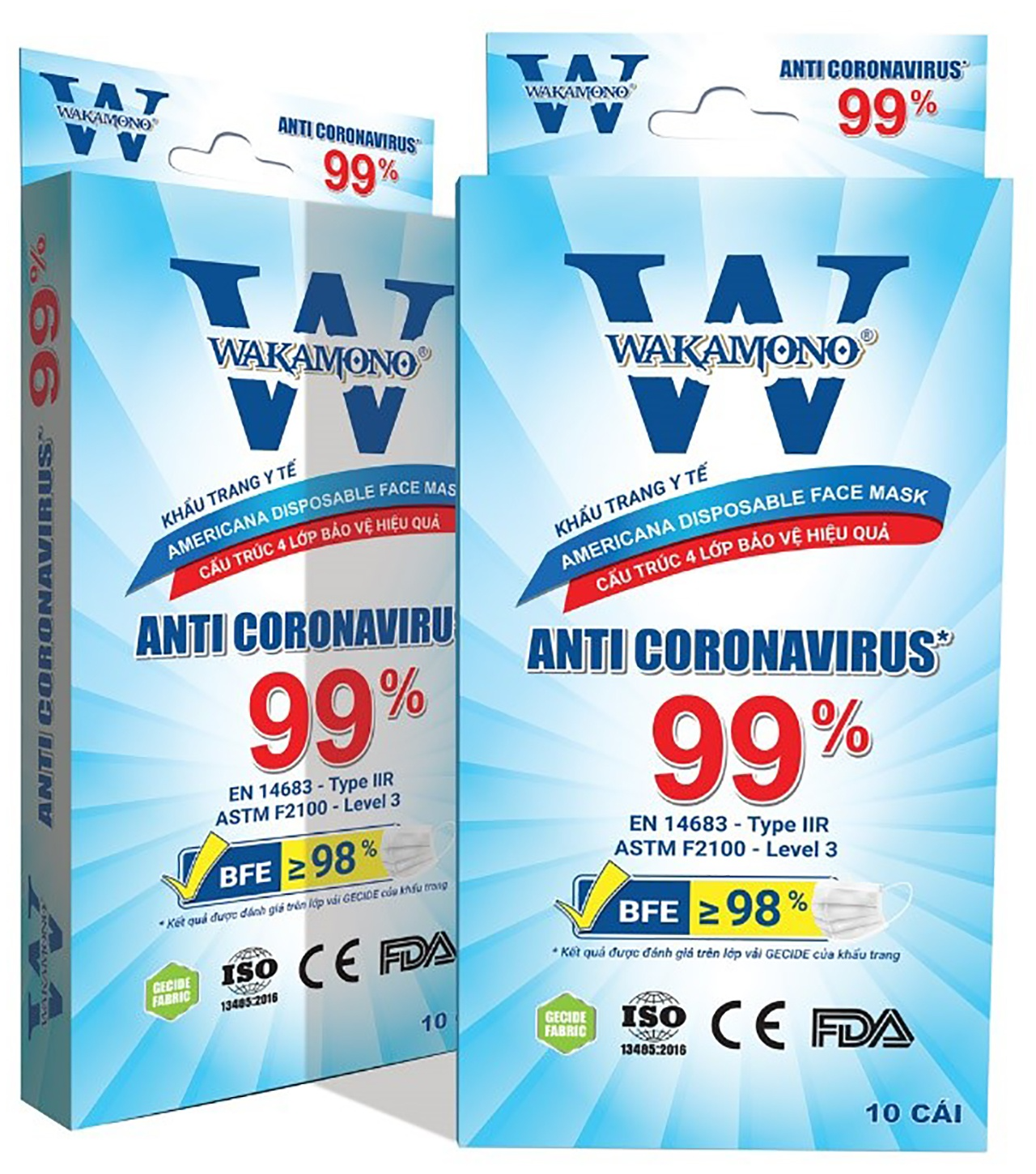 Each box of Wakamono masks includes 10 pieces. Photo: ThanhNien
With the cross-contamination from hospital treatment areas or isolation areas and the higher infection rate since new strains from India and the UK appeared in Vietnam, the manufacturer hopes to contribute to protecting the health of the patients and people, and preventing the spread of Covid-19.
Wakamono Company (Ho Chi Minh City High-Tech Park) specializes in technology research and production of Nano Biotech materials, with 11 patents protected for 20 years in the United States and Canada, and has applied this technology to produce masks. Scientists at Wakamono spent many months researching a natural Bionano compound (named Gecide) to help kill the coronavirus strain and successfully coat the fabric of the mask.
The mask was born in April 2020, and the company took about 6 months to perform tests in laboratories around the world. This mask meets the highest standards of the US ASTM F2100 (Level 3) test kit and EN 14683 (Type IIR) test kit of Europe. Products are certified by FDA (USA), CE (Europe), TGA (Australia) and are exported markets such as Portugal, Italy, Australia, New Zealand and the United States.
According to the manufacturer, the product has 2 types for adults and children. Wakamono masks are sold in Vietnam with the lowest average global. It retails in the United States for approximately US$ 0.6 (about VND 15,000 per unit), but Vietnam it is only VND 4,500. Wakamono is now widely sold on e-commerce sites, pharmacies and supermarkets nationwide.