On June 22, in Hanoi, the Ministry of Labor, War Invalids, and Social Affairs (MOLISA) worked with the ASEAN Secretariat to hold an online conference of senior officials in charge of Socio-Cultural Community Council with the role of the chair country.
Speaking at the meeting, Mr. Nguyen Manh Cuong - Director of International Cooperation Department (MOLISA), Head of SOCA Vietnam asserted that 2020 is a significant year for ASEAN, when specialized agencies have evaluated the results of implementing activities from the previous period and prepare the plan for the next stage, aiming to achieve the ASEAN Vision 2025.
According to Mr. Nguyen Manh Cuong, in 2020, Vietnam will take priority to the preliminary review of five-year construction project implementation as well as carry out the objectives of the ASEAN Cultural and Social Community up to 2025. The results of the preliminary assessment will enable to finalize the mid-term evaluation report concerning the implementation of Vietnam's master plan on the ASEAN Socio-Cultural Community to 2025 in Vietnam, and enhance discussions on the matter of human resource development, he added.This is also a special year for cultural and social activities as all ASEAN member countries are affected by the COVID-19 pandemic. The pandemic not only has adverse impacts on people's health but also on livelihoods, especially the disadvantaged groups.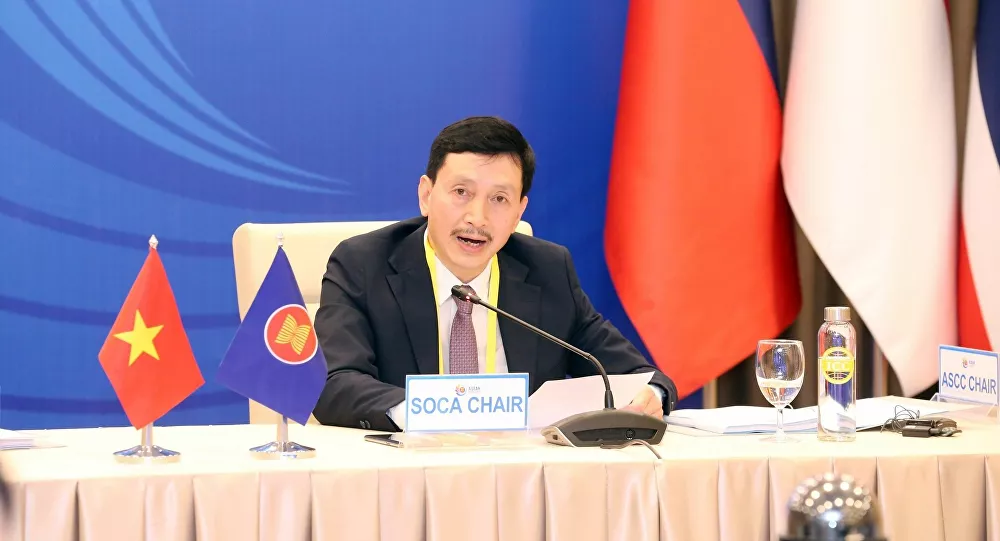 Vietnam has made an attempt for "An ASEAN of cohesion and proactive adaptation" Photo: Bao Moi
At the conference, the ASEAN members agreed to continue accelerating the progress and effectively performing specialized activity plans. Vietnam also had in-depth discussions in terms of its priorities in the ASEAN Chairmanship 2020 in general, and ASEAN Socio-Cultural Community in particular with a view to creating support and consensus among member countries informed Tuoi Tre.
It is expected that in 2020, Vietnam will stimulate discussions on priority aspects namely labor and human resource development, social welfare, health, media and information, ASEAN culture, youth, environment, and climate change. These contents are in accordance with the theme for "An ASEAN of cohesion and proactive adaptation" and five priorities, including peace, security, and stability; promoting regional relations; enhancing the adaptive capacity and taking advantage of the opportunities of the industrial revolution 4.0; stimulating a sense of community and ASEAN identity; promoting partnerships for peace and sustainable development.
The members also agreed to submit two documents including the ASEAN Declaration on Human Resources Development for the Changing World of Work and Terms of Reference of the ASEAN Technical and Vocational Education and Training (TVET) Council to the 23rd ASCC meeting for approval.
Malie Nguyen