Vietnam Covid-19 Updates (Feb. 8): Vietnam Climbs 28 Notches in Recovery index
By February 6, the country had injected over 182.4 million vaccine doses, with over 79.1 million people now fully inoculated, while more than 29 million booster shots have also been administered.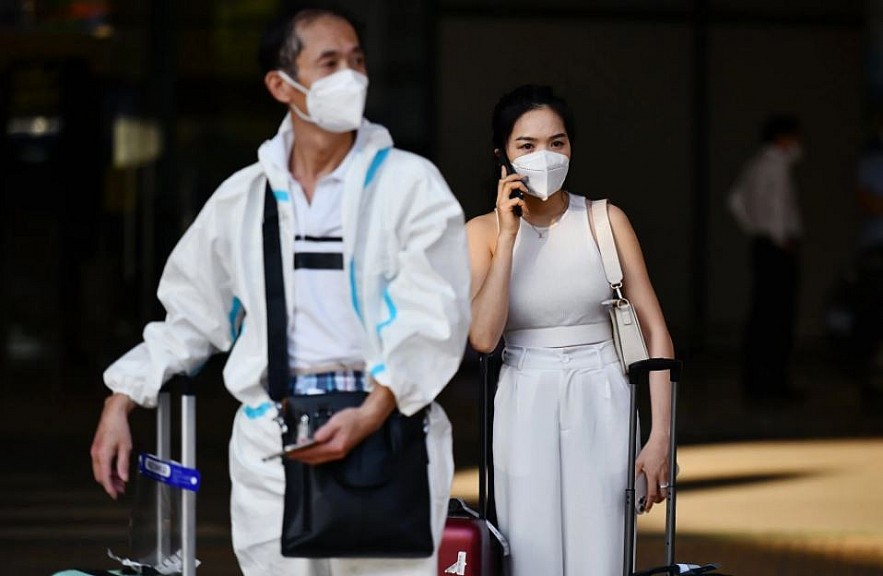 Photo: Zing
Covid-19: Additional 16,815 cases confirmed on Feb 7
A total of 16,815 new Covid-19 infections were recorded on February 7 across 61 cities and provinces nationwide, up more than 2,700 from the previous day, according to the latest report compiled by the Ministry of Health. Of the figures, Hanoi recorded the highest number of infections with 2,988, followed by Nghe An at 1,247, and Da Nang at 935.
The past 24 hours have also seen the deaths of 92 Covid-19 patients, thereby pushing the death toll nationwide to more than 38,424, or 1.6% of all infections since the pandemic initially broke out last year.
Following the fourth wave of infections that hit the country in late April, more than 2.18 million cases have since been detected, whilst over 1.92 million people have gone on to fully recover from the virus. The same day also witnessed the Ministry of Health announce the discharge of a further 9,665 Covid-19 patients after they had made a full recovery from the virus, thereby taking the total number of recoveries up to 2,122,380.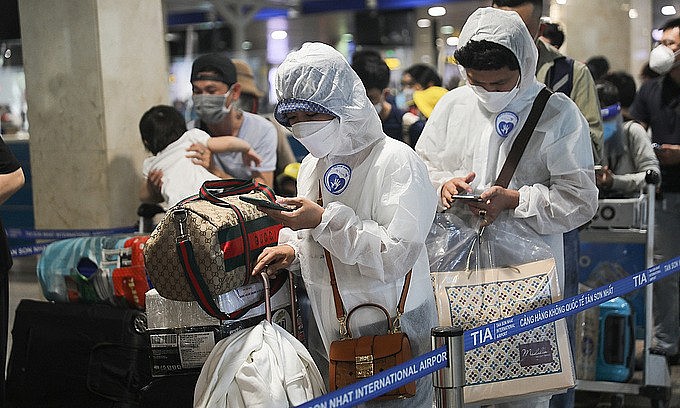 Photo: VNE
Vietnam climbs 28 notches in latest Covid-19 recovery index
The nation has risen a total of 28 places to reach 90th position in the latest edition of Nikkei's Covid-19 Recovery Index which was issued in early February. The latest rise comes due to the high vaccine coverage rate and initial signs of tourism recovery in the country.
According to Nikkei, the nation is beginning to make a comeback, despite continuing to face high levels of infections. "It too is moving toward coexisting with the virus, having eased reentry rules for overseas nationals and foreign workers late last month," the website outlined.
Taiwan (China) climbed to the top position, while Cambodia rose to second place after the neighboring Southeast Asian nation declared roughly three months ago that it would start to live alongside the pandemic. Elsewhere, China edged up one place to fourth as it gears up for the Beijing Winter Olympics.
Furthermore, the Philippines slipped 45 places to 104th after the Omicron variant caused an explosion in cases, while Japan tumbled 55 places down to 67th. Other ASEAN member states also enjoyed higher positions in the index, including Malaysia at 10th, along with Singapore and Thailand at 19th.
The Nikkei Covid-19 Recovery Index ranks more than 120 countries and territories for their infection management, vaccine rollouts, and social mobility. A higher ranking indicates that a country or region is closer to recovery with low numbers of Covid-19 cases, better vaccination rates, or less strict social distancing measures being put in place.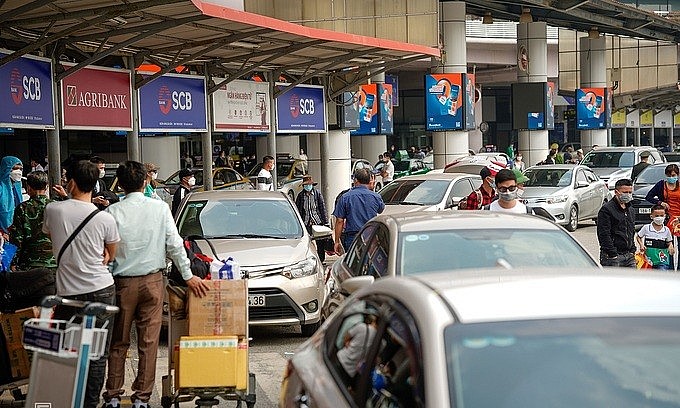 Photo: VNE
Single-day visitors to Hanoi airport highest in two years
On Monday, the airport is expected to receive 52,000 visitors, with peak hours from 7 a.m. to 8 a.m. The peak travel demand period at the airport post-Tet is expected to last until Feb. 14. The number of passengers coming to the airport on peak days has significantly increased this Tet compared to the same period last year, according to a Noi Bai representative. Factors for the increase include the lifting of several medical restrictions and the fact local authorities provided more opportunities for people to return home during the holiday.
Last year, even during peak days at Noi Bai, there were only around 383 flights with 29,000 passengers. In the pre-Covid era, during Tet 2020, Noi Bai received 620 flights a day, amounting to 91,000 passengers. Despite the increase in the number of visitors to this Tet, Noi Bai is still well-equipped to handle them all. There has been no congestion when passengers gathered to perform necessary procedures for flying. The 102 check-in booths and 22 security clearance checks in the T1 terminal could handle around 4,000 passengers in an hour.
Airports throughout Vietnam have all seen an increase of 20 percent in the number of flights, 73 percent in the number of passengers, and 4 percent in the number of goods this Tet compared to last year, according to the Civil Aviation Authority of Vietnam. Airlines planned to increase their numbers of flights by over 100 from Feb. 6 to 12, mainly on the Hanoi-Ho Chi Minh City route. Authorities have requested airlines to increase the number of flights at night as daytime slots grow crowded.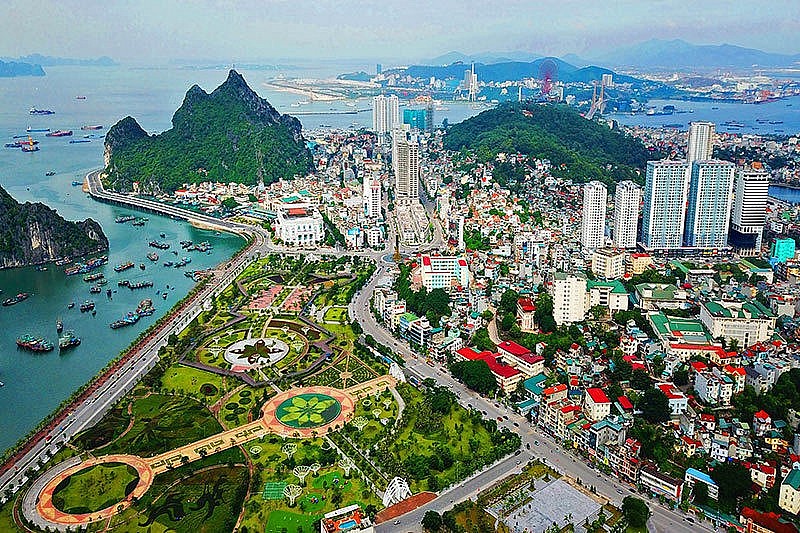 Photo: Tuyen Giao
Quang Ninh, Dak Lak see positive signs in tourism recovery
The northern province of Quang Ninh welcomed over 300,000 visitors to its tourist sites during the six-day Lunar New Year (Tet) holiday from January 31 to February 5, earning around 400 billion VND (17.6 million USD). This is good news, marking the recovery of the "non-smoke" industry after a "frozen" period due to the Covid-19 pandemic.
Local religious establishments such as Yen Tu relic site, Ba Vang, Ngoa Van, and Cai Bau pagodas, and Cua Ong temple, together with Ha Long Bay – a UNESCO-recognised World Heritage Site, were the most attractive to tourists during the holiday. The provincial Department of Tourism has set a target of serving over 9.5 million visitors, including over 1.4 million foreigners, and earning about 19 trillion VND from tourism services in 2022.
In the first half of this year, Quang Ninh will reduce 50 percent of entrance fees to its famous local destinations such as Ha Long Bay, the Yen Tu relic site, and Quang Ninh Museum. Travel businesses in Quang Ninh continue to diversify services and products to meet the different tastes of visitors when the province totally reopens its door to both domestic and foreign holiday-makers.
Also seeing a positive signal, the Central Highlands province of Dak Lak served over 143,000 visitors, including 260 foreigners, and earned 8.46 billion VND during Tet, respective year-on-year rises of 51.5 percent and 43.6 percent.
By February 6, the country had injected over 182.4 million vaccine doses, with over 79.1 million people now fully inoculated, while more than 29 million booster shots have also been administered.
The Steering Committee for Covid-19 Prevention and Control of districts has been asked to prepare plans to respond to Covid-19 infections in schools. They are authorized to decide on the closure of schools if necessary. Earlier the Government decided to purchase 21.9 million doses of the Pfizer Covid-19 vaccine for children aged five to 12.
This comes after the Hanoi People's Committee decided to allow students from grades seven to 12 to return to school from February 8.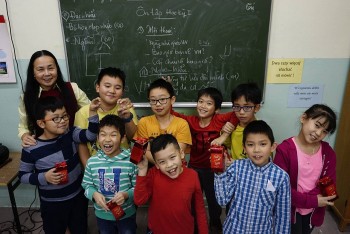 Overseas Vietnamese
For more than 5.3 million overseas Vietnamese, Vietnamese is the soul and pride of the nation. Teaching and learning Vietnamese helps the overseas Vietnamese community to preserve their national cultural identity, maintain a connection with their homeland and country, introduce the Vietnamese language and culture to the world.