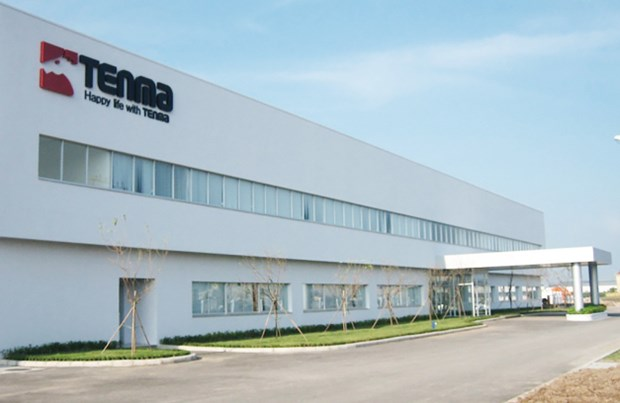 Tenma Vietnam located in Bac Ninh province. Photo: Tenma.
According to VNA, the newly established team is likely to work with the Tax Department and the Customs Department of the northern province of Bac Ninh where Tenma Vietnam is located.
On Monday, the Ministry requested the heads of the General Department of Taxation and the General Department of Vietnam Customs to report on the case within the day.
On the sidelines of the National Assembly meeting on May 25, Minister Dung said the agency would publicize the result of the inspection to the public.
Dung added this was an important issue related to the business investment environment as well as the prevention of corruption.
"The inspection results will be announced publicly and clearly," he said.
According to Hanoitimes, earlier this week, several Japanese media outlets, including Asahi, Kyodo, Nikkei, have reported that a plastic product maker Tenma admitted to the Tokyo District Prosecutor of bribing Vietnamese tax authorities with 25 million yen (US$232,000).
The action is considered a violation of Japan's Unfair Competition Prevention Act, as it was aimed to ensure local authorities would remit Tenma Vietnam's value-added tax (VAT) arrears worth VND400 billion (US$17.17 million) from imported raw materials.
The first payment was made in June 2017, when Tenma Vietnam, after having consulted the parent company, allegedlybribed Vietnamese officials with VND2 billion (US$85,861), which resulted in the remission of the entire VND400 billion (US$17.17 million) of tax arrears, Dantri report.
In August 2019, local tax authorities requested the company to pay an additional VND17.8 billion (US$764,128) in taxes, but later offered an under-the-table payment of VND3 billion (US$128,785) in cash in exchange for a reduction of tax payment from VND17.8 billion (US$764,128) to VND570 million (US$24,469).
VNA cited Ngo Xuan Tong, Director of Bac Ninh Tax Department as telling the Youth newspaper that the allegation that Bac Ninh tax officials received money fromTenma Vietnam was a unilateral report from Japanese media.
"The company's chief accountant confirmed that there was no such expense," he said.
Tong said the provincial Tax Department had reviewed all related records, and subsequently, the provincial People's Committee also assigned the Bac Ninh Police Department to investigate and clarify the case.
Lyan Vu