Vietnam donates USD50,000 to WHO's COVID-19 response fund
Vietnam donates USD50,000 to the World Health Organization's COVID-19 response fund, with a desire to join hands with the world to fight against the pandemic.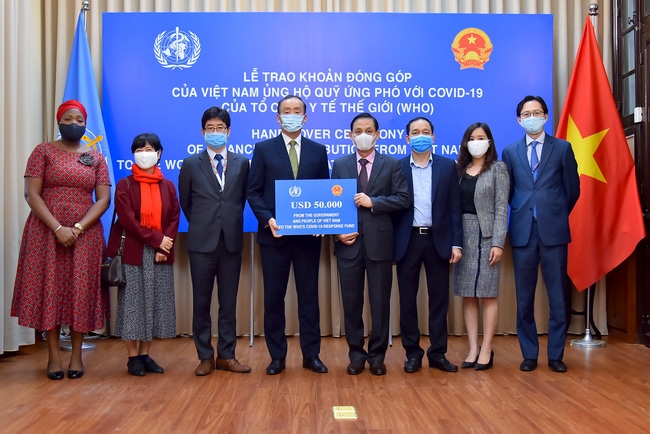 Deputy Minister of Foreign Affairs Le Hoai Trung awarded the USD50,000 contribution of the Government and People of Vietnam to the WHO's COVID-19 Response Fund
Authorized by the Prime Minister, Deputy Minister of Foreign Affairs Le Hoai Trung on April 24 handed over USD50,000 contribution from Vietnam the WHO's COVID-19 response fund.
Attending the handover ceremony were the representative of the Government Office, the Ministry of Health, the Ministry of Foreign Affairs, the WHO representative in Vietnam Kidong Park, the representative of the UN Resident Coordinator Office and a number of WHO officials.
Speaking at the ceremony, Deputy Minister Le Hoai Trung shared that Vietnam's dual goal is to both prevent the pandemic and ensure socio-economic stability to ensure social security.
While the COVID-19 is increasingly complicated, hindering the sustainable development process across the world and regions, the Deputy Minister expressed his wish WHO to continue playing a central role in leading and coordinating international efforts, to meet expectations of member countries.
The Deputy Minister suggested that WHO continue to pay attention to supporting developing countries, especially those with weak health systems.
WHO Representative in Vietnam Kidong Park assessed Vietnam as the leading country in health diplomacy, and expressed gratitude to the Government and people of Vietnam for their sincere and valuable contribution to the WHO's COVID-19 response fund.
At the same time, the WHO Representative congratulated the achievements of the Government and people of Vietnam in controlling and preventing the COVID-19, exemplified by over 80% of recovery, no deaths and no new cases confirmed during the last 8 days. That is thanks to the drastic actions of the Government and ministries combined with the solidarity of the people, he said.
As the epidemic continues to be complicated in many parts of the world and the risk of spread remains potential, WHO fully agrees with the four proposals of Vietnam mentioned at the Foreign Minister's online conference on COVID-19. That is to unite, share, prevent and stimulate the post-COVID-19 economy. WHO also supports Vietnam's proposal of the need for an International Day of Global Solidarity to Respond to Diseases.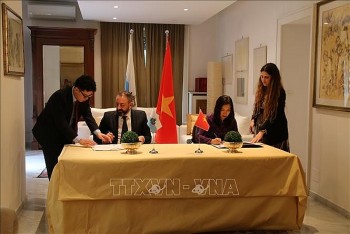 Friendship
The two countries will continue promoting cooperation to enhance growing ties between the two countries based on the good friendship since they established diplomatic relations in 2007.