Vietnam Drawing Singaporean Start-ups: The Straits Times
The number of start-ups from Singapore venturing overseas through Enterprise Singapore's Global Innovation Alliance (GIA) acceleration programmes has ballooned to more than 400 in less than five years.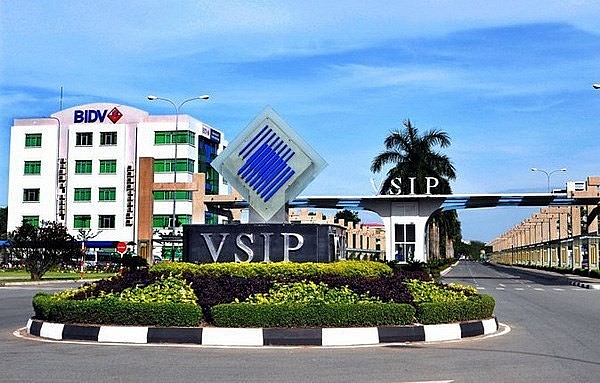 Singapore topped the list of the 94 nations and territories pouring capital in Vietnam in the first eight months of this year. Photo: cafebiz.vn
One of the more popular destinations is Vietnam, with its large workforce, lower labour costs and sizeable market, say experts, as cited by Singapore's The Straits Times.
"The labour force in Vietnam is increasingly well educated and still relatively cheap compared to Singapore," said James Tan, managing partner of venture capital company Quest Ventures.
Vietnam has a tech-savvy population and a burgeoning middle class, making it a potential pool of customers as well, Tan added.
The cost of operations is still low, in comparison with other markets in the region, said Phi Van Nguyen, an adviser to Project 844, an office under Vietnam's Ministry of Science and Technology, which aims to grow the country's start-up ecosystem.
Phi is also a board member of the Association of South-east Asian Nations (Asean) Business Angel Alliance and chairman of Vietnam Angel Network.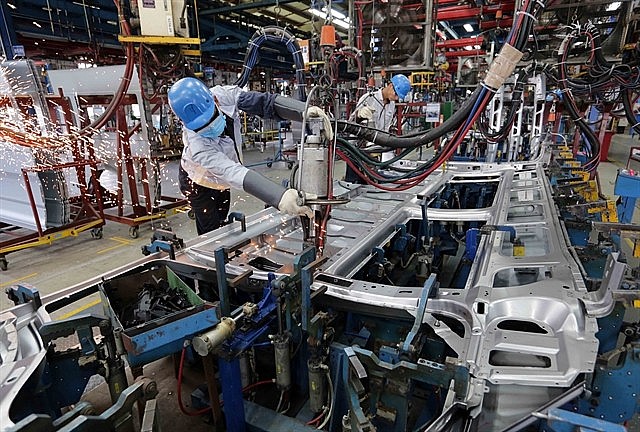 A factory belonging to a foreign company in Hai Duong province. Photo: VNA
The GIA was set up in 2017 by Enterprise Singapore. Its programmes help participants understand the innovation ecosystem in overseas markets and connect them to investors, start-ups, corporates or institutions looking for co-innovation partners.
Singapore has always been one of the strongest partners of Vietnam both before and during the pandemic, said Phi.
Vietnamese sectors that venture capital firms are looking at include health technology, food processing and blockchain.
Singaporean small and medium-sized enterprises should also spend more time on the ground in Vietnam to understand the market and build relationships with potential business partners, said Amy Wee, country head for Vietnam at the Singapore Business Federation (SBF).
International company founders who are serious about the Vietnamese market should consider staying there or at least hiring a good team that will be based in the country, said Taku Tanaka, chief executive officer of Kamereo, a business-to-business food sourcing platform that launched in 2018.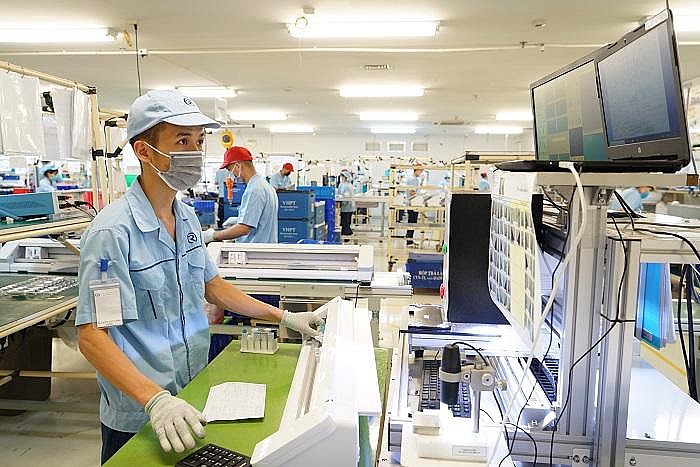 Electronics production at Rhythm Precision Vietnam in Noi Bai Industrial Park. Photo: Hanoi TImes
"Start-ups in Singapore should not stay in Singapore; it is important that they take advantage of emerging fast-growing markets overseas. Their experience overseas can allow them to bring back some fresh perspectives to their companies as well," he noted.
Since the expansion of the GIA network to Vietnam in 2019 via EnterpriseSG's partnership with Quest Ventures, more than 45 Singapore-based start-ups across sectors such as edtech (educational technology) healthtech and information technology have participated in the Vietnam GIA acceleration programme, said Mr Jonathan Lim, director for Global Innovation Network at EnterpriseSG.
Participants of the programme get to attend workshops, receive one-to-one mentorship with industry experts, networking opportunities and an overseas immersion trip to connect with potential overseas partners.
"Three start-ups have since successfully set up a presence in Vietnam, while more than 10 are in discussions with potential Vietnamese partners on possible project collaborations," added Lim./.
Vietnam raked in nearly $16.8 billion in foreign direct investment (FDI) as of August 20, down 12.3% year-on-year, according to the Foreign Investment Agency (FIA) under the Ministry of Planning and Investment.
During January-August, $12.8 billion of foreign-invested projects was disbursed, up 10.5% year-on-year, signaling foreign investors' confidence in Vietnam's investment prospects in the coming time.
Processing and manufacturing continued to lure the largest FDI capital, with $10.7 billion, accounting for 63.9% of the total. It was followed by real estate business, with over $3.3 billion, making up 19.9% of the total.
Singapore topped the list of the 94 nations and territories pouring capital in Vietnam in the period, with $4.53 billion, accounting for 27% of the total. It was followed by the Republic of Korea and Japan.