Vietnam initiated ASEAN 2020's theme of "Cohesive & Responsive" which was considered appropriate for the circumstance. The theme clearly stated the goal of strengthening ASEAN's central role and solidarity, as well as the rapid adaptation to the situation in the world, the region, and each country. Vietnam also ensured all contents of the ASEAN 2020 Chairmanship Year to be feasible, including building ASEAN Community, according to the VOV in Vietnamese.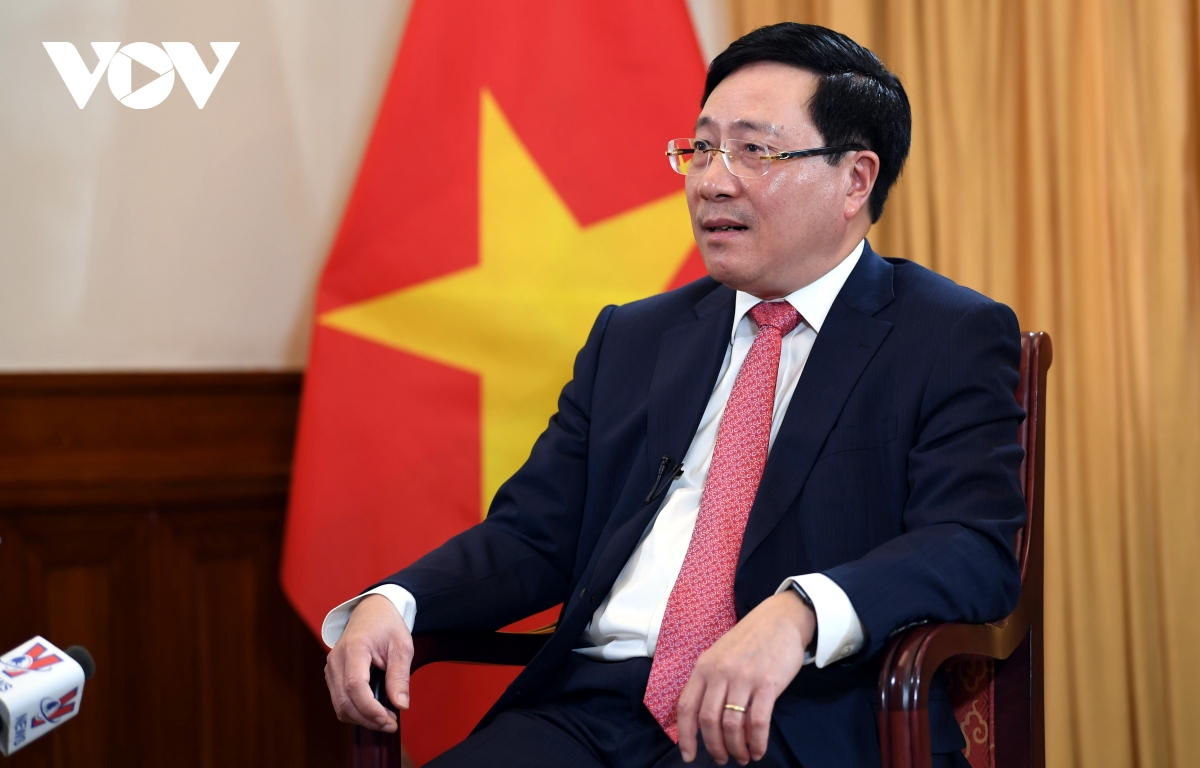 Deputy Prime Minister and Foreign Minister Pham Binh Minh Photo: VOV
To date, Vietnam has passed more than 80 documents, concentrating on building ASEAN Community, signified through promoting the mid-term review of the Master Plan on ASEAN Connectivity 2025; reviewing the ASEAN Charter, and building post-2025 ASEAN Community Vision. Along with that, in 2020, Vietnam is expected to put forth 32 initiatives, 28 of which have been included in the document so far. This is regarded as the success of Vietnam as its initiatives can meet the common concerns of ASEAN member states and adapt to the actual situation.
"ASEAN is among the few regional organizations that has quickly adapted to the COVID-19 pandemic. We organized special conferences in the frameworks of ASEAN, ASEAN with partners, to respond to COVID-19 as well as outlined 4 important issues namely building the ASEAN COVID-19 response fund, Regional Reserve of Medical Supplies, scenarios for COVID-19 response; program, master plan for economic recovery post- COVID-19. It can be said that Vietnam, as the role of 2020 ASEAN Chair, rapidly coped with the impact of the pandemic", Deputy Prime Minister, Foreign Minister Pham Binh Minh emphasized.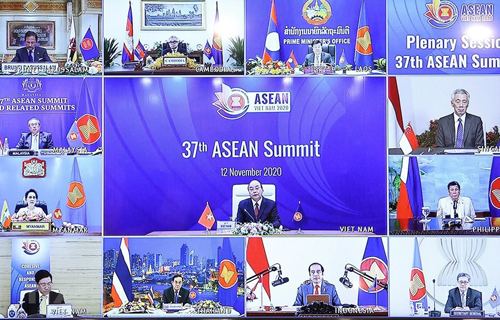 Prime Minister Nguyen Xuan Phuc chairs the plenary session of the 37th ASEAN Summit on November 12. Photo: VNA
The another much highlighted point in Viet Nam's 2020 ASEAN Chairmanship was that the nation changed the ways of meeting and working. Each year, there are normally hundreds of face-to-face ASEAN meetings. This year, given the complicated development of the Covid-19 pandemic, Vietnam swiftly shifted to hold more than 550 meetings in the online format, including 20 regular and annual high-level meetings such as the 36th and 37th ASEAN Summits along with 70 Ministerial-level meetings.
Changing the meeting modality was implemented quickly and effectively, ensuring all ASEAN meetings to be held as planned, covering all fields on three pillars namely Politics-Security, National Defense, Economic, and Socio-Cultural.
As the 2020 ASEAN Chair, Vietnam brought new content to the ASEAN framework such as enhancing the women's role reflected through organizing the ASEAN Women Leaders' Summit for the first time. This was also Vietnam's key concern when participating in multilateral diplomatic activities of ASEAN, the United Nations, and the United Nations Security Council. In addition, Vietnam fostered exchanges of matters helping to connect the bloc with sub-regions including the Mekong region.
Malie Nguyen