Vietnam Expected to Keep Economy's Momentum Up in 2023: US Expert
Assuming there are no major natural disasters, it should be possible for Vietnam to keep its economy's momentum up as long as the global environment improves over the year, said David Dapice, a Senior Economist in the Ash Center for Democratic Governance and Innovation at the John F Kennedy School of Government, Harvard University.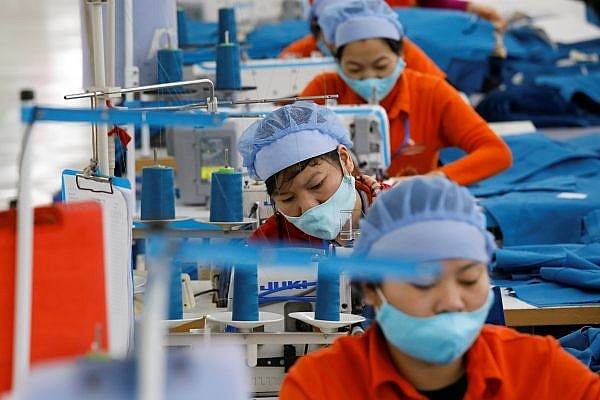 Vietnam's economy made a strong comeback in 2022. Photo: eastasiaforum.org
In an article on eastasiaforum.org, Dapice said after two years curtailed by Covid-19 and marked by GDP growth of between 2% and 3%, Vietnam's economy made a strong comeback in 2022.
Exports from January through to November 2022 grew more than imports — with the growth of 13% for exports and 10% for imports — so there is a modest trade surplus. Tourism has rebounded from 2021's low levels, supporting strong growth in the service sector, according to the article.
The expert economist said manufacturing and industry grew by nearly 9% through to the end of November — a slower rate than earlier in the year. There was a slowdown in export orders and hundreds of thousands of factory workers may be facing layoffs according to unofficial reports. This is a serious concern, especially if the trend intensifies in 2023.
Corporate bonds are also in trouble, especially those of real estate companies. There are billions of dollars of bonds denominated in Vietnamese dong that need to be refinanced in 2022 and 2023. Most of these were sold through private placement and then sold to local investors. With tight credit, caused in part by the use of Vietnam's foreign exchange reserves to support its currency, it is difficult for companies to refinance.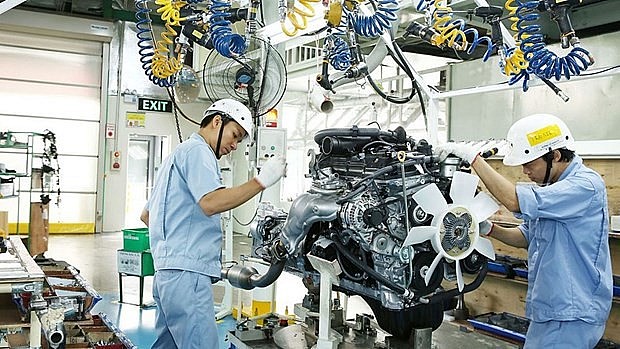 Vietnam's GDP growth reaches 8.02% this year. Photo: VietnamPlus
However, Dapice noted, there are strengths to offset these challenges. Inflation is reported in the low single digits. The currency has depreciated by only about 5% against the US dollar as of early December 2022, less than in many other countries.
Fiscal policy has been restrained. With a few exceptions, most Vietnamese banks are in a strong position with adequate capital. High inflows and realisation of foreign investment suggest that as the global economy recovers there will be a continuing flow of workers from low-productivity agriculture to higher-productivity manufacturing. This will increase demand for real estate in cities, despite lower population growth.
Foreign direct investment into the manufacturing sector will also support growth and add to the structural transformation of the economy. Plans to cease or curtail the construction of new coal-fired powerplants will avoid stranded assets and pollution, the economist said.
Meanwhile, participation in trade agreements is giving Vietnam access to world markets, he continued.
In 2023, it is anticipated that the drivers of the economy will no longer be exports or even consumer spending, which has seen 15% growth during 2022. Instead, a further rebound in tourism as China unwinds its COVID-19 protocols along with sharp increases in government investment are intended to catapult Vietnam's economy towards a target of 6.5% GDP growth.
This is an ambitious target and one that may be difficult to reach if the world economy, or at least Vietnam's major export markets of the United States, European Union and China, are softening, Dapice said./.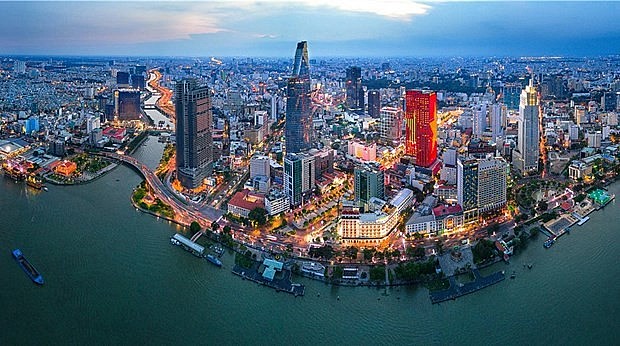 A view of part of HCM City. Photo: VNA
Vietnam's GDP growth reaches 8.02% this year, a record high in the 2011-2022 period as the economy is recovering strongly, according to the General Statistics Office (GSO).
The agro-forestry-fishery sector expanded by 3.36%, contributing 5.11% to the total added value of the whole economy. The industry-construction sector grew by 7.78%, contributing 38.24% while the service industry rose by 9.99%, making a 56.55% contribution to the economy.
About the economic structure 2022, the agro-forestry-fishery sector accounted for a proportion of 11.88%, industry and construction 38.26%, services 41.33% and product taxes, exclusive of product subsidies, 8.53%.
With an annual growth of 7.18%, final consumption contributed to 49.32% of the general growth. Asset accumulation rose by 5.75%, contributing 22.59%, while trade in exports, imports and services adding 28.09%.
GDP per capita was estimated at VND95.6 million ($4,110), up $393 from 2021 while labour productivity was at VND188.1 million ($8,083)/labourer, marking a year-on-year rise of $622 year on year.