Vietnam, France Host Multiple People-to-people Exchanges
The Ho Chi Minh Union of Friendship Organizations and the city's Vietnam - France Friendship Association promote people-to-people exchanges between Vietnam and France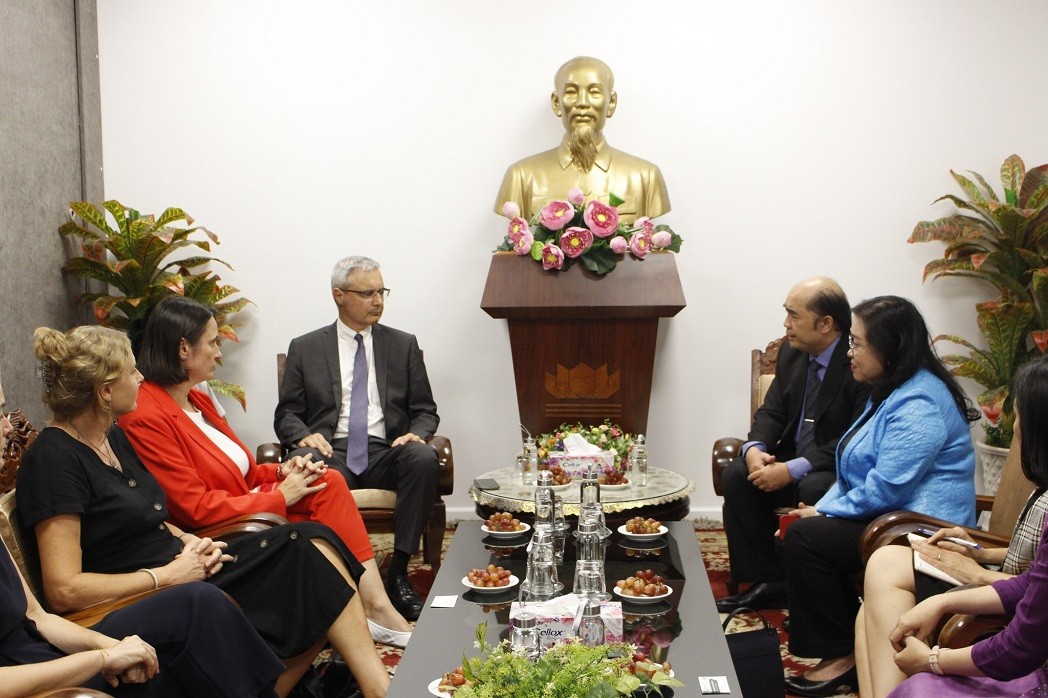 At the meeting. Photo: Thoi Dai
Representatives of the leaders of the Union of Friendship Organizations (HUFO) and the Vietnam - France Friendship Association of Ho Chi Minh City on November 17 had a meeting with Ambassador of the French Republic in Vietnam Nicolas Warnery.
Meeting with Ambassador Warnery and the delegation of the French Consulate General in HCM City led by Consul General Emmanuelle Pavillon - Grosser, were HUFO Vice President Ho Xuan Lam and Nguyen Thi Ngoc Dung, President of the the city's Vietnam - France Friendship Association.
The Vietnam's side informed about the Vietnam - France friendship activities that have been carried out in HCM City in the past time and the prospects of economic and trade development between the two countries in the coming time.
In response, Ambassador Nicolas Warnery thanked the HUFO and the city's Vietnam-France Friendship Association for the efforts to promote people-to-people exchanges and develop friendly relations between the two countries.
With the EU–Vietnam Free Trade Agreement (EVFTA) coming into effect from 2020, he believes that Vietnamese goods will find potential markets in European countries, especially France.
In 2023, with the 50th anniversary of the signing of the Paris Agreement, the city's Vietnam - France Friendship Association has proposed to invite some historical witnesses from France who witnessed important historical events, come to Vietnam to participate in commemorative activities organized by the Vietnamese government and people.
Earlier, the newly-appointed French Ambassador to Vietnam Nicolas Warnery also has been received by National Assembly (NA) Chairman Vuong Dinh Hue in a meeting in Hanoi.
Hue stated that the Vietnamese NA welcomes and attaches great importance to the visit of President of the French Senate Gérard Larcher, which will be an important event celebrating the 50th founding anniversary of Vietnam-France diplomatic ties, and 10 years since the two countries lifted their relations to a Strategic Partnership in 2023.
He expressed the belief that Larcher's visit will contribute to deepening the Strategic Partnership between the two countries and the friendship and cooperation between their legislatures.