Vietnam honors PeaceTrees Vietnam Founder
The Order of Friendship, one of the most prestigious awards that the State of Vietnam has granted to foreign organizations and individuals that actively contributed to the friendship between Vietnam and other countries, has been awarded to Ms. Jerilyn Brusseau, Founder of PeaceTrees Vietnam.
Jerilyn Brusseau was the sister of an American soldier who died in Quang Tri, Vietnam in 1969. When Vietnam and the US normalized relations in 1995, Ms. Jerilyn Brusseau and her family members established PeaceTrees to carry out activities to support Vietnam to overcome the consequences of war and heal the pain of war.
Speaking at the awards ceremony, Nguyen Phuong Nga, Chairwoman of the Vietnam Union of Friendship Organizations (VUFO) said during the past 20 years, Ms Jerilyn Brusseau has made endless efforts to support Vietnam in addressing war aftermaths and to build trust, as well as, promote friendship between Vietnamese and American people.
VUFO Chairwoman Nguyen Phuong Nga, with the authority given by President of Vietnam, bestowed PeaceTrees Vietnam Founder Jerilyn Brusseau with the Order of Friendship
Thanking her for what she and PeaceTrees Vietnam have done for the country, the ambassador expected Brusseau will make more contributions to Vietnam. The VUFO is committed to working alongside Brusseau and PeaceTrees Vietnam and other foreign non-governmental organisations to develop ties between Vietnam and other countries, Nga stressed.
For her part, Brusseau told the story of her family and what made her devoted to Vietnam. Jerilyn Brusseau is the sister of an American pilot killed in Quang Tri in central Vietnam after his helicopter was shot down in early 1969.
After a visit to Vietnam in 1996 that allowed her to see the devastating consequences of the war with her own eyes, she, her husband Danaan Parry and her mother Rae Cheney decided to found PeaceTrees Vietnam to honour the dead on all sides and build bridges of trust and friendship between the two peoples.
Ms Jerilyn Brusseau speaks at the event
PeaceTrees Vietnam was the first international non-governmental organisation permitted by Vietnam to engage in humanitarian demining work.
US Ambassador Daniel Kritenbrink said Vietnam and the US are cooperating in various fields, including trade-economy, security, energy, environment and people-to-people exchange, and that could not have happened without people like Jerilyn Brusseau who has got over her personal pain to help both sides heal.
PeaceTrees Vietnam, so far, has safely removed and destroyed more than 105,800 pieces of unexploded ordnances in Quang Tri and provided mine risk education for 86,830 children and family members. Up to 215 victims and 62 families affected by unexploded ordnance accidents have been supported and 1,664 scholarships distributed to children of affected families.
The organisation has also built a PeaceTrees Friendship Village for 100 affected families, 15 kindergartens, 12 libraries and two community centres and, at the same time, planted trees and provided help for hundreds of women to develop their own businesses.
VNF ( VNA )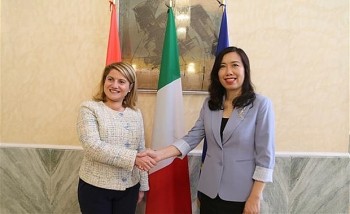 Friendship
The Vietnam - Italy political consultation is part of the occasion of the 50th anniversary of diplomatic ties and the 10th anniversary of the framework of the strategic partnership.