Vietnam, Israel appreciate 25 years of diplomatic relations
Vietnam Economic News' Ngoc Thao talked with Nadav Eshcar, Israeli Ambassador to Vietnam about 2018 when Vietnam and Israel will mark the 25th anniversary of diplomatic relations.
Vietnam Economic News' Ngoc Thao talked with Nadav Eshcar, Israeli Ambassador to Vietnam about 2018 when Vietnam and Israel will mark the 25th anniversary of diplomatic relations.
Israeli Ambassador Nadav Eshcar (source: VEN)
Could you tell us about the highlights of the Israeli-Vietnam relationship in 2017?
I think the number 1 highlight was the historical visit by the Israeli Head of State- President Reuven Rivlin. This is the second time an Israeli President visited Vietnam, which demonstrates our respect and admiration to Vietnam, as well as the importance of the relations between two countries. The visit lasted for over a week - quite long and it was the opportunity to witness the signing of quite a few significant agreements in the fields of science and technology, business, defense, education, etc. Off course we are very happy about that, I think it gave a considerable boost for our already very good and active relations. Also both sides have many action plans in the near future that we are very eager to implement. Moreover, 2018 will mark 25th anniversary of Israel- Vietnam diplomatic relations, and we have many activities and plans ahead. I am sure it will be a very active year for the relations between the two countries.
How about the progress of the negotiation on the Free Trade Agreement (FTA) between the two countries?
The progress is rather smooth and it's clear that both sides are interested in making it happen as both sides will enjoy tremendously the fruits of such free trade agreement. Vietnam is the country whose policies are encouraging and interested in economy liberalization and globalization while Israel is especially keen on Asia. We are hopeful Vietnam will be the 1st country in East Asia to have an FTA with Israel even though there are negotiations between Israel and others in the region as well. If everything keeps going as smoothly as has been so far, I am very hopeful that 2018 will be the year to celebrate both 25 years of relationship and the signature of this very high valued agreement.
Israel has been supporting Vietnamese startups in various kinds and approaches. Please evaluate remarkable results of this support?
As a startup nation, we are proud to have the largest number of startups per capita. When I am talking about startup, I mean not only new general entrepreneurship but a new business that presents new technologies to the world. There are few factors contributing to this fact, but I think the key ones include innovative spirit, creativity and ability to improvise. Finding solutions to problems is the primary reason why we become such a startup nation, and I see a very similar spirit in Vietnam. Israel and Vietnam, we are not the most two organized societies in the world, but that's why we have to improvise the solutions, which can give good advantages in this regard.
I am very optimistic about our focus on startup promotion in high-tech, education and agriculture in Vietnam. We are bringing experts, professionals and investors who can even teach Vietnamese young startups how to pitch or present themselves better, how to approach to the international market or how not to go international but focus on their domestic market, which sometimes the right way. We are sharing a lot of Israeli technical know-how and experience in different places of Vietnam, just simply because we have longer time in this area so we have expertise and experience, which is very well accepted and warmly welcomed in Vietnam. In the future, we will continue to implement various concrete and specific plans to promote such kind of activities with academy, business, local authorities, etc. One example I could mention is the 4th competition for new technological startups in Vietnam, which encouraged them to present their innovative ideas and production. It is an annual event and the winners are invited to Israel to take part in a week-long innovation experience, which is a unique opportunity for entrepreneurs to connect and benefit from meeting and sharing with prominent international and Israeli entrepreneurs, investors, experts and startup community, which definitely give a boost to the advantage competitiveness of the entrepreneur.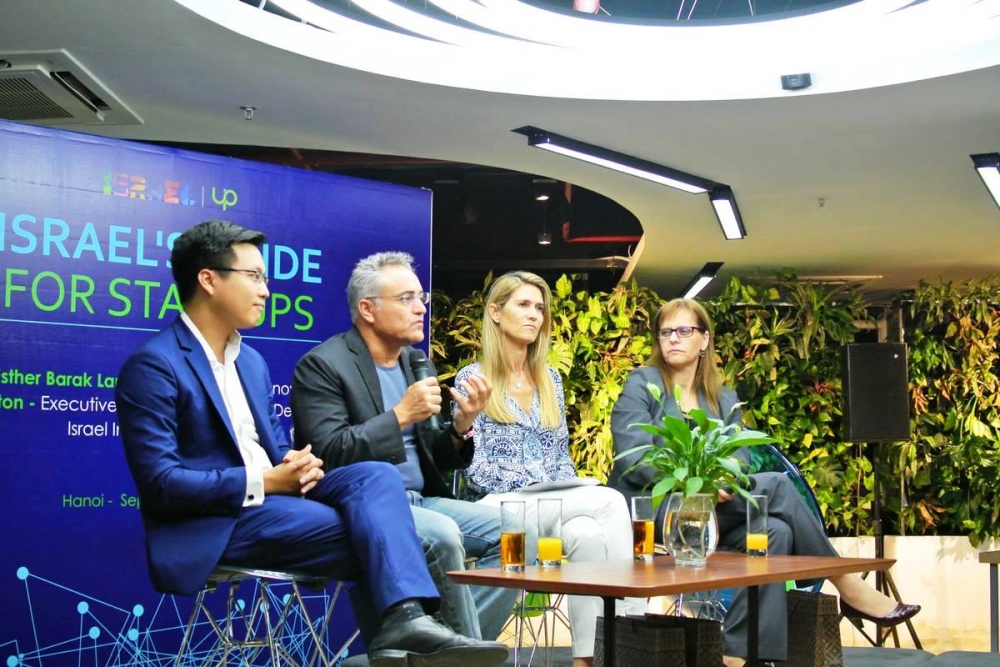 Israel's Guide for Startups panel discussion (source: VEN)
What are the special strengths of Vietnam and Israel, and how to make the full use of these strengths for mutual cooperation and development?
As I mentioned before, first and foremost, there are very visible similarities in characteristic, spirit, energy of Israeli and Vietnamese people, especially when being compared to other local places I have been to during my diplomatic career. Though being in the same continent, the two countries are very far away from each other, so the two economies are complementing, not competing each other; hence, Israel is willing and happy to introduce and share with Vietnam our technology know-how and experience so Vietnam can develop its relevant sectors. Moreover, I think Vietnam is a very pragmatic and practical country, fully aware of its interests and working actively to promoting it. It's also clear to see Vietnam's interest in cooperation with Israel on strategic dimension, which we are trying to push forward and doing successfully. I also think both countries are very proud of themselves and have very independent thinking.
You once told about your three-week trip across Vietnam 15 years ago. Now, what do you want to share, in the position of Ambassador to Vietnam?
I must admit that it's a very different experience to be a young tourist without worry on your head, just enjoy the beautiful sites, delicious food and the warmth of the people. Now, I still want to enjoy the things in the same way, though I am much busier in my new role, it's such not a vacation to me here as I have many things to do. Me and my family, we still don't forget to find the right time to enjoy what Vietnam has generously offered: the excellent food, vibrant atmosphere of Hanoi, beautiful countryside and great hospitality. We are really enjoying Vietnam and very happy to be here, so far no regrets.
In the year of 2018 - the special year that witnesses our 25th anniversary of relationship and 70th anniversary of the establishment of the state of Israel. Therefore, these two major occasions are wonderful opportunity to raise a big toast for the great, blooming, successful relations and eternal friendship between Israeli and Vietnamese people./.
( VNF/VEN )