Vietnam, Italy Hold Deputy Ministerial-Level Political Consultation
Vietnam and Italy agree to further deepen their strategic partnership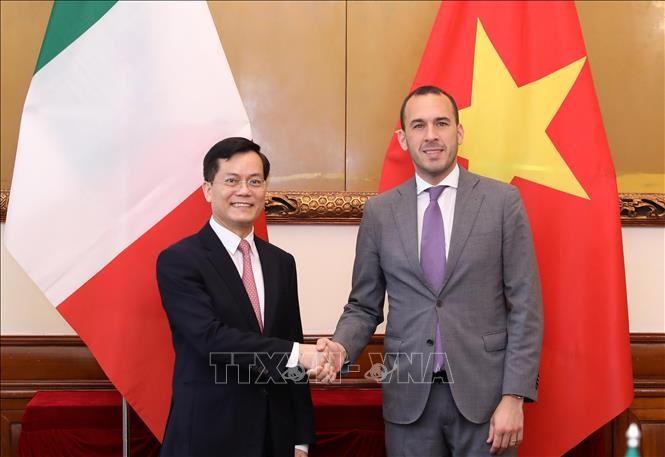 Vietnam's Deputy Minister of Foreign Affairs Ha Kim Ngoc and Italian Deputy Minister of Foreign Affairs and International Cooperation Manlio Di Stefano. Photo: VNA
Vietnam's Deputy Minister of Foreign Affairs Ha Kim Ngoc and Italian Deputy Minister of Foreign Affairs and International Cooperation Manlio Di Stefano on June 8 co-chaired the 4th political consultation within the framework of the two nations' strategic partnership, reported VNA.
Lauding significant progresses recorded in the relations over the past time, particularly in politics-diplomacy, economy, and science-technology, both officials agreed to further strengthen the bilateral cooperation in such new spheres as health, environment, climate change response, and renewable energy.
Ngoc stated Vietnam values and wants to beef up its strategic partnership with Italy, commending the sides' sound collaboration in implementing their plan of action for the partnership for 2021-2023.
He suggested Italy soon ratify the EU-Vietnam Investment Protection Agreement (EVIPA) and support the European Commission in removing its 'yellow card' warning against illegal, unreported, and unregulated (IUU) fishing for Vietnamese seafood.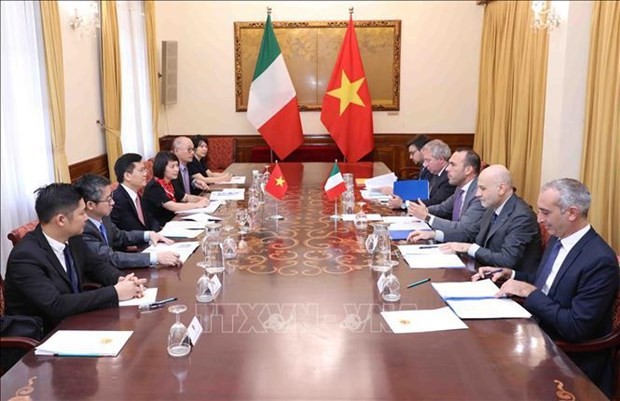 At the event. Photo: VNA
In response, the Italian deputy minister said Italy considers Vietnam a top priority cooperation partner in the region and looks for more joint works in the fields of innovation, aerospace, hydrogen energy, and cybercrime prevention and control.
He also praised the countries' mutual support during the Covid-19 pandemic, with Vietnam presenting Italy over 300,000 face masks and Italy aiding Vietnam nearly 3 million doses of vaccine.
The sides agreed to increase the exchange of high-level delegations, continue implementing bilateral cooperation mechanisms, and work toward the realisation of two-way trade at USD 6 billion in 2022 and USD 10 billion in the following years.
They said they will work together in information exchange and support each other at international and multilateral forums.
They also emphasised the importance of ensuring the freedom of navigation, overflight, security and peace in the South China Sea and respecting international law, including the 1982 United Nations Convention on the Law of the Sea (UNCLOS).
Earlier, on June 7, Vietnam and Italy convened the 7th meeting of the Joint Commission on Economic Cooperation in Hanoi, which was chaired by Minister Dang Hoang An on the Vietnamese side and Undersecretary for Foreign Affairs Manlio di Stefano on the Italian side.
The two sides exchanged views and reviewed economic and trade cooperation in numerous areas, including energy, agriculture, textile and garment, footwear, science and technology, transportation, culture, tourism, communications, and environment and natural resources.
They also agreed to hold the next meeting of the joint commission in Italy in 2023 on the occasion of the 50th anniversary of the two countries' diplomatic ties..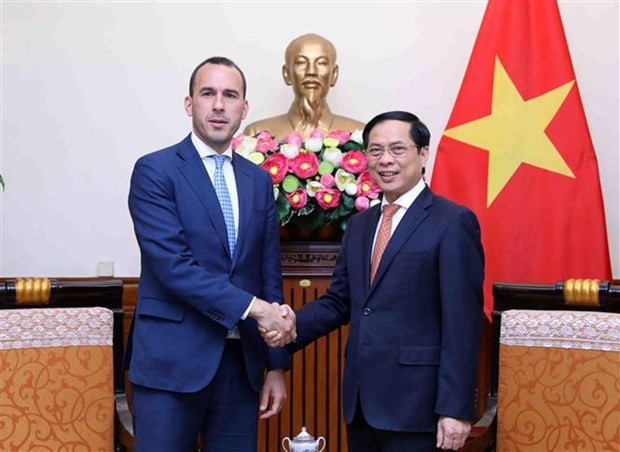 Vietnam and Italy should step up cooperation in trade and investment, while expanding their collaboration in other fields, Vietnamese Minister of Foreign Affairs Bui Thanh Son. Photo: VNA
On the same day, Minister of Foreign Affairs Bui Thanh Son held a reception for the Italian Undersecretary of State for Foreign Affairs and International Cooperation Manlio.
Son suggested the two countries consider expanding their partnerships in climate change response, infrastructure, agriculture, food security and personnel training.
The Italian side committed to increasing trade and investment activities in Vietnam – its leading important partner in the Association of Southeast Asian Nations (ASEAN).
The two sides agreed to effectively roll out an action programme to implement the strategic partnership for 2021-2023, and coordinate to organise activities in 2023, including the exchange of high-ranking delegations and cooperation programmes between ministries, agencies and localities of the two countries.
Stefano thanked Vietnam for backing Italy to become a development partner of ASEAN, commended Vietnam's contributions to the bloc, and suggested the country further support Italy to increase its presence in the region and promote cooperation projects with ASEAN on sustainable development, space and environment.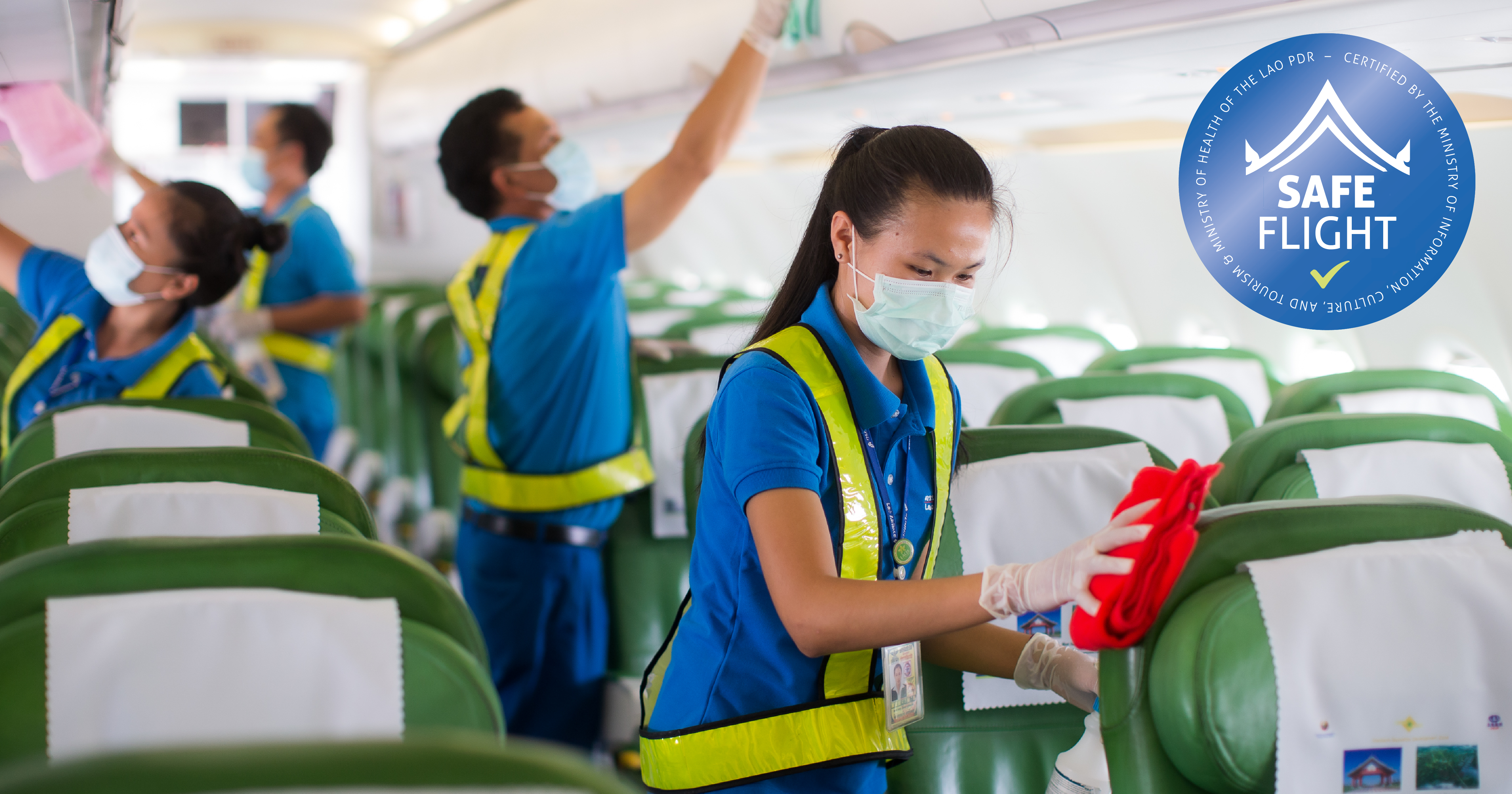 Economy
VIENTIANE, LAOS - Media OutReach - 6 October 2022 - New flight routes are opening this October that will provide a broader range of options for travellers hoping to visit Laos, as LaoSafe certification of the country's two airlines, Lao Airlines and Lao Skyway, will ensure that passengers can be confident of boarding a flight with high hygiene standards. Both of Laos' airlines have now been fully certified under the SafeFlight standard, one of a series of health and hygiene certifications under the LaoSafe programme. SafeFlight ensures that cabin crew and flight staff abide by strict hygiene
October 06, 2022 | 17:55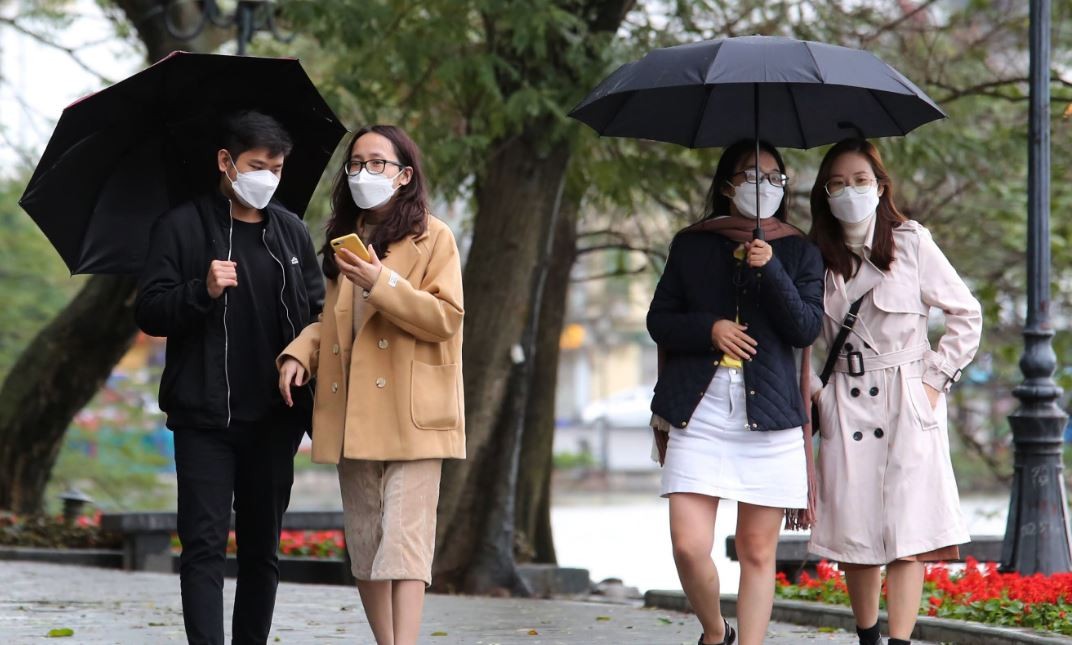 Economy
Vietnam Business & Weather Briefing (Oct 6): Deposit interest rates continue to rise,
October 06, 2022 | 17:20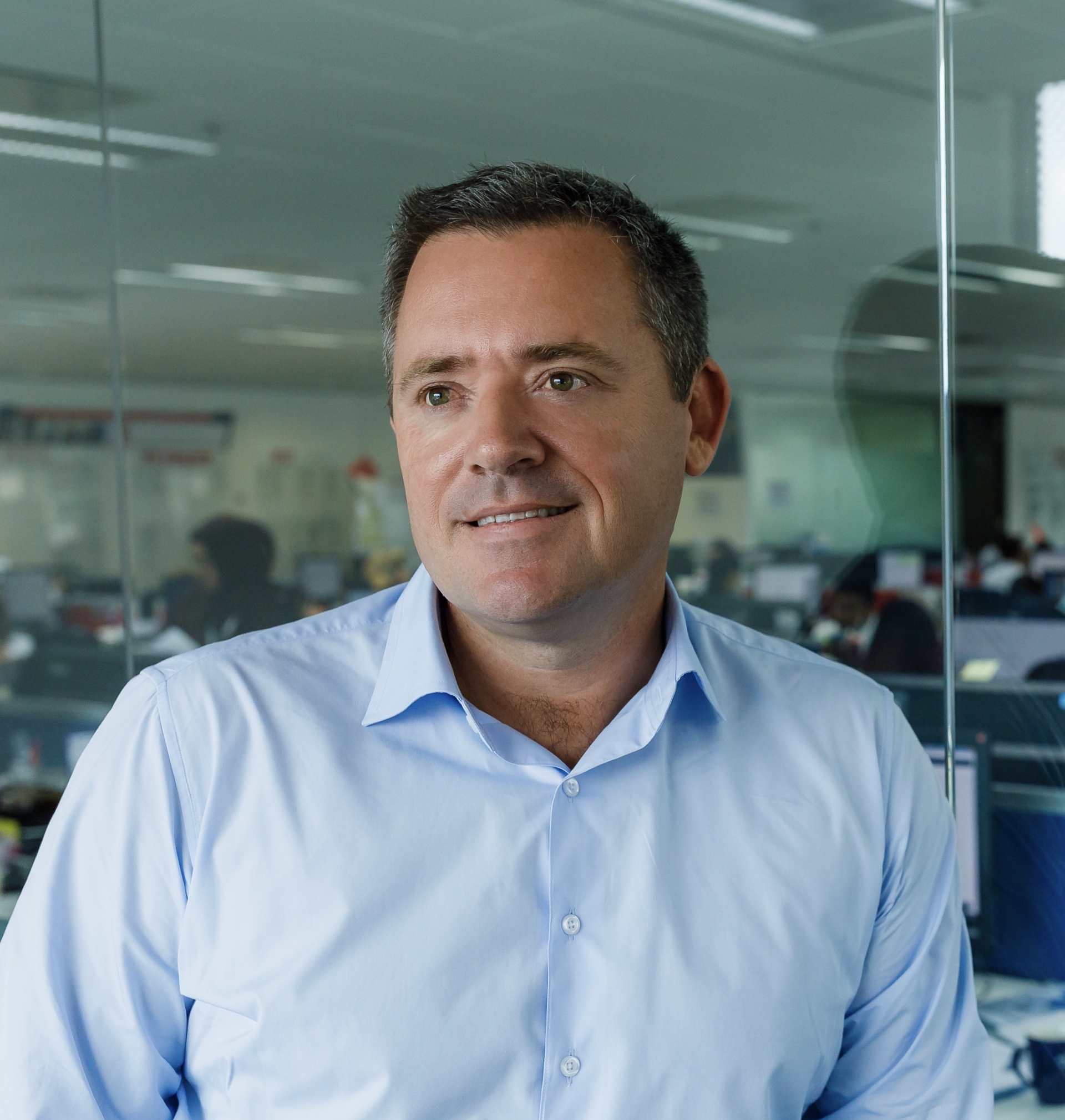 Economy
Sparked by the global pandemic, the Great Resignation has already been happening among the C-suite in the Asia Pacific for the last 2 years.
October 06, 2022 | 16:10