Vietnam, Italy strengthen education cooperation
An action programme on educational cooperation for 2019 – 2022 was signed between Vietnam and Italy in Hanoi on June 6, as part of Italian Prime Minister Giuseppe Conte's ongoing official visit to Vietnam.
At the signing ceremony
On behalf of the two governments, Vietnamese Deputy Minister of Education and Training Nguyen Van Phuc and Italian Ambassador to Vietnam Antonio Alessandro inked the pact.
Accordingly, Vietnam and Italy will strengthen cooperation in education, language development, and providing scholarships.
The Italian side will consider providing textbooks, sound equipment and other educational materials for Vietnamese general education institutions to teach Italian as well as train teaching assistants. The two sides will also consider a pilot Italian teaching programme at several Vietnamese high schools, in which Italy will provide textbooks, teaching materials and expenses for one or more Italian teachers.
In terms of cooperation in the field of education, the two sides will exchange books, publications, audio and visual equipment; encourage and support cooperation between universities and higher education institutions (including higher education in Arts and Music). They will also support each other to allow students to go on tours at universities of the two countries.
Also in the context of the cooperation programme, the Italian side will provide annual scholarships to Vietnamese citizens. Long-term scholarships will be awarded to Vietnamese citizens who register for post-graduate courses provided by universities, research centres and other higher education institutions accredited by the Italian Ministry of Education, Universities and Research.
On the Vietnamese side, they will provide annual scholarships for Italian citizens to study Vietnamese or access to short-term training.
VNF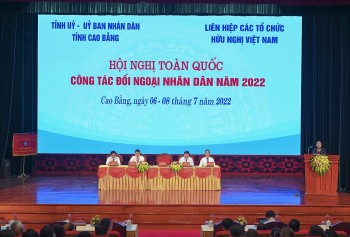 Friendship
During the event, many important issues will be discussed, and constructive suggestions and solutions will be provided to promote more effective people-to-people diplomacy operations.