Vietnam-Japan Cultural Festival Returns to Da Nang City
Such festival introduces the beauty of the culture, land, and people of Japan to locals and visitors, thus contributing to the strengthening of cultural exchange between the two countries, and bilateral friendship.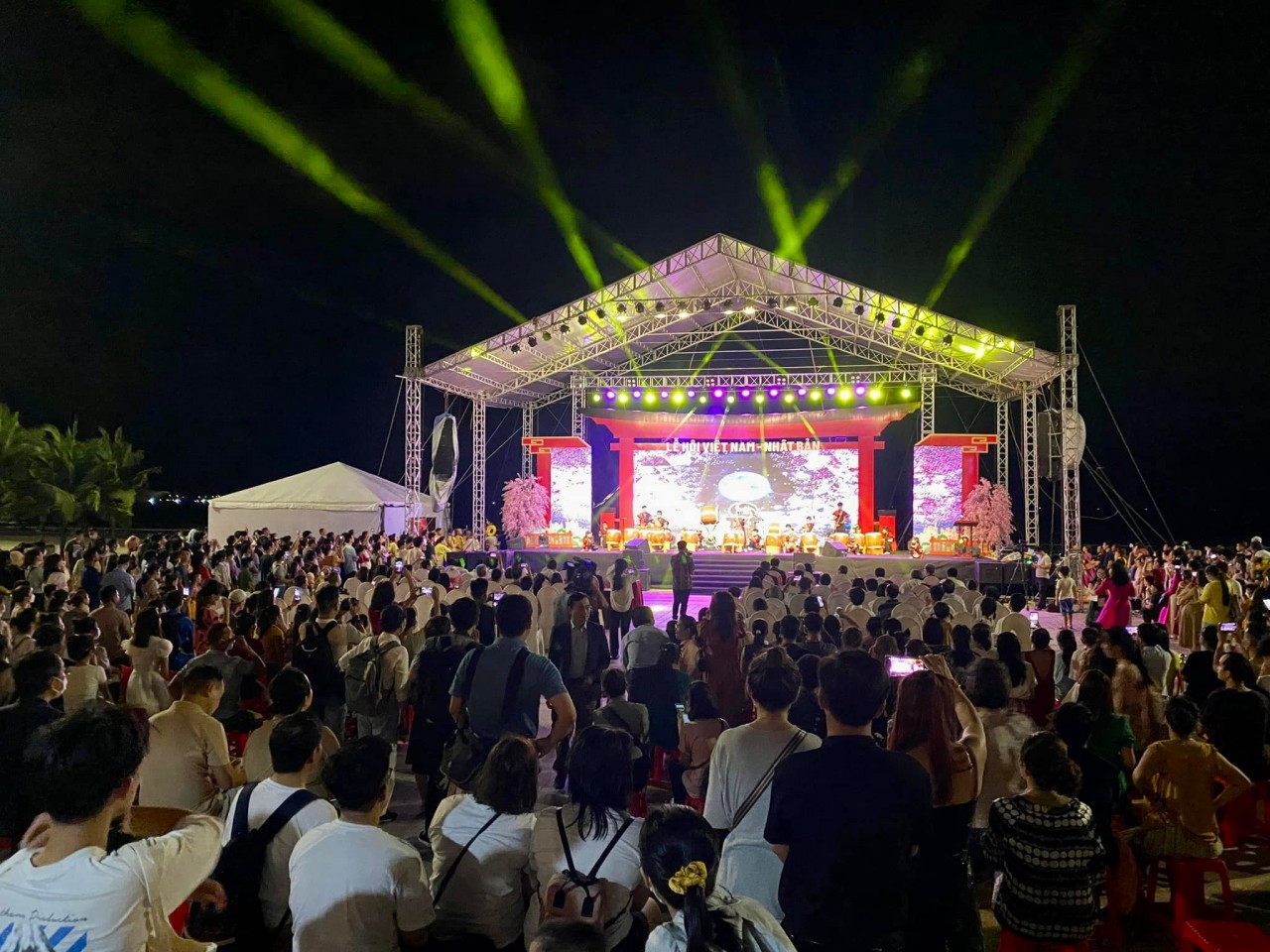 Vietnam-Japan Cultural Festival attracts a lots of people. Source: VPĐD Tp. Đà Nẵng tại Nhật - ダナン市駐日代表部/FB
A Vietnam-Japan cultural festival has been taken place at Bien Dong Park in Son Tra district of Da Nang City on July 14-17.
The event opened on July 14 at the main stage of Bien Dong Park, chaired by the city's leaders, and with the participation of the Consul General of Japan in Da Nang.
70 booths from both Vietnamese and Japanese enterprises used the occasion as a platform to introduce culture, education, tourism, and food to visitors.
Artists demonstrated the excellence of Japanese calligraphy, showcase classical and modern dances of both nations, and put on martial art performance during the course of the four-day festival.
Most notably, an exhibition displaying Japanese traditional dolls and a painting exhibition drawn by Vietnamese and Japanese children in kindergartens offerd a unique experience for visitors.
Furthermore, the organisers also held an exchange with Japanese football club Kawsaki Frontale, as well as a workshop to connect tour operators.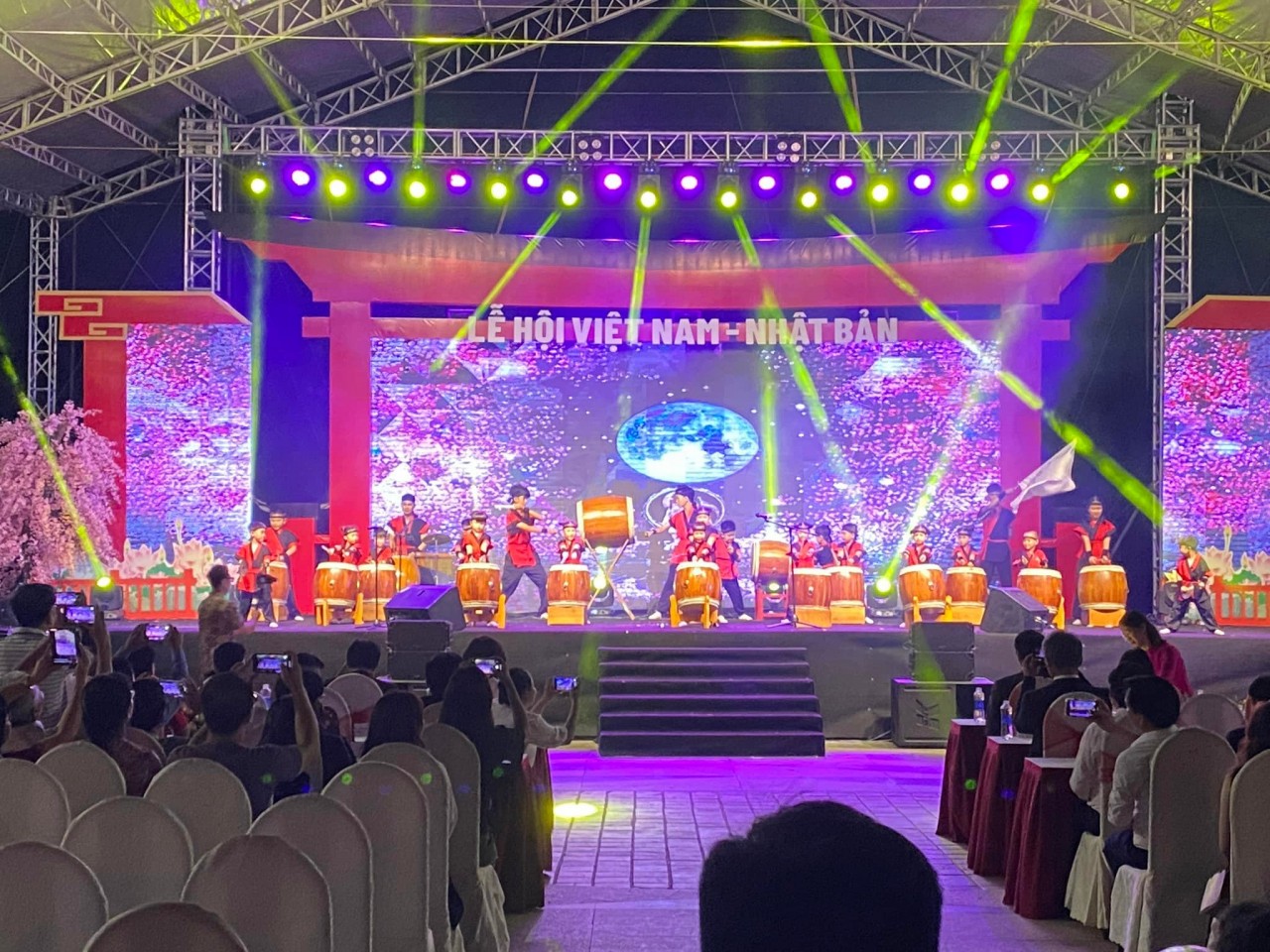 Art performance at the event. Source: VPĐD Tp. Đà Nẵng tại Nhật - ダナン市駐日代表部/FB
Vice Chairwoman of Da Nang City People's Committee Ngo Thi Kim Yen, head of the festival organizing committee, emphasized the significance of the event when taking place in the context that the city is gradually restoring international exchange activities after two years of being interrupted by the influence of the pandemic.
It thereby contributes to enhancing cultural understanding and exchange between Vietnam and Japan in general, and deepening the friendly relationship between Da Nang and Japanese localities and partners; towards the 50th founding anniversary of bilateral diplomatic ties (September 21, 1973-2023).
"This is the premise for us to build more in-depth cooperation in many fields in the future; it is a proof that the connection between Vietnam and Japan has become stronger than ever," Yen expressed.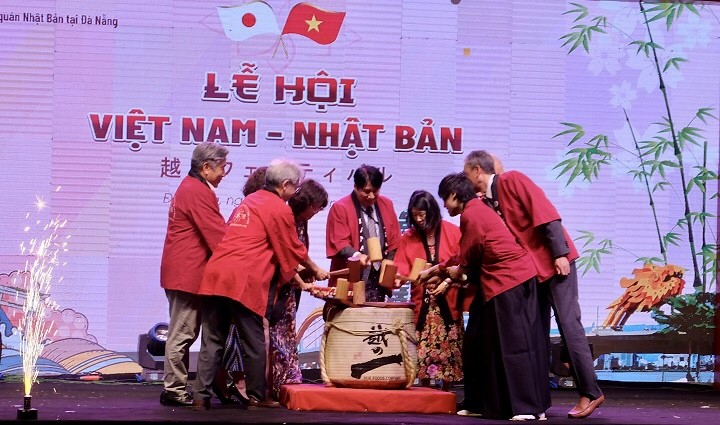 Delegates open the event by perform a Japanese traditional Sake barrel-breaking ritual. Source: Da Nang City Online Portal
Yakabe Yoshinori, Consulate General of Japan in Da Nang hopes that this festival will create an opportunity for people and tourists in Da Nang to learn, experience and feel close to the country and Japanese culture. .
The Vietnam - Japan Festival is a comprehensive foreign cultural event with Japan in Da Nang city, held annually since 2014 and in its the seventh year. After six seasons of organization, the festival has attracted more than 130,000 attendees, creating a great resonance with Vietnamese and Japanese partners.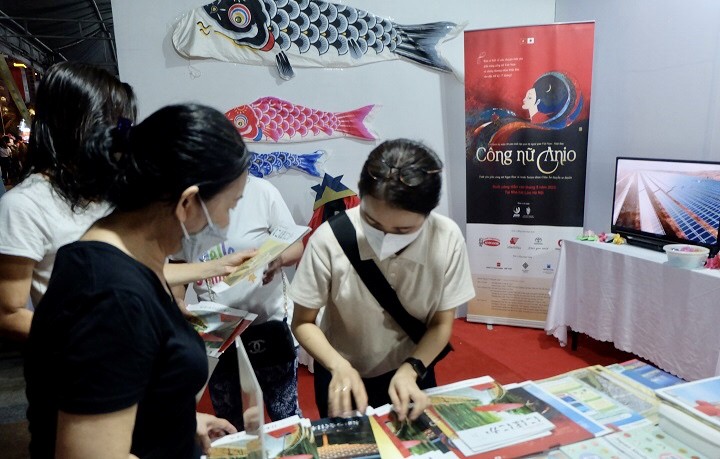 Highlights of the event will be Japanese traditional doll exhibition, tea ceremony of the Japanese city of Sakai, cosplay and information of studying in Japan.Source: Da Nang City Online Portal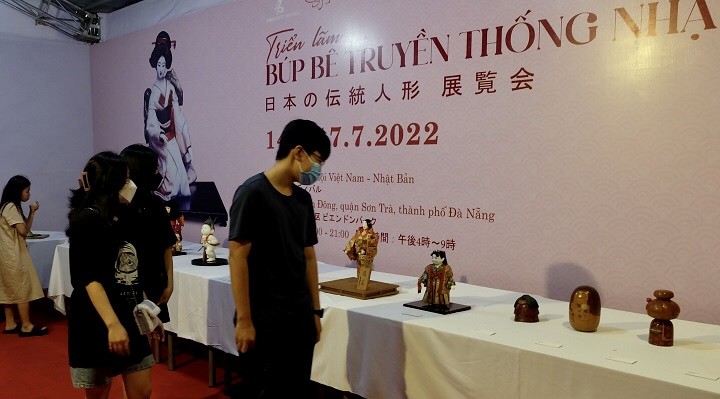 Japanese traditional dolls exhibition. Source: Da Nang City Online Portal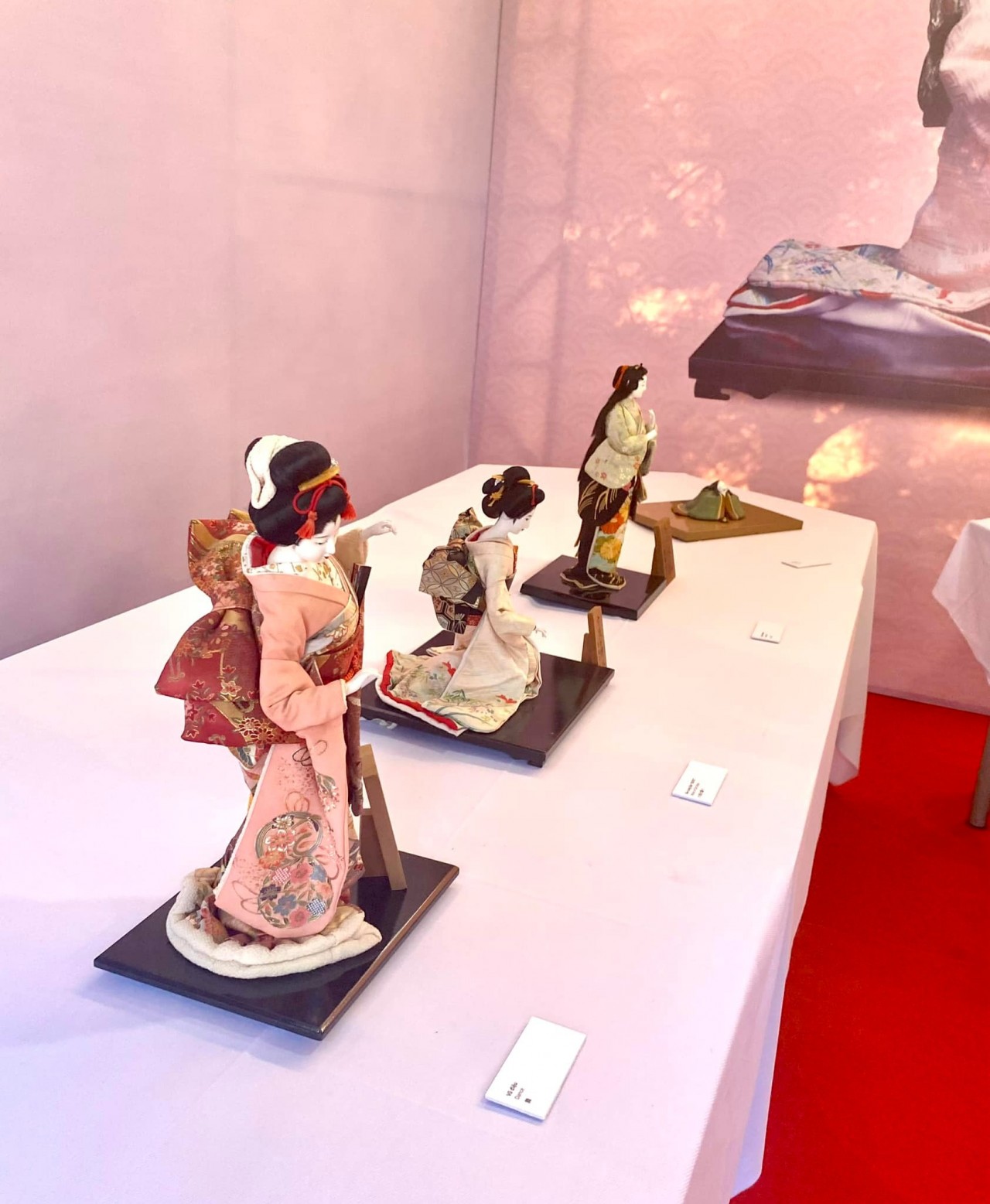 The exhibition space displays dozens of traditional doll works depicting the femininity of Japanese girls in Kimono, or depicting popular characters in Japanese Noh and Kabuki plays. The version with many types of popular dolls of the country of the rising sun.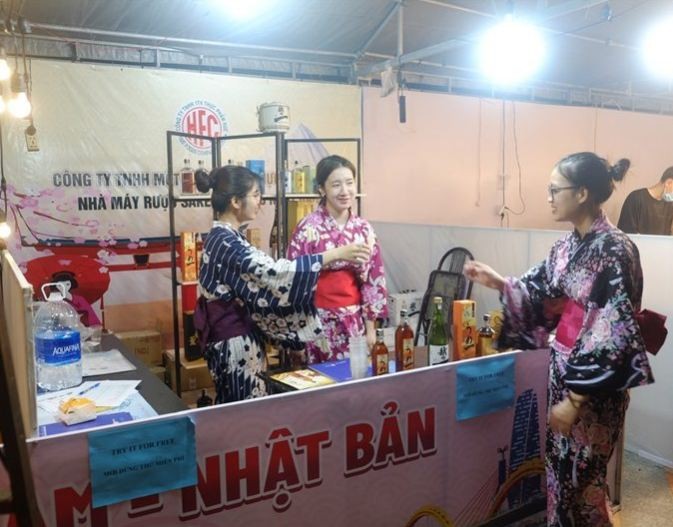 According to the Japanese Consulate General, the number of Japanese visitors to Da Nang was on a rise, increasing from around 120,000 in 2018 to 180,000 in 2019, before shrinking because of Covid-19.
On July 14, a virtual seminar took place in Da Nang to discuss the connection for investment between the central city's startup ecosystem and Japanese partners.
It gathered approximately 70 representatives from the Vietnam science and technology office in Japan's Osaka prefecture, Japanese Business Association in Da Nang, Rainmaking Innovation Japan (RMIJ), and many sci-tech startups.
According to VNA, Vietnam's total export turnover to Japan reached USD 11.38 billion in the first six months of 2022, up nearly 13% over the same period last year, according to the General Department of Customs. Meanwhile, imports from Japan in the period reached USD 12 billion, up 10.6% year on year.
In 2021, bilateral trade between the two countries reached nearly USD 43 billion, of which Vietnam's exports were valued at USD 20.13 billion and imports were worth USD 22.8 billion.
Vietnam's export goods are quite diverse, from agricultural products to processing and manufacturing goods.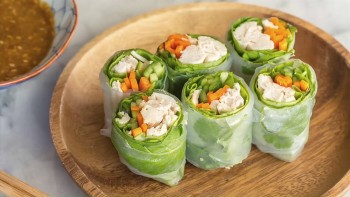 Travel
Rolls are a easy-to-make dish that is loved by many Vietnamese diners as well as Korean stars.