Vietnam-Japan hold concert for AO victims
On occasion of the Day for Agent Orange/Dioxin victims (August 10), a special Vietnam-Japan concert was recently held.
On occasion of the Day for Agent Orange/Dioxin victims (August 10), a special concert was recently held by the Ho Chi Minh City Union of Friendship Organizations in coordination with the Vietnam Association of Agent Orange/Dioxin and the HCMC Ballet Symphony Orchestra and Opera.
Ryuko Mirai Drum Ensemble performs at the event. Photo: HUFO
The concert featured Beethoven's Triple Concerto, performed by Ryuko Mirai Drum Ensemble, singer Tetsu Kitagawa, violinist Nguyễn Hữu Nguyên, celloist Emma Savouret, pianist Ho Dac Thuy Hoang, HBSO symphony orchestra and conductor Le Phi Phi.
On June 25, the Vietnam Fatherland's Front decided to select August 10 as the Agent Orange Day. (It was the day the US Army started to spray Agent Orange (a defoliant) on Vietnam).
During wartime, there was 7 millions litres of Agent Orange was sprayed on Vietnam, Laos and Cambodia. In Vietnam only, there are around 4 millions people exposed to this toxic chemical. Its horrific health effects continue to this day. Nowadays, 3 millions Vietnamese people still suffers from war legacies, and at least 150.000 children suffer from severe birth defect.
The concert is therefore regarded as a meaningful programme, contributing to sharing the burnden with AO/Orange victims, bettering their lives and helping them integrate into the society. At the same time, the event also called for supports from governmental agencies, enterprises, organizations and inpiduals in and outside the country for AO/Orange victims.
The event also served as a cultural, art exchange platform, bringing closer Vietnamese and Japanese people, contributing to promoting friendship of the two countries.
In order to support AO/Orange victims in the fight for justice, people are encouraged to text "DA CAM" and sent to 1409 (VND 20,000/message). The program will last until the end of September 24.
( Translated by P.Y )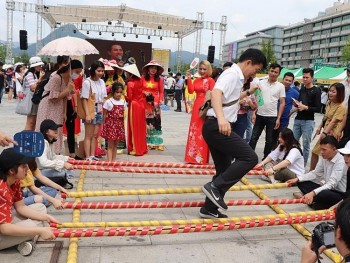 Focus
Vietnam Days Abroad is an annual national promotion program hosted by the Ministry of Foreign Affairs since 2010.