Vietnam Leads Post-Lockdown Recovery in Southeast Asian Supply Chains: Nikkei Asia
Vietnam is seeing a rapid return to normality as Hanoi finally eases restrictions, says Nikkei Asia in its new article.
Photo: Nikkei Asia
Japan's Nikkei Asia published an article on Nov. 9, saying Vietnam leads rapid recovery in Southeast Asian supply chains.
"As coronavirus cases fall dramatically across Southeast Asia, supply chains in the region are racing to recover to full strength after months of factory stoppages and production cuts. Vietnam in particular is seeing a rapid return to normality as Hanoi finally eases restrictions. About 200 factories in the country contracted to make sportswear for Nike have resumed operations, according to local media reports," it says.
An executive of an industrial park in Ho Chi Minh City was quoted as saying that plants operated by Samsung Electronics and Intel will "provide assistance so that both companies' facilities will return to full production this month".
As Vietnam put the latest outbreak under control, the country allows factories to gradually return to normal operation. Companies that produce electrical and electronic components essential for the auto industry are also returning to full strength, much to the relief of manufacturers around the globe.
Japan's Furukawa Electric expects to return to full capacity at its Vietnamese plants. Its three factories there make wire harnesses for automobiles, with the Ho Chi Minh City site alone staffed with about 8,000 workers. The factory floors "have returned to a position where they can respond to requests from a client," said Furukawa Electric President Keiichi Kobayashi.
Photo: VNA
Vietnam was the source of about 40% of Japan's wire harness imports last year, and domestic suppliers Yazaki and Sumitomo Electric Industries are restoring production at their Vietnamese plants as well. This trend is expected to support a production comeback in Japan's auto sector.
However, the article said when the American Chamber of Commerce in Vietnam conducted a survey among members in late August, it found that roughly a fifth of respondents said they partly relocated output capacity outside of Vietnam. More companies may consider shifting capacity to countries bordering Vietnam as a hedge for when the next pandemic occurs.
One example is Taiwan-based Pou Chen, the world's largest manufacturer of branded footwear. In July, the company halted its facilities in Ho Chi Minh City, and its utilization has crept back above 70%. Vietnam is Pou Chen's main area of production, but an executive indicated to Taiwanese media that Indonesia may be the next recipient of investments. The desire to resolve the country's risk in Vietnam is being echoed by other multinationals.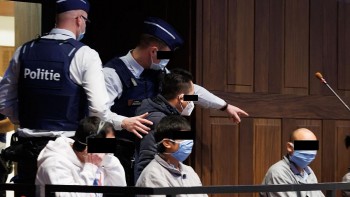 Overseas Vietnamese
Belgian court sentenced smuggler organization over 39 Vietnamese victims found dead in sealed lorry container in Essex.