PM: "Dual Goals" of Pandemic Containment, Economic Recovery must be Achieved
Prime Minister Pham Minh Chinh has called for greater efforts to meet the Government's "dual goals" of Covid-19 control and economic recovery.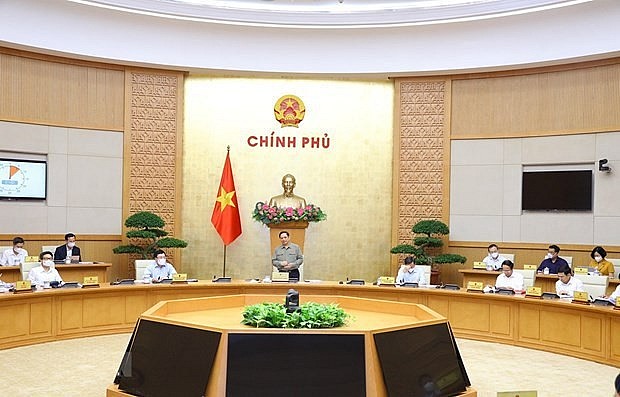 Prime Minister Pham Minh Chinh speaks at the Cabinet meeting. Photo: VNA
In his remarks at the monthly regular Cabinet meeting on November 6, the PM noted that shifting from the "Zero Covid-19" strategy to "safe and flexible adaptation to and effective control of Covid-19" is bringing about initial encouraging results despite several problems that need to be addressed step by step, VOV reported.
An important thing is that the national economy is showing signs of recovery after suffering a contraction in September, said the PM, referring to statistics from the Ministry of Planning and Investment (MPI).
The MPI reported that the number of businesses resuming production increased 29.8% compared to the previous month. About 75% of workers returned to big cities and industrial zones, helping to address labor shortages for businesses. Notably, October saw Vietnam enjoy a trade surplus after months of slipping into deficit.
In addition, an increase in foreign direct investment shows foreign investors are placing their trust in Vietnam's economic recovery.
Though the economy is gradually recovering, there is no room for complacency as the Covid-19 outbreak remains evolving in a complicated manner, said the PM.
According to the Government leader, challenges are lying ahead as inflationary pressure is building up, businesses are still encountering difficulties, and economic restructuring is slow going.
He therefore asked ministries and localities to create the best conditions for businesses to operate and combat Covid-19 at the same time. He requested localities to speed up vaccinations, especially in south-western localities where daily infections are surging, to ensure all local residents, including employees at industrial zones, receive their first vaccine shot in November.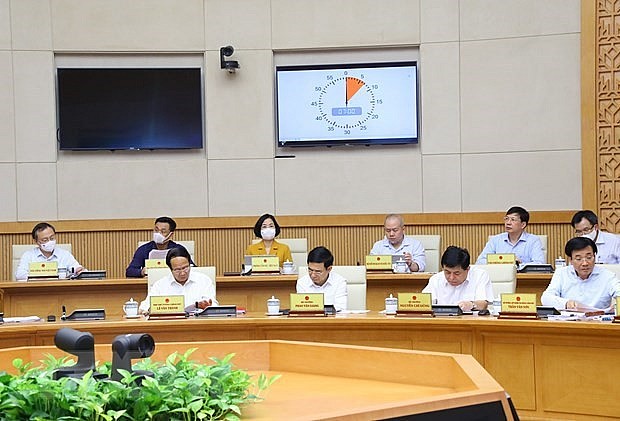 Delegates at the Cabinet meeting. Photo: VNA
The PM also asked ministries and localities to speed up public investment disbursement and make full use of bilateral and multilateral free trade agreements Vietnam has signed with partners.
He also asked for solutions to stimulate domestic consumption and rein in inflation in the remaining two months of the year and early next year.
At the meeting, Minister of Health Nguyen Thanh Long reported that among 195 million doses of Covid-19 vaccines under signed contracts and agreements, 124 million doses had arrived in Vietnam. Up to 109 million doses have been allocated to localities, of which 88 million doses have been inoculated.
In the southern region, which has been hit hard by the pandemic, 95.7% of the population above 18 years old have been vaccinated against the coronavirus, the minister said.
Regarding the vaccination for children aged from 12 to 17 years old, he said the inoculation had been taking place safely, with no cases of serious reactions, according to VietnamPlus.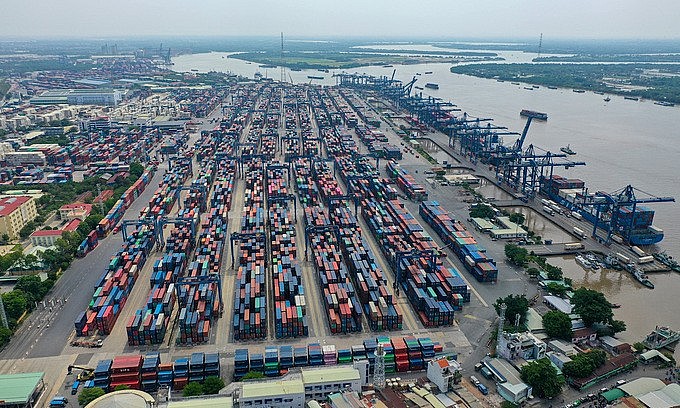 Cat Lai Port in HCMC. Photo: VnExpress
A trade surplus of $1.1 billion in October brought down the deficit for the year to US$1.45 billion, VnExpress cited statistics by the Ministry of Industry and Trade.
In the first 10 months, exports rose by nearly 17% year-on-year to over US$267.9 billion, with foreign enterprises accounting for $198.16 billion.
Steel exports rose by 132% to US$9.65 billion, while exports of machinery, equipment, tools, and parts fetched nearly $29.6 billion, up 40%.
Imports rose by 28.2% to nearly US$269.4 billion, the ministry said.
The US remained Vietnam's largest export destination with consignments of more than US$76 billion, a year-on-year jump of nearly 22%, followed by China with US$44.7 billion, the European Union with US$31.7 billion, ASEAN with US$23.03 billion, and Japan with US$17.9 billion.
China was Vietnam's biggest supplier of goods at US$89.43 billion, followed by South Korea with US$45.52 billion, ASEAN with US$33 billion, Japan with US$18 billion, and the U.S. with US$13 billion.
A surplus in the first four months of the year turned into a deficit since May, but it is expected to decrease further in the coming months as Vietnam further taps free trade agreements and global demand for goods increases, the ministry said.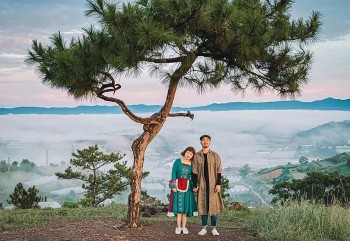 Travel
Three local cities are set to be presented with the ASEAN Clean Tourist Awards 2022.