Vietnam listed among best destinations for winter trips 2018
The U.S. National Geographic Traveller magazine has revealed the list of the best destinations for winter trips, Vietnam
The U.S. National Geographic Traveller magazine has revealed the list of the best destinations for winter trips, including Vietnam.
JAPAN
Red bridges and torri gates are striking under a blanket of white snow in the winter months. (PHOTOGRAPH BY VICHIE81, GETTY IMAGES)
Imagine bright red torii gates blanketed in white, snow monkeys lounging in Nagano hot springs, and steamy cups of Ujicha tea. Japan in winter is a dream, and festivals only add to the magic. Sapporo's weeklong Snow Festival boasts giant snow slides and more than 200 night-lit snow sculptures. Wander through colorful illuminated ice caves at the Sounkyo Hyobaku (Ice Waterfall) Festival. Or warm up at the dramatic Nozawa Onsen Fire Festival before heading to the Shiraoi Ainu Museum, where indigenous Ainu dance performances mimic the graceful mating ritual of Hokkaido's endangered red-crowned cranes. The Otaru Snow Light Path's lantern-lit canal makes for a perfectly romantic farewell stroll.
PATAGONIA
More than a hundred square miles of ice surround visitors on the Perito Moreno Glacier in Los Glaciares National Park. (PHOTOGRAPH BY JU FUMERO, GETTY IMAGES)
Patagonia's mountainous, milky blue views are well worth the long plane flight. But many amenities and parks close during the Northern Hemisphere's summer months, making November through April the best time to visit. During this time the days are also warmer and longer, meaning more time to hike. Begin in Argentina, where glacier tunnels lead to the third largest ice cap in the world at Los Glaciares National Park, where you can sleep in a cozy yurt by the water. Spot pumas, rheas, guanacos, and armadillos in Chile's Torres del Paine, famous for its soaring granite peaks. Then check-in at the stylish and sustainable Tierra Patagonia Hotel and Spa for horseback riding, fly-fishing, and a well-deserved glass of Chilean Pinot Noir.
TANZANIA
A cheetah struts across Serengeti National Park. (PHOTOGRAPH BY NATIONAL GEOGRAPHIC CREATIVE)
A warm climate and perse geography—white-sand beaches, Mount Kilimanjaro, the Serengeti, and the world's second deepest lake—all make Tanzania the perfect winter escape, for travelers and wildlife alike. Take a hot-air balloon trip over Serengeti National Park to see thousands of migrating wildebeests and zebras. Ostriches and lilac-breasted rollers are only two of Tanzania's 1,000-plus bird species—best seen in winter when northern birds are migrating through and local birds are in full plumage. Safari destinations like Ngorongoro Crater and Olduvai Gorge offer opportunities to see hippos, lions, giraffes, flamingos, rhinos, cheetahs, chimpanzees, and kudu, all while learning about paleontology and the native Maasai culture.
VIENNA
Snow storms will not keep Vienna's world-renowned Christmas markets from spreading holiday cheer. (PHOTOGRAPH BY PETER RIGAUD, REDUX)
Christmas markets have warmed Vienna's city center for centuries. Visit City Hall's classic Christkindlmarkt midweek to avoid queues for glühwein and ice-skating, or opt for smaller local markets. Karlsplatz Art Advent is a sparkling must-visit for families, with a petting zoo, kid's craft houses, and organic snacks. Artisans at the Spittelberg Market sell handmade ceramics, intricate mobiles, and local beeswax candles along charming cobblestone streets. And farm stalls surrounding the Freyung Market offer Austrian Alpine cheese and organic wine. Can't get away over the holidays? Save the coffeehouses and schnitzel for after the new year when you can attend the Vienna Opera Ball (an Austrian tradition dating back to the early 1800s). Not just a winter destination, Vienna is additionally one of Best Trips of 2018.
CARIBBEAN
Colorful beachside buildings have reopened on many Caribbean islands, including Turks and Caicos. (PHOTOGRAPH BY NATIONAL GEOGRAPHIC CREATIVE)
Ordinarily some of the world's favorite winter hot spots, many Caribbean islands are still digging their way out of the destruction left behind by 2017's hurricanes.
Positive signs? Dive BVI is running pe trips out of Spanish Town on the British Virgin Islands. The St. Martin airport reopened in October. Public water lines are accessible across Anguilla. Da Conch Shack, a popular beach bar in Turks and Caicos, reopened in November (weekly concerts included). And Hibiscus Valley Inn in Marigot, Dominica, is open and accepting guests as islanders continue to clear roads and nature trails at impressive speeds.
VIETNAM AND CAMBODIA
There are countless ways to experience the arching palms, floating markets, and biopersity of the Mekong river, which connects six countries. (PHOTOGRAPH BY NIGEL KILLEEN, GETTY IMAGES)
While Canadian rivers are freezing into winter skating tracks, Southeast Asia's longest river, the Mekong, flows merrily along past arching palms and sunny floating houses. The Mekong connects six countries from China to Vietnam, is second only to the Amazon in fish biopersity, and is home to rare Irrawaddy dolphins and giant freshwater stingrays (which can weigh up to 1,300 pounds). Don't miss Cambodia's Wat Hanchey, a rosy hilltop pagoda framed in ancient Sanskrit, and the Vietnam's Cai Be floating market, where villagers sell fresh citrus and ripe bananas by the boatful. Tan Chau is known for locally spun silk, traditionally dyed ebony with crushed mac nua fruit. Finally, stop in Kampong Tralach, Cambodia, to visit rice fields and a Buddhist monastery.
BELIZE
Belize is well-known for its pristine waters and coral, but the mainland is equally beautiful. These jungles are located near Belcampo Lodge. (PHOTOGRAPH BY INTERSECTION PHOTOS/ALAMY STOCK PHOTO)
English-speaking Belize is a per's paradise. It's home to the largest barrier reef in the Northern Hemisphere, the thousand-foot-wide Great Blue Hole, and a large concentration of scarlet macaws—easiest to spot in winter when migrating east to Red Bank. Native Belizean Amanda Acosta recommends Half Moon Caye, where there are "no phones, no computers, and no Internet, giving you a chance to reconnect, relax, and enjoy the sunsets." Although the island's campsites are open year-round, navigation can be challenging. Acosta suggests visiting December through April when travel groups provide transportation and setup. On the mainland, stay at Belcampo, a jungle lodge and organic farm close to Cotton Tree Chocolate Factory and the ancient Maya ruins at Lubaantun.
ANTARCTICA
During peak breeding season on South Georgia Island, which is near the Antarctic Peninsula, there is said to be more wildlife per square foot than anywhere else in the world. (PHOTOGRAPH BY ROBERT BUSH, ALAMY STOCK PHOTO)
A gentoo penguin can make as many as 450 foraging pes per day. But it will only take you one Antarctic cruise to see it happen. Antarctica is home to albatrosses, leopard seals, petrels, orca whales, small-but-mighty krill, and several species of penguins. During peak breeding season on nearby South Georgia Island, there is said to be more wildlife per square foot than anywhere else in the world. Fight off seasonal depression by visiting in late December, when 24 hours of sunlight per day means plenty of time to hike neon blue icebergs, kayak through "diamond dust," and snap pictures of the thousands of cuddly baby penguins that hatch toward the end of the year.
BAJA CALIFORNIA SUR
Every winter, thousands of gray whales migrate some 6,000 miles south to breeding grounds in Baja California. (PHOTOGRAPH BY ANN JOHANSSON, GETTY IMAGES)
Every winter, thousands of gray whales migrate some 6,000 miles south to breeding grounds in Baja California. Zodiac boat trips around Magdalena Bay allow area visitors up-close views of the friendly giants, some weighing up to 40 tons. Dubbed the "aquarium of the world" by Jacques Cousteau, Baja's Sea of Cortez abounds with more than 650 species of fish, bottlenose dolphins, humpbacks, blue whales, fin whales, stingrays, sharks, and sea lions. Tiny mangrove-laced islands, such as Isla Espíritu Santo, make perfect base locations for swimming, snorkeling, and kayaking. Back in La Paz, toast your whale-sighting tally with margaritas, local ceviche, and fresh Baja fish tacos./.
According to nationalgeographic.com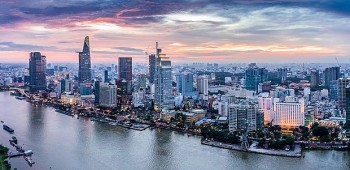 Economy
Japanese investors have been interested in the property market in Vietnam.