Vietnam Lures over US$20 Billion in FDI in Nine Months
Vietnam attracted US$20.21 billion in foreign direct investment (FDI) during the past nine months of the year, representing a rise of 7.7% year-on-year.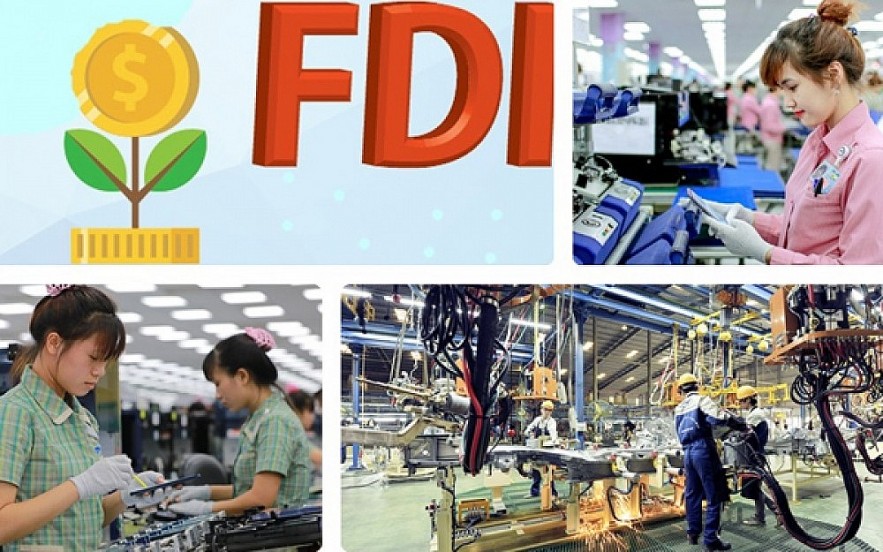 FDI inflows to the country continue to increase. Photo: VOV
Of the figures, there were 2,254 newly registered projects capitalized at more than $10.23 billion, a rise of 66.3% in the number of projects and 43.6% in capital, according to statistics released by the Foreign Investment Agency, as cited by VOV.
In addition, more than $5.15 billion was added to 934 existing projects, representing a rise of 21.5% in relation to the number of products but a fall of 37.3% in capital on year.
Furthermore, the value of capital contributions and share purchase deals reached more than $4.82 billion, down 5.9% in number but up 47% in capital from the previous year.
According to experts, FDI inflows to the country continue to increase, although the growth rate has decreased slightly by 0.5 percentage points compared to the figure of 8.2% recorded in the initial eight months of the year.
However, FDI disbursement saw positive signs, reaching more than $15.9 billion, up 2.2% on-year, an increase of 0.5 percentage points compared to the first eight months of the year.
Insiders have attributed the positive signs to the Government's drastic and effective solutions in terms of both supporting enterprises and removing their difficulties in a bid to facilitate further FDI disbursement.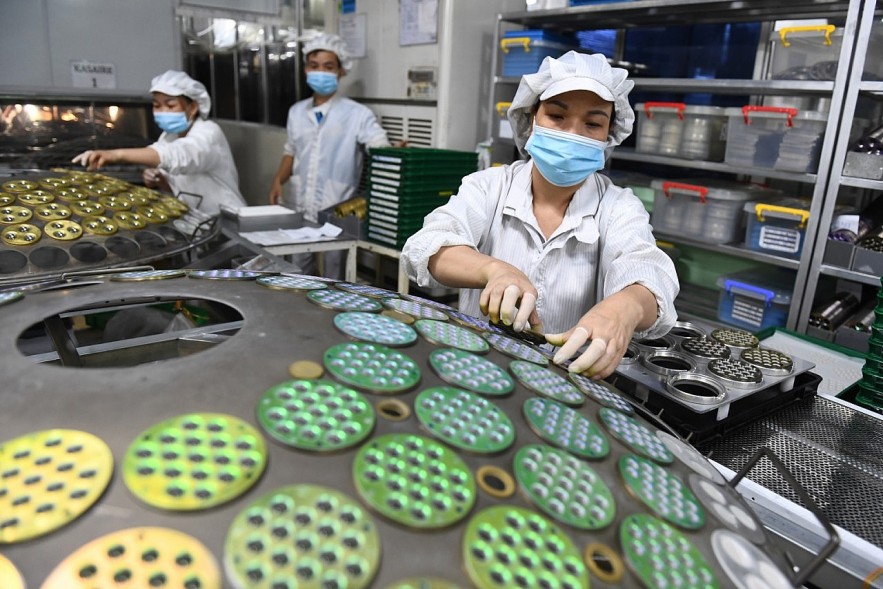 Since the signing of the EU-Vietnam Free Trade Agreement (EVFTA) in 2019, European enterprises have invested in 2,250 projects worth $26 billion in Vietnam. Photo: Vietnamnet
Most notably, the number of projects registering to adjust their investment capital has seen a steady increase compared to last year, thereby affirming foreign investors' trust in the country's investment climate and their decisions to expand existing projects locally.
Foreign investors have injected their money into 18 industries out of 21 national economic sectors in the reviewed period with the processing and manufacturing industry taking the lead with total investment capital reaching more than $14 billion.
The real estate sector ranked second with nearly $1.94 billion, followed by the finance-banking sector with roughly $1.54 billion, along with the wholesale and retail industries at nearly $734 million
Singapore topped the list of countries investing in the Vietnamese market with a total investment capital of more than $3.98 billion. They were followed by China with $2.92 billion, Japan with $2.9 billion, and other investors such as the Republic of Korea, Hong Kong (China), and Taiwan (China).
Numerous foreign firms eye stronger investment in Vietnam
Nearly 1,000 foreign enterprises from 28 countries and territories, including giants such as Boeing, Walmart, and Central Retail, have entered Vietnam to explore investment opportunities and seek partners since the beginning of this month, Viet Nam News reported.
According to Avaneesh Gupta, Senior Vice President of General Merchandise & Apparel Sourcing at Walmart – the world's number one retailer – Vietnam is among the top five countries for exports of wood and agricultural products and ranks 10th globally for textiles and footwear exports.
Notably, Vietnamese products are increasingly gaining popularity among consumers worldwide, Gupta said.
As part of the 2024 supplemental sourcing strategy for the Walmart network, the firm has deployed procurement teams to Vietnam to explore sourcing opportunities in the country. The product categories include seafood, cashew nuts, soy milk, coffee, fresh fruits, and fruit-based snacks, he said.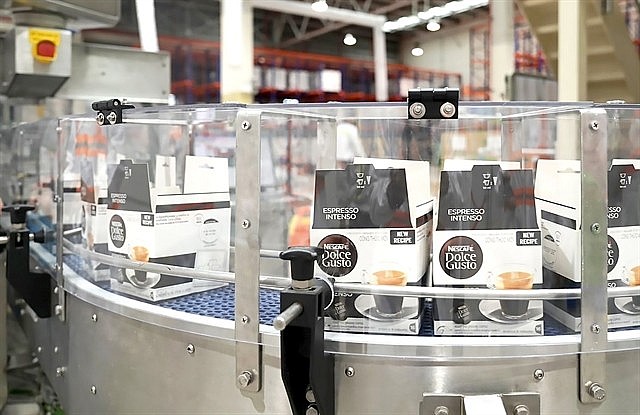 Coffee capsule production line of Nestlé Vietnam. Photo: VNS
Lionel Adenot, Director of Decathlon Vietnam Group, mentioned that his company is expanding its textile product supply without volume limits.
However, to become suppliers for the firm, Vietnamese businesses need to meet specific conditions. These include ensuring that factories do not use coal and have a roadmap to eliminate the use of fossil fuels by 2025, achieving self-sufficiency in raw material supply, favoring environmentally friendly, on-site material usage, and implementing digital transformation in their production processes, he said.
Decathlon Vietnam Group will prioritize businesses that meet criteria related to responsibilities towards workers and the community, he added.
Agriculture also represents an enticing industry for foreign investors.
Central Retail Group has offered technical assistance and methodologies for cultivating organic honeydew melons to Danny Green Corporation, which has successfully established and currently operates a 120-ha organic honeydew melon farm in the south-central province of Binh Thuan.
Insiders have said that foreign companies are willing to collaborate with Vietnamese businesses to standardize farming and production processes in order to improve the supply capacity of these businesses, thus stabilizing the supply of goods for their supply chains.
Besides seeking reliable supply sources, numerous businesses from the RoK, the US, and Europe are keen on directly investing in Vietnam.
Jean Jacques Bouflet, Vice-Chairman of the European Chamber of Commerce in Vietnam (EuroCham), said that with its strategic geographical location, stable economy, young workforce, and favorable policies, Vietnam is emerging as an increasingly important destination in the global supply chain.
Since the signing of the EU-Vietnam Free Trade Agreement (EVFTA) in 2019, European enterprises have invested in 2,250 projects worth $26 billion in Vietnam.
Additionally, the race for investment in Vietnam has attracted numerous leading US corporations such as Apple, Qualcomm, Nike, Morgan Stanley, Intel, GE, ACORN International, General Dynamics, and Google.
Recently, Boeing also explored opportunities to expand its investment in HCM City, especially in material supply facilities and establishing technical centers, the Sai Gon Giai Phong (Liberated Saigon) Newspaper reported.
According to Maxime Dourdan, Director of Supply Chain Development for Boeing in Southeast Asia, Japan, and the RoK, compared to Japan and the RoK, Vietnam holds a significant advantage when it comes to production costs.
Furthermore, the capacity of the Vietnamese supporting industry has significantly improved in recent years, with many Vietnamese businesses becoming part of the global supply chains of large corporations like Samsung, Sanyo, Intel, and others. This serves as a foundation for Boeing to explore cooperation and expand its supply chain investments in Vietnam, Dourdan said.
To attract more sustainable investment inflows, there should be consistency in investment incentive policies to reassure investors about long-term business operations in the Southeast Asian nation, said Hong Sun, Chairman of the Korean Chamber of Business in Vietnam./.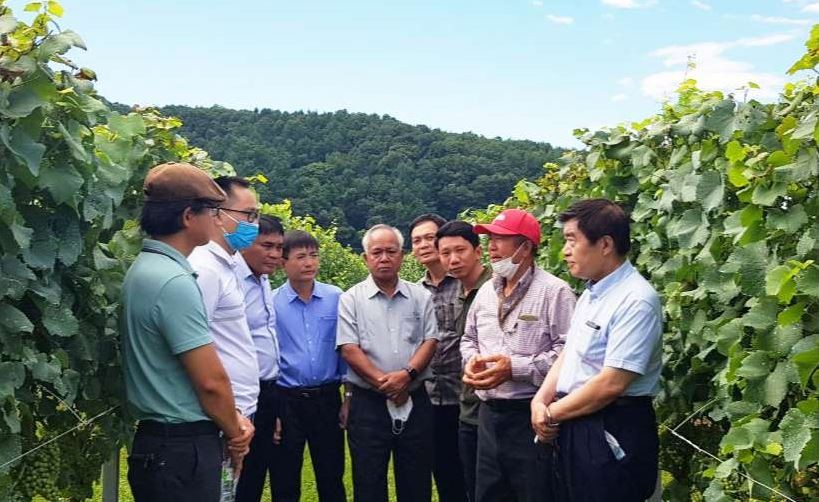 Economy
The 13th National Congress of the Communist Party of Vietnam determined to "build economic diplomacy to serve development, with people, localities, and businesses as the center." To realize the Party's policy, Kom Tum Party's Committee and People's Committee have issued a plan to promote economic diplomacy for sustainable development.
November 29, 2023 | 14:27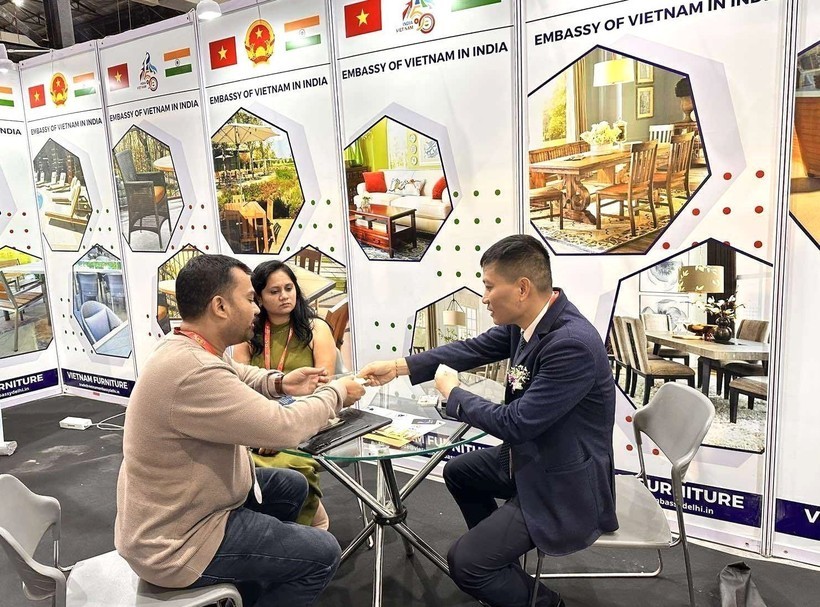 Economy
India is identified as one of the potential markets for Vietnam's wooden furniture and interior exports, with the transaction value of this item growing quite rapidly recently.
November 29, 2023 | 14:05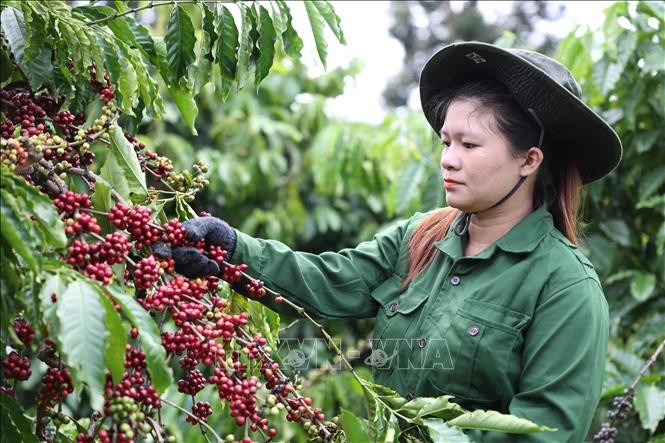 Economy
From January to October 2023, Vietnam's coffee exports to Algeria reached 52,174 tons, with a turnover of US $116 million, an increase of 52% in volume and 67% in value compared to the same period in 2022. It is estimated that by the end of 2023, the turnover could reach US $125 million, an increase of 47% compared to 2022.
November 29, 2023 | 11:13