Vietnamese Economy Likely to Lead ASEAN's Growth
Reputable international organizations anticipate that Vietnamese GDP growth this year may exceed other ASEAN member states.
By 2024, with economic growth forecast to be at 6%, the nation's GDP growth will rank second in Southeast Asia, only behind the Philippines at 6.2%. Photo: VOV
This comes amid the Board of Executive Directors of the International Monetary Fund (IMF) recently releasing its latest forecasts on the Vietnamese economy. According to its predictions, the strong recovery of the Vietnamese economy in 2022 slowed down due to "adverse winds" at the end of last year and the first half of this year.
The IMF therefore predicts that the driving force for economic growth this year will come from recovering exports and loosening policies, especially fiscal policy, according VOV.
Inflation is expected to remain controlled below the target of 4.5%, with the nation able to return to high growth in the medium term with the support of structural reforms.
The executive directors of the IMF unanimously applauded many Vietnamese authorities for their swift actions as part of efforts to maintain economic stability when facing plenty of difficulties both at home and abroad.
However, risks continue to increase and further efforts are needed to protect macro-financial stability; promote drastic reform; address vulnerable factors; and ensure green, strong, and inclusive growth in the medium term.
Furthermore, because the room to loosen monetary policy is limited, fiscal policy needs to play a key role in supporting wider economic activity if necessary.
The IMF therefore recommends strengthening the fiscal framework, budgeting processes, and increasing revenue over the medium term in support of ambitious socio-economic development plans.
The organization hails competent agencies for effectively controlling inflation risks, but outlines that monetary policy needs to continue to be cautious in a complex context and limited policy.
It also appreciates flexible exchange rates whilst encouraging continued progress in this area along with modernization of the monetary policy framework.
GDP growth remains optimistic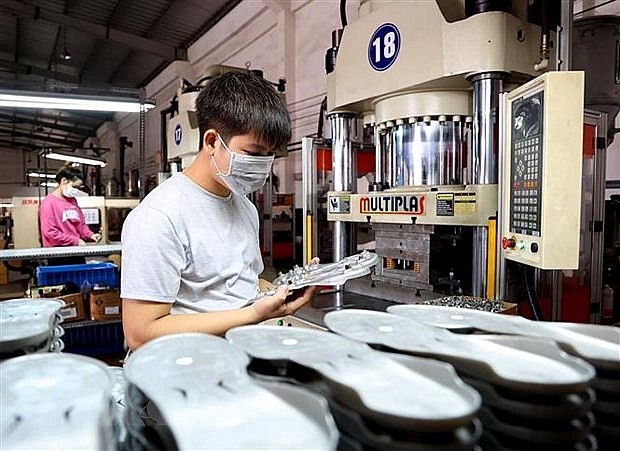 A foreign-invested footwear material factory in Thuan An city, Binh Duong province. Photo: VNA
Realizing that this year will see many challenges for the Vietnamese economy, experts from the Asian Development Bank (ADB) have also forecast that the country's GDP growth will reach 5.8%, slightly down compared to last April.
However, the ADB believes that the Vietnamese GDP growth rate for this year is still at the top compared to other countries in the Southeast Asia region.
By 2024, with economic growth forecast to be at 6%, the nation's GDP growth will rank second in Southeast Asia, only behind the Philippines at 6.2%.
Inflation is projected to fall, possibly being at 3.8% in 2023 and 4% in 2024. In the most recent report Pyn Elite Fund, an investment fund from Finland, identified the country as one of the fastest-growing economies in Asia.
The Fund expects the Vietnamese economic growth rate to continue to stand at 5% to 7% annually in the near future. The annual profit growth of listed companies will therefore remain between 12% and 25%.
Foreign media upbeat about Vietnam's economy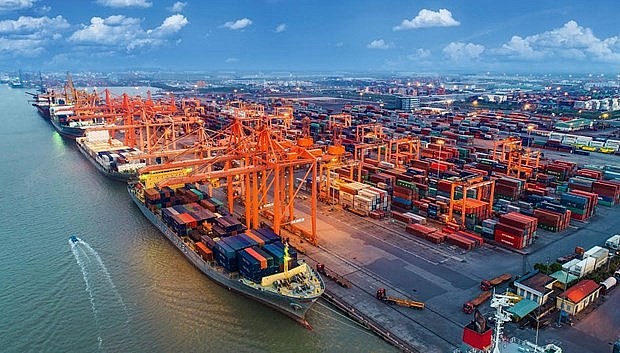 Vietnam's trade surplus in the first nine months is estimated at $21.68 billion. Photo: VNA
Many foreign press agencies have also run articles featuring Vietnam's economic growth, pointing to rosy signs in its recovery.
French wire service AFP cited statistics by the General Statistics Office (GSO) showing the economy grew 5.33% in the July-September period from a year earlier, and that loan interest rate reductions, an extension of tax payments and increased public investment had a positive impact.
Nikkei Asia also said the growth was accelerated thanks to tourism, noting "the services sector helped boost economic output during the three months through September, driven mainly by retail and tourism. The sector is estimated to account for about 40% of Vietnam's GDP."
"Travelers returned to popular destinations like the central city of Da Nang, with the number of foreign visitors entering the country from July to August reaching 2.25 million, already exceeding 1.27 million in July-September last year."
Recent official economic data shows that the manufacturing sector is recovering, it said, adding that the monthly industrial production index turned positive in May and marked the fifth consecutive month of expansion in September.
China's Xinhua News Agency also cited official data showing Vietnam attracted nearly $20.21 billion in foreign direct investment (FDI) from the start of this year to September 20, a year-on-year growth of 7.7%./.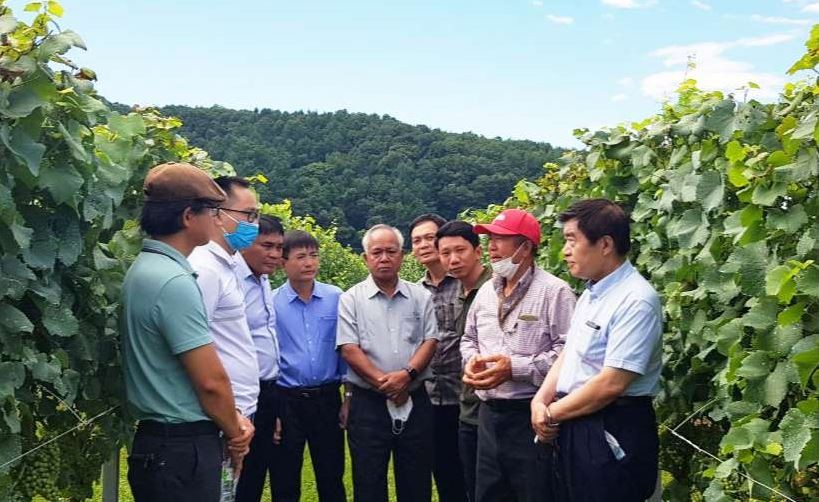 Economy
The 13th National Congress of the Communist Party of Vietnam determined to "build economic diplomacy to serve development, with people, localities, and businesses as the center." To realize the Party's policy, Kom Tum Party's Committee and People's Committee have issued a plan to promote economic diplomacy for sustainable development.
November 29, 2023 | 14:27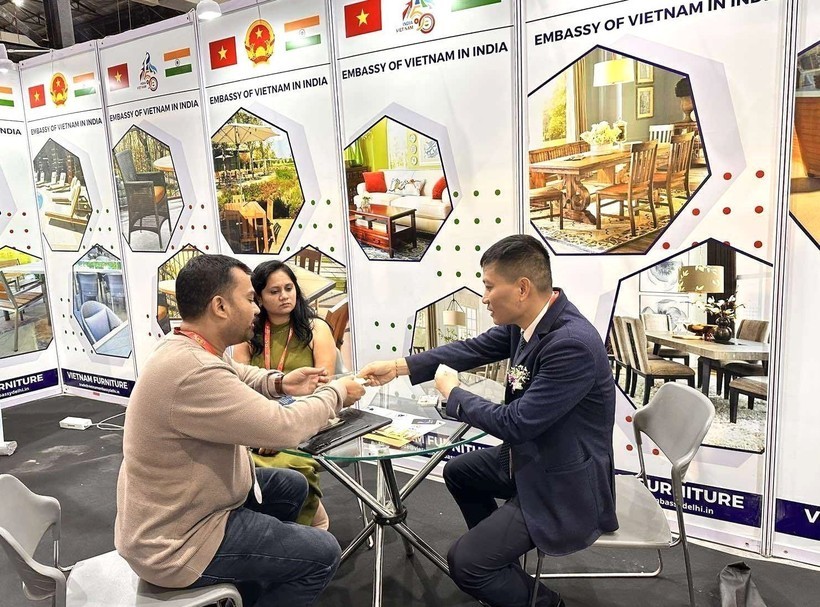 Economy
India is identified as one of the potential markets for Vietnam's wooden furniture and interior exports, with the transaction value of this item growing quite rapidly recently.
November 29, 2023 | 14:05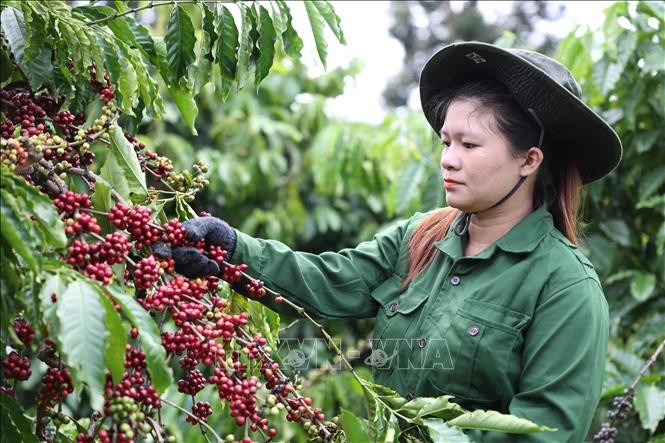 Economy
From January to October 2023, Vietnam's coffee exports to Algeria reached 52,174 tons, with a turnover of US $116 million, an increase of 52% in volume and 67% in value compared to the same period in 2022. It is estimated that by the end of 2023, the turnover could reach US $125 million, an increase of 47% compared to 2022.
November 29, 2023 | 11:13