Vietnam, Luxembourg Accelerate Trades and Investments Ties
Ambassador Nguyen Van Thao visited Luxembourg to seek stronger economic cooperation. Both sides showed interest in stepping up cooperative ties, given that border reopening has started worldwide post-pandemic.
Ambassador of Vietnam to Belgium and Luxembourg Nguyen Van Thao recently visited Luxembourg, where he met with representatives from a variety of local ministries, organizations, and enterprises to discuss ways to strengthen economic ties between the two nations.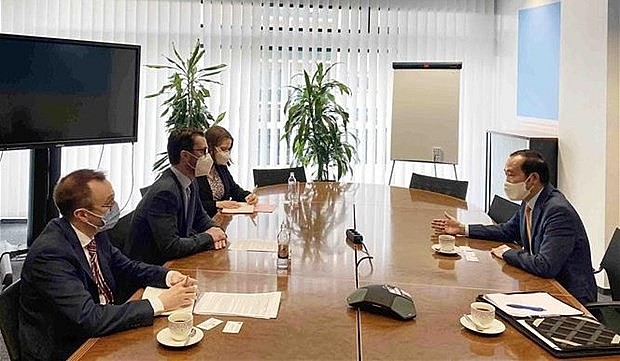 Vietnamese Ambassador to Belgium and Luxembourg Nguyen Van Thao (right) meets with officials from the Ministry of Economy of Luxembourg. Photo: VNA
Given that border reopening has begun worldwide following the epidemic, both sides expressed desires in strengthening cooperation connections during the sessions. Because of the potential provided by the EU-Vietnam Free Trade Agreement (EVFTA) and the EU-Vietnam Investment Protection Agreement, economic, financial, and investment cooperation remained at the forefront of discussions (EVIPA).
Vietnam and Luxembourg also exchanged information on their respective countries' socioeconomic development in the previous year, as well as plans for border reopening in 2022.
According to VNA, in a conversation with Daniel Liebermann, the Ministry of Economy's director of industry and new technologies, Thao urged that both sides make use of the EVFTA and ratify the EVIPA as soon as possible to quickly recover from the losses suffered by COVID-19.
The two officials agreed to work together to promote delegation exchanges at all levels and to develop plans for future collaboration in areas such as finance, logistics, high-tech, tourism, and high-quality human resource training.
Thao emphasized Luxembourg's role as a worldwide financial center, where numerous world-leading financial initiatives are situated, during his discussion with Luxembourg Finance CEO Nicolas Mackel.
Meanwhile, Mackel accepted his suggestion to assist Vietnam in obtaining funds for long-term development in the areas of innovation, smart infrastructure, green transportation, and startups.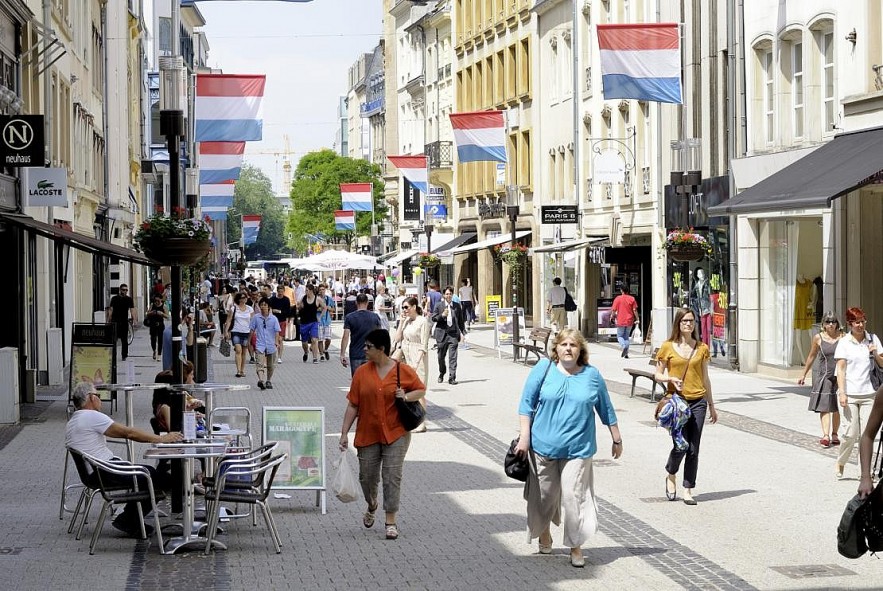 The Street of Luxembourg. Photo: Total Energies
Later, the Vietnamese ambassador met with representatives of the Luxembourg Chamber of Commerce, and the two sides agreed to provide all necessary circumstances for Vietnamese and Luxembourg businesses to realize their full potential in finance, aviation, tourism, and construction.
The diplomat also met with executives from a number of major local businesses, including cargo carrier Cargolux, medical refrigeration and vaccine cold chain equipment manufacturer B Medical Systems, and CODIPRO, all of which expressed an interest in receiving assistance from the Vietnamese Embassy in order to expand their market access in Vietnam and neighboring countries.
Partners from Luxembourg have stated that they are willing to work with Vietnam to plan celebrations for the 50th anniversary of diplomatic relations (1973-2023). The Vietnamese Embassy has been working with Luxembourg authorities and enterprises to organize a Vietnam-Luxembourg business summit in October.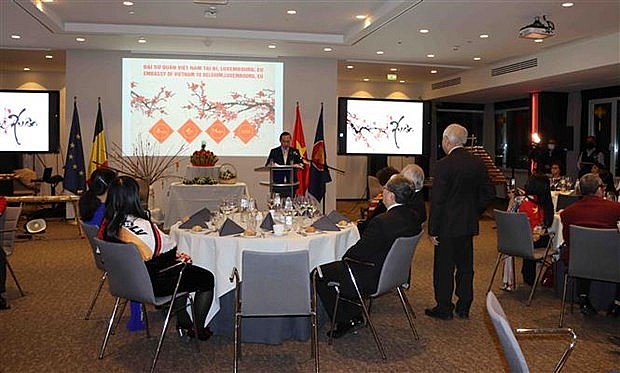 At the get-together held in Brussels. Photo: VNA
Previously told by VNA, a get-together was held on February 11 in Brussels, with the participation of more than 50 overseas Vietnamese in Belgium and Luxembourg. There are a total of 5.3 million Vietnamese are living abroad, 13,000 of whom stay in Belgium and Luxembourg.
At the get-together, Ambassador Nguyen Van Thao updated the participants on Vietnam's achievements in recent times, underlining contributions of the OVs in every field. Despite the adverse impacts of COVID-19, Vietnam-EU trade turnover hit 63.6 billion USD in 2021, posting a year-on-year surge of 15 percent.
Vietnam's luxury market has great potential to become profitable. The rising income of its people in recent years could be attributed to the bright outlook for Vietnam's luxury sector. The country's high-income consumers are the backbone of luxury consumption, according to Jing Daily, China's largest digital luxury journal. The South China Morning Post also wrote that Vietnam's residential sector has become increasingly attractive to foreign investors.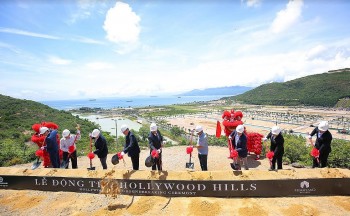 Economy
On October 2, at Hai Giang peninsula (Quy Nhon city, Binh Dinh), Hung Thinh Corporation held the groundbreaking ceremony of Hollywood Hills by YOO Inspired by Starck – a subdivision at MerryLand Quy Nhon. The event marks the first time that the world's No.1 ranked design and branded residence company YOO Inspired by Starck is officially present in Vietnam, with a collection of villas designed by creative director, Philippe Starck.