Vietnam News Today (Apr. 24): Vietnam, China Hold Border Defense Friendship Exchange 2022
Vietnam News Today (Apr. 24): Vietnam records another 10,365 Covid-19 cases; Vietnam, China hold border defense friendship exchange 2022; Vietnam Airlines Group adds over 50,000 seats for upcoming holidays; 60,000 SEA Games mascots ready for medal winners, spectators.
Vietnam News Today (Apr. 24) notable headlines
Vietnam records another 10,365 Covid-19 cases
Vietnam, China hold border defense friendship exchange 2022
Vietnam Airlines Group adds over 50,000 seats for upcoming holidays
60,000 SEA Games mascots ready for medal winners, spectators
Vietnamese young people play their part in reviving culture
Vietnam's daily stock trading value ranks second in ASEAN
Phu Quoc airport to be invested to serve 10 million passengers a year
Sustainable management of peatland resources in U Minh Ha National Park
More trains operated to serve high demand during April 30-May Day holidays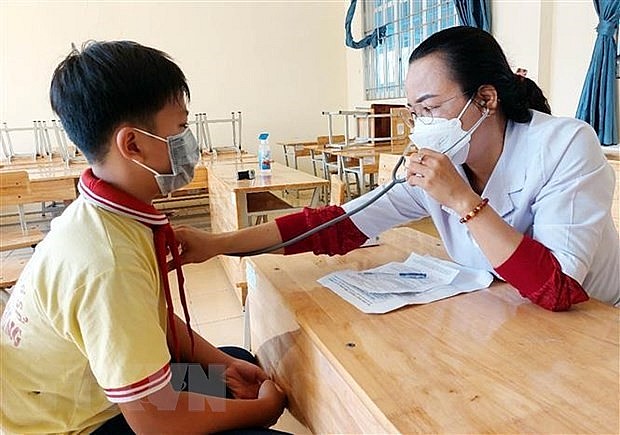 An under-12 student has his health checked-up before getting vaccinated against Covid-19. Photo: VNA
Vietnam records another 10,365 Covid-19 cases
A total 10,365 new cases of Covid-19 were recorded in the past 24 hours to 4pm April 23, down 793 cases from the previous day, according to the Ministry of Health.
Hanoi continued to report the highest number of infections on the day with 978 cases, followed by Phu Tho with 753 and Bac Giang with 556.
The national tally reached 10,546,941, cited VNA.
Also on April 23, 2,229 patients were given the all clear, bringing the total to 9,081,494.
An additional six deaths were recorded in the past 24 hours, taking the total fatalities to 43,004, equal to 0.4 percent of the total caseload.
By April 22, the country had injected 211,992,855 doses of Covid-19 vaccines.
Vietnam, China hold border defense friendship exchange 2022
General Phan Van Giang, Minister of National Defense of Vietnam, and Senior Lieutenant General Wei Fenghe, Minister of National Defence of China, co-hosted the seventh border defense friendship exchange on April 23.
The exchange took place in Quang Hoa district of Cao Bang province (Vietnam) and Longzhou district of Guangxi province (China).
During their talks in Longzhou district, Gen. Giang affirmed that the Party, State, Government and People's Army of Vietnam always attach great importance to consolidating the traditional friendship and promoting the Comprehensive Strategic Cooperative Partnership with China, considering this as one of the top priority in the country's foreign policy.
Minister Giang thanked the Chinese Ministry of National Defense for its support and donation of Covid-19 vaccines to the Vietnamese Ministry of National Defense.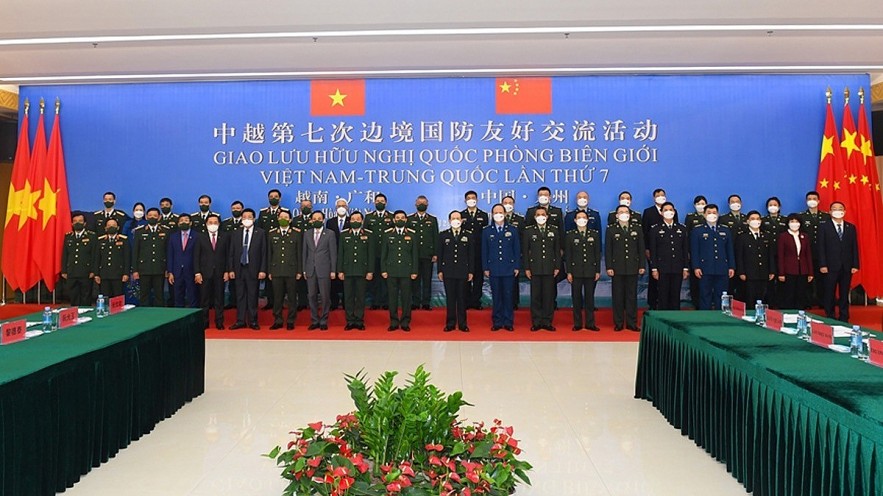 Vietnamese and Chinese defense officials pose for a group photo before their talks. Photo: qdnd.vn
Welcoming the Vietnamese delegation, Sen. Lieut. Gen. Wei noted both sides have always cultivated and built a good relationship since they held the sixth border defense friendship exchange a year ago. He said he believes these activities will definitely further strengthen the China-Vietnam friendship and solidarity, increase political trust, foster practical cooperation in order to build a peaceful and stable border, and bring happiness to the two peoples.
The two sides shared the view that despite the negative impact caused by the Covid-19 pandemic, defense cooperation between Vietnam and China over the past time has been maintained through flexible and effective forms of exchange. Notably, they successfully organized a joint military medical exercise in December 2021 in Mong Cai city, Quang Ninh province (Vietnam), according to VOV.
The two sides agreed to promote the exchange of delegations at all levels and effectively implement existing cooperation mechanisms, including the Defense Strategy Dialogue at the deputy ministerial level and the annual border defense friendship exchange, as well as cooperation between armed forces and academies.
They will continue to coordinate closely in strictly implementing land border agreements, strictly protecting the border, combating crime, illegal entry and exit, and preventing epidemics from spreading across the border.
They also consented to continue to coordinate and support each other at multilateral military and defense forums.
The two sides frankly discussed and agreed to solve outstanding issues, in the common interests of the two countries, by peaceful means and on the basis of international law.
In the afternoon, Minister Wei led a Chinese delegation to hold a similar exchange in Quang Hoa district of Cao Bang province.
Vietnam Airlines Group adds over 50,000 seats for upcoming holidays
To serve the increasing travel demand during the holidays of National Reunification Day (April 30) and May Day (May 1), Vietnam Airlines Group, including Vietnam Airlines, Pacific Airlines and VASCO, will increase the number of its flights.
From April 24 to May 4, the group will focus on increasing the load on eight key tourist routes including: Hanoi and Hue, Da Nang, Cam Ranh, Da Lat, Phu Quoc; and between Ho Chi Minh City and Da Nang, Cam Ranh and Phu Quoc.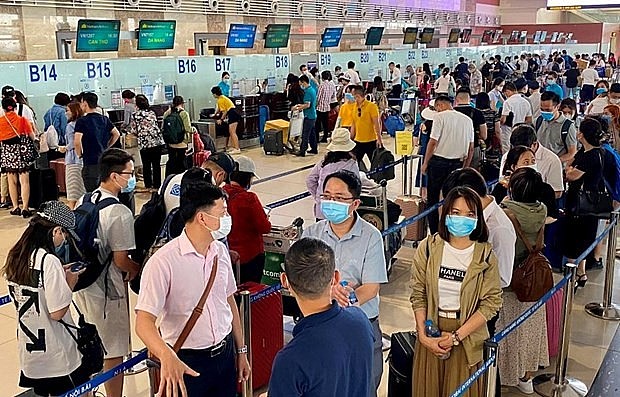 Passengers check in at Noi Bai international airport. Photo: VNA
A representative of Vietnam Airlines said that the strongest increase can be seen on the Ho Chi Minh City - Da Nang route with the addition of 46 flights, followed by the Hanoi - Da Nang with 40, and the Hanoi - Nha Trang with 38.
With this load increase, the group has added more than 255 flights, equivalent to over 50,000 seats, bringing the total supply of its entire domestic and international networks to nearly 2,700 flights and more than 524,000 seats in the above-mentioned period, reported VNA.
Earlier on March 29, Vietnam Airlines Group announced it will provide about 450,000 seats within seven days from April 28 to May 4. Of the amount, more than 395,000 seats, up 10 percent from 2019, on 2,000 flights will be offered by Vietnam Airlines and VASCO.
National flag carrier Vietnam Airlines has increased the operation frequency across its entire international flight network in a bid to serve the travel demand. It has also expanded the network with new routes, including those connecting Hanoi, Ho Chi Minh City to New Delhi; and Da Nang, Nha Trang and Phu Quoc to Singapore.
It is currently operating over 120 routes, connecting more than 22 provinces and cities across Vietnam and more than 30 destinations in Asia, Europe, Australia and the Americas.
60,000 SEA Games mascots ready for medal winners, spectators
A total of 60,000 stuffed animals of Sao La, the mascot of the 31st Southeast Asian Games (SEA Games 31), have been produced as gifts for fans and athletes who win medals at the games, according to the organizing board.
The regional games is scheduled to get underway in Hanoi and 11 neighboring localities from May 12 to May 23.
Photo: VOV
The sporting event, the largest of its kind in Southeast Asia, will attract more than 10,000 athletes and coaches from 10 ASEAN countries and Timor Leste to compete across 40 sports involving 526 events.
Sao La, a precious and rare primate species in Vietnam, has been selected as the official mascot of the SEA Games 31. The mascot shows the spirit of protecting nature, the spirit of sports, the spirit of the SEA Games, along with the bond between Vietnamese people and international friends, cited VOV.
Sao La stuffed animals and other SEA Games souvenirs will be made available shortly at souvenir stalls at various competition venues and airports in Vietnam.
Vietnamese young people play their part in reviving culture
Several agencies have recently signed an agreement to create a forum entitled "Young people with cultural revival in the digital age", aiming to raise the youth's understanding about the role of culture, especially in the digital space.
The activity aims to realize the Vietnamese cultural development strategy until 2030.
The forum will include major topics such as enhancing awareness on the role of the cultural industry, the depiction of Vietnamese culture on digital platforms, the internet space, and young people's mission to safeguard the cultural frontier.
The topics will be discussed in the form of talk shows to be aired on Vietnam Television with the participation of Youth Union members, experts, regulators, scientists, artists, businesspeople, intellectuals and cultural item producers.
Such activities will act as an effective policy advisory channel so as to create a healthy cultural development environment in the spirit of the 13th Party Congress's resolution and the National Culture Conference in November 2021.
Digital technology has brought about many benefits to cultural consumers, especially young people, but it also comes with negative consequences. If cultural junk is not cleaned up, it will distort the fine cultural values that our forefathers have cultivated and safeguarded for today and future generations.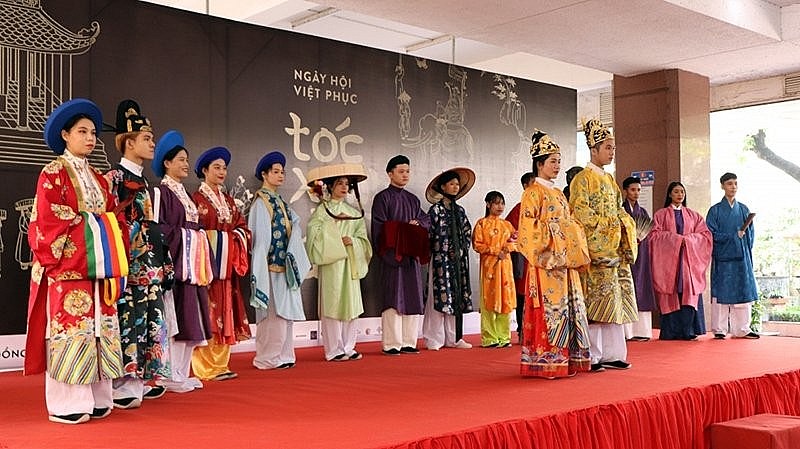 Young people in traditional Vietnamese attires. Photo: Tan Dong
The cultural revival movement initiated by the Vietnamese Party and State is an enormous challenge. Through the forum, the overall picture of Vietnam culture will be looked at more thoroughly. It is also easier to identify the position of Vietnamese culture on the global map, from which urgent solutions will be set out to realize the goal of making the cultural industry contribute 7% of GDP by 2030, cited NDO.
Furthermore, it is highly necessary to identify the importance and impact of the online space and cross-border services in protecting culture in the new period, helping to shape and develop the lifestyle and character of young people in the technological age.
Culture is the essence of a nation and the passport to affirm the face, image and capability of a nation on the path of international integration. The cultural revival movement must always start from the central factor of humans, especially that of young people because they have the greatest vitality in creating and enjoying culture and their behaviors have a profound influence on the community's cultural behaviors.
The "Young people with cultural revival in the digital age" forum is the opportunity for young people to raise their voices in the building, development and revival of Vietnamese culture as it faces both positive and negative impacts. The results of this forum will contribute to the perfection of laws on culture and help to safeguard and promote cultural development in the right direction in the digital age.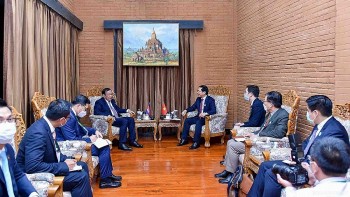 Economy
Foreign Minister Bui Thanh Son has bilateral meetings with FM of Cambodia, Thailand and Laos, seeking to promote relations and cooperation within the MLC framework for sustainable development in the region and beyond.