Vietnam News Today (Apr. 21): Domestic Tourism Market Heats Up Ahead of Tour-day Break
Vietnam News Today (Apr. 21): Covid-19: More than 13,200 new infections confirmed; Domestic tourism market heats up ahead of a four-day break; School attendance reaches 99.57 percent post-Covid-19; SEA Games specimen medals revealed.
Vietnam News Today (Apr. 21) notable headlines
Covid-19: More than 13,200 new infections confirmed
Domestic tourism market heats up ahead of a four-day break
School attendance reaches 99.57 percent post-Covid-19
SEA Games specimen medals revealed
Vietnam's daily stock trading value ranks second in ASEAN
Vietnam among 10 countries with largest number of smartphone users
Vietnam considered a pillar in India's 'Act East' policy
Da Nang presents 50,000 SIM cards to foreign tourists
Vietnam's Top 7 Impressions 2022 voting program launched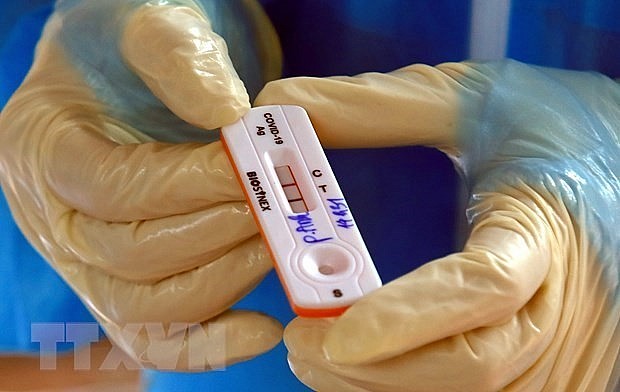 Illustrative image. Photo: VNA
Covid-19: More than 13,200 new infections confirmed
Vietnam on April 20 announced 13,271 new infections of Covid-19, down 229 cases from the previous day.
In Hanoi, 1,039 new infections were detected, with the capital still having the most cases nationwide.
It was followed by the northern provinces of Phu Tho and Bac Giang, with 880 and 586 cases, respectively.
The national tally has now reached 10,502,590 since the pandemic began.
As many as 2,540 patients were given the all-clear on the day, bringing the total number of recoveries to 9,068,234 so far.
There are currently 896 patients in serious conditions, cited VNA.
Seven coronavirus-related deaths were recorded on the day, taking the total number of fatalities to 42,982, or 0.4 percent of the total caseload.
The country has administered 210,107,957 doses of Covid-19 vaccines so far, including more than 192.76 million for adults, more than 17.25 million for those aged 12-17, and 88.820 for children aged 5 to 11.
Domestic tourism market heats up ahead of a four-day break
The local tourism market is beginning to heat up in tandem with rising temperatures as early summer arrives and people prepare for four days off work, starting from April 30.
The upcoming four-day holiday marking National Reunification Day on April 30 and May Day on May 1 is considered to be a golden tourism break for Vietnamese people after months of fighting the Covid-19 pandemic.
Tour bookings skyrocket
Almost all high-end hotels and lodging facilities located in popular tourist destinations in Phu Quoc, Nha Trang, Da Lat, Da Nang, Hoi An, Ha Long, and Sa Pa are now fully booked.
A representative of MTV Travel said the number of bookings for the four-day break has seen a six-fold increase compared to March. Indeed, with room vacancies in Phu Quoc, Ha Long, and Sa Pa running out, holiday-makers still have the chance to book rooms through online sales channels and agents, although typically at a higher price.
Surveying a number of online booking platforms, such as booking.com and Agoda.com, the occupancy rate of four or five star hotels in Phu Quoc, like Vinpearl Discovery, The Shells Resort, and Fusion Phu Quoc, has reached between 90% to 96%. Similarly, high-end hotels along Nha Trang beach in Khanh Hoa such as Sunset Beach Resort and Ocean Bay Resort also have an occupancy rate of over 90%, according to VOV.
According to details provided by travel firms, holiday-makers who have yet to decide on a destination can almost only find mid-range hotels, guesthouses, or homestays, with room prices ranging from VND400,000 to more than VND1 million per night.
Illustrative image.
Airfares rise on high demand
High demand for travel for the upcoming holiday has fueled the price of airfare, with all airlines moving to increase prices.
On the website of major airlines, Vietnam Airlines and Vietjet Air offer VND 9.9 million and VND7.5 million respectively for a round-trip between Hanoi and Phu Quoc from April 29 to May 3. Elsewhere, budget airline Bamboo Airways announces the lowest airfare of roughly VND7.2 million for a round trip on the same route.
If travelers wish to fly from Hanoi and Ho Chi Minh City to famous tourist destinations, such as Phu Quoc, Nha Trang, Quy Nhon, Da Nang, and Hue, they must spend approximately VND5 million on a one-way ticket, including tax and fee.
A representative of an airline ticket agent noted that the price of domestic flights during the upcoming holiday is three times higher than on weekdays due to high travel demand.
He revealed it's a normal occurrence that domestic airlines hike airfares during the peak summer season, starting from April. However, due to the impact of the Covid-19 pandemic, such a hike this year has caused plenty of difficulties for passengers.
School attendance reaches 99.57 percent post-Covid-19
As of April 18, school attendance had reached 99.57 percent after all schools were reopened post-Covid-19, data from the Ministry of Education and Training shows.
All cities and provinces have developed scenarios and sufficiently prepared for the school reopening to ensure educational quality and the students' safety, reported VNA.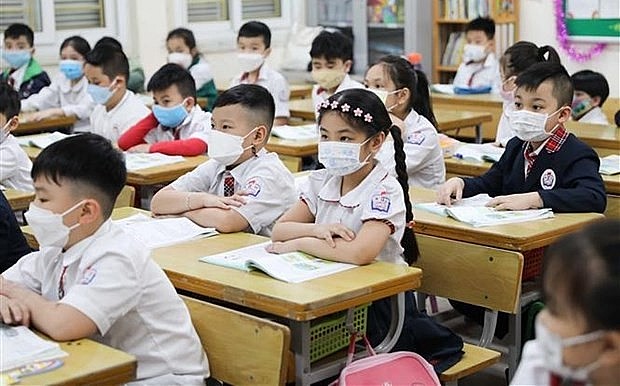 Illustrative photo. Photo: VNA
The ministry has requested schools to flexibly offer catch-up lessons that fit each specific group of students and the local pandemic risk level.
Schools have also been urged to make the most of the time when the students are at school to provide core lessons to avoid putting more pressure on them.
SEA Games specimen medals revealed
The organizing board of the upcoming SEA Games 31 in Vietnam has revealed three specimen medals to be presented to winners of competitions at the games.
The medal has one side featuring Sao La, the mascot of the Games, and the other side embossed with the logo of the SEA Games.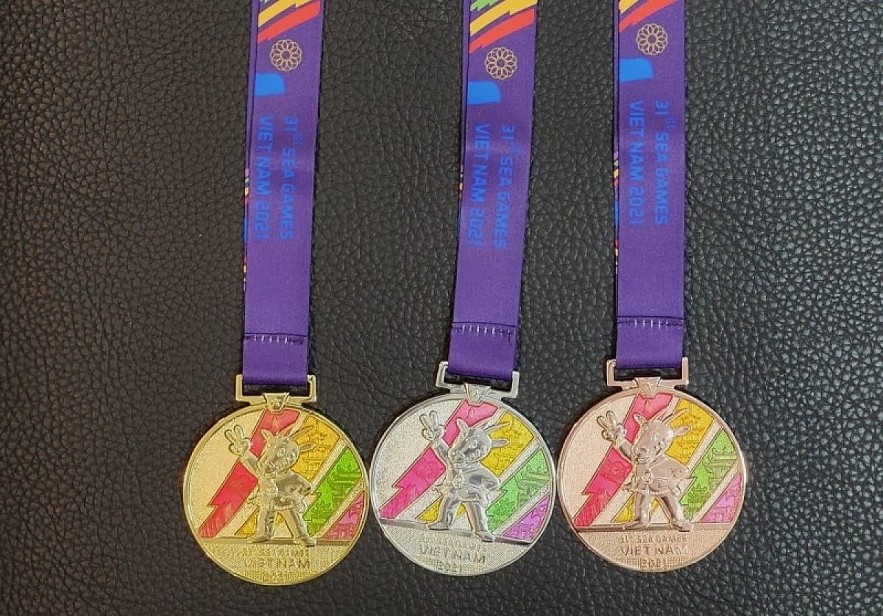 Three specimen medals for SEA Games 31. Photo: qdnd.vn
The gold medal will be made of 24-karat gold plated material. To maintain the durability of the products, each medal will be plated with three layers and covered with an extra layer on the outside, whilst the ribbons used to hold the medals will be made of woven fabrics, cited VOV.
According to the organizing board, the production process of all medals is scheduled to be completed by late April. There will be roughly 4,000 medals sets to be awarded to athletes at the regional largest sporting event.
The SEA Games 31 is scheduled to get underway from May 12 to May 23 in Hanoi and 11 neighboring localities. The event will see approximately 10,000 athletes and coaches from across Southeast Asia compete in 40 sports.
Vietnam's daily stock trading value ranks second in ASEAN
The average daily trading value on Vietnam's stock market has reached more than 30.84 trillion VND (US$1.34 billion) per session so far this year, up 15.9 percent from the last year's figure and now the second largest in ASEAN, only after Thailand, according to the Ministry of Finance.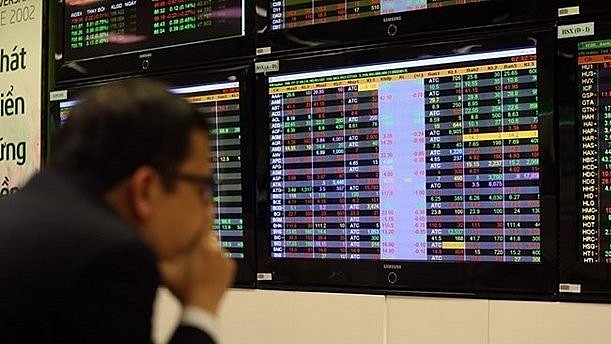 Photo: NDO
By the end of March, the market size had risen by 3.37 percent from last year to close to 1.8 trillion VND, equivalent to 21.4 percent of the GDP. There are 768 securities and fund certificates listed on the Hanoi Stock Exchange (HNX) and the Ho Chi Minh City Stock Exchange (HOSE), while 883 others are listed on the Unlisted Public Company Market (UPCOM).
The number of securities accounts is on a rise, with more than 676,600 newly opened in the first quarter of 2022, almost equal to the 2021 figure. Total accounts have exceeded 4.98 million so far, an increase of 15.7 percent compared to the end of last year, cited NDO.
However, shares have been suffering decline over the last several weeks because of negative rumors in the real estate and securities sectors coupled with rising political tensions globally. The benchmark VN-Index closed at 1,406.45 points on April 19, 6.1 percent lower than last year's end. Similar trends have been observed elsewhere worldwide, notably in major markets like the US, Germany, the Republic of Korea, France, and Japan.
The Ministry of Finance has requested the State Securities Commission (SSC) to accelerate the improvement of related regulatory framework and finalize the strategy for the development of the stock market by 2030 to further enhance its transparency and promote stable growth.
The SSC has also been tasked to increase inspection, get tough on violators, and foster restructuring in securities and fund management firms.