Vietnam News Today (April 12) top headlines:
Romania confident of stronger relations with Vietnam
President lauds Da Nang, Quang Nam for achievements
Vietnam calls for int'l efforts to stop violence in Myanmar
Viet Nam extends condolences to Queen Elizabeth II over death of Prince Philip
Vice NA Chairman pays Chol Chnam Thmay visit to Soc Trang
Da Nang to develop international finance centre
Russian expert values Vietnam's role in Eurasia integration
Lao students celebrate Bunpimay Festival in Vietnam
Education Ministry officially approves online training
Japan presents medical equipment to Hue Central Hospital
COVID-19: Vietnam reports three imported cases on April 12 morning
Politburo member Truong Thi Mai presents gifts to policy beneficiaries in Tuyen Quang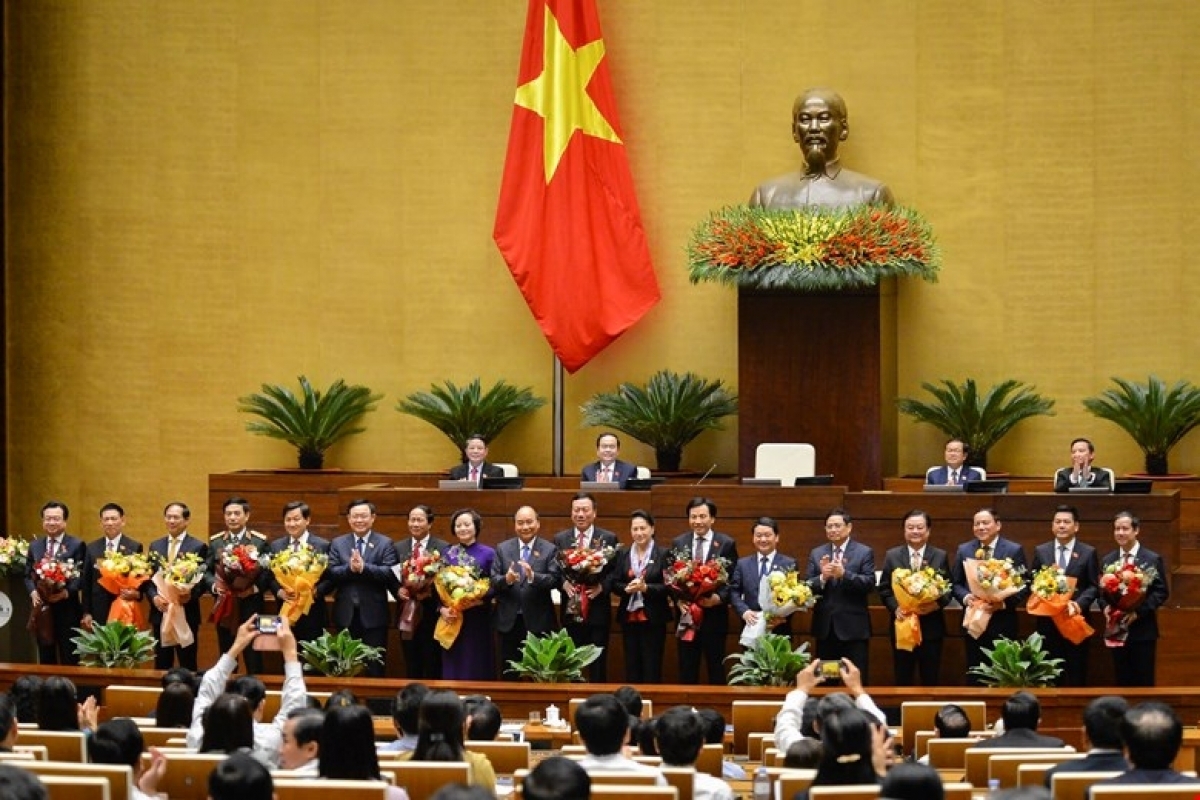 Romania confident of stronger relations with Vietnam
Major media agencies in Romania have recently highlighted Vietnam's rising position internationally in recent times and expressed their belief in the stronger development of bilateral relations under the new Vietnamese leadership.
Romanian News Agency Agerpres and other online newspapers such as Romaniatv.net, Republicatv.ro, Proarges.ro, Digi24.ro, Stirileprotv.ro reported on the results of the freshly concluded Vietnamese National Assembly session that elected a new leadership.
The agencies noted during the past five years under the leadership of the Communist Party of Vietnam, the government has made sound performance to help the nation surmount numerous difficulties and obtain internationally-recognised achievements.
Among the achievements, they said Vietnam have successfully brought under control three coronavirus outbreaks in a timely manner thanks to drastic measures put in place. It has also maintained major economic balances, with GDP growth hitting 2.9% last year despite global contraction.
According to the local media outlets, the traditional friendship and cooperative relations between Romania and Vietnam have developed strongly in various areas over the past 70 years of their diplomacy. Notably, Vietnam is one of Romania's major economic partners in Asia and ASEAN, VOV reported.
The outlets expressed their belief the new leadership will continue to elevate Vietnam's profile globally, while promoting fruitful cooperation with Romania in the coming years.
President lauds Da Nang, Quang Nam for achievements
President Nguyen Xuan Phuc lauded the central city of Da Nang and the neighbouring province of Quang Nam for their achievements over the past years during a working session with their leaders on April 10.
He stressed that due to the COVID-19 pandemic last year, Quang Nam and Da Nang's economies suffered negative growth. But in the first quarter this year, they achieved outstanding growth.
Da Nang attracted a number of investors and is working on building a financial hub. Meanwhile, Quang Nam dealt with difficulties following disasters and flooding, and is focusing on tourism and services.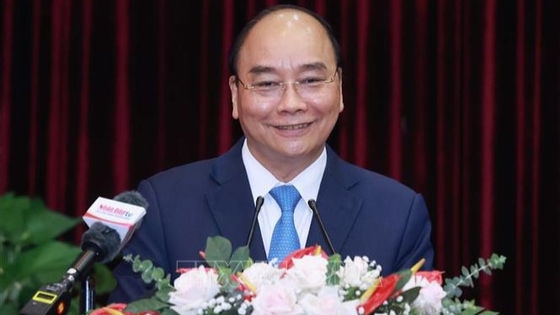 President Nguyen Xuan Phuc speaking at the event (Photo: VNA)
The President suggested the two localities seek pillar fields as Da Nang is a hub in the central region and Da Nang – Quang Nam is a growth locomotive in the region and an important driving force of the country.
He asked them to become worth-living localities and join hands to build a powerful country. Following the COVID-19 pandemic, they should strive to become safe tourism paradises.
Their leaders were urged to fix shortcomings, step up reform, rearrange a streamlined apparatus while ensuring effective vaccinations, NDO said.
NA Chairman pays working trip to central Nghe An province
National Assembly Chairman Vuong Dinh Hue attended a ceremony in central Nghe An province on April 11 where the Ministry of Health handed over a decision recognising the Nghe An General Friendship Hospital as an end-line hospital in medical checkup and treatment in the north central region.
As reported by NDO, handing over the decision to the hospital, Minister of Health Nguyen Thanh Long said that as a tertiary referral hospital providing health check-up and treatment services, the Nghe An General Friendship Hospital will play a stronger role in the development of the health sector of Nghe An province in particular and the whole north central region in general.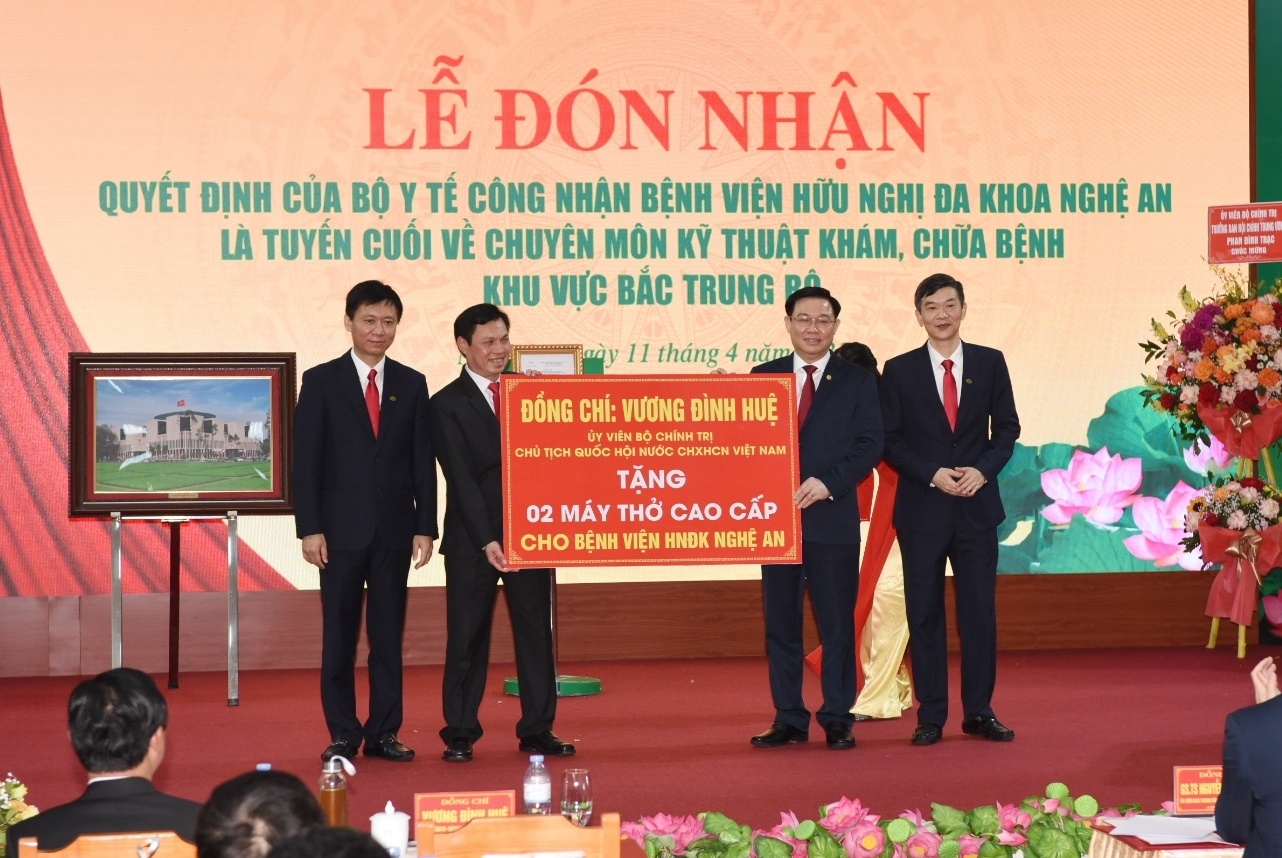 National Assembly Chairman Vuong Dinh Hue presents two ventilators to Nghe An General Friendship Hospital (Photo: NDO)
Long expressed his hope that the quality of services provided by the hospital will continue to be improved, dealing with the overload and better meeting the demand of residents in Nghe An as well as neighbouring provinces and Laos.
The minister asked the hospital to become a special-level hospital in the next five years.
The recognition of the Nghe An General Friendship Hospital as an end-line hospital aims to realise this goal, he added.
Vietnam calls for int'l efforts to stop violence in Myanmar
A Vietnamese diplomat to the United Nations has called on the international community to stop violence and promote dialogue in Myanmar.
Addressing an Arria formular meeting on Myanmar at the UN Security Council on April 9, Ambassador Dang Dinh Quy, head of the Vietnamese Delegation to the UN, stressed the burning need to ensure life, security and safety for all and provide immediate humanitarian assistance without obstruction for those in need, especially disadvantaged groups in society.
He urged Myanmar's stakeholders to refrain from acts of violence, conduct dialogue and reconciliation according to the will and aspirations of the people, for peace and stability in the region.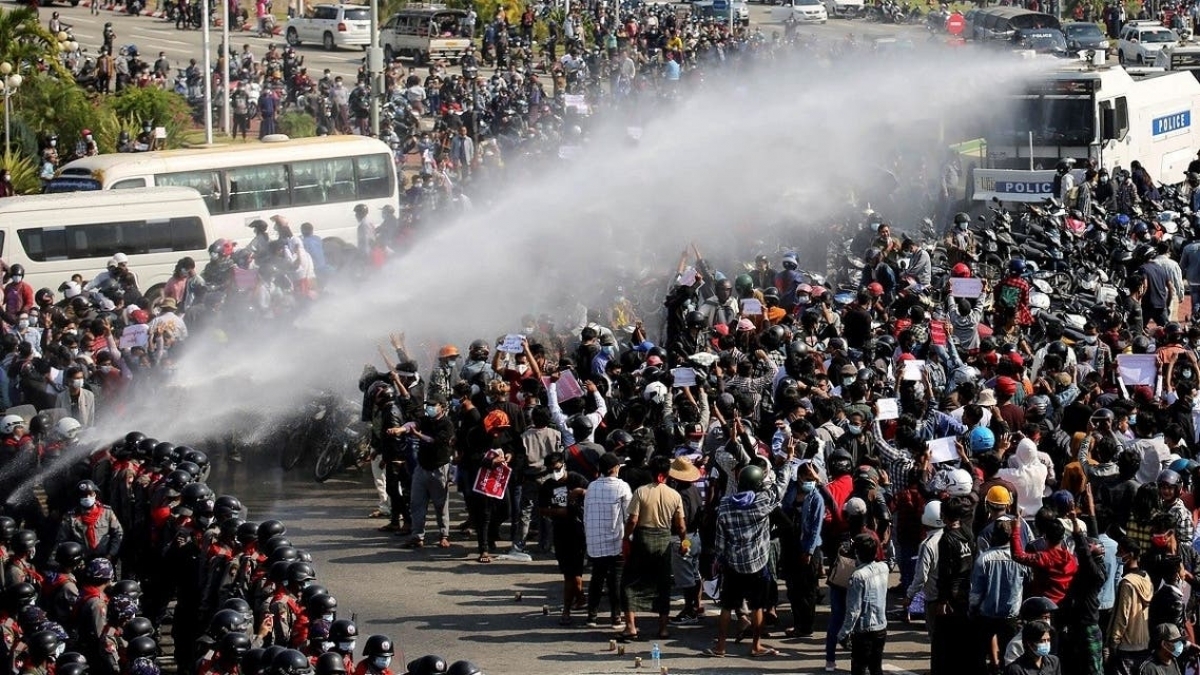 The diplomat said that the international community should make a constructive contribution to help Myanmar prevent violence, promote an environment conducive to dialogue and reconciliation, and respect the principles of Myanmar's independence, sovereignty, territorial integrity and unity. He voiced support for the role of the UN Secretary-General's Special Envoy on Myanmar and called on the parties to facilitate the envoy's visit to Myanmar.
The ambassador affirmed Myanmar is a member state of ASEAN and the regional bloc stays ready to help the country in a peaceful and constructive way through relevant mechanisms. He requested on the international community to support ASEAN's efforts and consult its stance regarding the issue at UNSC meetings.
COVID-19: Vietnam reports three imported cases on April 12 morning
The country confirmed three fresh imported cases of COVID-19 on April 12 morning, raising the overall number of coronavirus infections to 2,696 since the virus hit the nation in January 2020, according to the Ministry of Health.
Among the latest cases, two were found in Hanoi and the remainder in the northern province of Thai Nguyen. They all returned from Japan and were put into isolation immediately upon arrival. The three new patients are now receiving treatment at local hospitals after they were confirmed to carry the SARS-CoV-2 virus.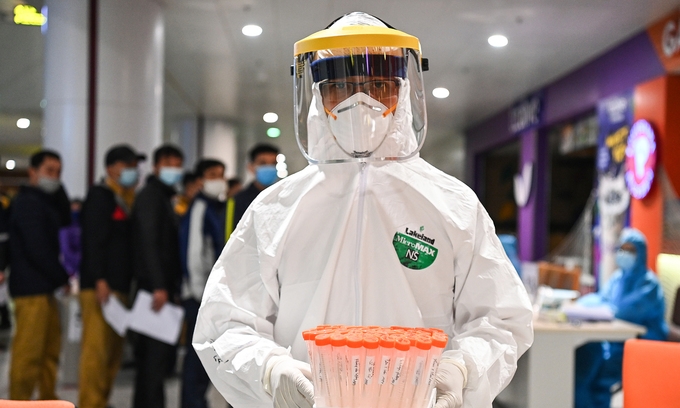 (Photo: VNE)
So far the country recorded a total of 1,603 local infections and 1,093 imported ones.
2,429 out of the total positive cases have been declared to be clear of the SARS-CoV-2 virus, and the COVID-19 related death toll stays unchanged at 35.
Among those still under treatment, a total of 50 have tested negative for anti-COVID- groups at least once, according to VOV.
Jasmine Le