Vietnam News Today (Aug. 1): Vietnam Enjoys Robust Export Growth to Several Major Markets
Vietnam News Today (Aug. 1): Vietnam logs 1,478 Covid-19 cases on July 31; Vietnam enjoys robust export growth to several major markets; HCM City seeks to boost tourism growth after Covid-19; Para Games begins, Vietnam aim for 40 gold.
Vietnam News Today (Aug. 1) notable headlines
Vietnam logs 1,478 Covid-19 cases on July 31
Vietnam enjoys robust export growth to several major markets
HCM City seeks to boost tourism growth after Covid-19
Para Games begins, Vietnam aim for 40 gold
Big step for Vietnamese lychees towards US market
Lan Ha Bay among most beautiful places to visit in Southeast Asia
Vietnam enjoys two-fold growth in agricultural trade surplus
Vietnam attends 8th World Cities Summit
Big step for Vietnamese fruits towards US market
Covid-19 testing. Photo: VNA
Vietnam logs 1,478 Covid-19 cases on July 31
A total 1,478 Covid-19 cases were logged on July 31, raising the national caseload to 10,779,632, according to the Ministry of Health.
A total 7,877 Covid-19 patients were given the all clear on the day, bringing the number of recoveries so far to 9,913,396. There are 50 patients in serious conditions needing breathing support, cited VNA.
No death from Covid-19 was recorded in the past 24 hours. The total fatalities stood at 43,093.
On July 30, 358,429 doses of vaccines were administered, raising the total number of doses of Covid-19 vaccines injected to 245,757,127.
Vietnam enjoys robust export growth to several major markets
Vietnam recorded high export growth to the United States, the EU, and the Republic of Korea (RoK) during the past seven months of the year, according to data compiled by the General Statistics Office (GSO).
Largely due to the driving force of the EU-Vietnam Free Trade Agreement (EVFTA), the country racked up a trade surplus of US$18.7 billion with the EU, representing a year-on-year rise of 41.5%. Elsewhere, exports to the US market alone surpassed the US$67 billion mark.
In contrast, the country's trade deficit with China and the RoK surged by 21.6% and 30.3% to hit US$42.2 billion and US$23.5 billion, respectively.
Furthermore, the trade deficit with ASEAN and Japanese market recorded a decline of 8.9% and 13.9% to US$7.9 billion and US$769 million, respectively, according to VOV.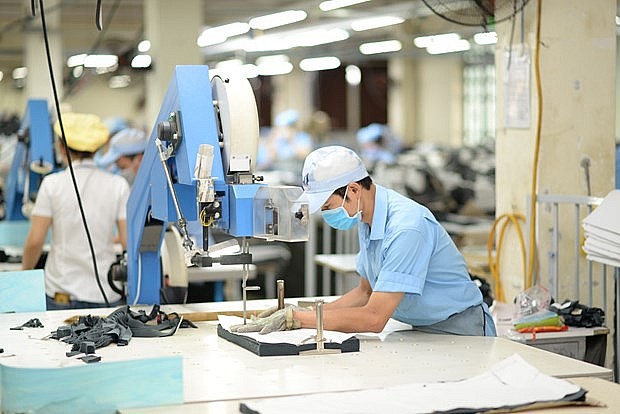 Photo: VNP
The total import and export turnover of goods throughout the seven-month period stood at an estimated US$431.94 billion, up 14.8% against the same period from last year, of which exports and imports increased by 16.1% and 13.6%, respectively.
The domestic economic sector raked in US$56.99 billion from exports, posting a rise of 17% and making up 26.3% of total export turnover, while the FDI sector grossed US$159.36 billion from exports, up 15.7%, accounting for 73.7%.
There are a total of 30 commodity items with an export turnover exceeding US$1 billion, accounting for 91.9% of the total export turnover.
Of the figure, there are five export items earning a turnover of over US$10 billion, including phones and components, electronics, computers and components, machinery, equipment, tools and spare parts, garments and textiles, as well as footwear.
HCM City seeks to boost tourism growth after Covid-19
Ho Chi Minh City authorities have applied a number of measures to boost its tourism growth after the Covid-19 pandemic, including the diversification of products and services by developing those with high potential such as farm and MICE.
Being aware of tourists' rising demand for eco-tourism activities, they have launched a number of sites of this kind, including Suoi Tien Farm in Thu Duc city, which provides visitors with unique experience of southern fruit farms and various entertainment services.
The 5-hectare farm is located in Suoi Tien Cultural Tourism Site and comprises more than 150 modern entertainment facilities. Tourists can directly engage in farming activities, harvesting and enjoying fruits right at the farm.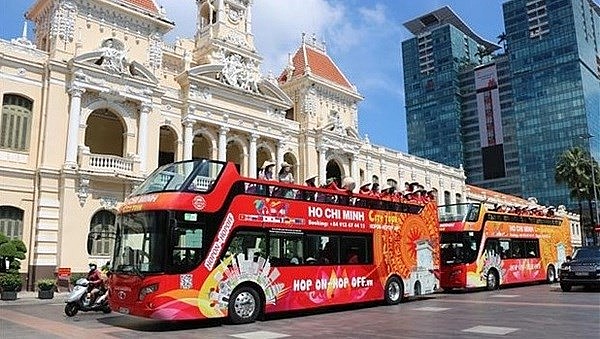 Tourists in Ho Chi Minh City. Photo: VNA
Meanwhile, they are focusing on boosting MICE tourism development by coordinating with ministries and sectors at home, Vietnamese representative offices abroad and international partners to lure more tourists to the city.
In July, the city welcomed 460 Indian tourists who took a MICE tour to the city.
The visitors are leaders, staff, customers and partners of VOLVO – EICHER, a company specialising in truck and bus manufacturing of India. They stayed in the city from July 15-18 and took a number of tourism, shopping and entertainment activities, reported VNA.
From July 18 to 22, Saigontourist Travel Service Company (Saigontourist) served a group of Australian nationals in the form of river tourism, the first of its kind in two years.
The country's economic hub houses many businesses with demand for MICE tourism as they seek to combine business and pleasure to thank employees, customers and partners after the difficult pandemic period.
Vietravel Company said since the start of this year, it has served 300 MICE groups with over 20,000 people.
Saigontourist Company has organised MICE tours for 14,000 people.
"MICE businesses have boomed. After the Lunar New Year holiday in February, Saigontourist has organised big tours for businesses to hold review meetings and ceremonies for awarding employees. In March, we had a record of 750 groups on the Da Nang-Hoi An tour," said Hoang Thuy Linh, deputy director of marketing and IT at Saigontourist.
Data from the HCM City Statistics Office shows that foreign tourists to the city in the first half of 2022 reached 477,982 arrivals, an increase of 100% over the same period last year. In the period, about 11 million domestic visitors came to the city, up 43.1% year on year.
HCM City Department of Tourism announced that total tourism revenue in the first half of 2022 was VND49.7 billion (nearly US$2.2 billion), up 29.9% compared to the same period last year, reaching 73.5% of the year's target.
Para Games begins, Vietnam aim for 40 gold
The ASEAN Para Games (APG) raised its curtain on July 30 with a vibrant opening ceremony that included a spectacular fireworks display and exciting cultural and musical performances in Surakarta City, Indonesia.
The Games were officially opened by Indonesian Vice President Ma'ruf Amin, paving the way for an exciting seven days of action until the closing ceremony on August 6.
Photo: congly.vn
The cauldron was lit by Paralympic shooter Hanik Puji Hastuti after Indonesian ASEAN Para Games Organising Committee head Gibran Rakabuming Raka delivered his opening address.
The hosts welcomed almost 1,200 athletes to the 11th APG along with some 15,000 spectators at the 20,000-capacity multi-purpose Manahan Stadium who were treated to amazing live performances by famous comedian Dodit Mulyanto and Central Java Governor Ganjar Pranowo.
They also enjoyed a magnificent fireworks display and the finale was a highly-entertaining performance by popular singer Nella Kharisma, cited VOV.
The Vietnamese athletes came to the regional biennial sport meet with 153 members including 120 athletes.
They set a target of 40 gold medals, as many as five years ago in the ninth edition in Malaysia. It is expected that the result will help them finish in the top group.
Indonesia organizes 14 sports in the 11th APG and Vietnam will take part in eight.
The first athletes to start their journey are badminton players in team events and masters in standard chess.
The 2019 edition in the Philippines was initially postponed for financial reasons before being cancelled due to the Covid-19 pandemic. Vietnam also cited the pandemic in cancelling the Games last year. Indonesia stepped in to host the event for the second time after the 2011 edition, which was also held in Surakarta.
Big step for Vietnamese lychees towards US market
First lychees of northern Hai Duong and Bac Giang provinces have been shipped by sea to the US to be sold at Safeway and Albersons - two supermarket chains with the largest network on the West Coast of the US.
This is a result of the efforts by the Vietnamese Consulate General in San Francisco in bringing Vietnamese products to foreign distribution systems that started from early this year, cited WVR.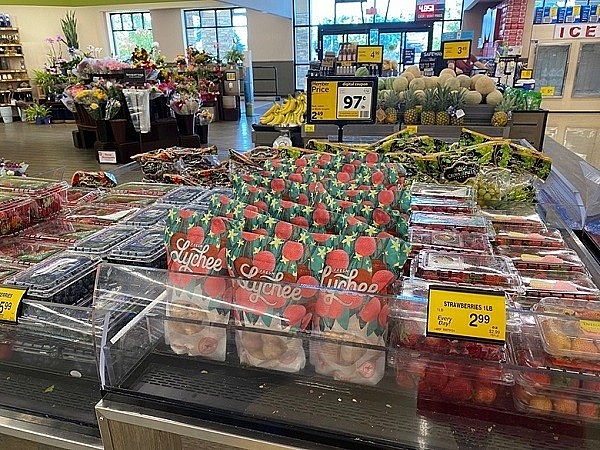 Vietnamese lychees penetrate into US market. Photo: T.V
According to the Asia-America Market Department under the Ministry of Industry and Trade, this is a giant step forward in promoting the sale of Vietnamese fruits in general and lychees in particular in the US market, as the majority of Vietnamese fruits have been sold in only small markets and supermarkets to serve Asian consumers.
A representative from US Dragonberry Produce, the distributor of Vietnamese lychees in the US, said that two other containers of lychees are also on their way to the US. The fruit will continue to be sold in the two supermarket chains with a price tag of US$4.99 for each bag of 430 grams.
The representative said that the firm has taken steps to introduce the fruit to local partners and consumers.
It piloted the marketing of Vietnamese lychees in early May during the San Francisco trade, investment and tourism promotion conference which was attended by Prime Minister Pham Minh Chinh. The company then imported lychees by air to sell in Los Angeles supermarkets.
The high air transport cost made Vietnamese lychees less competitive in the market. This is the reason why the export of lychees to the US has been modest while the fruit has been accepted in the market since 2014.
Therefore, Dragonberry decided to transport lychees by sea and succeeded, which is expected to strongly increase the export of Vietnamese lychees to the US in the time to come.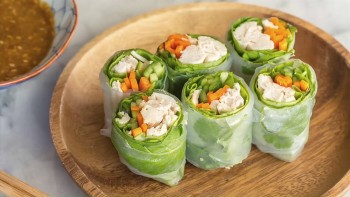 Travel
Rolls are a easy-to-make dish that is loved by many Vietnamese diners as well as Korean stars.