Vietnam News Today (Aug. 18): Omicron's Subvariant BA.2.74 Recorded in Vietnam
Vietnam News Today (Aug. 18): Vietnam records 2,814 new Covid-19 cases on August 17; Omicron's subvariant BA.2.74 recorded in Vietnam; Hanoi seeks cooperation with Singapore in urban management, social housing development; Vietnam makes firm steps in post-pandemic recovery.
Vietnam News Today (Aug. 18) notable headlines
Vietnam records 2,814 new Covid-19 cases on August 17
Omicron's subvariant BA.2.74 recorded in Vietnam
Hanoi seeks cooperation with Singapore in urban management, social housing development
Vietnam makes firm steps in post-pandemic recovery: expert
Relaxing visa policy to attract more foreign tourists: insiders
Vietnam Airlines resumes, increases frequency of several flights in September
Vietnam to make Apple Watch, MacBook for first time
Vietnam expects further healthcare cooperation with Japan, RoK
Vietnam reaffirms resolve to handle notorious graft scandals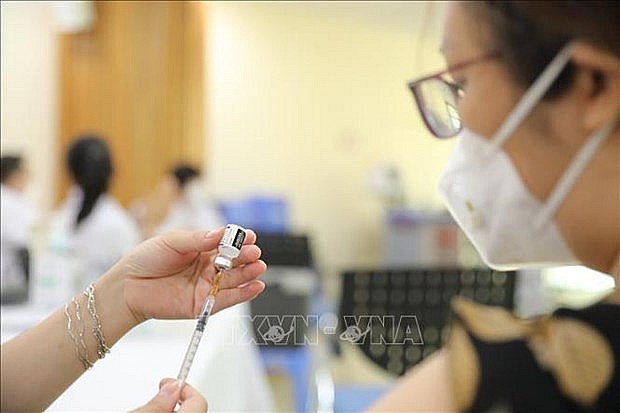 Ilustrative image. Photo: VNA
Vietnam records 2,814 new Covid-19 cases on August 17
Vietnam logged an additional 2,814 Covid-19 cases on August 17, raising the country's total caseload to 11,373,276, according to the Ministry of Health.
A total 5,298 Covid-19 patients were given the all clear on the day, bringing the number of recoveries so far to 10,040,338. There are 226 patients in serious conditions needing breathing support, cited VNA.
Three deaths from Covid-19 were recorded in the past 24 hours, lilting the total number of fatalities to 43,103.
On the day, 417,395 doses of Covid-19 vaccines were administered, raising the total number of shots given out to 252,097,399.
Omicron's subvariant BA.2.74 recorded in Vietnam
The General Department ò Preventive Medicine announced on August 17 that Vietnam has recorded BA.2.74, a new subvariant of the Omicron strain of the SARS-CoV-2 virus that causes Covid-19.
The new subvariant was first detected in a report dated August 8 by Bach Mai hospital, the general department said in its statement on August 17.
According to the general department, the Omicron variant is dominating in the world, with its subvariants BA.2.74, BA.2.75, and BA.2.76 likely to spread rapidly and cause infections to increase again.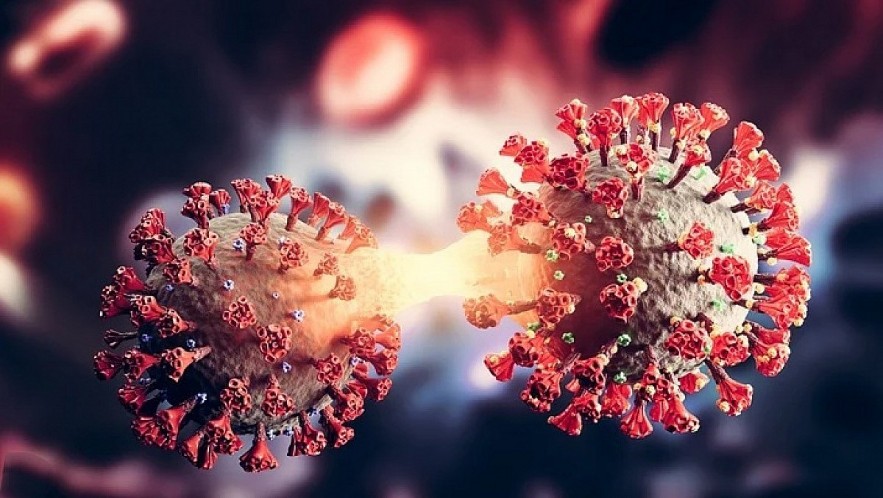 The subvariant BA.2.74 of the Omicron variant has been detected in Vietnam. (Illustrative image)
In Vietnam, through genome sequencing, epidemiologists have so far found Omicron's subvariants BA.4, BA.5, BA.2.12.1, and BA.2.74, according to VOV.
The general department also made a correction in a statement released on August 15, noting that subvariant BA.2.75 has yet to be detected in Vietnam.
The daily number of coronavirus infections has increased across the country over the past few days, exceeding 2,000. On August 16 alone, close to 3,000 cases were documented, a record high figure over the past three months.
The Ministry of Health suggested that people should stick to Covid-19 prevention and control measures, including wearing face masks, and disinfecting hands with sanitizer or soap, along with vaccinations.
Vietnam has so far logged more than 11 million cases since the start of the outbreak in January 2020, ranking 12 out of 227 countries and territories worldwide. Of the total, approximately 10 million patients have recovered and 43,100 patients have died of the virus and other underlying illnesses.
Hanoi seeks cooperation with Singapore in urban management, social housing development
Hanoi is seeking experience from Singapore in urban governance, social housing development and enhancing capacity for cadres, Chairman of municipal People's Committee Tran Sy Thanh has said.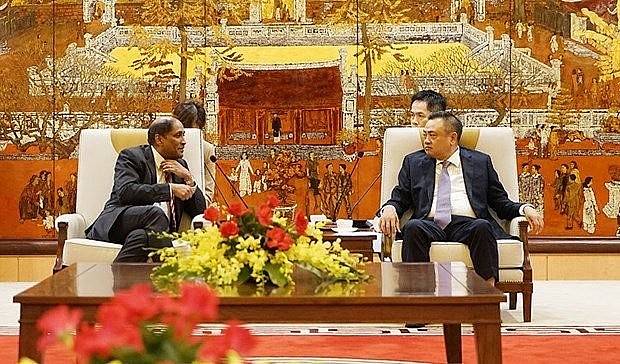 At the meeting. Photo: hanoimoi.com.vn
At a reception for Singapore's Ambassador to Vietnam Jaya Ratnam on August 16, Thanh appreciated Singapore's support to Vietnam in general and Hanoi in particular over the past time, saying he expected the two sides will take practical actions to mark the 50th founding anniversary of diplomatic ties and 10 years of strategic partnership in 2023.
Referring to the municipal resolution on the city's master planning for 2030, with a vision to 2045, the Hanoi official asked Singapore to provide support in terms of experts in this regard, reported NDO.
For his part, the ambassador said Singapore always attaches great importance to developing the partnership with Vietnam, affirming that he will try his best to strengthen the relationship between Hanoi and Singapore.
Ratnam also proposed that both sides further promote cooperation in education and create opportunities for their businesses to exchange, thereby taking the bilateral relationship to a new height.
Vietnam makes firm steps in post-pandemic recovery: expert
Vietnam has weathered the pandemic storm through a combination of strong yet flexible state leadership that won the confidence of citizens, rapid and nimble response, and innovative use of technology, said James Borton of the School of Advanced International Studies under Johns Hopkins University.
According to the expert, in early 2020 when the Covid-19 broke out, few expected Vietnam, a country with almost 100 million citizens and recognized as one of the youngest and fastest-growing economies in Southeast Asia, to emerge as a successful model for pandemic preparedness and response, cited VOV.
He quoted Prof. Vu Thanh Van of the Academy of Journalism and Communication in Hanoi as saying that effective policy communication and implementation led to public trust in the government and resulted in citizens' support for and compliance with the government's policy. The public trust in Vietnam's government during the pandemic is a good showcase for this relationship.
James Borton also wrote that at the start of 2021, Vietnam was struck by a fourth wave of infections, propelled by the highly transmissible Omicron variant, which resulted in mandated closures of non-essential businesses and food and beverage outlets and limits on transportation services in cities, including Hanoi and Ho Chi Minh City. Despite the economic hardships endured by citizens, the government's rollout of mass vaccination, which started in March 2021, proved to be a significant pathway for the reopening of the country.
Photo: VNA
Another aspect of Vietnam's Covid-19 response was the government's crackdown on pandemic-related corruption. This has included criminal prosecutions for abuse of power relating to the distribution of coronavirus testing kits.
A deputy foreign minister was arrested for allegedly receiving bribes in connection with the repatriation of Vietnamese stranded abroad. By allowing instances of graft by officials to be made public, the government and the Communist Party gained the confidence and trust of citizens not just in their anti-Covid-19 efforts but also in their ongoing campaign against corruption.
The expert also said that the combination of an effective pandemic policy coupled with anti-corruption measures has spurred the economy towards expansion of 7% this year as risks from the coronavirus recede.
Vietnam has also redoubled efforts to build trade and investment partnerships abroad.
The country's reopening and its current trajectory towards robust economic recovery may be attributed to a strong sense of community and patriotism and to the fluid and flexible yet resolute government leadership in response to the enormous challenges that the global pandemic posed. This points to the country's emergence as a strong economic and strategic player in the region, one of ASEAN's leading member states and a much sought-after partner in the world of great power competition, wrote James Borton.
Relaxing visa policy to attract more foreign tourists: insiders
Vietnam's visa policy should be more open to lure international tourists, insiders have said.
Although the country has offered unilateral visa exemption and e-visas, the policy is not competitive enough as the 15-day visa exemption has yet to satisfy the need of visitors from such markets as Europe, North America and Australia, who often stay from three to four weeks in Vietnam, according to the Ministry of Culture, Sports and Tourism (MCST).
Director of the Ho Chi Minh City Department of Tourism Nguyen Thi Anh Hoa said the ministry should propose the Government instruct the Ministry of Foreign Affairs to expand the list of countries and territories qualified for visa exemption and e-visa, and restore visa granting at border gates.
She also suggested simplifying visa procedures for visitors who get infected with Covid-19 during their stay in Vietnam and undergo treatment in the Southeast Asian nation.
The official proposed extending visa-free stay from the current 15 to 30 days to attract more tourists, reported VNA.
Nguyen Thien Phuc, Director of Product Research & Development at Vidotour Indochina Travel, said apart from the visa policy, a national communication strategy and a contingent of trained personnel are needed for the domestic tourism sector.
The Vietnam National Administration of Tourism has coordinated with associations, businesses and airlines to outline promotion plans to quickly ramp up international tourism, focusing on Southeast Asian, Northeast Asian and European markets.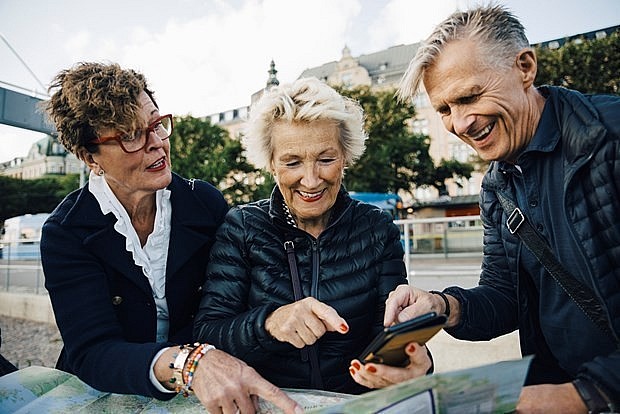 Illustrative image. Source: VNA
Specifically, Vietnam will join JATA Tourism Expo, a leading regional travel fair which will take place in Japan from September 22-25, and the World Travel Market in the UK from November 7-9.
There will be also festivals and programs promoting Vietnamese tourism in major markets like the Republic of Korea, Japan, Taiwan (China), Europe, North America and Australia, along with an array of events at home.
The sector served nearly 72 million domestic tourists and 733,000 foreign visitors so far this year, according to the MCST.
The Ministry of Public Security said it granted e-visas to citizens from 80 countries and territories and offered visas exemption to travelers from 25 others.