Vietnam News Today (Aug. 21): Vietnam, Belgium Enjoy Growing 50-year Ties
Vietnam News Today (Aug. 21): Great potential for Vietnam – Canada cooperation; Vietnam, Belgium enjoy growing 50-year ties; Nepalese president proposes increasing cooperation with Vietnam; Hanoi museums, relic sites strive to provide new experiences to visitors.
Vietnam News Today (Aug. 21) notable headlines
Great potential for Vietnam – Canada cooperation
Vietnam, Belgium enjoy growing 50-year ties
Nepalese president proposes increasing cooperation with Vietnam
Hanoi museums, relic sites strive to provide new experiences to visitors
Hoi An among world's best cities with beaches
Nepal wants to boost trade-economic ties with Vietnam
President of Kazakhstan arrives in Hanoi, begins official visit
Vietnam, Indonesia seek stronger investment, trade partnership
Vietnamese professor honored with UK's Thomas Graham Prize 2023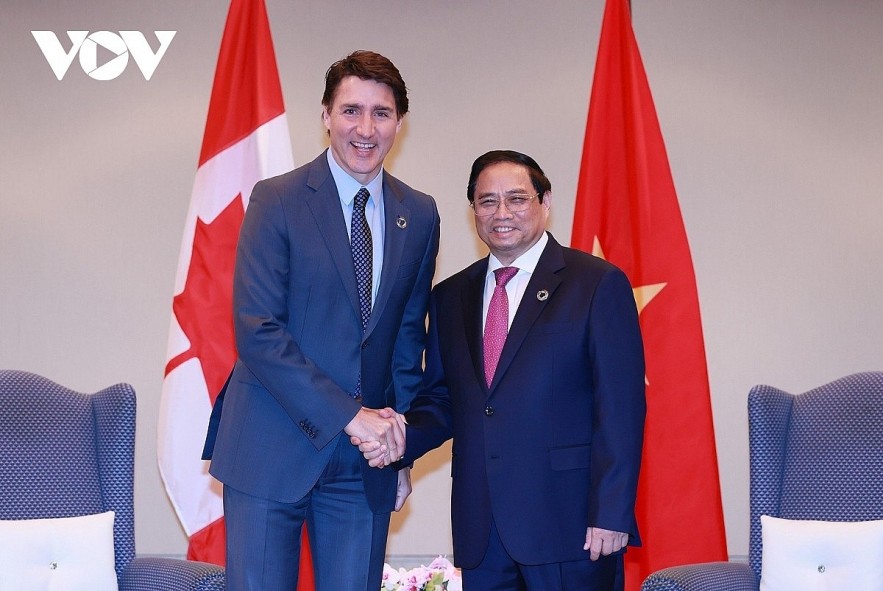 Vietnamese Prime Minister Pham Minh Chinh (R) meets with his Canadian counterpart Justin Trudeau in Japan during their participation in the expanded G7 meeting in Hiroshima in May 2023.
Great potential for Vietnam – Canada cooperation
There remains more room for Vietnam and Canada to enhance bilateral cooperation, especially in economy, trade and investment, said Pham Vinh Quang, Vietnamese ambassador to Canada.
The ambassador, in an interview granted to Vietnam News Agency on 50 years of diplomacy between Vietnam and Canada, noted that both countries have maintained regular visit exchanges and contacts to outline orientation for bilateral cooperation.
Trade and investment cooperation is given top priority in bilateral relations. Vietnam is Canada's largest trading partner in ASEAN, while Canada is Vietnam's second largest trading partner, after the US, in the Americas.
Two-way trade turnover always records two-digit growth per year, reaching US$7 billion in 2022.
By the end of 2022, Canada ranked 14th out of 130 countries and territories investing in Vietnam, with nearly 250 projects worth approx. US$5 billion. Meanwhile, Vietnamese investment in Canada hit US$150 million, accounting for 47.5% of its total investment capital abroad.
In order to promote bilateral economic and trade cooperation, the two countries have established a Joint Committee on Economy Cooperation in 2022.
Defense and security cooperation has also been enhanced, following the hosting of the annual Defense Policy Strategic Dialogue Mechanism and the active implementation of the Defense Cooperation Plan for the 2021-2023 period.
Education cooperation is also another bright spot. Currently, there are about 21,000 Vietnamese students studying in Canada, ranking third among the countries with the most international students in the country.
In addition, cooperation in tourism and people-to-people exchanges have been strengthened. Vietnamese localities have also maintained cooperation with their Canadian counterparts to garner Canadian support in developing mountainous localities.
With regard to development cooperation, since 1990, Canada has always been among the leading countries in development aid to Vietnam with a total value of about CAD2 billion.
The two countries share common views on regional and international issues of mutual concern. They vow to build a peaceful, stable and developed Asia-Pacific region based on the observance of principles of international law, such as the United Nations Charter and the 1982 United Nations Convention on the Law of the Sea (UNCLOS). They also voice strong support for building order, rules and regulations in the waters, including the East Sea.
Canada has recently sought to increase economic engagement in the region by adopting its Indo-Pacific Strategy in November 2022. The strategy highlights its commitment to promoting free trade and investment, supporting small and medium-sized enterprises and enhancing economic cooperation.
This September, Canada is scheduled to upgrade its relationship with ASEAN to a strategic partnership – a move that is expected to promote cooperation between Canada and ASEAN, as well as between Canada and Vietnam, cited VOV.
According to the ambassador, Canada is a member of the Group of seven industrialised nations (G7) and the 14th largest economy in the world. Vietnam therefore can take advantage of Canada's strengths in advanced technology and science to support the country's process of national industrialization and modernization and in developing infrastructure facilities, green economy, clean energy, and energy conversion, as well as responding to climate change.
Furthermore, the ambassador said the Vietnamese community in Canada now numbering approximately 300,000 serves to increase bilateral cooperation, especially in the fields of education, people-to-people exchanges, and development cooperation.
To mark the 50th anniversary of diplomatic ties between Vietnam and Canada this year, ambassador Vinh said the Vietnamese Embassy in Canada and the Canadian Embassy in Vietnam will host a diverse range of activities, including Vietnamese Cultural Days in Canada, trade and economic seminars, and trade and tourism promotions in both countries.
Vietnam, Belgium enjoy growing 50-year ties
Vietnam and Belgium have seen their relationship growing continuously across all areas over the past 50 years since they set up diplomatic relations on March 22, 1973, only two months after the signing of the Paris Peace Accords.
Belgium has made positive contributions to the success of Vietnam through development cooperation programmes. The two sides have also coordinated closely at multilateral forums, especially at the United Nations and the framework of the Asia-Europe Meeting (ASEM) and ASEAN-EU partnership.
The political-diplomacy ties between the two sides have developed in a positive, diverse and substantial manner at state, regional and community levels, which has been reflected in many high-level visits.
Particularly, the Belgium visit by Prime Minister Pham Minh Chinh in December 2022 had a significant meaning to bilateral relations. During the visit, the Vietnamese and Belgian PMs agreed to strengthen political trust and deepen cooperation within the framework of the Strategic Partnership on Sustainable Agriculture, while further promoting trade-investment partnership, expanding cooperation to other potential areas to contribute to sustainable development in each country, and working closely to deal with global challenges.
In terms of economic-trade cooperation, Belgium is currently the sixth largest trade partner of Vietnam among EU members. In 2021, Vietnam was the 15th biggest importer of Belgium among non-EU members.
Two-way trade increased from US$1.8 billion in 2013 to nearly US$2.8 billion in 2020. In 2021, the figure surged 53.8% year on year to US$4.29 billion. It hit US$4.5 billion in 2022 and US$2.27 billion in the first seven months of 2023.
The cooperation among economic organisations at central, local and sector levels of Vietnam and three Belgian regions of Wallonie, Flanders and Brussels has also been expanded and strengthened.
Belgium showed strong support to the signing and ratification of the Vietnam-EU Free Trade Agreement (EVFTA) and has been one of the first countries to ratify the Vietnam-EU Investment Protection Agreement (EVIPA).
Regarding investment, Belgian firms had invested over US$1.1 billion in 90 projects in Vietnam as of July 2023. Meanwhile, as of the end of 2022, Vietnam had four projects worth US$12.6 million in Belgium.
The partnership between Vietnam and Belgium in the fields of development cooperation dated back to 1977. In July 2018, Belgium stopped providing non-refundable aid to Vietnam but continued to cooperate with Vietnam through soft loans, according to VNA.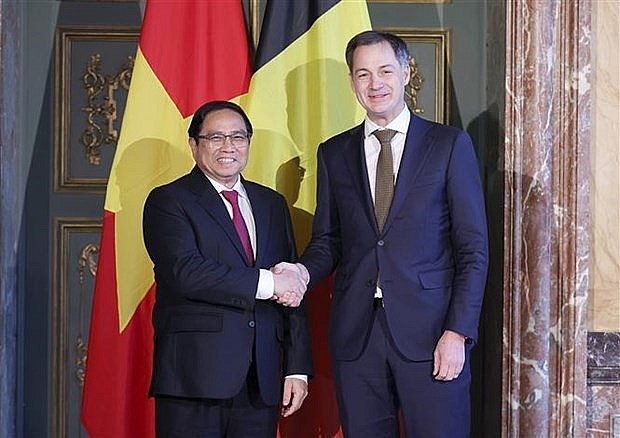 Prime Minister Pham Minh Chinh (L) and Belgian Prime Minister Alexander De Croo. (Photo: VNA)
The two sides have also enjoyed fruitful cooperation in many other areas, including education and training. Belgium has become one of the five EU members hosting the largest number of Vietnamese students.
The two countries have also cooperated closely in the fields of science-technology, transportation, defence, security, and culture, and expanded their ties to other areas such as climate change response and other non-traditional security matters.
Currently, more than 13,000 Vietnamese people are living in Belgium, acting as the bridge for the Vietnam-Belgium friendship.
President of the Senate of Belgium Stephanie D'Hose is scheduled to pay an official visit to Vietnam from August 21 to 25 at the invitation of Vietnamese National Assembly Chairman Vuong Dinh Hue.
The visit, which takes place in the context that Vietnam and Belgium are celebrating the 50th anniversary of bilateral diplomatic relations, is expected to contribute to further deepening the partnership between Vietnam and the European country.
Nepalese president proposes increasing cooperation with Vietnam
President Ramchandra Paudel expressed Nepal's wish to strengthen cooperation with Vietnam, especially in economy, trade and investment, during his recent reception for the Vietnamese Ambassador to India, Bhutan, and Nepal Nguyen Thanh Hai.
Receiving the Vietnamese diplomat following the credentials presentation ceremony in Kathmandu on August 18, Paudel pointed out that trade cooperation between Nepal and Vietnam remains modest, as two-way trade turnover between the two countries was less than US$100 million per annum.
The State leader proposed that the two countries consider opening a direct air route to help bolster bilateral cooperation in trade and tourism. He also proposed that Vietnamese businesses increase their investment in Nepal.
Nepalese President Ramchandra Paudel (R) receives Vietnamese ambassador Nguyen Thanh Hai in Kathmandu on August 18, following the ambassador's credentials presentation.
Ambassador Hai for his part affirmed that he would try his best to coordinate connectivity between relevant ministries, agencies, and business communities of the two countries so as to ramp up cooperation.
During his working trip to Nepal on August 17-18, Ambassador Hai paid a courtesy visit to Prime Minister Pushpa Kamal Dahal 'Prachanda', Speaker of the House of Representatives Dev Raj Ghimire, and Chairman of the Communist Party of Nepal (United Marxist Leninist) Sharma Oli.
He also had working sessions with Minister of Foreign Affairs Narayan Prakash Saud and Minister of Culture, Tourism and Civil Aviation Sudan Kirati, reported VOV.
Hai assured their hosts that Vietnam attaches importance to strengthening the traditional friendship and cooperation relationship with Nepal. He briefed their hosts on Vietnam's new e-visa policy, which he hoped is an opportunity to enhance tourism and economic cooperation between the two countries.
Prime Minister Dahal briefed his guest on the Nepalese Government's efforts to reform and facilitate the business environment in an effort to attract foreign investors, including those from Vietnam.
He voiced his support for Vietnam's foreign policy, agreeing that countries should respect the United Nations Charter and each other's independence and sovereignty. He also emphasized that the East Sea issue should be resolved peacefully on the basis of international law, including the 1982 United Nations Convention on the Law of the Sea (UNCLOS).
Hanoi museums, and relic sites strive to provide new experiences to visitors
Various new products and services have been provided by museums and relic sites in Hanoi with an aim to lure more visitors, especially youngsters, and promote their values at the same time.
Recently, the Van Mieu-Quoc Tu Giam relic site has entertained young visitors with an exciting journey of "finding mascots on ancient architecture", which is designed in the form of games on an iPad.
The game consists of six doors equivalent to six architectural styles of the relic sites, including Four Pillars, the Gate of the Temple of Literature, Dai Trung Gate, Khue Van Cac, Dai Thanh Gate, and Bai Duong House, cited VNA.
Meanwhile, the Vietnam Fine Arts Museum has focused on building the iMuseum VFA multimedia voiceover application, which is available on both Android and iOS, using QR codes or identifiers for artworks. The iMuseum VFA has outstanding features such as allowing visitors to view high-quality images of the works, read the contents of the introductions, locate artifacts, see display system diagrams, and distinguish rooms by color.
With only a mobile phone or tablet with an internet connection and a fee for an application download, visitors can freely explore 100 typical works on the regular display system of the Vietnam Fine Arts Museum, in both direct and online forms, with multiple language options including Vietnamese, English, French, Chinese, Japanese, Korean, Spanish, Italian and German.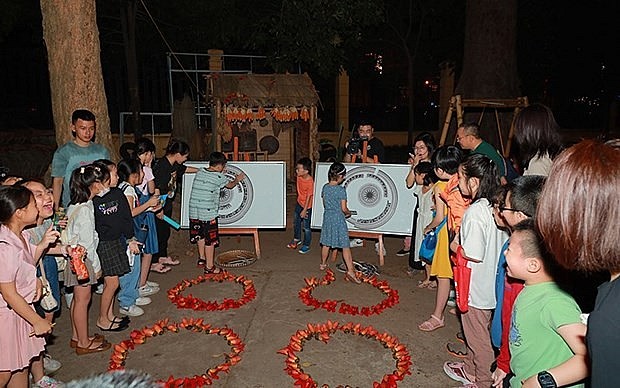 Children enjoy a game at the Vietnam National Museum of History (Photo: nhandan.vn)
Based on the iMuseum VFA system, the Vietnam Fine Arts Museum has been developing many themed tours such as "Vietnamese Lacquer Painting" or "National Treasure", to help visitors easily access and "chat" with museum artifacts in a new way.
Duong Ngoc Ha from the Center for Cultural and Scientific Activities under Van Mieu-Quoc Tu Giam (Temple of Literature) said the linkage between the displayed artifacts and the method of visiting and studying in the museum is undergoing a strong shift. It is a shift from being aware of a cultural experience as a form of information that a museum holds and transmits to visitors, to something that can be discussed and shared. A memorable experience is always a strong attraction because it gives visitors not only knowledge but also skills and emotions.
Director of the Hue Museum of Royal Antiquities Huynh Thi Anh Van said, in the context of the 4.0 revolution, the application of high technology to display and exhibit activities is one of the indispensable tools of advanced museums.
Currently, the trend of display and interpretation combined with interaction is now becoming popular in the world. New experiences for visitors can be enhanced with different forms of interpretation through interactive applications, or a combination of real artifacts and appropriate design images, thereby helping viewers feel the connection between personal perception and what they are seeing.
However, according to experts, technology is only a means to an end. They stressed the need for creative ideas, deep content and resources to carry out the ideas. They advised museums and monuments to focus on developing the quality of personnel and seeking suitable ways to call for economic and technological resources to jointly create attractive interactive products.
Hoi An among world's best cities with beaches
The South China Morning Post (SCMP) of Hong Kong (China) has placed Hoi An Ancient Town in fifth position in a list of the nine best city destinations with beaches around the globe.
The SCMP suggested Hoi An as a destination for visitors who want to mix shopping, sightseeing, and sunbathing. The article also mentioned other beautiful places around the world, including Mumbai (India), Brighton (the UK), Barcelona (Spain), Sydney (Australia), Miami (the US), Sanya (China), and Athens (Greece).
Commenting on Hoi An, SCMP wrote that it is a photogenic city on Vietnam's central coast. An architectural medley of wooden Chinese shophouses, French colonial buildings, ornate temples, and the Japanese Covered Bridge helped the Old Town gain UNESCO World Heritage status in 1999.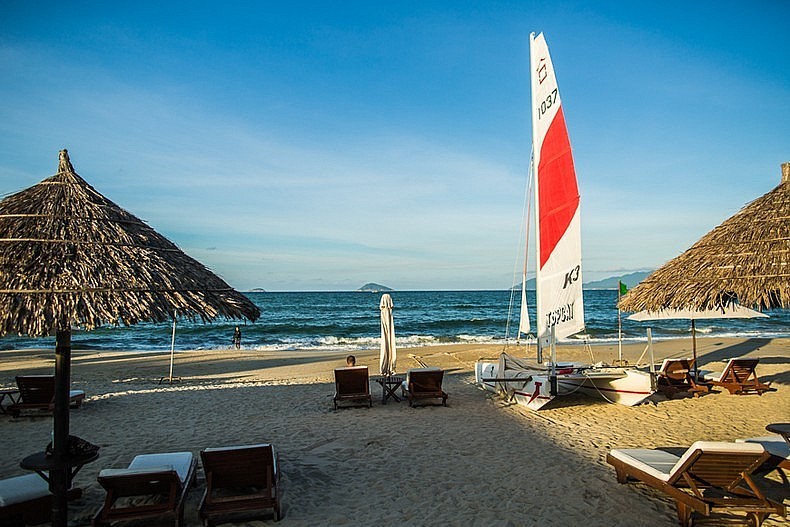 An Bang is a beautiful pristine beach just 3km from Hoi An City. (Photo: vietnamtravel)
Formerly one of the busiest trading ports in Southeast Asia, the Hoi An of today bustles with sightseeing tourists and features clothing tailored for a fraction of the price they would pay at home. At night, lanterns illuminate the Old Town, creating a fairy-tale feel (lantern-making workshops are also a hit with visitors).
"Rather than staying in the center of the city, many travelers opt for a beachside base. An Bang's white sands and sparkling blue waters have featured in CNN's list of 100 Best Beaches in the World and are only 3 kilometers from the Old Town. Hire a bike and pedal between the two", the newspaper recommended.
Hoi An has long been a favorite destination for domestic and international tourists. News agencies, and international travel magazines based on the votes of readers and tourists always rank Hoi An in the list of famous destinations.
Last July, Hoi An was named in the list of favorite cities in Asia in the World's Best Awards 2023 voted by readers of Travel + Leisure magazine. Previously, Hoi An was also honored by Travel + Leisure many times as the most wonderful city in the world in 2019, the leading city in Asia in 2020, the top 10 Asian cities in 2018 and in 2021, or one of the 50 best places to travel in 2019.