Belgian Woman Raises Funds for Agent Orange Victims
The charity golf tournament "Vietnam Ambassador Cup" is held annually by Chris Geyskens, a Belgian woman who has a passionate love for Vietnam, to help raise funds for the Association for Victims of Agent Orange/dioxin in Hoi An.
According to the Vietnam News Agency correspondent in Brussels, for 10 years now, the charity golf tournament "Vietnamese Ambassador's Golf Cup" has been held to raise funds for the Association for Victims of Agent Orange/dioxin in Hoi An, Vietnam (HAVA Hoi An).
This is the idea and aspiration of the Belgian woman, Chris Geyskens, who has spent the past decade working with Agent Orange victims in Hoi An.
Although she is in her 70s, she still exudes a youthful and dynamic spirit. She loves Vietnam as if she had a predestined relationship with this country.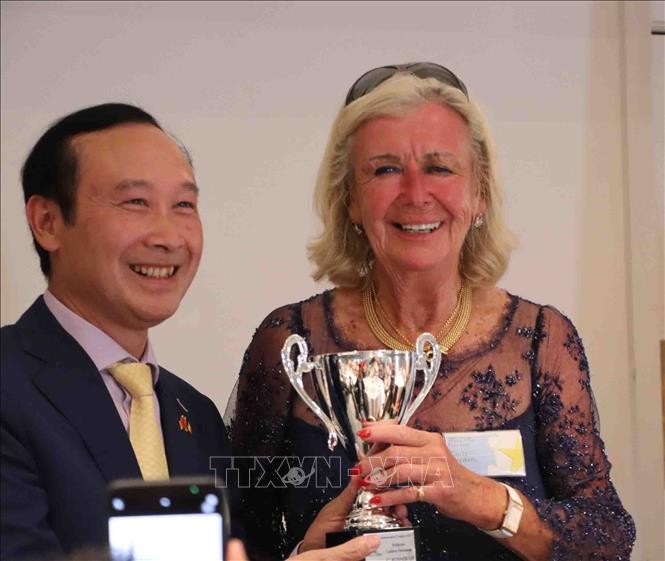 Ambassador Nguyen Van Thao presents a souvenir cup to Chris Geyskens during the 9th season held in June 2022. Photo: TTXVN
Chris Geyskens was born with a natural passion for travel inherited from her parents, who were both active in the travel industry. Her parents showed their daughter the path of philanthropy and its importance. From a young age, Chris knew how to work hard and was always conscious of doing something to help those less fortunate. Her profession took her all over the world, discovering many wonders and beautiful scenes. She was very touched being encountered many miserable lives. When he first set foot in Hoi An, Chris immediately "fell in love" with the beautiful, coastal town. During her time in Hoi An, Chris came into contact with Agent Orange victims and she knew she had to do something to help these people help a better life.
Returning to her country, she presented her idea and was wholeheartedly supported by the Vietnamese Embassy in Belgium. The charity golf tournament "Vietnam Ambassador Cup" was officially held in the summer of 2013 and became an annual event. The money collected after each tournament was directly brought to Vietnam by her and her husband to HAVA Hoi An.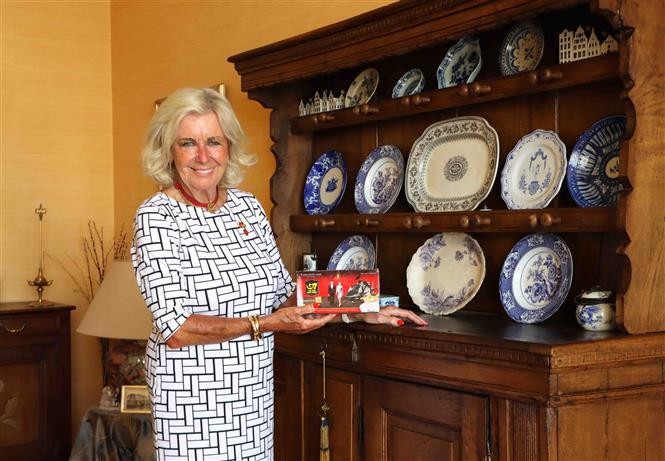 Chris Geyskens at her home in Belgium. Photo: VNA
With this money, the Association bought breeding chickens, barns, and food, and gave it to the households of the victims of Agent Orange/dioxin, thereby helping them multiply chickens, develop poultry farming, and earn stable incomes.
In 2015, the Association of Victims of Agent Orange in Hoi An agreed to establish a Branch in Belgium and Chris was invited to be the President with the aim of contributing to mobilizing organizations, individuals, and benefactors in Belgium and other organizations.
The "Vietnamese Ambassador's Golf Cup" golf tournament has become a familiar annual activity for golf players in Belgium. She also organizes charity sales programs to increase revenue to help victims of dioxin poisoning.
Vietnamese Ambassador to Belgium, Nguyen Van Thao emphasized that the amount of support has shown the kind heart and immense love of Chris and her husband for Vietnam. The couple has worked hard for 10 years to support the families of Agent Orange victims in Hoi An to have a better life and brighter future. This is also one of the proofs of the relationship between Vietnam and Belgium.
Photo: TTXVN
Luc Groson, President of Hulencourt Golf Club, which sponsors the course for this annual tournament, also expressed his admiration for Chris, a woman who has always shown a passion for philanthropy for Vietnam. Since its establishment, the HAVA branch in Belgium has carried out many practical activities and helped members in Hoi An, of which has donated 49,730 euros, equivalent to nearly 1.3 billion VND.
Every year, she and her husband fly to Hoi An to witness the positive results that her organization brings to the families of agent orange victims.
Chris's wish is to always be healthy enough to continue to maintain the charity golf tournament and do more things for Vietnam, which she is attached to as her second homeland.