Vietnam News Today (Aug. 22): Vietnamese, Kazakh Presidents Seek Measures to Forge Cooperation
Vietnam News Today (Aug. 22): Vietnam, Canada have potential to forge cooperation in various fields; Vietnamese, Kazakh Presidents seek measures to forge cooperation; Petrol prices increase as part of latest adjustment; HCM City views Japan as important partner.
Vietnam News Today (Aug. 22) notable headlines
Vietnam, Canada have potential to forge cooperation in various fields
Vietnamese, Kazakh Presidents seek measures to forge cooperation
Petrol prices increase as part of latest adjustment
HCM City views Japan as important partner: Official
New visa policy attracts wealthy travelers, longer visits
Vietnam attends Asia-Oceania Food, Culture Fair in Brazil
Vietnam puts forth opinions on economic cooperation directions between ASEAN, partners
Digital border gate in Lao Cai put into operation
Exhibition honors Vietnam's traditional ceramic sculpture
Trade between Vietnam and Canada reaches some 10 billion USD last year. (Photo: VNA)
Vietnam, Canada have potential to forge cooperation in various fields
Vietnam and Canada boast potential to enhance their bilateral cooperation as well as coordination at the international area and multilateral forums, former Canadian Ambassador to Vietnam David Devine has said.
In an interview granted to the Vietnam News Agency (VNA) on the occasion of the 50th anniversary of the bilateral diplomatic ties, Devine noted changes in political relations over the past five decades, with the exchange of high-level visits, as well as progress in economic and trade cooperation, notably the Comprehensive and Progressive Agreement for Trans-Pacific Partnership (CPTPP) to which both are signatories.
Since 1990, Canada has provided nearly US$2 billion for Vietnam in various forms, he said, adding that the two sides have also maintained cooperation in military and education. The two countries agreed to establish a comprehensive partnership in 2017, he continued.
Devine commended Vietnam's performance in poverty reduction, and its important role in the Association of Southeast Asian Nations (ASEAN) thanks to its political stability, cited VOV.
He attributed growth achievements Vietnam has recorded over the past 30 years to the country's tireless efforts, saying the Government has adopted good directions to ensure economic growth and prevent emerging problems.
The former ambassador suggested the two countries cooperate in some fields like climate change response and green technology.
He emphasized that Canada's export to Vietnam was valued at nearly US$1 billion last year, and their two-way trade reached some US$10 billion, reflecting their good economic relations.
The two countries have also worked together to ensure gender equality and achieve UN sustainable development goals (SDGs), Devine said.
Speaking of Canada's Indo-Pacific Strategy, the former ambassador said it will facilitate exchange and cooperation between the two countries in various areas.
Vietnamese, Kazakh Presidents seek measures to forge cooperation
President Vo Van Thuong and his Kazakh counterpart Kassym-Jomart Tokayev compared notes on orientations to enhance cooperation between Vietnam and Kazakhstan during their talks in Hanoi on August 21.
At the talks, which took place following a welcome ceremony for the Kazakh leader the same day, Thuong spoke highly of achievements Kazakhstan has recorded in politics and socio-economic development.
Vietnam always attaches importance to the traditional friendship with Kazakhstan, regarding the country as a leading important partner in Central Asia, the host leader affirmed.
Tokayev lauded Vietnam's reform policy as well as its socio-economic performance and its improving prestige in the international arena, saying the Kazakh State always treasures the long-standing friendship with Vietnam and considers the country one of the most important partners in Asia-Pacific.
The two leaders agreed on many specific measures to deepen the bilateral ties, and shared their views on regional and international issues of shared concern, according to VNA.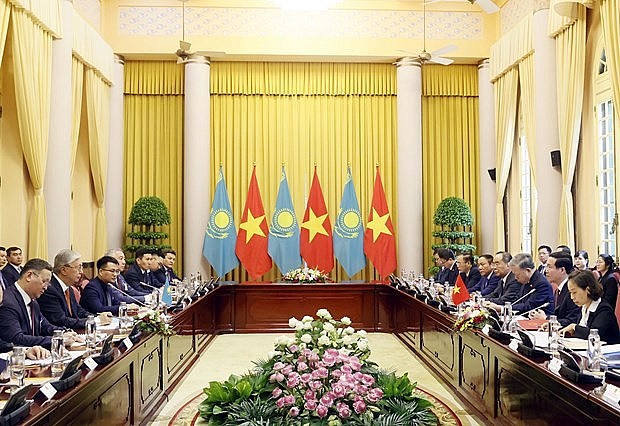 At the talks (Photo: VNA)
Both affirmed the importance of all-level delegation exchanges, saying the two sides have effectively put in place existing cooperation mechanisms as well as those between ministries, agencies and localities to enhance mutual understanding and trust, and create momentum for multifaceted collaboration.
Host and guest consented to maintain close coordination and mutual support at multilateral forums, especially the United Nations and the Conference on Interaction and Confidence Building Measures in Asia (CICA).
Vietnam stands ready to serve as a bridge for Kazakhstan to foster cooperation with other Southeast Asian countries, while Kazakhstan will help Vietnam step up collaboration with other countries in Central Asia.
The leaders rejoiced at the positive developments in economic, trade and investment cooperation, including the effective implementation of a free trade agreement between Vietnam and the Eurasian Economic Union (EAEU) of which Kazakhstan is a member.
However, they noted ample room and potential remain for Vietnam and Kazakhstan to boost their cooperation.
President Thuong proposed that Kazakhstan support the launch of negotiations for the upgrade of the free trade agreement to meet the requirements of reality and create more new opportunities for bilateral trade.
The Kazakh President said he hopes the two sides will work closely together to reach the target of US$1.5 billion in two-way trade. He affirmed the strong support of bilateral cooperation in logistics connections, transportation and agriculture. He suggested the establishment of a Vietnam-Kazakhstan Business Council to promote collaboration among businesses of both sides.
The two sides shared a hope to bolster investment cooperation by strengthening the exchange of information on the investment environment and providing favorable conditions for businesses of the two sides to access each other's market. The two sides should consider the possibility of establishing joint ventures in the fields of strength and demand such as garment-textiles, Halal food processing, seafood and canned food to supply the Central Asia market, they agreed.
They concurred to expand partnership to other potential areas such as transportation, education training, culture, sports, tourism, finance, banking, and high technology. The two leaders welcomed the opening of a direct air route between Vietnam and Kazakhstan in October 2022. They expressed belief that the signing of a bilateral visa exemption agreement for passport holders and a Memorandum of Understanding in the field of tourism on this occasion will contribute to enhancing tourism cooperation and people-to-people exchanges between the two countries.
At the talks, the two Presidents discussed a number of regional and international issues of common concern and shared their viewpoints on the settlement of disputes in the region and the world through peaceful measures on the basis of international law.
President Thuong thanked the Kazakh President and State for giving favorable conditions for the Vietnamese community to live, study and work stably in Kazakhstan.
President Tokayev took the occasion to invite President Thuong to visit his country at a future time that works for both sides. President Thuong accepted the invitation with pleasure.
Following the talks, the two leaders witnessed the signing of cooperation agreements, including the agreement on the transfer of persons sentenced to imprisonment, and the agreement on visa exemption for popular passport holders. They also discussed a joint action plan to promote economic-trade cooperation in the 2023-2025 period, an MOU on cooperation in the field of tourism, and one between Vietnam Television (VTV) and Agency Khabar, a major media outlet in Kazakhstan.
Petrol prices increase as part of the latest adjustment
The retail prices of petrol were revised up as of 3 p.m. on August 21 by the Ministry of Industry and Trade, and the Ministry of Finance.
Specifically, the retail price of RON95-III rose by VND608 to reach VND24,601 per liter, whilst that of E5RON92 climbed to VND23,339, marking a rise of VND517 per liter.
Elsewhere, the price of kerosene was capped at VND22,309 per liter, thereby marking an increase of VND420 per liter. Meanwhile, the price of mazut rose by VND313 to reach VND17,981 per kilogram.
In contrast, the price of diesel saw a decline of VND71 to reach VND22,354 per liter, reported VOV.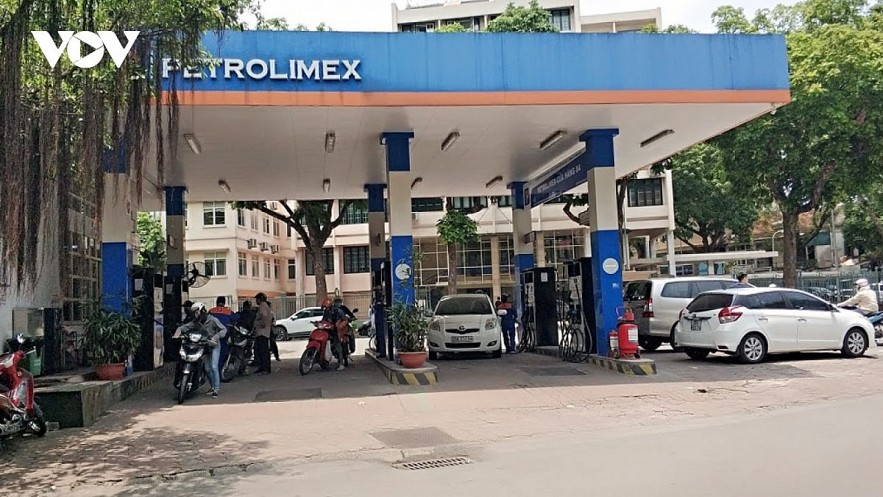 Photo: VOV
As part of the latest adjustments made by the two ministries, the decision has been taken to not extract any money for petrol and oil prices from the price stabilization fund.
Insiders have pointed out that the petroleum market has been heavily influenced by factors such as a fall in the United States crude oil inventories coupled with the sharp increase recorded in China's crude oil imports.
Those factors have therefore caused global petrol and oil prices between August 11 and August 20 to fluctuate strongly, resulting in increases in Vietnam.
Since the beginning of the year, petrol prices have undergone a total of 23 adjustments, with 14 increases, six declines, and three times when they remained unchanged.
HCM City views Japan as important partner: Official
Ho Chi Minh City considers Japan one of its most important partners, Secretary of the municipal Party Committee Nguyen Van Nen told Chief Representative of the New Komeito Party of Japan Natsuo Yamaguchi in their meeting on August 21.
Thanking the New Komeito Party's significant contributions to strengthening Vietnam-Japan cooperation in its capacity as the ruling coalition party of Japan, Nen proposed Yamaguchi continue promoting the Vietnam-Japan extensive strategic partnership in the near future.
HCM City attaches importance to developing cooperative relations with Japanese partners in various fields, including trade, investment, culture, people-to-people exchange, and particularly skilled and young workforce training, he said.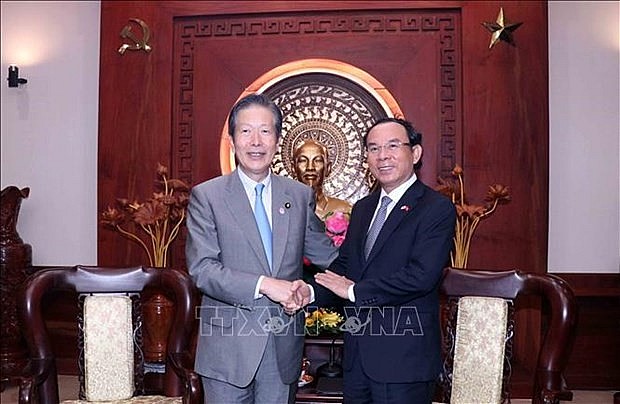 Secretary of the municipal Party Committee Nguyen Van Nen (R) and Chief Representative of the New Komeito Party of Japan Natsuo Yamaguchi.(Photo: VNA)
The host hoped to further enhance cooperation with Japanese localities and partners, suggesting Yamaguchi help Japanese firms and investors step up long-term business activities in the city, as well as tourism, cultural exchange and people-to-people diplomacy to match their potential and aspirations. This effort will contribute to the continuous development of the Vietnam - Japan relationship, making it more effective over time.
Yamaguchi, for his part, expressed his impression of the dynamic development of HCM City, which serves as Vietnam's economic locomotive.
He said his working trip coincides with the celebrations of the 50th founding anniversary of Vietnam-Japan diplomatic ties this year, and ahead of the 15th anniversary of the bilateral strategic partnership and the 10th anniversary of the extensive strategic partnership for peace and prosperity in Asia next year, with the aim of further fostering cooperation between Japan and Vietnam, including HCM City, cited VNA.
As a partner of the Liberal Democratic Party (LDP) within the ruling coalition, the New Komeito Party supports activities aimed at bolstering Japan-Vietnam relations, especially in infrastructure building and human resources training for coast guards, he said, adding that alongside political, economic and trade ties, there is a strong need to further intensify cultural exchanges and people-to-people diplomacy.
According to the official, Japan is now home to hundreds of thousands of Vietnamese students and workers, including around 170,000 apprentices and 80,000 skilled workers. The country allows highly-skilled workers to extend their working period in Japan and even bring their families along, thus enabling them to feel secure when working there. After returning to Vietnam, they could also contribute to the Vietnamese economy.
New visa policy attracts wealthy travelers, longer visits
The new visa policy which took effect on August 15 is expected to attract more tourists in the last two quarters of the year.
Starting August 15, Vietnam waived e-visas for citizens of all countries and territories, increasing the validity term of an e-visa from 30 days to 90 days. Citizens of countries that are unilaterally exempted from visas by Vietnam will be granted temporary residence for 45 days instead of 15 days.
Applauding the government's decision on issuing two new resolutions on visa policy, Vu Van Tuyen, CEO of Travelogy Vietnam, said more travelers will arrive
Five months ago, his travel firm set to work on 17 new products to receive foreign travelers with long stays. Instead of 2-3 weeks, travelers are expected to stay in Vietnam for 30-45 days. He predicted that the number of travelers will recover strongly in the third and fourth quarters.
A senior executive of Tam Nhin Viet Nam said France is an attractive market with average spending of $100 per day. Previously, French travelers could enjoy visa exemption, but for a short stay of 15 days only. With the maximum stay extended to 45 days, they will stay in Vietnam longer and visit more destinations.
Tourism products
However, Tuyen said he can see problems.
First, Vietnam still lacks an overall marketing strategy based on travel firms that can design and market their tourism products.
Second, Vietnam has great potential to develop tourism, but it still doesn't know what to do to persuade travelers to stay longer and return subsequent times.
Third, tourism products in many provinces and cities are similar, including night-time markets.
"Vietnam has 20 well-known night-time markets, but none of them is famous like other night-time markets in the region and the world," he said.
Vietnam is also an important transit point for Asian and European travelers to come to Indochina, Thailand and China, VNN reported.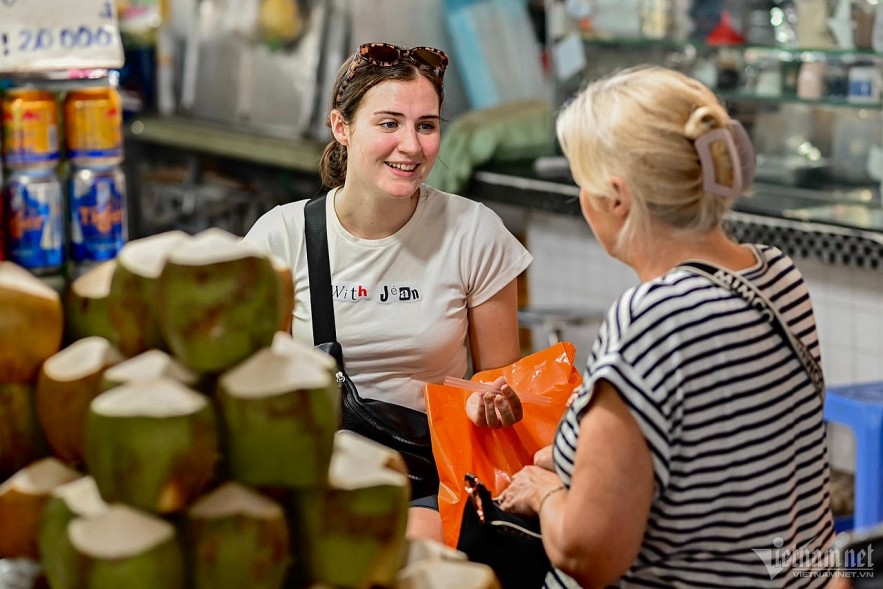 Photo: VNN
According to Tuyen, there are seven key tourism routes. Previously, because of limited stay time, if travelers came to provinces in the north or the south, they couldn't take tours to the northeast and northwest, highlands or vice versa. It is necessary to find solutions to combine the seven points in one journey lasting from one month to 45 days.
The difficulty is how to combine products from different regions because the journey will be costly. Moreover, local products are fragmented.
"Vietnam's tourism products are not original and specific, which don't show the typical features of localities, so they don't excite travelers," he said.
Regarding the visa waiver for citizens of 13 countries, a representative of Tam Nhin Viet Nam noted that Belarus is one of the 13 countries, but the number of travelers from the country is not high. Meanwhile, important markets such as Switzerland, Belgium, and Luxembourg are not on the list, though they are important markets with high levels of spending.
He said that wealthy travelers appreciate policies that allow them to take tours whenever they want to go.
Marketing strategy
According to travel firms, to make Vietnam better known to the world, Vietnam needs to disseminate information and run promotional campaigns. However, Vietnam is not good at this work.
Tuyen noted that the marketing strategy being pursued by Vietnam remains very general, with no focus for target markets.
For example, Vietnam this year plans to focus on the European market, but there are more than 20 European countries, so it is necessary to find out the tastes of each market to design a suitable marketing strategy.
The Ministry of Culture, Sports and Tourism (MCST) has released the Vietnam National Marketing Strategy by 2030, while the Tourism Development Support Fund has been established which supports the national tourism promotion and develops tourism products in localities.
Vietnam received 6.6 million foreign travelers in the first seven months of the year.