Vietnam News Today (Aug. 24): Vietnamese Delicacies Named Among Top 50 Best Street Foods in Asia
Vietnam News Today (Aug. 24): Vietnam, Japan agree on enhanced cooperation to improve supply chains; Vietnamese delicacies named among top 50 best street foods in Asia; Vietnam attends China-ASEAN Education Cooperation Week 2022; 4.7 magnitude quake jolts Central Highland locality.
Vietnam News Today (Aug. 24) notable headlines
Vietnam, Japan agree on enhanced cooperation to improve supply chains
Vietnamese delicacies named among top 50 best street foods in Asia
Vietnam attends China-ASEAN Education Cooperation Week 2022
4.7 magnitude quake jolts Central Highland locality
Trade surplus to hit US$1 billion this year
Vietnamese Embassy works with Cambodian authorities on forced labor in casino
Vietnam, Japan should accelerate implementation of ODA projects: Deputy PM
Nearly 120 Korean firms to join Vietnam-RoK B2B matching event
Agricultural restructuring policy contributes to rise in Vietnam's rice prices: report
Vietnam, Japan agree on enhanced cooperation to improve supply chains
Vietnamese Minister of Industry and Trade Nguyen Hong Dien and Japanese Minister of Economy, Trade and Industry Yasutoshi Nishimura co-chaired the 5th meeting of the Vietnam-Japan Joint Committee on Cooperation in Industry, Trade and Energy in Tokyo on August 23.
At the meeting, the two sides agreed on measures to strengthen regional and global supply chains, improve industrial competitiveness, promote cooperation in energy transformation towards carbon neutrality, and accelerate the progress of a number of important energy projects.
They also agreed to enhance the utilization and effective implementation of free trade agreements (FTAs) and coordinate and support each other in multilateral frameworks such as the Comprehensive and Progressive Agreement for Trans-Pacific Partnership (CPTPP), the Regional Comprehensive Economic Partnership (RCEP) and the Indo-Pacific Economic Framework for Prosperity (IPEF).
Notably, the Japanese side agreed with Minister Dien's proposal on Japan's continued support for Vietnam in training industrial human resources and improving industrial competitiveness, and the early signing of a Memorandum of Understanding on cooperation in energy transformation to concretize projects to support Vietnam in energy transition with funding from the Asia Energy Transition Fund.
Japan will also support training and share experience related to liquefied natural gas (LNG) with Vietnam, cited VNA.
According to the Ministry of Industry and Trade (MoIT) of Vietnam, the above-mentioned measures are extremely important in helping the two economies and businesses of the two countries respond effectively to complicated developments in the world such as geo-politics, inflation, soaring energy prices and disruptions to supply chains.
At the meeting, the ministers expressed their satisfaction over important achievements made since the joint committee's 4th meeting, including cooperation within ASEAN, RCEP and CPTPP, as well as the bilateral cooperation between Vietnam and Japan in the fields of energy/decarbonization, supporting industries, industrial human resource development, and other sectors despite the impact of the Covid-19 pandemic.
They reaffirmed the important role played by the joint committee mechanism, which was established in July 2015, in removing business difficulties and ensuring stable and continued growth of trade and investment.
Vietnamese delicacies named among top 50 best street foods in Asia
CNN Travel has chosen Vietnamese cuisine such as Banh Mi (baguette), pho (noodle soup), and iced coffee among the 50 best street foods throughout Asia.
In its article CNN notes that the ingredients of a typical Banh Mi will vary from north to south depending on the region. The classic combination includes pork, pickled vegetables, coriander, chili, and a healthy smear of paté sandwiched with a crispy and fluffy baguette.
The website also stresses that few street foods are able to compete with the international fame of dishes such as pho.
"Roadside stalls and cafes serve up bowl after bowl of this hearty noodle soup, which is known for its aromatic and nuanced broth, springy rice noodles and tender protein (usually beef or chicken)," says CNN.
It concludes that the food is typically served alongside a selection of fresh garnishes, such as herbs, bean sprouts, lime, chili sauce, and chili slices.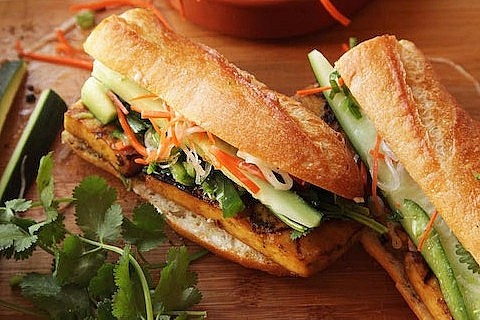 Photo: luneproduction
According to details given by CNN Travel, served by street vendors and cafes alike, ca phe, as it's known among local people, can be enjoyed in many ways. Visitors can drink it black, with condensed milk, a touch of sugar, or mixed with coconut milk.
"Sit down and make new friends on a plastic stool or keep exploring with your chilled refreshment in hand," it concludes.
Some of the other leading street food in Asia recommended by CNN Travel include Bubble tea of Taiwan (China), Bun kebab of Pakistan, Cheong fun of Hong Kong (China), Chili crabs of Singapore, Crab omelets of Thailand, Ema datshi of Bhutan, Fuchka of Bangladesh, Gado gado of Indonesia, Halo-halo of the Philippines, Hoppers of Sri Lanka, Jalebi of India, Jianbing of China, Khao jee of Laos, Kwek kwek of the Philippines, Momos of Nepal, and Sofuto kurimu of Japan.
Vietnam attends China-ASEAN Education Cooperation Week 2022
Minister of Education and Training Nguyen Kim Son on August 23 joined remotely from Vietnam a roundtable for education ministers from ASEAN and China, held as part of the 15th China-ASEAN Education Cooperation Week (CAECW) underway in Guizhou, China.
The CACW is co-organized by the Ministries of Foreign Affairs and Education of China, China-ASEAN Center, and the Southeast Asian Ministers of Education Organizations (SEAMEO).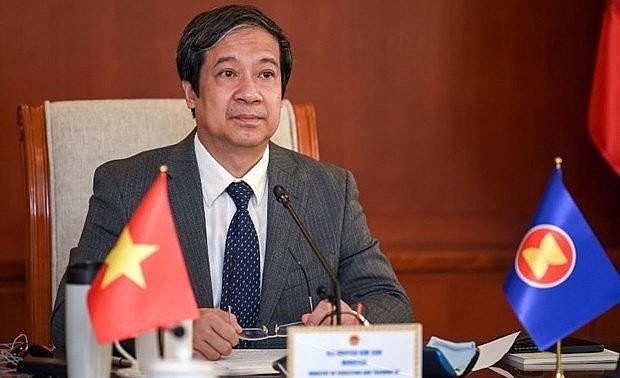 Minister of Education and Training Nguyen Kim Son delivers remarks at a hybrid roundtable for education ministers from ASEAN and China on August 23. Photo: VNA
In his remarks delivered at the hybrid roundtable, Son said his ministry has pushed for online and televized classes at the time of the Covid-19 pandemic. Pressure from the pandemic has provided good opportunities for the acceleration of digital transformation in education, he said, adding that the core solutions for digital transformation are closely associated with the improvement of human resources and the expansion of research cooperation in the field.
The Vietnamese minister said he hopes delegates will share experience and initiatives to step up partnership and together look forward to the shared prosperity and development and to a common house for peace and cordiality, according to NDO.
A number of forums and symposiums on education are also scheduled during the week-long CACW which takes place until August 28.
Launched in 2008, the CAECW has played an important part in fostering education partnership and people-to-people exchange between China and ASEAN nations. It has contributed to the signing of nearly 2,000 agreements and memorandums of understanding and the launch of more than 400 projects and activities.
The CAECW has been incorporated into the 5-year action plan on Mekong-Lancang Cooperation (2018 – 2022) and the ASEAN-China Strategic Partnership with a vision towards 2030.
4.7 magnitude quake jolts Central Highland locality
A strong earthquake measuring 4.7 on the Richter scale shook the Central Highland province of Kon Tum at 2:08 pm on August 23, the strongest of its kind to hit the locality in more than a century.
The Vietnam Earthquake Information and Tsunami Warning Center issued a warning of disaster risk level 1 as the earthquake occurred at a depth of 8.2km, shaking over a large area in the region.
Tremors were clearly felt by people in neighbouring localities such as Da Nang city and Quang Nam province, reported local media outlets.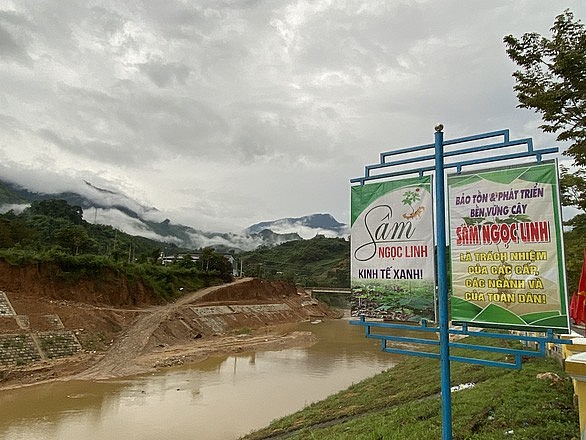 Photo: Le Trung
According to statistics from the Institute of Geophysics, this is the most powerful earthquake that has been recorded in Kon Tum in more than a century.
Subsequent earthquakes have occurred in Kon Tum's Kon Plong district since April 2021, especially after the Upper Kon Tum Hydropower plant was put into operation on March 24, 2021. Notably, a 4.5-magnitude earthquake jolted Kon Plong on April 18, 2022.
Over the past year, Kon Plong district witnessed more than 200 earthquakes, representing a six-fold rise compared to the number quakes occurring in the locality over a century earlier, reported VOV.
Scientists from the Institute of Geophysics initially attributed the earthquakes in Kon Plong to hydropower dams, which accumulate water, thereby putting pressure on faults underneath.
Further research is needed to help determine the causes and danger levels of earthquakes so that appropriate solutions would be introduced, they said.
Trade surplus to hit US$1 billion this year
Vietnam's export revenue in 2022 is expected to reach about US$368 billion, a year-on-year rise of 9.46%, according to a report by the Ministry of Industry and Trade (MoIT).
The number would surpass the targets set by both the Government and the ministry, at around 8%.
Meanwhile, import value is estimated at US$367 billion in the year, resulting in a trade surplus of some US$1 billion, fulling the set target, the report says.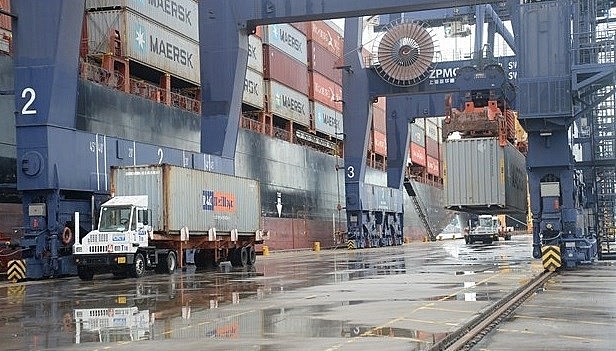 Illustrative image. Source: VNA
In the first half of this year, export-import value was over US$371.3 billion , including more than US$186 billion worth of exports, up 17.3% from the corresponding time last year.
The export of the domestic economic sector rose 19.5%, higher the 16.6% increase of the foreign direct investment (FDI) sector, including crude oil, which, the ministry said, reflects efforts by domestic firms in production and business recovery and supply chain resumption amid difficulties.
Notably, during the six-month period, 29 items reported their export turnover surpassing US$1 billion, four items more than the same period last year, making up 91.2% of the total value.
The ministry said the enterprises have optimized free trade agreements (FTAs), especially new-generation ones, to boost exports, cited VNA.
Vietnam experienced export growth in the markets it has FTAs with, ranging from 12%-34%, said Tran Thanh Hai, deputy head of the MoIT's Agency of Foreign Trade, adding that a growth rate of 30% was seen in such markets as Canada and Mexico.
The ministry said it will continue to keep a close watch on the Covid-19 situation, policy changes adopted by countries and major partners, and international trade to give consultations to the Government in the management work.
It will also pay more attention to the implementation of FTAs to help businesses optimize opportunities generated by the trade deals, step up trade promotion and further streamline administrative procedures.