Vietnam News Today (Aug. 22): Vietnam Trains Over 45,000 International Students from 102 Countries
Vietnam News Today (Aug. 22): Vietnam trains over 45,000 international students from 102 countries; Vietnam, UK promote ties in various areas; Hanoi's tourism sector continues recovery momentum in August; Seminar seeks better Vietnamese language teaching abroad.
Vietnam News Today (Aug. 22) notable headlines
Vietnam trains over 45,000 international students from 102 countries
Vietnam, UK promote ties in various areas
Hanoi's tourism sector continues recovery momentum in August
Seminar seeks better Vietnamese language teaching abroad
Cashless payments take over the streets
PM chairs teleconference on labour market development
Vietnam's great friend passes away
Ha Long Bay ranks fifth among world's 10 most beautiful places
At least 1 million housing units for low-income earners to be built by 2030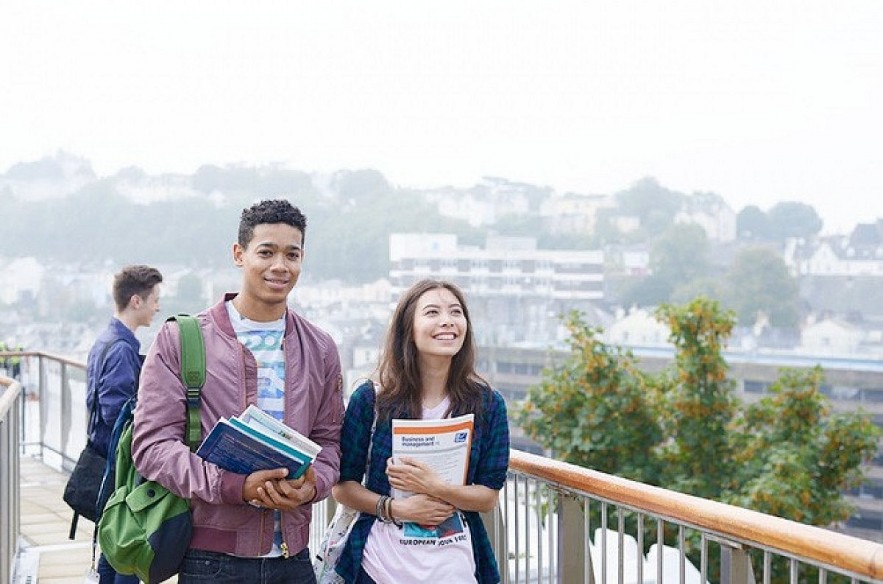 Most of foreign students either study at universities or chose short-term courses in Vietnam. Photo: tienphong.vn
Vietnam trains over 45,000 international students from 102 countries
About 155 educational institutions across Vietnam had received and trained more than 45,000 foreign students from 102 countries and territories worldwide over five years from 2016 to 2021.
Of the total, 26.6% of the students were sent for study under student exchange and cooperation agreements between Vietnam and other countries, according to a report from the Ministry of Education and Training.
The report shows on average between 4,000 and more than 6,000 foreign students are admitted to Vietnamese educational institutions every year. The figure fell to 3,000 in the two years 2020 and 2021 due to the impact caused by the Covid-19 pandemic, reported VOV.
Most of the students either study at universities or chose short-term courses. A quite modest number of foreign students choose taught postgraduate programmes (Master's or PhD). Lao and Cambodian students mainly do PhD courses, while some students from China, the Republic of Korea and Japan prefer majoring in Vietnam studies.
The number of students from China, France, the Republic of Korea, and Japan has increased considerably in recent times thanks to the growing economic ties between Vietnam and those countries, the report points out.
The Hanoi-based Vietnam National University tops the list of educational institutions in Vietnam that has attracted foreign students from 74 countries and territories worldwide. It is followed by Ho Chi Minh City Vietnam National University (47), Hanoi University (44), Hue University (34), Thai Nguyen (29) and Da Nang (13).
The report also indicates that the majority of foreign students are satisfied with the living conditions, learning facilities and lecturers' care.
Vietnam, UK promote ties in various areas
The Vietnam – UK Friendship Association of Hanoi held the fourth Congress on August 20 and set out orientations for the 2022-2027 tenure.
The Congress elected an executive board comprising 27 members led by Secretary of Hoan Kiem district Party Committee Vu Dang Dinh.
During the new tenure, the association will continue to build itself with new partners, contributing to friendship and cooperation between the two peoples. It will also strive to have 4-6 more chapters, with priority given to businesses having partnership with the UK, cited VOV.
Friendship exchanges celebrating the National Day of Vietnam, anniversaries of bilateral diplomatic ties, and other political events of the two countries are also planned.
Chairwoman of the municipal Vietnam Fatherland Front and Chairwoman of the municipal Union of Friendship Organisations Nguyen Lan Huong suggested the association actively expand ties with mass and friendship organisations in the UK, and promote cooperation in economy, culture, education and tourism.
Hanoi's tourism sector continues recovery momentum in August
Hanoi's tourism industry continued its strong recovery in August, with an estimated 1.7 million visitors, according to the capital city's Department of Tourism.
The figure includes 1.6 million domestic tourists and 156,000 foreign visitors. The sector's revenue in August is expected to reach VND4 trillion (US$171 million ).
Since the start of the year, the capital city has welcomed nearly 12.4 million visitors, 4.2 times higher than the same period last year, of which the number of foreign tourists is estimated at 582,000, according to NDO.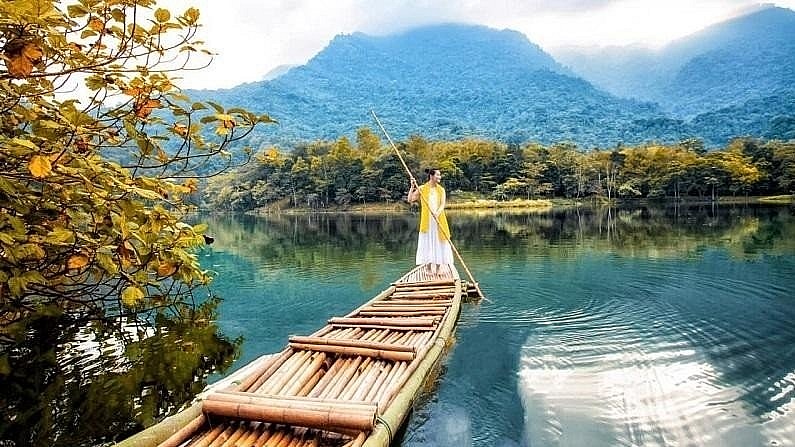 Thien Son-Suoi Nga, a tourist site in Hanoi's Ba Vi District. Photo: NDO
During this period, total tourism revenue is estimated at VND35.9 trillion (US$1.5 billion ).
Visitors to Hanoi over the first eight months of 2022 already exceeded the full-year target of 9-10 million.
Director of Hanoi's Tourism Department Dang Huong Giang said the city is encouraging the development of new tourism products such as hot-air balloons in Ba Vi and paragliding in Chuong My.
In addition, the city will continue enhancing night culture and food tourism products in the Old Quarter.
Seminar seeks better Vietnamese language teaching abroad
Solutions to improve the teaching and learning of Vietnamese language among overseas Vietnamese children were tabled for discussion at a seminar in Hanoi on August 20.
The event was jointly held by the Ministry of Foreign Affairs (MOFA), the Ministry of Education and Training and the Vietnam Education Publishing House (VEPH) as part of activities in response to the day for honouring the Vietnamese language (September 8).
Addressing the event, VEPH General Director Hoang Le Bach said September 8 has become an annual day for honouring the Vietnamese language under a decision signed by Deputy Prime Minister Pham Binh Minh approving a project on the day among the overseas Vietnamese community for the 2023-2030 period.
The project aims to enhance the community's awareness of the Vietnamese language's beauty and value, while honouring individuals and organisations that make positive contributions to maintaining and expanding the coverage of the language among the community, keeping it as a language for communication among the Vietnamese families abroad, and spreading it to foreigners.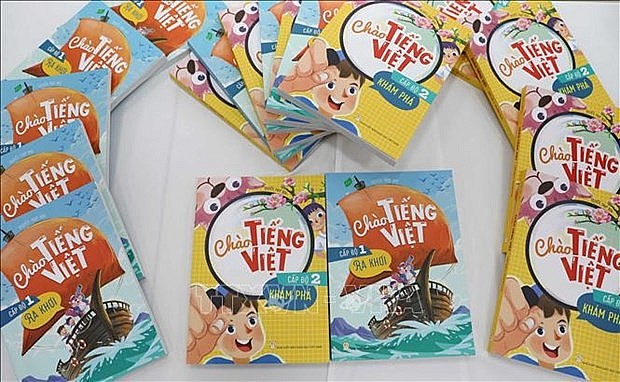 A collection of six book named "Chao Vietnam" by Nguyen Thuy Anh is introduced at the event. Photo: VNA
Over the past years, the VEPH has compiled and published many books serving the study, research and teaching to improve knowledge and love for the Vietnamese language as well as the literature and culture of Vietnam, he said.
In the future, it will coordinate with the State Commission on Overseas Vietnamese Affairs under the MOFA to implement a range of activities including training and sharing methods of teaching Vietnamese to OV children; building libraries, introducing books and spreading the Vietnamese culture in other countries, he added.
Participants at the seminar have exchanged experience in teaching the Vietnamese language for OV children. VOV reported.
Nguyen Thuy Anh, author of a collection of six books named "Hello Vietnamese" introduced at the event, said that the most important thing when teaching Vietnamese to OV children is to arouse their interest, curiosity and need to communicate in Vietnamese through interactive activities such as games and festivals.
Cashless payments take over the streets
Cashless payments made through scanning QR codes or other online payment methods at grocery stores or roadside eateries are becoming a bigger habit of many Vietnamese consumers.
Not only popular in commercial centres and supermarkets, but modern payment methods via internet banking, e-wallets, and QR codes are also now more likely to be accepted and deployed at both retail stores and street eateries.
"I am very surprised to find that some sidewalk restaurants are going digital. Never before has the purchase of a loaf of bread, or a low-value snack, been done so easily," said Quang Dang, a 23-year-old living in Ba Dinh district of Hanoi.
Nguyen Diep's iced tea shop on the sidewalk of Chua Lang street in Dong Da district is an example. Any customer who buys a cup of iced tea or a few sweets worth only a few thousand VND can scan a QR code instead of using cash.
Diep has been using QR code payments for nearly two years, since people were advised by the government to avoid crowds and close contact and keep a safe distance during the pandemic. Now, Diep no longer wants to change back.
"The biggest advantage of cashless payments is that I do not have to prepare change to return to the customer. Buyers save time, and sellers easily control their financial situation because the amount transferred to the account is clearly notified," Diep said.
In fact, online payment methods are growing at a fast rate and increasing coverage in all fields. According to statistics from the State Bank of Vietnam, non-cash payment transactions increased by 77 per cent in volume and 30 per cent in value in the first six months of this year; in which, via the internet increased 63 per cent and 32 per cent respectively; via mobile increased 98 per cent and 84 per cent respectively; and via QR code increased by 86 per cent and 127 per cent over the same period in 2021, cited VIR.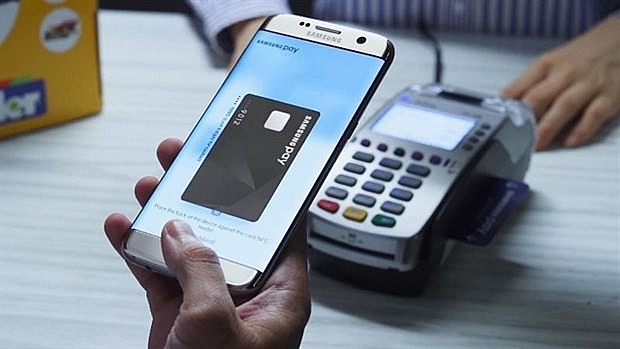 Photo: VNA
Ngo Anh Tuan, director of VNPAY-QR, said 85 per cent of consumers in Vietnam are using this payment method more often than two years ago. "Many popular ice tea shops in Hanoi and Ho Chi Minh City also accept QR payments," Tuan said.
Statistics via the Payoo payment platform also show that the value of cashless payments in the second quarter grew strongly, especially in the fields of public services, education, tourism, food and beverages (F&B), retail, fashion, and electronics.
Specifically, the F&B industry increased by 61 per cent in volume and 41 per cent in transaction value compared to the first quarter of 2022. International cards have become the dominant payment method in this field, accounting for 64 per cent in volume and 77 per cent in value.
Meanwhile, payment transactions on the National Public Service Portal in Q2 increased by 84 per cent in volume and three times in transaction value compared to the first quarter.
This sector is expected to continue to make stronger leaps after Prime Minister Pham Minh Chinh in a recent meeting on financial inclusion ordered an acceleration of non-cash payment for public services. This includes collection and payment of taxes, fees, and charges as well as collection of fines for administrative violations and road toll collection by 2025.
Ngo Trung Linh, general director of VietUnion said, "The cashless payment market has ample room for development because Vietnamese users quickly adapt to digital payment services."
Seizing this opportunity, Payoo in addition to providing payment solutions for public services also cooperates with partners, including Mastercard. Until now, Payoo has connected with more than 15,000 point-of-sale terminals to provide bills and collection of more than 350 types.
Online payment habit also creates growth opportunities for companies providing growth solutions. According to the National Payment Corporation of Vietnam, by the end of April, the transaction value of the interbank electronic payment system had increased by 32 per cent; mobile payments increased by 98 per cent in number of transactions and 87 per cent in value; and payments via QR code increased by 57 per cent in quantity and 111 per cent in transaction value.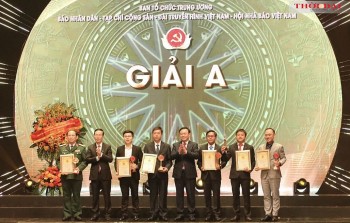 Viet's Home
The 7th National Press Prize on Party Building (named Golden Hammer and Sickle) - 2022 has been bountiful with thousands of entries on a variety of topics, rich in genres, closely following hot topics, outstanding events, key tasks of the political system and the country. Content relating to party building process was clarified and further exploited compared to previous years.