Vietnam News Today (August 15): Vietnam Records Biggest Daily Spike in Covid-19 Cases as Lockdown Continues
Vietnam News Today (August 15): Vietnam records biggest daily spike in Covid cases as localities extend lockdown; Border gate pair of Vietnam and Laos inaugurated; 200 German-made ventilators arrive in HCM City; 100 volunteers to receive the first shot of ARCT-154 vaccine.
Vietnam News Today (August 15) notable headlines
Vietnam records biggest daily spike in Covid cases as localities to extend lockdown
Border gate pair of Vietnam and Laos inaugurated
200 Germany-made ventilators arrive in HCM City
100 volunteers to receive first shot of ARCT-154 vaccine
Vietnamese world's 21st most spoken language: ranking
Bureaucracy sees Hanoi workers give up on Covid aid
Politburo's advisory body proposes paid Covid vaccination
Da Nang bustling two days prior to lockdown
Da Nang, Nha Trang ban people from leaving home for seven days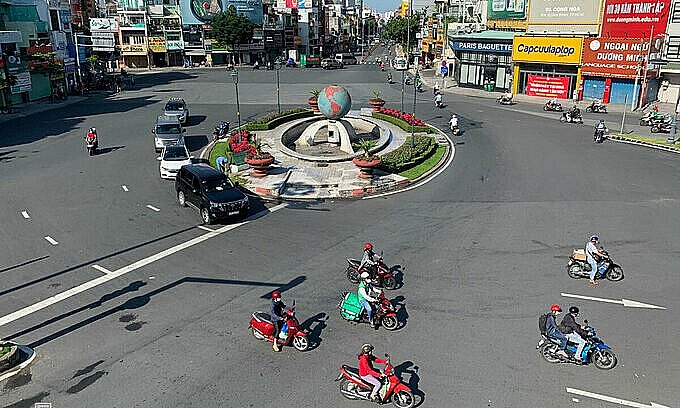 Photo: VnExpress
Vietnam records biggest daily spike in Covid cases as localities to extend lockdown
Vietnam confirmed 9,710 new Covid-19 cases in 40 localities Saturday, the highest number recorded on a single day to date, as many places prepare to extend or tighten restrictions.
Current epicenter HCMC led the day's tally with 4,231 cases, followed by its neighbors and industrial hubs Binh Duong (2,029), Dong Nai (1,023) and Long An (653), the Health Ministry said.
Of the cases recorded on Saturday, 3,510 were detected in the community while the remaining in quaratine facilities or locked down areas, cited VnExpress.
The Health Ministry also confirmed another 349 Covid-19 deaths, with 285 in HCMC, 32 in Binh Duong, 10 in Long An, five in Tien Giang, three each in Da Nang and Dong Nai, two in Can Tho and one each in Hanoi, Ben Tre, Binh Thuan, Hau Giang, Khanh Hoa, Kien Giang, Soc Trang, Tra Vinh and Vinh Long. The national Covid death tally is now 5,437, including 35 deaths recorded in previous waves.
HCMC, which has recorded more than 4,300 deaths, has named preventing deaths a main mission in the current Covid fight. The city has set up 312 quick response teams to provide emergency aid to Covid patients who turn severe while being self-monitored at home. HCMC is letting around 10,000 asymptomatic patients without underlying conditions stay home.
The day's number has pushed the tally in the ongoing wave since late April to 261,412.
The number of recoveries since the start of the pandemic increased to 96,985, after 4,247 were announced recovered Saturday.
Vietnam now ranks 80th among 222 countries and territories in terms of infection numbers and 69th in fatalities.
The country has vaccinated over 13 million people with at least one Covid-19 vaccine shot. Over 1.2 million of them have been fully vaccinated.
Border gate pair of Vietnam and Laos inaugurated
A pair of border gates - Nam Giang in Vietnam's central province of Quang Nam, and Dac Ta Ooc in Laos' Se Kong province - were officially inaugurated on August 14.
The opening of the Nam Giang-D­ac Ta Ooc border gate pair is believed to contribute to further developing the border gate system between both sides, along with opening up fresh co-operation opportunities.
These benefits will be seen in the field of economy, trade, investment, and tourism between the key economic regions in central Vietnam, along with other localities of neighouring countries of Laos and Thailand.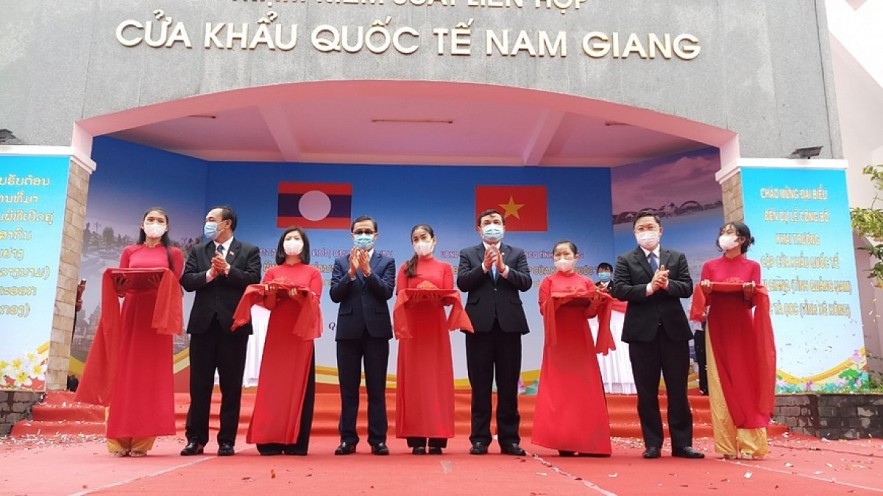 Representatives from the two provinces attend the ribbon cutting ceremony. Photo: qdnd.vn
Furthermore, the two border gates will help draw additional international investors, thereby supporting the development of the East-West Economic Corridor (EWEC), as well as promoting the connection and formation process of ASEAN community, according to VOV.
The opening of the two border gates also represents an important political event regarding Quang Nam and Se Kong's joint efforts to reinforce the great friendship, special solidarity, and comprehensive cooperation between Vietnam and Laos as well as between the two provinces.
To mark the occasion, the Vietnamese Government donated a total of 100 tonnes of rice to local people in Se Kong province to help them ensure food stability amid the negative impact of Covid-19 pandemic.
In return, Se Kong province also gifted KIP100,000 to Quang Nam province as a contribution to Covid-19 prevention and control.
200 Germany-made ventilators arrive in HCM City
A flight of Vietjet Air transporting 200 ventilators from Germany landed in Ho Chi Minh City's Tan Son Nhat International Airport on August 13 to help hospitals in Covid-19 hotspots fight the Covid-19 pandemic.
The ventilators are part of assistance provided by Sovico Group, HD Bank and budget carrier Vietjet Air to the country's coronavirus response, reported VNA.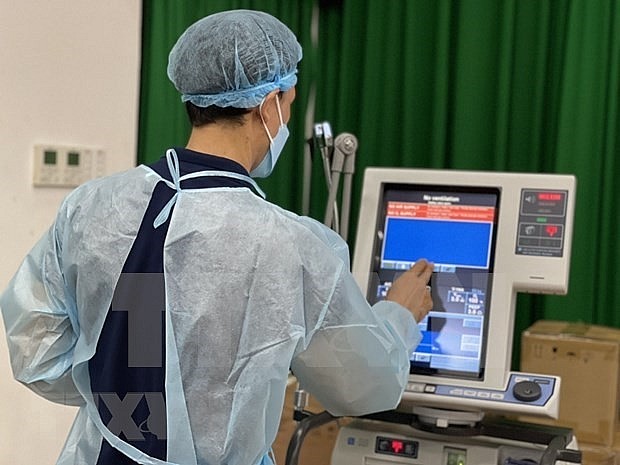 Photo: VNA
Half of the ventilators were delivered to hospitals in HCM City the following day while the rest are to soon depart for medical establishments in Hanoi, Dong Nai and Kien Giang.
The three companies have donated hundreds of billions of VND for the purchase of ambulances, ventilators, test kits and other medical supplies for the fight against the pandemic.
Vietjet Air has cooperated with the Ministry of Health to carry more than 3,000 healthcare workers, tonnes of medical supplies and millions of vaccine doses to Covid-19 hotspots across the country.
Top managers of the three companies have been supporting a programme to seek transfer of vaccine production technologies from major foreign manufacturers in a bid to help the country secure more vaccines.
The companies have also initiated and sponsored a project to deliver free meals to temporary Covid-19 hospitals and quarantine sites, and aid packages including rice, instant noodles and spices, to poor families inside locked-down areas.
Vietjet and Sovico have sponsored two online concerts to raise funds for the Covid-19 vaccine fund.
100 volunteers to receive first shot of ARCT-154 vaccine
As many as 100 Vietnamese volunteers are poised to be given their first shot of the ARCT-154 vaccine on August 15, making it the third locally-produced vaccine against Covid-19 to be trialed.
Ahead of receiving their first shot, volunteers must agree to follow the study's procedures and perform at least eight clinical visits in line with the study schedule at the Center for Clinical Pharmacology under the Hanoi Medical University, cited VOV.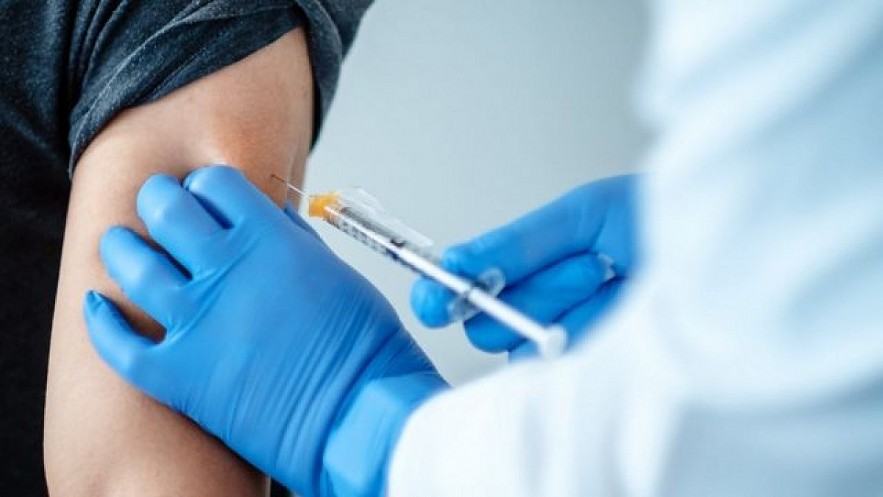 100 volunteers will receive first shot of ARCT-154 vaccine. Photo: MoH
Participants will be grouped randomly, in which 75% of volunteers will be injected with ARCT-154, with the remaining 25% being given placebos. They will subsequently receive the second shot after 28 days.
The human clinical trials are scheduled to be carried out in three phases and will feature the participation of 21,000 volunteers, including more than 100 in phase one, 300 in phase two, and 20,600 in phase three.
Furthermore, testing will be carried out on adult volunteers at the Hanoi Medical University, the Ho Chi Minh City Pasteur Institute, and the Vietnam Military Medical University.
According to the Health Ministry, ARCT-154 is a self-amplifying mRNA vaccine that is designed to act against numerous strains of SARS-CoV-2, including the Alpha, Beta, Delta, and Gamma variants.
The vaccine has been produced by Arcturus Therapeutics, Inc. of the United States along with Vinbiocare, a unit of Vingroup, the nation's largest private conglomerate.
Vietnamese world's 21st most spoken language: ranking
The Vietnamese language is the 21st most spoken in the world, according to finance website InsiderMonkey.
In an article published Thursday, the website said Vietnamese ranked 21st among the 25 most spoken languages of the world.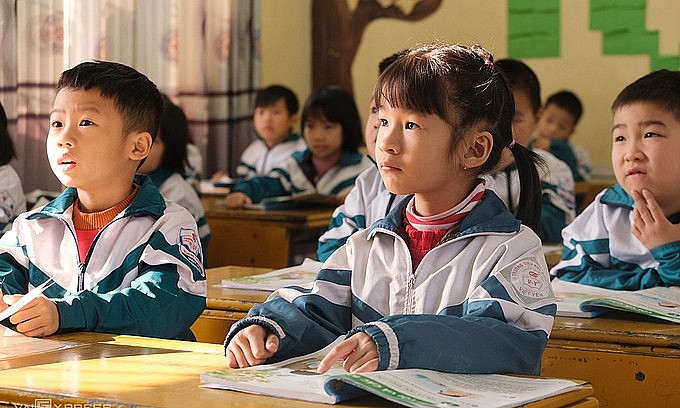 Children study in a classroom in Bac Giang, northern Vietnam, January 19, 2021. Photo: VnExpress
Saying it had consulted Ethnologue, an annual reference publication regarding statistics and other information of living languages, InsiderMonkey drew up the ranking based on the number of speakers of a language, among other data points, reported VnExpress.
Accordingly, the Vietnamese language is spoken by over 77 million people worldwide, with the majority being residents living in Vietnam. It falls behind Korean with 82 million speakers, and ahead of Hausa, with 75 million speakers.
The five most spoken languages around the world are English, Mandarin Chinese, Hindi, Spanish and Standard Arabic, according to the list.