Vietnam News Today (August 13): Vietnam Likely to Have Homegrown Covid Vaccine in September
Vietnam News Today (August 13): Nearly 10,000 new Covid-19 cases recorded, eyes fall on Binh Duong; Vietnam likely to have homegrown Covid vaccine in September; Covid pushes back new school year in Vietnam; Vietnam Airlines succeeds in applying IATA Travel Pass.
Vietnam News Today (August 13) notable headlines
Nearly 10,000 new Covid-19 cases recorded, eyes fall on Binh Duong
Vietnam likely to have homegrown Covid vaccine in September
Covid pushes back new school year in Vietnam
Vietnam Airlines succeeds in applying IATA Travel Pass
Vietnam remain ahead of Thailand in latest FIFA rankings
Vietnam, Australia seek to boost IT cooperation
HCM city resolves to contain SARS-CoV-2 virus by September 15
Vietnam, Tanzania seek to increase investment cooperation
First pregnant women vaccinated against Covid-19 in Vietnam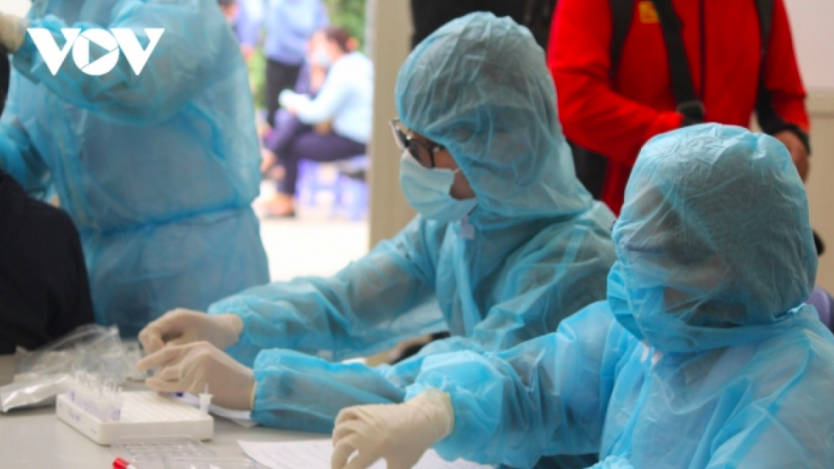 Photo: VOV
Nearly 10,000 new Covid-19 cases recorded, eyes fall on Binh Duong
An additional 5,025 coronavirus cases have been detected in Vietnam during the past 12 hours, raising the country's daily count to 9,667, according to the Ministry of Health (MoH) on August 12 evening.
Of the newly detected cases, 5,014 were locally acquired and 11 were diagnosed upon returning from overseas, the MoH said in its 06.00 p.m. coronavirus update.
About 970 cases were documented in the community through random testing or test screening at healthcare facilities, while the rest tested positive in quarantine or lockdown areas.
Binh Duong, an industrial complex hub in the south, overtook Ho Chi Minh city, the largest coronavirus hotspot in Vietnam, registering 2,117 new cases, reported VOV.
The southern province, which is a gateway to HCM city, has recorded more than 36,000 cases in quarantine/lockdown and residential areas since the resurgence of the virus in late April.
The local administration has extended the social distancing order with restrictive measures to halt the spread of the virus. The province has used up nearly 550,000 doses of the Covid-19 vaccines allocated by the MoH, and it has requested the Government to urgently distribute an additional 1 million doses to the locality in order to increase its vaccination coverage.
Meanwhile, the past 12 hours saw 1,523 new cases detected in HCM city, 646 in Dong Nai, 102 in Dong Thap and 104 in Can Tho, all in the south.
Hanoi capital, which is also implementing extended social distancing measures, documented a further 76 cases.
New cases were also sporadically reported in Dak Lak, Gia Lai, Hau Giang, Ha Tinh, Dak Nong, Thanh Hoa, Thai Binh, Quang Ninh, Quang Ninh, Nam Dinh and others.
Overall, Vietnam has confirmed 9,667 new cases during the past 24 hours, with HCM city recording 3,841 cases and Binh Duong 3,028.
This is the second time Vietnam's daily count has exceeded the 9,000 case mark since the virus recurred three and a half months ago. On August 8, its daily caseload hit a record high of 9,684.
Data from the Ministry of Health (MoH) show as of 06.00 pm on August 12 Vietnam has documented 242,603 new locally transmitted cases following virus resurgence in late April and 246,568 cases since the start of the first outbreak in January 2020.
As many as 89,145 patients have been discharged from hospital after making a full recovery from the disease, including 3,991 recoveries on August 12.
The same day, the MoH announced 326 more Covid-19 deaths in 10 cities and provinces. HCM city confirmed 225 cases, while Binh Duong reported 42 cases.
Vietnam likely to have homegrown Covid vaccine in September
Prime Minister Pham Minh Chinh on August 12 encouraged scientists and pharmaceutical firms to make a greater effort in vaccine research and production in order to have a locally produced Covid-19 vaccine in September 2021.
Addressing scientists and representatives of pharmaceutical firms at a working session in Hanoi, Chinh said he pays special attention to the ongoing implementation of the vaccine strategy.
To secure vaccines for people, he said Vietnam is synchronously carrying out a three-pronged vaccine strategy, focusing on vaccine purchase and import, technology transfer, and domestic research and production, cited VOV.
"Domestic research and production plays an important role in implementing this vaccine strategy and this must be done by all means," Chinh stressed.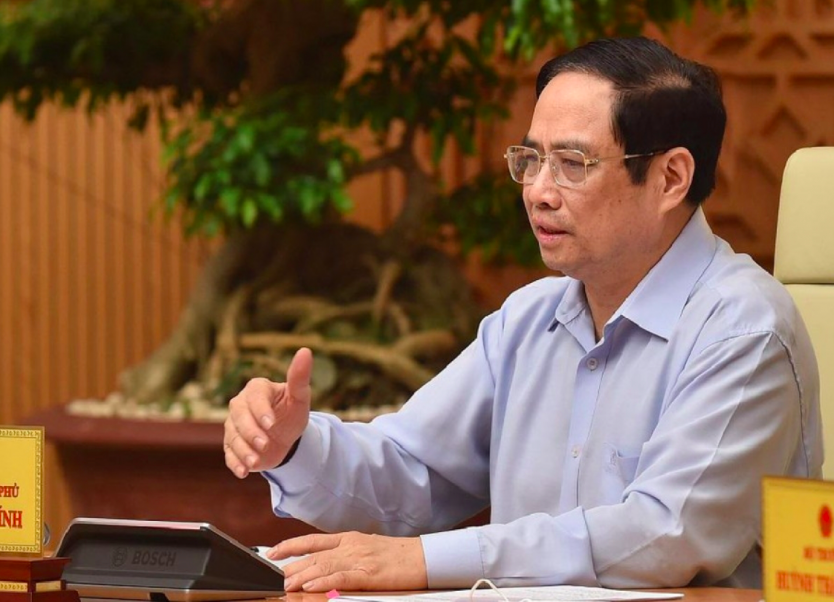 PM Pham Minh Chinh says a greater effort should be made to speed up vaccine research and development so that the first locally produced Covid-19 vaccine is likely to be marketed in September. Photo: VGP
He asked scientists, managers and manufacturers to consider minimizing procedures, including administrative procedures, but to meet professional requirements regarding the safety and effectiveness of the vaccine.
"Since this field is related to health and human life, we must have a warm heart and keep a cool head," he reminded.
To this end, he assigned the Ministry of Health, Ministry of Science and Technology and Ministry of Justice to assist scientists and pharmaceutical firms in vaccine research and development so that a Made-in-Vietnam vaccine would be marketed in September this year.
In addition, he asked the designated ministries, scientists and firms to assist with research and development of Covid-19 medication to support treatment.
Vietnam is testing two local vaccines, Nano Covax and Covivac, on humans. Nano Covax alone is entering its third and final phase of its clinical trials. Preliminary reports show the vaccine is 90% effective against the SARS-CoV-2 virus.
As Covid-19 vaccines are in short supply, Nanogen Pharmaceutical Biotechnology JSC, the developer of Nano Covax, has submitted its request to the Ministry of Health (MoH) for an early approval of its vaccine for emergency use in Vietnam. However, MoH experts say they need more time to evaluate the effectiveness of the vaccine.
Vietnam is currently grappling with a fresh Covid-19 outbreak, with the virus spreading to 62 out of 63 cities and provinces across the country and more than 200,000 new cases recorded during the past three and a half months.
However, the vaccination coverage remains low, as more than 12 million doses of the Covid-19 vaccines have been administered nationwide.
The MoH is speeding up the national vaccination campaign, aiming to inoculate 70% of the population, or 75 million people, by early 2022.
Covid pushes back new school year in Vietnam
As the ongoing Covid-19 wave grows ever complex, many localities have decided to have students start their new academic year later than usual.
Vietnamese schools normally welcome back students in mid-August after a three-month summer break, before an official ceremony is held on September 5.
By Thursday, only 19 out of 63 localities in Vietnam had issued plans to start the new school year of 2021-2022.
Among them is Binh Duong province that borders Ho Chi Minh city.
Currently the second-worst hit locality after the southern metropolis, Binh Duong has decided to have students of all grades start their new school year on Sept. 1.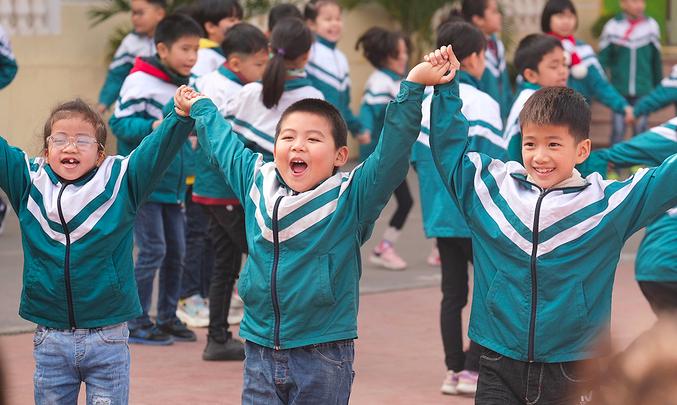 Students during break time at a school in the northern Bac Giang province, January 19, 2021. Photo: VnExpress
However, the province said students might have to study online for the first two months as for now, some schools are still used as Covid-19 centralized quarantine facilities.
An Giang Province in Mekong Delta will have first graders start school on Aug. 30 and the rest on Sept. 1, reported VnExpress.
For now, the delta with 13 localities is also severely affected by the ongoing wave.
The remaining 17 localities with plans for the upcoming school year are the northern provinces of Son La, Phu Tho, Bac Giang, Ninh Binh, Yen Bai, Tuyen Quang, Bac Kan, Hung Yen, Hoa Binh, Lao Cai, Ha Nam and Dien Bien; central provinces of Thanh Hoa, Nghe An, Ha Tinh and Gia Lai; and Ba Ria-Vung Tau Province that borders HCMC.
Son La is the one that will have students end their summer break the earliest.
Starting Aug. 16, all students in the province will return to school except for kindergarteners, who will go to school on Sept. 1.
Others on the list will have their students go to school on Sept. 1, although some will have first graders start school on Aug. 23 or 25.
Currently, many localities, especially those imposing the strictest social distancing measures in line with Directive 16, which does not allow gatherings of more than two people in public and requires people to only leave home for essential purposes, including HCMC and Hanoi, have yet to come up with plans for the new school year.
Vietnam Airlines succeeds in applying IATA Travel Pass
Vietnam Airlines' Flight VN310 between Hanoi's Noi Bai airport and Tokyo's Narita airport has been the first of the national flag carrier to pilot the application of the IATA Travel Pass.
The pilot launch of digital health passport by Vietnam Airlines is part of the cooperation agreement signed by the national flag carrier and the International Air Transport Association (IATA) in May.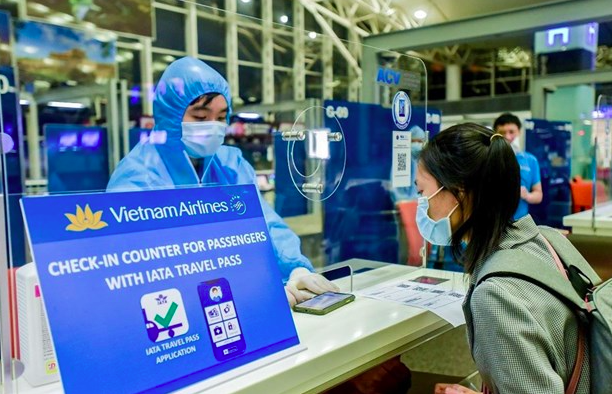 At the Vietnam Airlines counter for passengers with IATA travel pass. Photo: VNA
The trial will continue to run on its flights between Hanoi and Tokyo until the end of August and on a flight between Hanoi and London on September 2.
To be eligible to participate in the programme, passengers must be over 18 years old and have a certificate of negative Covid-19 test results issued by testing facilities registered with IATA.
To make it easier for passengers to use the application, Vietnam Airlines provides instructions with illustrations on its website at https://www.vietnamairlines.com/vn/en/plan-book /experience/iata-travel-pass, cited VNA.
The airline hopes that the successful test of the electronic health passport will be the basis for the Vietnamese Government to consider officially recognising this mechanism, speeding up the resumption of international flights in the near future.
Vietnam remain ahead of Thailand in latest FIFA rankings
The Vietnamese national men's football team finished 92nd globally in the latest FIFA rankings for August, leaving local rivals Thailand far behind and staying atop Southeast Asia.
According to the FIFA rankings, Vietnam gained an additional five points to score a total of 1,261 after securing a place in the final qualifying round of the 2022 FIFA World Cup.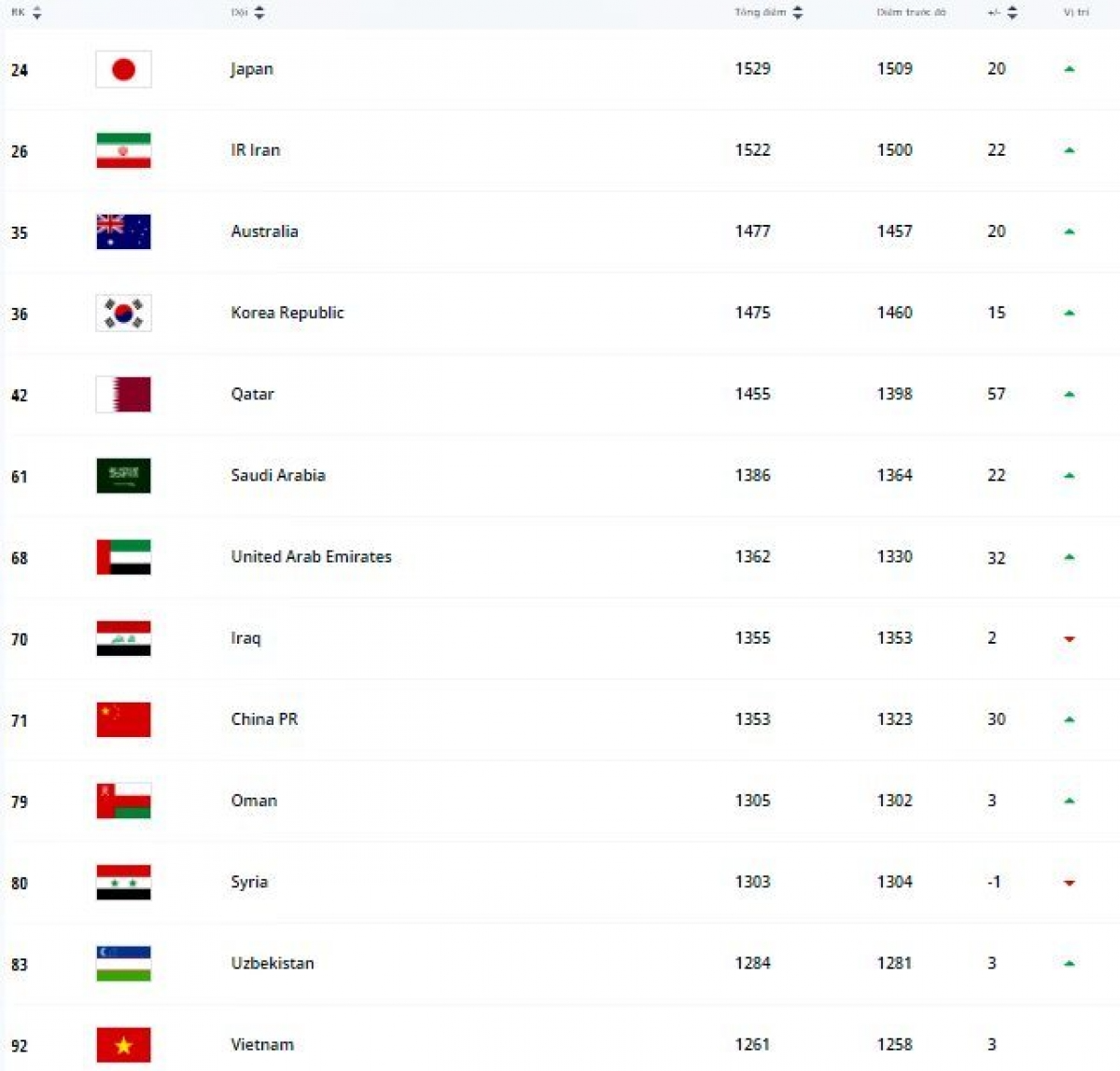 Vietnam among top 13 countries in Asia. Photo: VOV
The team led by head coach Park Hang-seo held on to their place as the top team in Southeast Asia, 13th in Asia, and 92nd in the world.
After losing a series of matches during the second Asian qualifying round for the 2022 FIFA World Cup, Thailand dropped 29 points, thereby falling 14 places to 120th in the latest rankings.
Despite their fall, Thailand are the Southeast Asian region's second best team trailing behind Vietnam. Elsewhere in the region, the Philippines are positioned at 128th in the world, followed by Myanmar at 145th, and Malaysia at 154th, according to VOV.
In Asia, Japan remain the continent's leading team with 1,529 points, followed by Iran, Australia, the Republic of Korea, and Qatar.
The top five powerhouses in the world are Belgium, Brazil, France, England, and Italy.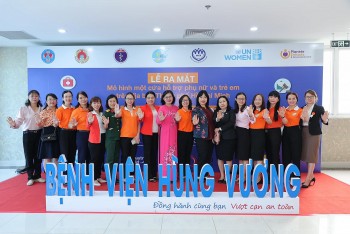 Viet's Home
What is the one-stop centre for women and children experiencing violence?