Vietnam News Today (August 10): Hanoi to Conduct Covid Testing for 300,000 Residents in High-risk Areas
Vietnam News Today (August 10): HCMC to receive 600,000 more Covid-19 vaccine doses; Hanoi to conduct Covid testing for 300,000 residents in high-risk areas; Local COVIVAC vaccine to enter second phase of clinical trials; HCMC supermarket, convenience store staff can go out at night.
Vietnam News Today (August 10) notable headlines
HCMC to receive 600,000 more Covid-19 vaccine doses
Hanoi to conduct Covid testing for 300,000 residents in high-risk areas
Local COVIVAC vaccine to enter second phase of clinical trials
HCMC supermarket, convenience store staff can go out at night
Vietnam remains attractive destination for US investors
Special online concert supports Covid-19 vaccine fund
Overseas remittances to HCM city hit US$3.7 billion in seven months
Foreigners receive Covid-19 vaccines in HCM city
Seven-month forestry exports up by 55%
A woman gets Covid-19 vaccine in HCMC, August 5, 2021. Photo: VnExpress
HCMC to receive 600,000 more Covid-19 vaccine doses
Ho Chi Minh city will receive 600,000 AstraZeneca vaccine doses from Pasteur Institute to continue mass inoculation.
The new batch of vaccines will be transferred to 21 districts and Thu Duc city on Monday, said Nguyen Hoai Nam, deputy director of the municipal Health Department.
The city has administered 2.97 million vaccine doses as of Monday noon.
If more vaccines are not allocated in time, the city could run short by the end of Monday, the Health Department said Sunday.
HCMC has been boosting the progress of its vaccination program with a fifth campaign launched on July 22.
Accordingly, the city aimed to inject all people from 18 and above, including migrants and foreigners. During its four previous campaigns, the city had vaccinated just 991,322 people, with 48,107 getting two jabs, cited VnExpress.
On Tuesday, the city of 13 million, including migrants, entered its sixth campaign, continuing to have all people over 18 across the city vaccinated.
The same day, the city administration sent a document to Deputy Prime Minister Vu Duc Dam, head of the Steering Committee for Covid-19 Prevention and Control, requesting 5.5 million Covid-19 vaccine doses from Aug. 5 to 31 to immunize seven million residents above 18.
Following the city's proposal, Prime Minister Pham Minh Chinh requested the Ministry of Health to continue prioritizing to the supply of vaccines to southern localities, including HCMC, and simultaneously, develop plans to allocate the next batches.
The biggest city in Vietnam and the epicenter of the country's ongoing Covid-19 wave, HCMC has been allocated the most vaccines among all localities, at more than four million doses.
The city has recorded 124,153 community Covid-19 cases so far in the wave that broke out in late April, with 2,744 fatalities, as confirmed by the Health Ministry.
Around 20 percent of the city's population have received their first Covid vaccine doses, and 1 percent been fully vaccinated.
Hanoi to conduct Covid testing for 300,000 residents in high-risk areas
The Department of Health of Hanoi will conduct a large-scale testing campaign for about 300,000 residents in high-risk areas and those with a high risk of infection from August 10-17.
The municipal health sector is determined to optimise the social distancing period, which will end on August 23, to detect infected cases soon.
The target groups include freight forwarders, traders at markets and supermarkets, public sanitation workers, taxi drivers, and workers at industrial parks.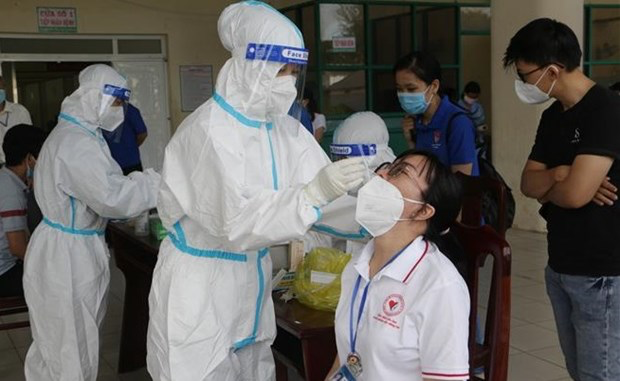 Taking samples for Covid-19 testing. Photo: VNA
The Department planned to mobilise nearly 1,000 students of the Hanoi Medical College, of whom 300 partook in disease prevention in Bac Ninh and Bac Giang provinces - the previous pandemic hotspots, to collect samples.
The move was made as the pandemic situation remains complicated in the city with many new cases having been recorded in the community, according to VNA.
Over the past three weeks, 634 cases out of 1,369 local infections have been detected in the community including Tho Am hamlet cluster in Thanh Tri district, Hoa Voi cluster in Quoc Oai district, as well as Phung market cluster in Thach That district.
As of early August 9, the capital city documented 1,792 infections since the fourth wave of Covid-19 erupted on April 27. Of these, 1,075 cases were detected in the community and 717 others in quarantine sites or locked-down areas.
Local COVIVAC vaccine to enter second phase of clinical trials
The National Institute of Hygiene and Epidemiology is set to recruit the first group of volunteers on August 10 for the second phase of clinical trials of the locally-produced COVIVAC vaccine in the northern province of Thai Binh.
This information was delivered by Dr. Duong Huu Thai, director of the Nha Trang Institute of Vaccines and Medical Biologicals (IVAC).
The move comes following the National Ethics Committee in Biomedical Research hosting a meeting on August 7 aimed at evaluating the results of clinical trials for the first phase of the COVIVAC vaccine. The initial results of the clinical trials prove that the vaccine is both safe and well-tolerated among subjects.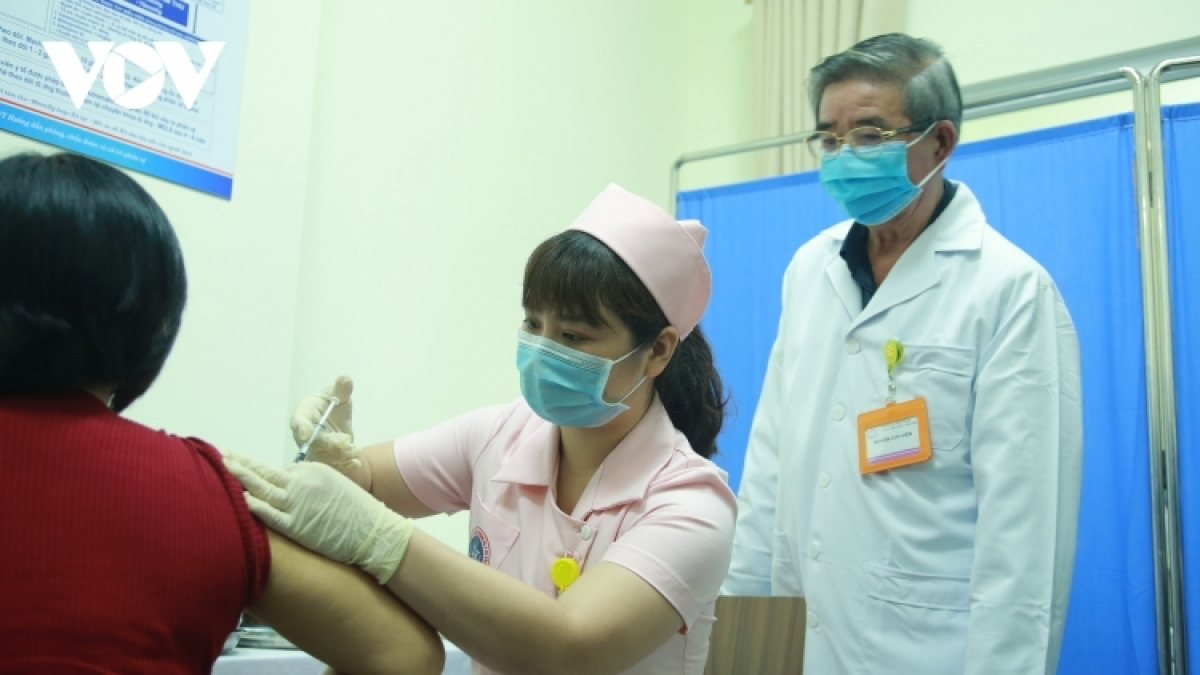 Volunteers participate in the first phase of clinical trials of the COVIVAC vaccine. Photo: VOV
The number of volunteers participating in the second phase will include 375 healthy people aged between 18 and 60. Indeed, the optimal dosage for the second phase will be between 3mcg and 6mcg, cited VOV.
Nguyen Ngo Quang, deputy director of the Department for Science, Technology and Training, said the Ministry of Health will create the most favourable conditions possible for relevant units in order to deploy the clinical trial phase, with the primary aim of developing a Covid-19 vaccine as soon as possible.
The COVIVAC vaccine has been being researched and developed by IVAC since May, 2020. It represents a collaborative project with American universities and PATH organisation.
Three manufacturing units, including IVAC-Vietnam, GPO-Thailand, and Butantan-Brazil have come together to jointly research and develop the vaccine through the technical support of PATH organisation.
The COVIVAC vaccine is a liquid vaccine that comes with or without adjuvants, without preservatives, with the production technology of the Newcastle vector vaccine, and is based on the production technology used in chicken eggs with embryos. This technology is also used to produce local seasonal flu vaccines.
The results of preclinical studies in India, the United States, and Vietnam have so far proved the safety and efficacy of the vaccine.
Currently, the COVIVAC vaccine represents the second homegrown Covid-19 vaccine to be licensed for clinical trial by the Ministry of Health, following Nanocovax.
HCMC supermarket, convenience store staff can go out at night
Supermarket and convenience store employees in HCMC are exempt from the ongoing night time (6 p.m.-6 a.m.) restrictions, authorities said Monday.
Nguyen Thanh Phong, Chairman of the municipal People's Committee, announced the decision following a proposal made by the Department of Industry and Trade to let units have more opportunities to prepare goods and disinfect business sites.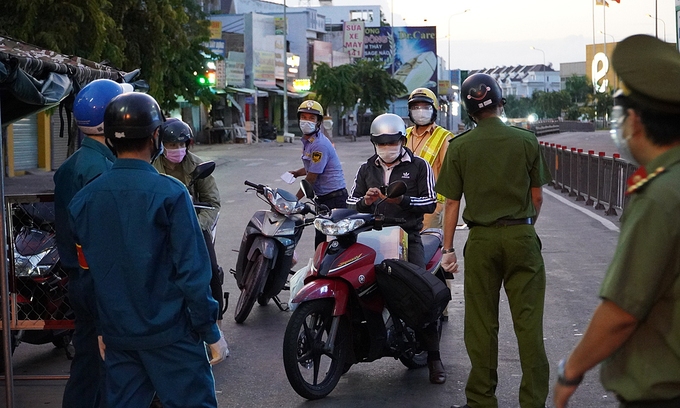 Police officers at a Covid-19 checkpoint stop vehicles in HCMC's Go Vap district, July 26, 2021. Photo: VnExpress
The department has been requested to cooperate with relevant authorities to list the employees and update information onto a database. Per the provided info, directors of supermarkets and convenience stores would give their employees approval documents so they can be out on the streets from 6 p.m. to 6 a.m, VnExpress reported.
Ho Chi Minh city has been implementing a social distancing order since July 9. Starting July 26, people must also stay home from 6 p.m. to 6 a.m. the next day, except for certain cases like medical emergencies.
On August 3, the city allowed certain postal services to let their vehicles move out at night in order to minimize disruption of public and essential services.
The southern city has recorded 124,153 local Covid-19 cases since the fourth coronavirus wave hit Vietnam late April, and is the current epicenter of the pandemic.
Vietnam remains attractive destination for US investors
Vietnam remains an attractive destination for US investors in the Indo-Pacific, heard a webinar recently held by The Asia Group.
The event aimed to share business opportunities and updates on the fight against Covid-19 and economic prospects in Việt Nam, drawing over 40 executives and representatives from US firms in the fields of energy, finance, technology and manufacturing such as Blackstone Group, Google, Facebook, Ford, UPS and Walmart.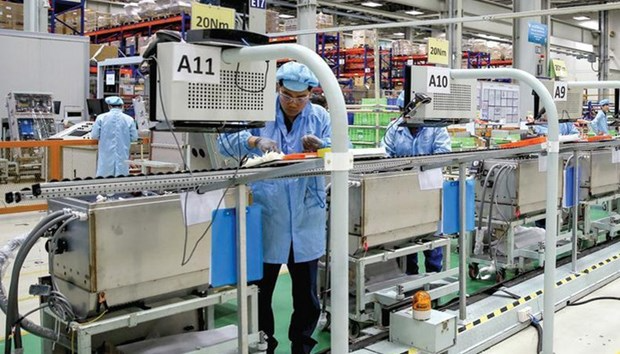 The Vietnamese Government has been exerting utmost efforts to effectively fight the pandemic and maintain important supply chains. Photo: VNS
Speaking at the event, Vietnamese Ambassador to the US Ha Kim Ngoc highlighted Việt Nam's economic achievements, and informed participants about the country's incentives in foreign direct investment (FDI) attraction, VNS reported.
He underscored the Vietnamese Government's determination to selectively attract FDI and strengthen Vietnam's role in restructuring the global supply chain.
As for the US investors, the active development of the Vietnam – US comprehensive partnership and Vietnam's network of free trade agreements are conducive to their activities in the country, he said.
Vietnam is ready to hold constructive dialogues, deal with difficulties and ensure a stable business environment for US enterprises, he added.
According to the ambassador, the Vietnamese Government has been exerting utmost efforts to effectively fight the pandemic, maintain important supply chains and create favourable conditions for economic development.
On the occasion, he also highly valued the US firms' support for Vietnam regarding the currency valuation investigation, and asked for their continued backing in the case related to timber so as to maintain trade and investment growth for the benefit of both sides.
Participants at the event expressed their trust in Vietnam's determination and efforts against the pandemic. They vowed to continue partnering with Vietnam in the joint effort.
Several firms expressed interest in specific issues such as addressing differences in digital trade, and considering a direct flight between the two nations.
World
Mattarella is Italy's 12th president and head of state since the country became a republic after the Second World War.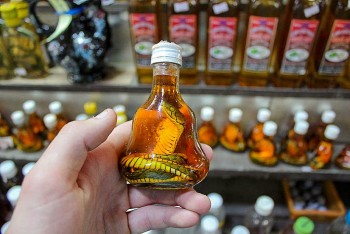 Multimedia
A trip to Vietnam can be exciting, and many activities and things to explore during your journey. Here is top 10 crazy experiences that you must try once before 30, which we promise you will not regret it.
Handbook
Choosing the best superhero films of all time is no easy task. Let's scroll down to find out the best ones we've listed.