Vietnam News Today (August 26): Vietnam Promotes Multifaceted Cooperation with African Countries
Vietnam News Today (August 26): Vietnam confirms 12,096 new Covid-19 cases; Vietnam promotes multifaceted cooperation with African countries;
Vietnam News Today (August 26) notable headlines
Vietnam confirms 12,096 new Covid-19 cases
Vietnam promotes multifaceted cooperation with African countries
New remedies to assist businesses and people
Enough food and more for the south: agriculture ministry
Vietnamese enterprises increase investment abroad
WB, Japan support strengthening pandemic preparedness in Vietnam
Vietnam receives 300,000 doses of AstraZeneca vaccines from Romania
Vietnamese Vice President welcomes her US counterpart in Hanoi
Vietnam becomes second largest wooden furniture supplier to Australia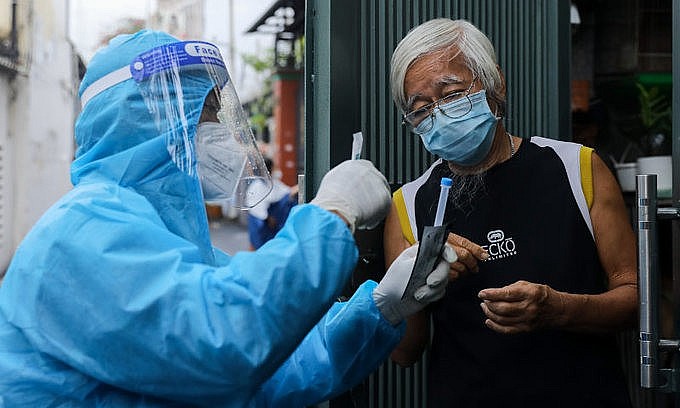 A medical staff takes samples of residents to test for Covid-19 in HCMC's Binh Thanh District on August 23, 2021. Photo: VnExpress
Vietnam confirms 12,096 new Covid-19 cases
Health authorities confirmed 12,096 new Covid-19 cases Wednesday, up 1,296 from Tuesday.
Ho Chi Minh City led with 5,294 new cases, followed by Binh Duong Province (4,129) and Dong Nai Province (618).
Wednesday marked the seventh day in a row Vietnam has recorded over 10,000 cases in a day.
This brings the total number of cases in the fourth Covid-19 wave to 377,245. Among them 167,147 have been discharged, cited VnExpress.
335 deaths were confirmed Wednseday, most of them in HCMC. The Covid-19 death tally is now at 9,349, or 2.5 percent of infections.
Vietnam has vaccinated 18.09 million people, among them 2.04 million have received two doses.
Vietnam promotes multifaceted cooperation with African countries
Vietnam always attaches great importance to further tightening the traditional friendship and mutually beneficial cooperation with African countries, said a Vietnamese official.
Deputy Foreign Minister Pham Quang Hieu made the statement during his virtual meeting on August 24-25 with Ambassadors and Chargés d'Affaires of African countries to Vietnam.
At the event, the largest of its kind since 2019, with the participation of 43 Ambassadors and Chargé d'Affaires of African countries to Vietnam, Hieu informed them of Vietnam's policies for foreign relations and economic development after the 13th National Party Congress as well as its main orientations in cooperation with African countries and measures to promote cooperation between the two sides, reported VNA.
Deputy Foreign Minister Pham Quang Hieu. Photo: VNA
According to the Vietnamese official, despite facing many difficulties caused by Covid-19, the relationship between Vietnam and African countries has still achieved many encouraging achievements. The two sides have well maintained their political-diplomatic cooperation through online meetings and phone talks at all levels. They also recorded an encouraging growth in trade in 2020 and the first half of 2021. Cooperation in agriculture, energy and telecommunications continued to see positive changes.
The Ambassadors and Chargé d'Affaires of African countries affirmed the importance of the good traditional relationship between Vietnam and Africa, and expressed their wish to further promote collaboration in fields of mutual interest.
They said they are impressed by Vietnam's socio-economic development achievements and appreciated Vietnam's role as a non-permanent member of the United Nations Security Council for the 2020-2021 term as well as its contributions to maintaining peace and stability in Africa.
Hieu and the African diplomats applauded the active cooperation between Vietnam and African countries at multilateral forums, especially the United Nations, hoping that the two sides would continue to support each other, as well as enhance information sharing and consultations on regional and international issues of mutual concern.
In order to further improve the cooperation efficiency, they held that it is necessary to increase the exchange of delegations at all levels when the pandemic is put under control. In the near future, the two sides need to increase online exchanges and strengthen cooperation in priority areas such as trade, investment, telecommunications, energy, agriculture, health care, education, cultural and people-to-people exchange.
New remedies to assist businesses and people
With the health crisis sabotaging the economy, the government and National Assembly Standing Committee are rolling their sleeves up to design and enact additional sturdy fiscal and monetary solutions to fuel local domestic production and support people's lives bogged down with many in massive difficulty.
Over the past few months, Red Lotus Trade Co. Ltd., in Hung Yen province has had lay off a large percentage of its 180 employees at its three workshops producing cotton buds. This is because demands for the products have gone down and the business' input material supplies have also shrunk.
"Our company has suffered a reduction of 80% on-year since May when the impact of the fourth Covid-19 wave became more serious," said Tran Hai Van, vice director of Red Lotus.
Struggling enterprises and people will be offered support from the state. Photo: NDO
Prior to the appearance of Covid-19, the company's annual revenue and profit often increased 15-20% on average year on year, NDO reported.
"However, we cannot now dream about such an impressive rise. Instead, we have had to lay off more than half of our employees," Van said.
The government on August 20 promulgated Resolution No.94/NQ-CP, approving amendments of up to 10 laws to create more favourable conditions for business and investment activities.
The 10 laws comprise the laws on customs, special consumption taxes, enterprises, investment, public investment, and public-private partnerships, among others.
The Ministry of Finance (MoF) is now working on a draft of the government's decree guiding the implementation of the resolution after it is adopted.
Under the draft resolution, four policies have been proposed, including three groups of policies seen for the first time since the pandemic appeared in Vietnam.
Specifically, in the first policy, the government will apply a 30% reduction in corporate income tax (CIT) in 2021 for businesses, cooperatives, non-business units, and other organisations as applied in 2020.
Meanwhile, under the three upcoming new policies, there will be a 50% reduction of personal income tax (PIT), VAT, and other taxes arising from business activities in the third and fourth quarters of 2021 for households and individuals doing business in all sectors, geographical locations, with different forms and methods of tax declaration and payment.
There will also be a reduction of 30% for VAT for business activities in sectors seriously affected by Covid-19 such as tourism, transportation, hospitality, catering, sports, entertainment, art, press, television, library, archives, museum, and other cultural activities.
There will also be exemption for the late payment of interest arising in 2020 and 2021 (the two years affected by Covid-19 for businesses and organisations (including their dependents and business locations) incurring continuous losses in 2018, 2019 and 2020.
Enough food and more for the south: agriculture ministry
There are abundant reserves of food and foodstuff supply for Vietnam's southern region from now until the end of this year, the agriculture ministry says.
Besides sufficient supply for HCMC and the neighboring province of Binh Duong, some three million tons of rice, over 1.4 million tons of vegetables and large amounts of other groceries for the southern region are in stock from now until the year-end, a working group of the Ministry of Agriculture and Rural Development has reported to Deputy Prime Minister Le Van Thanh.
The supply of essential food and foodstuff like rice, pork, chicken, eggs, vegetables and fruits for HCMC is assured during the 15-day tightened social distancing period, the working group said.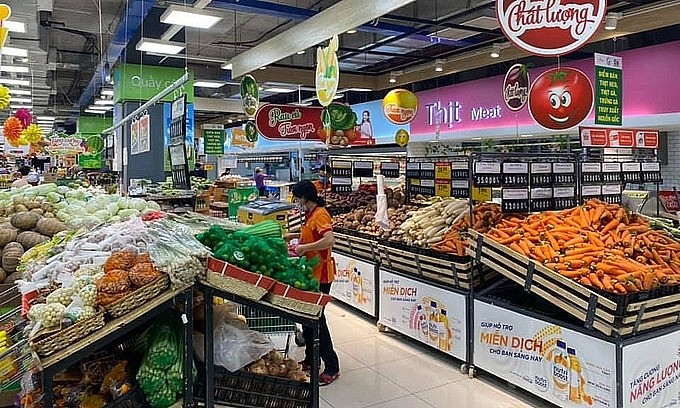 Well stocked vegetable shelves at a supermarket in HCMC. Photo: VnExpress
The total available rice supply for the south in the last four months of this year is 7.16 million tons, while the demand is 3.1 million tons, including 1.6 million tons to be consumed in the south0eastern part, and 1.5 million tons in the Mekong Delta. Similarly, the total vegetable supply is 3.1 million tons, while the demand is nearly 1.7 million tons.
The supply of pork and poultry eggs is also sufficient to stock supermarkets, while frozen meat is being imported in line with domestic demand, the group said.
The southern region's pork output currently stands at some 4,200 tons a day, or 126,000 tons in August. Its beef output is 384.3 tons a day, with major suppliers being the three provinces of Vinh Long, Ben Tre and Tien Giang. The current beef supply is sufficient for HCMC, Binh Duong and many other southern localities, reported VnExpress.
Poultry egg output in the region stands at 16.9 million eggs a day, with major suppliers being the three provinces of Tien Giang, Dong Nai and Tay Ninh.
As of August 20, a total of 1,218 outlets had registered with the agriculture ministry's working group to supply food and foodstuff, especially agricultural products.
The ministry is implementing on a trial basis a model of buying fresh agricultural products, packing them in a 10-kilogram bag, and distributing these to people, especially those in quarantine camps and boarding houses for an average price of VND10,000 ($0.4) per kilogram.
HCMC has tasked district administrations with buying food for residents without exception, requiring the latter to "stay where they are."
Vietnamese enterprises increase investment abroad
As a country receiving significant investment from abroad, Vietnam's enterprises now have investment activities abroad in various areas that are the strength of the country in many modern industries such as telecommunications and automobiles.
Vietnam's investment abroad has seen remarkable changes with the focus now on professional activities, science and technology, and manufacturing instead of wholesale and retail and banking and finance as in previous years.
In July 2021, Vietnamese conglomerate Vingroup made official moves to operate in North America and Europe. VinFast Commercial and Services Trading Co., Ltd has opened branches in the US, Canada, France, Germany and the Netherlands to realise the goal of making the company a global smart electric car producer.
At the same time, VinFast announced the appointment of Michael Lohscheller, former vice president of Volkswagen USA and general director of Opel Global, as general director of VinFast Global.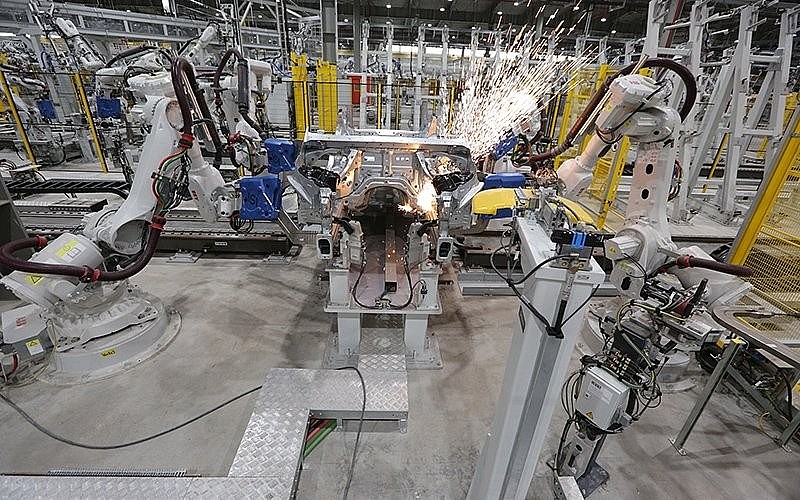 VinFast car brand officially launched at branches in the US, Canada, France, Germany and the Netherlands from July 2021. Photo: NDO
VinFast said that over the past year it has rushed to perfect its apparatus, establish a business foundation in the host countries, and take advantage of the opportunity to conquer the world as Europe and North America announce a roadmap to ban the sale of cars using internal combustion engines and a switch to electric cars, cited NDO.
It is expected that VinFast will officially begin the sale of two smart electric car models, VF e35 and VF e36 globally in March 2022. Vingroup's investments abroad have helped increase Vietnam's total investment abroad in the first months of this year.
According to the Foreign Investment Agency, Vietnam's total newly registered and supplemented capital abroad reached nearly US$547 million in the first half of 2021, an nearly 2.5 times that of the same period last year. This increase mainly came from Vingroup's project in the US with increased investment of US$300 million and a VinFast project in Germany seeing investment of US$32 million.
In the same period last year, Vietnam's investment in foreign markets also increased sharply thanks to the deals of private enterprises including investment of over US$90 million of Vonfram Masan in Germany. This is a strategic step of a private Vietnamese corporation seeking to become a tungsten processor with global scale and influence.
According to the Ministry of Planning and Investment, accumulated profit and capital sent to Vietnam from Vietnamese projects abroad reached about US$3 billion in 2020. Retained profit for reinvestment was about US$363.4 million while the number of workers sent abroad was 10,000. In addition, Vietnamese enterprises have established a significant amount of assets including factories and production facilities abroad to an estimated value of billions of US dollars.
According to the Foreign Investment Agency, the overseas investment trend has remained stable in terms of the number of projects, but there has been a big change in the investment subjects. The number of projects abroad conducted by State-owned enterprises has decreased sharply while investment capital from the private sector has rose sharply across many different fields with the participation of large private corporations.
"In terms of benefits for the country, overseas investment activities will contribute to increasing foreign currency for the country through the profits remitted from the projects, improving the competitiveness of the economy, and promoting diplomatic relations with foreign countries as well as strengthening security and defence," the Foreign Investment Agency said.