Vietnam News Today (August 6): Hanoi Set to Endure Prolonged Hot Spell
Vietnam News Today (August 6): 3,301 new cases added to daily Covid-19 tally, 7,244 in total; Hanoi set to endure prolonged hot spell; Vietnam ascend FIFA futsal world ranking; Hanoi opens thousands of additional stores and retail points selling essential goods.
Vietnam News Today (August 6) notable headlines
3,301 new cases added to daily Covid-19 tally, 7,244 in total
Hanoi set to endure prolonged hot spell
Vietnam ascend FIFA futsal world ranking
Hanoi opens thousands of additional stores and retail points selling essential goods
Hanoi-HCMC world's second busiest domestic air route in 2020
Vietnam, US co-ordinate ahead of Vice President Harris's upcoming visit
Conference explores ways to boost Hai Duong longan exports
Health Ministry receives Covid-19 support package from Saudi Arabia
Nation suggests New Zealand assist ASEAN in Covid-19 response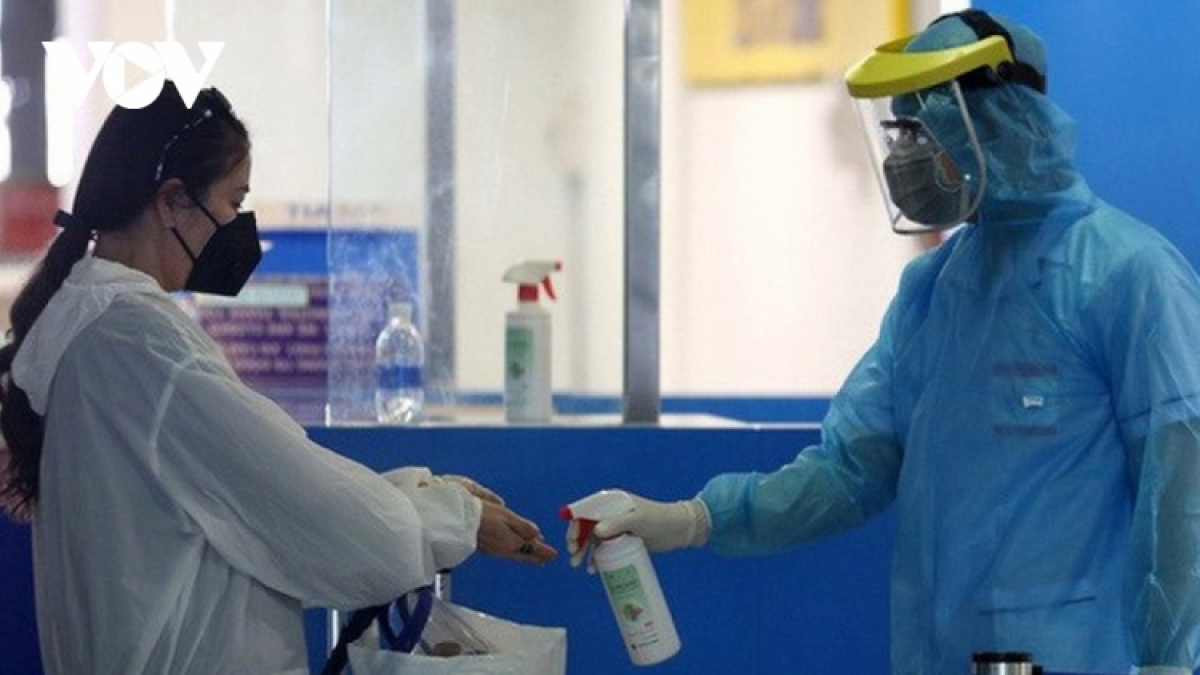 Photo: VOV
3,301 new cases added to daily Covid-19 tally, 7,244 in total
The Ministry of Health confirmed 3,301 new Covid-19 cases, with three imported infections on April 5 evening, pushing up the overall number in the day to 7,244, down 379 from one day earlier.
Ho Chi Minh city, the epicenter of the ongoing fourth coronavirus wave, recorded 3,886 fresh cases, followed by Binh Duong with 822, down 60% compared to the previous day.
Hanoi capital registered 69 local cases which are mostly related to pre-existing infection clusters and are F1 contacts. Other domestic cases were detected in 42 other localities.
Of the new cases, 1,562 were recorded in the community and 5,677 in quarantine zones and areas that have been isolated, cited VOV.
As of the afternoon of August 5, Vietnam had 185,057 infections, including 2,334 imported and 182,723 domestic cases.
The number of new infections recorded in the country during the fourth wave of Covid-19 outbreaks in late April rose to 181,153, of which 55,266 patients have been declared free from the virus.
Also on August 5, a total of 3,708 coronavirus patients were discharged from hospital, raising the total number of recoveries to 58,040.
The same day the ministry also announced that additional 393 patients died from the disease across 16 provinces and cities, with HCM city and Binh Duong province accounting for the most at 214, and 112.
Hanoi set to endure prolonged hot spell
The capital and other northern and central provinces are currently enduring sweltering weather due to the impact of a severe heat wave, as temperatures in some places reach 38 degrees Celsius, according to the National Centre for Hydro-Meteorological Forecasting.
The coming days are set to see the capital experience an extreme-hot spell, with lows of around 28 degrees Celsius and highs reaching up to 38 degrees Celsius. In addition, Hanoi capital is also likely to see heavy rain and thunderstorms at around midnight.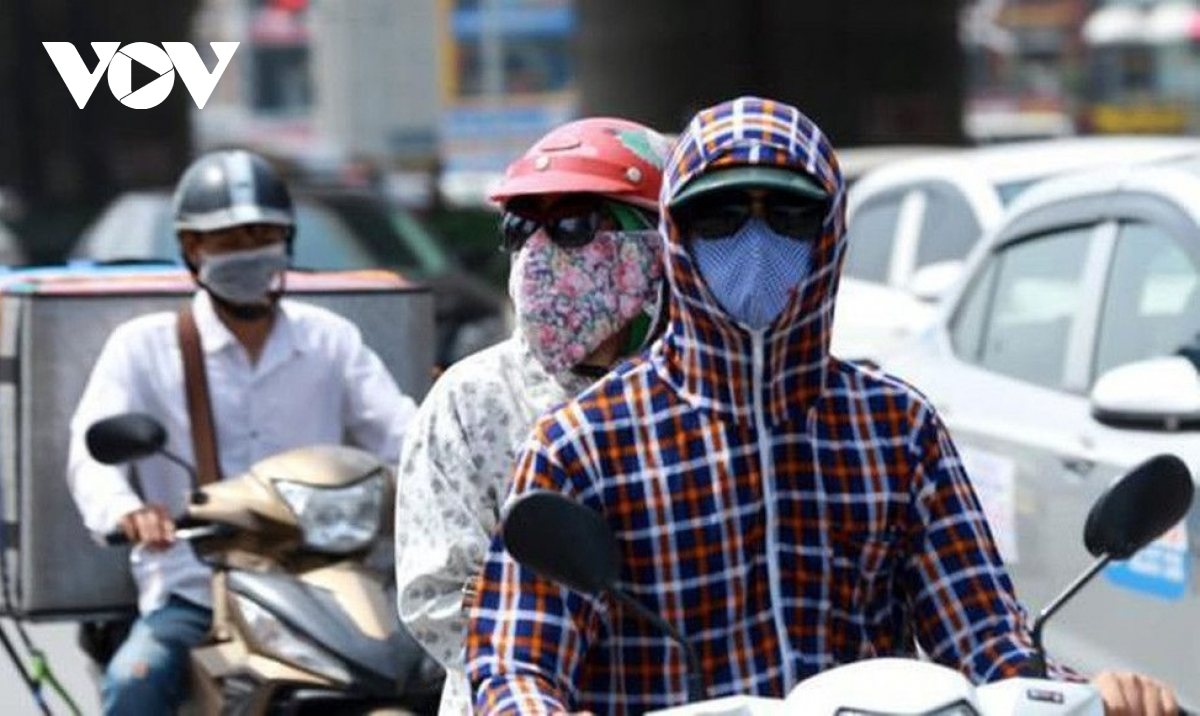 Women shield themselves from blazing rays. Photo: VOV
This comes as the forecast for the current heat wave in the northern region is expected to last until August 7, according to VOV.
Elsewhere, central provinces ranging from Thanh Hoa to Thua Thien-Hue will also suffer the impact of hot weather as temperatures climb to 38 degrees Celsius. During this period a number of locations will endure temperatures exceeding 38 degrees Celsius.
Moreover, showers coupled with tornadoes, lightning, and strong winds will occur across several locations throughout the central region.
These high temperatures combined with low humidity during the current heat wave will pose a risk of fire and explosions in residential areas due to the increased demand for electricity. This is along with adding to the risks relating to forest fires occurring in central localities, the centre said.
Notably, dehydration, exhaustion, and heat stroke are potential risks to people nationwide as the human body could be exposed to high temperatures over a long period.
Vietnam ascend FIFA futsal world ranking
The Vietnam national futsal team has moved up one place in the August update of FIFA futsal world ranking.
After beating Lebanon in the World Cup qualification playoffs in late May and claiming a ticket to Futsal World Cup 2021, Vietnam climbed from 44th to 43rd on the FIFA futsal world ranking. In the August update, only Vietnam and Japan improved their positions in Asia.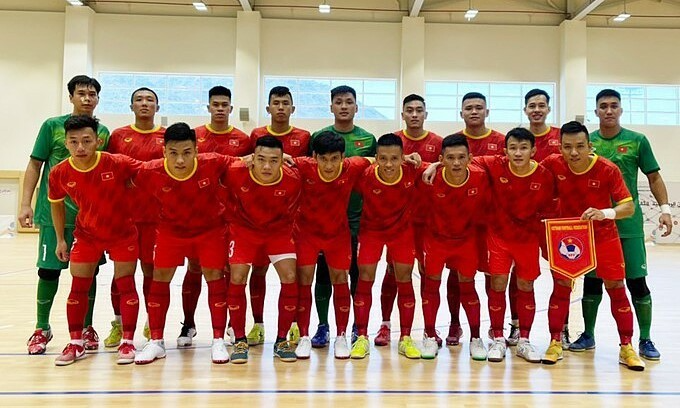 The Vietnam national futsal team that played Iraq in a friendly on May 17, 2021. Photo: Vietnam Football Federation
The top three positions in the world remained unchanged, with Spain first, followed by Brazil and Argentina. In Asia, Iran continued to lead, followed by Kazakhstan and Japan.
The national team has started training since late July. They are set to fly to Spain on Aug. 25 to participate in a friendly tournament with hosts Spain, Japan and Guatemala. They will play another exhibition match with Morocco on Sept. 6, before entering Futsal World Cup, held in Lithuania between Sept. 12 and Oct. 3, reported VnExpress.
At Futsal World Cup, Vietnam are grouped with Brazil, the Czech Republic and Panama. The team will play their first game against Brazil on Sept. 13, then Panama on the 16th, and the Czech Republic on the 19th.
This is the second time Vietnam qualified for the event, after the first in 2016.
Hanoi opens thousands of additional stores and retail points selling essential goods
Hanoi's authorities have taken measures to ensure e sufficient supply of essential goods for locals during the social distancing period, particularly at a time when 20 local markets and 52 supermarkets and convenient stores in the city have had to shut down after Covid-19 cases were found there.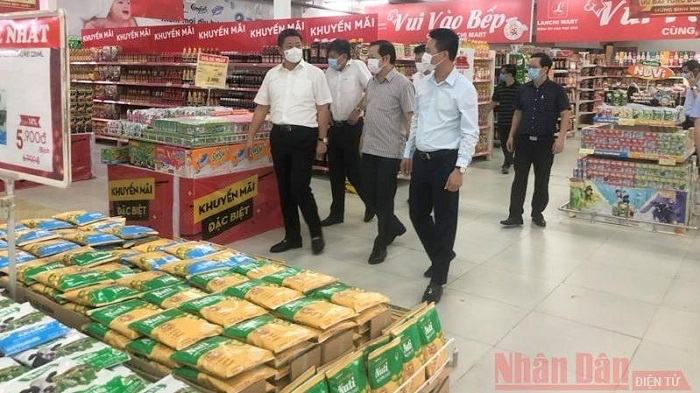 Hanoi City's leaders inspect the supply of goods at a supermarket in the city. Photo: NDO
Speaking to the press on August 4, Acting Director of the municipal Department of Industry and Trade Tran Thi Phuong Lan reported that the city's authorities have directed businesses to continue increasing stock of goods that are in high demand, boosting ecommerce sales, and improving their customer service. Processing facilities in the city are asked to increase their capacity to serve distribution systems, NDO reported.
The department has reviewed the supply of goods and people's demand for agricultural products in each district and town in the city in order to ensure that foods are being circulated smoothly from distribution systems to consumers.
The department has also coordinated with the Hanoi Post Office to open 472 retail points selling essential good, and developed plans to launch similar points amidst the complicated developments of Covid-19, in which each ward and commune will open at least one or two more selling points in places where there is no market.
To date, the department has made public a list of a total of 8,216 price-stabilisation points in the city, and more 2,500 mobile selling points are ready to be activated in districts and towns when necessary.
Hanoi-HCMC world's second busiest domestic air route in 2020
The Hanoi-HCMC route ranked second among the world's five busiest domestic air routes last year, experiencing the biggest jump in passenger numbers amid Covid-19 turbulence.
South Korea's Jeju-Seoul route was the busiest domestic air route with 10.2 million passengers last year, followed by the Hanoi-HCMC route with 5.9 million, according to an International Air Transport Association (IATA) report released Tuesday.
The two-hour Hanoi-HCMC route saw the biggest year-on-year jump of 54 percent in passengers from 2019, the report said, VnExpress reported.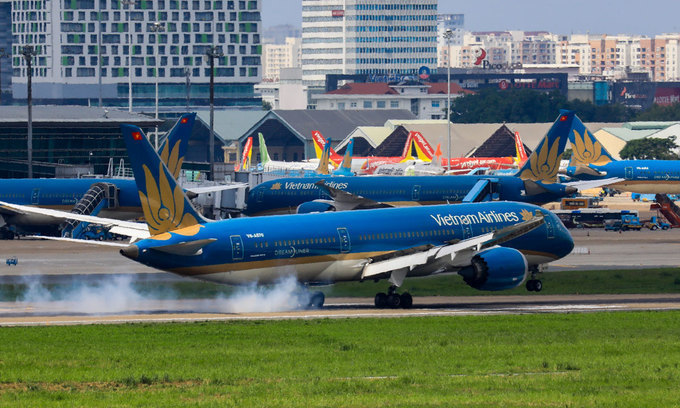 A Vietnam Airlines aircraft lands at Tan Son Nhat International Airport in Ho Chi Minh city, June 15, 2020. Photo: VnExpress
Three of the five most traveled domestic air routes for 2020 were in China, which became the world's largest domestic market for the first time on record last year.
The Shanghai-Shenzhen route was third busiest in the world with 3.7 million passengers, followed by Beijing-Shanghai and Guangzhou-Shanghai.
The IATA report said last year was the worst ever in the history of the aviation industry as the pandemic ravaged global travel.
A total of 1.8 billion passengers flew last year, a 60.2 percent fall over 2019.
The report estimated the industry's net losses at US$126.4 billion in total.
Vietnam suspended all international routes in March 2020 as it sought to contain the Covid-19 outbreak.
While 2020 was a challenging year for the Vietnamese aviation industry, aggressive contact tracing and quarantine measures had helped Vietnam contain the virus for much of the year.
Economy
In the first two months of 2023, India's mobile phone exports exceeded $2 billion, equivalent to over Rs16,500 crore, due to increased production and shipments from manufacturers, particularly Apple and Samsung. This surge in exports brings the total export value to over $9 billion since April 2022.