Vietnam News Today (July 31): Hanoi Asked to Work Out Home Isolation Plan for Covid-19 F1 Cases
Vietnam News Today (July 31): PM outlines new approach, solutions for national Covid-19 fight; HCM city speeds up Covid-19 vaccinations; Hanoi asked to work out home isolation plan for Covid-19 F1 cases; EVFTA fuels Vietnam's imports from EU.
Vietnam News Today (July 31) notable headlines
PM outlines new approach, solutions for national Covid-19 fight
HCM city speeds up Covid-19 vaccinations
Hanoi asked to work out home isolation plan for Covid-19 F1 cases
EVFTA fuels Vietnam's imports from EU
Vietnam's real estate sector continues record run: Forbes
Vietnamese community abroad supports HCM city in fighting Covid-19
E-commerce expected to help Hung Yen longan reach out to foreign markets
Vietnam treasures traditional friendship with Romania: PM
"Zero VND supermarket" provides great joy to needy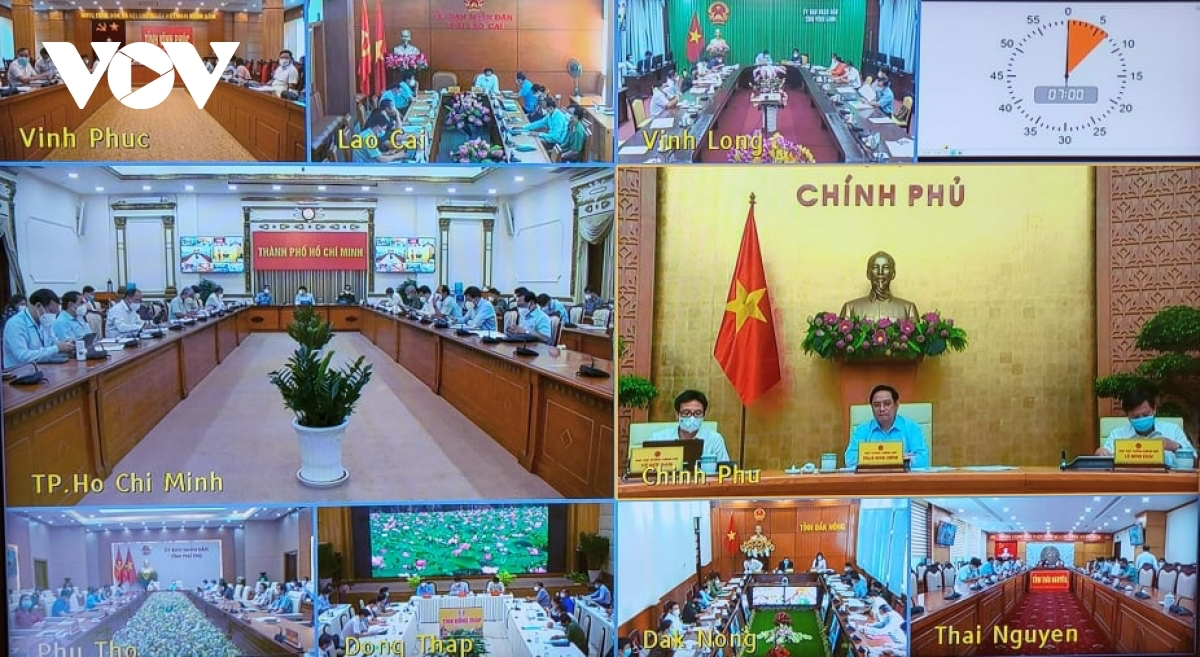 Photo: VOV
PM outlines new approach, solutions for national Covid-19 fight
Prime Minister Pham Minh Chinh has underlined the necessity of implementing a fresh approach and solutions as part of the country's pandemic prevention and control efforts.
The Government chief made these remarks whilst chairing an online cabinet meeting on July 30 in Hanoi with localities nationwide to discuss Covid-19 pandemic prevention and control measures.
The meeting also provided a platform to discuss plans to carry out the tasks approved by the 15th National Assembly (NA) during its recently-concluded first session regarding the prevention and control of the pandemic moving forward.
Upon addressing the event, PM Chinh praised the concerted effort made by all citizens, the business community, and the entire political system to combat the Covid-19 pandemic, with the fourth wave now passing nearly 100 days across many localities nationwide, cited VOV.
"Covid-19 is the pandemic of the century without cure, so the fight against the disease remains a long way to go, even when there are vaccines to prevent Covid-19. Therefore, it is necessary to have a new approach, tasks and solutions to continue to realize the dual goal of both combating the pandemic, and ensuring socio-economic development," PM Chinh said.
The PM went on to suggest the need to focus on discussing the pandemic situation as a way of helping the Government issue a resolution regarding the implementation of urgent Covid-19 containment measures in line with Resolution No. 30 as adopted by the NA.
According to a report detailed by the Ministry of Health, the situation regarding the pandemic remains complicated in Ho Chi Minh city, with several residential and blockaded areas reporting high number of community cases over recent times. This can be seen in the figures relating to the rapid spread of the virus among the community.
Furthermore, the number of infections detected through screening at numerous health facilities has recorded a downturn, which marks a positive sign in disease control. Indeed, stricter social distancing measures have been carried out, with non-essential businesses being forced to close and people prevented from going out without a necessary reason.
HCM city speeds up Covid-19 vaccinations
All people above 18 years old living in Ho Chi Minh city will be vaccinated against Covid-19, Vice Chairman of the municipal People's Committee Duong Anh Duc told a meeting on July 30.
Duc said Secretary of the municipal Party Committee Nguyen Van Nen had set the target of administering vaccine to two-thirds of the city's population above 18 years old in August.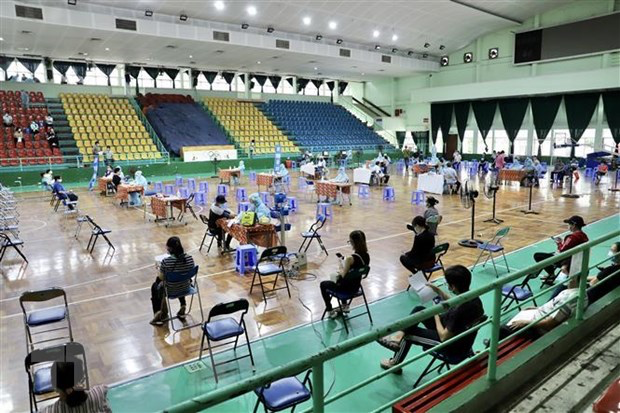 HCM city aims to vaccinate two-thirds of its population above 18 years old in August. Photo: VNA
To speed up the work, the city will set up mobile inoculation groups besides fixed vaccination sites, he said, adding that the vaccinations would be conducted even at night.
According to the official, most of the vaccines in HCM city now are allocated by the Ministry of Health. One million doses of sponsored vaccines are expected to arrive at Tan Son Nhat International Airport on July 31.
Between July 22-30, the city administered about 490,000 Covid-19 vaccine doses, according to VNA.
To reduce Covid-19 infections in the city, it is necessary to extend the social distancing period under the Prime Minister's Directive No. 16 by one-two weeks, after August 1 and the municipal administration will make an official announcement soon, Duc said.
Hanoi asked to work out home isolation plan for Covid-19 F1 cases
Hanoi has been advised to prepare a plan aimed at allowing F1 cases to isolate at home, with the number of Covid-19 cases being detected across the capital increasing every day, according to experts.
Assoc. Prof. Dr. Tran Dac Phu, senior advisor at the Public Health Emergency Operations Centre under the Health Ministry, emphazised that Hanoi remains a high-risk area with positive cases being detected through screening among the local community.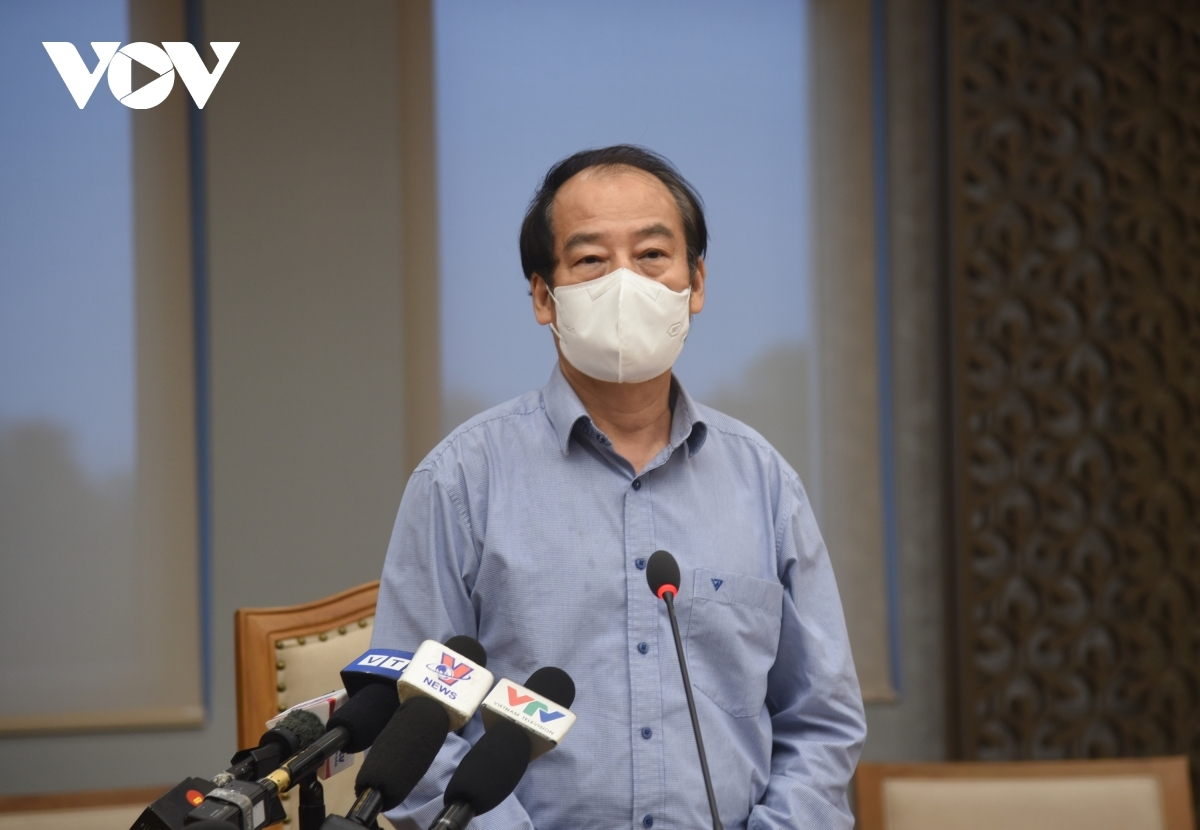 Assoc. Prof. Dr. Tran Dac Phu, senior advisor at the Public Health Emergency Operations Centre addresses the event. Photo: VOV
He noted that the capital has been advised to strictly implement a range of social distancing measures in line with the Prime Minister's Directive 16, whilst continuing to abide by 5K message set out by the Ministry of Health (MoH).
Due to the highly-contagious Delta variant likely spreading widely among the community, residents are therefore required to stay at home and only go out for essential necessities, as advised by leading experts, cited VOV.
Dr. Tran Dac Phu stated that Hanoi should outline scenarios for quarantine and treatment facilities in the event that the number of infected cases increases sharply.
He went on to emphasise that the pilot plan which sees F1 cases isolated at home is necessary due to the number of cases set to rise among the community in the near future, adding that contact tracing represents an important measure to isolate F0 cases and take them out of the community.
Phu also underscored the importance of speeding up the vaccination process, but also avoiding large gatherings to curb the spread of the virus.
EVFTA fuels Vietnam's imports from EU
Since the EU - Vietnam Free Trade Agreement (EVFTA) took effect, the country's imports from the EU have been rising sharply, with many commodities posting import value of billions of US dollars.
The EVFTA, which took effect on August 1 last year, has given an impulse to bilateral exportation and importation, with Vietnam currently recording trade surplus with the EU.
In the first half of 2021, the country's exports to the EU stood at US$19.3 billion while imports from this bloc grew 17.2 percent from a year earlier to US$8.14 billion. The import turnover was US$14.65 billion in 2020, up 4.3 percent year on year.
The largest EU exporters to Vietnam consist of Germany, Italy, France, the Netherlands, Spain, Belgium, Sweden, and Ireland, which accounted for 85 percent of the country's total imports from the EU last year, reported VNA.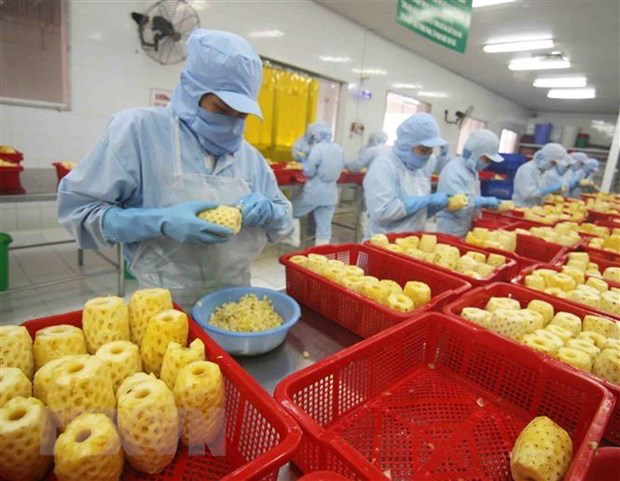 Workers process pineapple for export at a factory in An Giang province. Photo: VNA
Computers, electronic products and components; machinery, equipment, tools, and spare parts; along with pharmaceutical products are the main groups of items with billions-of-USD imports from the EU. They saw respective import turnover of US$4.1 billion, US$3.1 billion, and US$1.75 billion last year, according to the General Department of Vietnam Customs.
The importation of meat and dairy products is also expected to increase strongly in the time ahead thanks to the EVFTA.
The Ministry of Industry and Trade said under the deal, Vietnam eliminated import duties on 48.5 percent of the tariff lines, equivalent to 64.5 percent of the EU's exports to the country, as soon as the agreement took effect.
After that, 91.8 percent of the tariff lines, equivalent to 97.1 percent of the bloc's exports, will have their import duties removed in seven years. For the remaining 1.7 percent of the tariff lines, Vietnam will gradually lift duties in more than 10 years or apply the tariff-rate quota regime under the World Trade Organisation (WTO) commitments.
At present, agricultural and aquatic products, consumer goods, processed food, milk, and dairy products from the EU have yet to benefit from zero-percent tariffs in Vietnam. As livestock products hailing from the EU are still subject to the tax rate ranging 10 percent - 40 percent, imports of these commodities have grown but not at a fast pace.
Vietnam's real estate sector continues record run: Forbes
Vietnam's real estate market recommenced its record run, with the industrial sector viewed as the star of the industry thanks to the country's success in combating Covid-19, said a story by Philip Heller published on Forbes earlier this week.
"Office rents rising in 2020? Positive GDP growth during a global health crisis? Seems unimaginable, unless you live in Vietnam," the story started.
The country's list of feats this past year has been remarkable given the current health and economic hardships across the world, it said, adding Vietnam had gained incredible success containing Covid-19, with the country of 96 million people registering only 2,631 cases and 35 deaths at the time of publishing.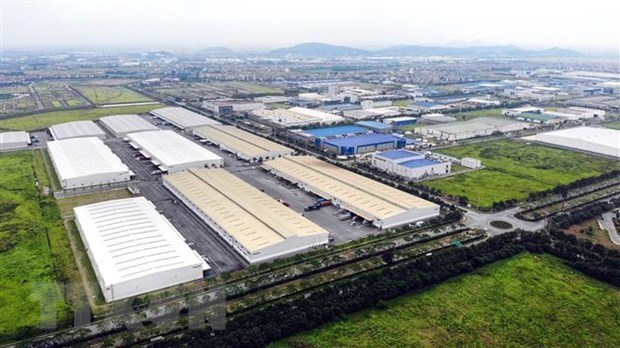 A corner of the Vietnam-Singapore Industrial Park (VSIP) in Bac Ninh. Photo: VNA
During the same period, Vietnam eclipsed all of its Asian rivals economically by posting GDP growth of 2.9 percent, a noteworthy feat considering the GDPs of neighboring Thailand and Malaysia contracting by 6.1 percent and 5.6 percent, respectively, in 2020. Consequently, Vietnam's real estate market has flourished in recent years, with continued economic growth leading to a surge in property prices, VNA reported.
The country's real estate market proved resilient during the pandemic, with both the industrial and residential sectors leading the pack.
The star of the local real estate market is the industrial sector, which has been a beneficiary of a manufacturing boom. In recent years, companies such as Nike, Adidas, and Samsung have moved their operation into Vietnam.
The market has also responded to the increased manufacturing demand, as the Ho Chi Minh city industrial rents grew by 9.0 percent in 2019 and then 10.6 percent in the pandemic year of 2020, according to Cushman & Wakefield.
Vietnam's housing market has also seen unprecedented growth in recent years. As local Vietnamese have limited investment options outside of the housing market, rampant demand for apartments has exceeded the supply of units, with many new developments selling out shortly after sales launch like hot cakes.
Vietnam is expected to be a favourable destination for investment going forward, and interest from institutional investors has propelled the country's foreign direct investment to grow by 75 percent from 2014 to 2019.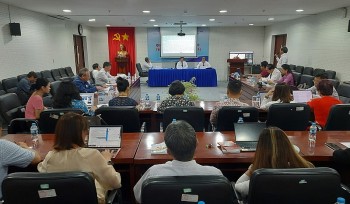 Friendship
The Vietnam - India Friendship Association's Ho Chi Minh City branch, the Ho Chi Minh City Union of Friendship Organizations (HUFO) and the Southern Institute of Social Sciences on March 21 held a scientific seminar themed "Vietnam - India relationship: tradition and present".